Salad of Grilled Shrimp & Wilted Mizuna Mustard Greens
"The hills are alive!…not with the sound of music…but with wild mustard flowers"

Behold, another exploding Southern California Spring scene that makes us sing and celebrate this anticipated and colorful season. Peter's Canyon is our local getaway where we can hike, bike, birdwatch and walk our dogs. Nestled in the suburbs of Orange County, Peter's Canyon Regional Park is a hidden gem of wilderness trails and outdoor retreat when we need to refresh and rejuvenate from our daily strains of work. Springtime is especially beautiful here because all the mustard (Brassica Juncea), fennel and various spring flowers are starting to burst with flower power!
This years monstrous rains brought out a explosion of wild mustard that blanketed the hills of Peter's canyon, giving us a yellow playground full of blossoms, blossoms and more blossoms! The trails are guarded on both sides with these tall mustard soldiers, protecting and embracing all those that walk the trail. If you live close by, you must stop by before the blooms dissipate. It'll be worth the drive.
Romping through the gargantuan mustard is our inspiration for today's mustard green dish and our entry to Weekend Herb Blogging , hosted this week by Kalyn at Kalyns Kitchen. Shopping through the farmers market today, we found 3 varieties of mustard greens that could work perfectly. Osaka Purple mustard, Chinese Gai Choi mustard, and Japanese Mizuna mustard were all so fresh and beautiful, it was hard to pick which one was going to make the dish. But being that the Mizuna mustard has more delicate leaves and small, tender stems, this mustard worked better with the sweet, delicate flavors of the shrimp.
Our Vietnamese mom makes kick butt dish of garlic mustard greens, so this dish takes on her basic recipe. We quickly sauteed the stems of the greens with some sesame oil and garlic. Once the stems began to soften, we quickly took the pan off the heat and added the mustard leaves and allowed to existing heat from the pan to wilt and cook the leaves. The shrimp was grilled on the pan with a little butter and garlic just until tender. The whole dish was then topped with a very simple nuoc cham (fish sauce dressing/dip). This dressing ties in the slightly bitter flavors of the mustard greens with the sweet shrimp very nicely!
BTW- Grow More Trees !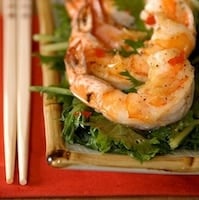 Grilled Shrimp & Mustard Green Salad Recipe
What makes this salad so delicious with Vietnamese flavors is the fish sauce nuoc cham dip. Don't be scared to eat it. It might sound intimidating but it's amazing. Here's the recipe for Diane's Vietnamese Fish Sauce Nuoc Cham Dip.
Ingredients
1 bunch of Mustard Greens (wash, slice stems from leaves, then cut stems into 1″ pieces)
1/2 lb. Shrimp , (shelled & de-veined)
1/2 Tablespoon Grape seed Oil (or whatever neutral tasting oil you like)
1 Tablespoon unsalted Butter
2 teaspoons Sesame Oil
4 cloves Garlic (crushed), divided
fresh cracked pepper
Directions
Heat a skillet over medium-high heat. Add the grape seed oil, butter, and 2 cloves of crushed garlic. On medium-high heat, quickly cook shrimp until tender (about 30 seconds of each side). Season with fresh cracked pepper and a dash of sea salt.

Add sesame oil and add remaining crushed garlic to the same pan with the shrimp. Add mustard greens. Cook stems on medium heat until tender or slightly wilted (@ 30 sec – 1 min.) For broader and tougher mustard leaves, cook until leaves are tender to taste (approx. 1 min.)
Did you make this recipe?
Let us know what you think!
Leave a Comment or share a photo on Instagram with the hashtag #whiteonricecouple.
We are a participant in the Amazon Services LLC Associates Program, an affiliate advertising program designed to provide a means for us to earn fees by linking to Amazon.com and affiliated sites.