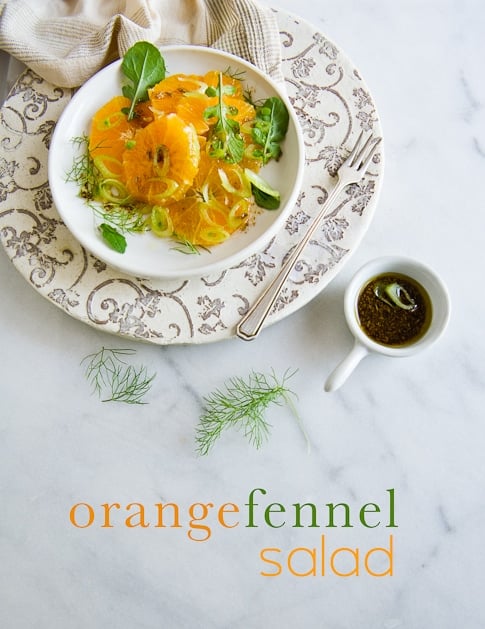 Citrus season has finally arrived in our garden and hopefully in about 4 more weeks, we'll be able to share a few rounds with friends. Last year we doubled up on an extra blood orange tree (for Katie!) and an extra Eureka lemon tree. Plans for this year are to add 3 more citrus trees because, yes, we're addicted.
No, you really can't have too much citrus, that's our life motto. All the better to make cocktail with!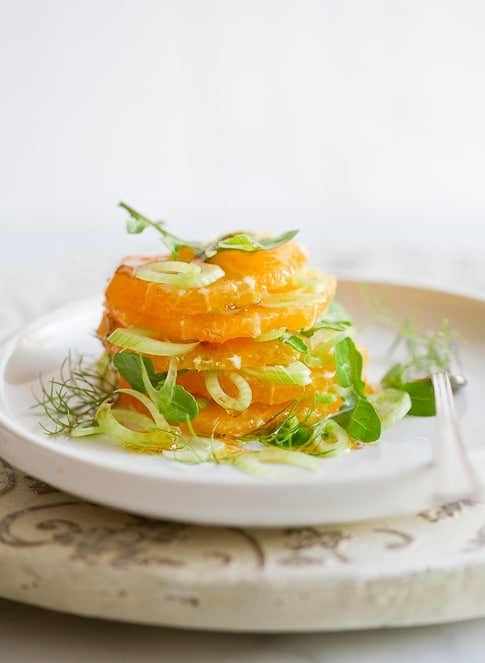 We can't tell you how excited we get when it comes to citrus gardening and there's some fun news coming in February! Unfortunately we can't spill any beans now, but know that it's going to be about our crazy citrus tree collection!
Since last week's Thanksgiving eating bonanza, followed up a ridiculous craving of belly burning chili cheese fries, we're ready for something fresh. We've been gnawing on arugula leaves, celery and anything green that the garden is throwing out.  The few days of holiday indulgence really did us in and it takes days of fresh raw veggies and citrus cleansing to get us ready for Christmas cookies and baked goods.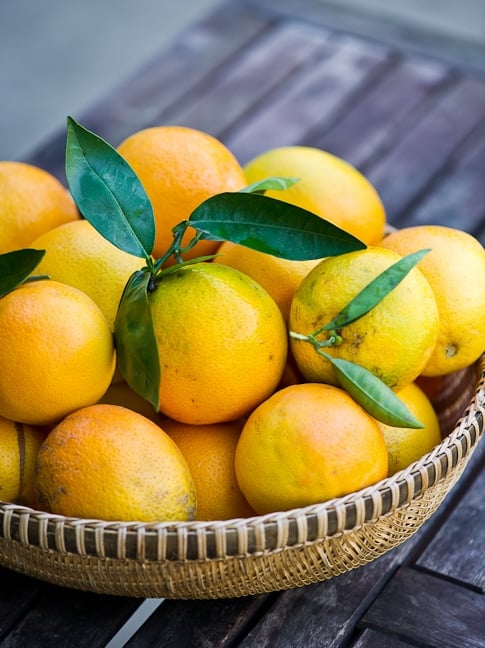 Tender baby fennel are perfect for picking, they're sweet, crispy and perfectly fragrant. The aroma of the fennel coupled with the sweet acidity of the seasons first oranges make the perfect re-freshing follow-up to all the turkey, stuffing and fries we indulged in.
Citrus and fennel are such a wonderful pairing. Something magical happens on the palate when fennel and citrus come together. With some added baby arugula, this terrific winter salad is bursting with flavor. Each bite is juicy, sweet, floral and tenderly spicy from the delicate arugula. The vinaigrette in this salad is laced with the warm flavors of toasted fennel seeds. It's hard to not want to have two plates of this, even for breakfast. Why not have a orange and fennel breakfast salad?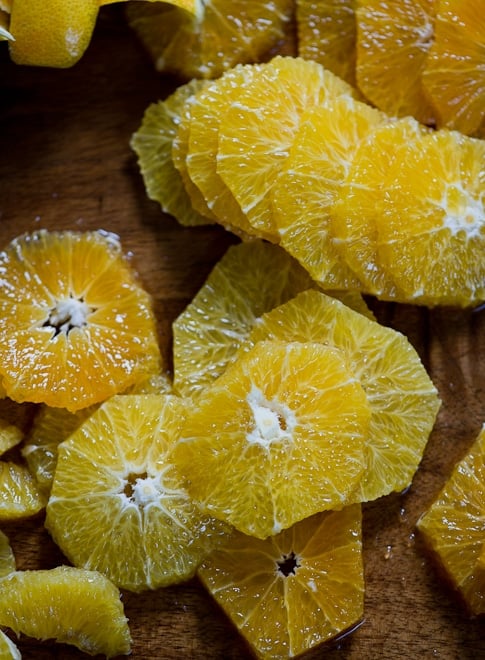 This recipe is wonderful with oranges, but we've seen other fabulous variations with tangerines and grapefruits. Every variation seems like a perfect accompaniment to delicate, crunchy fennel bulbs. You can create any ratio you want with the citrus and sliced fennel. Maybe when our fennel bulbs become more robust, we'll adapt the recipe to be a fennel and orange salad.
Either way, hope you enjoy this wonderful salad to celebrate the arrival of wonderful citrus. Hope your home fills up with plenty of bright, fragrant zest!
-Todd and Diane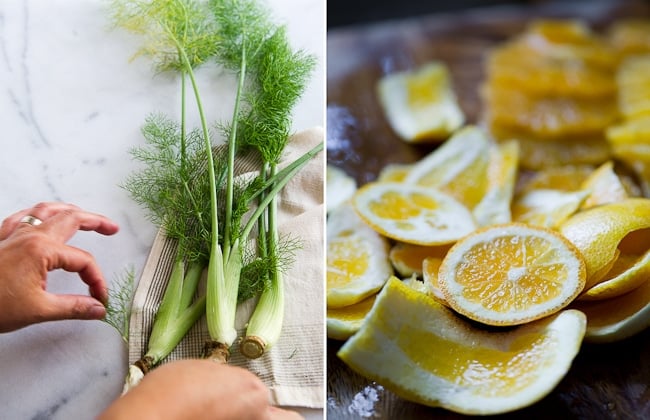 the aroma of fresh tender fennel bulbs & orange peel is amazing!
Orange Fennel Salad with toasted Fennel Vinaigrette Recipe
Ingredients:
about 4 Oranges
1 T Fennel Seeds
3 T Olive Oil,
1 T balsamic vinegar
1/2 t Sea Salt, or to taste
1 medium Fennel Bulb, thinly sliced
handful of Baby Arugula Leaves (optional)
Directions:
Slice the rind and pith completely off of the oranges. Next slice the oranges 1/4" thick.
In a dry saute pan over medium heat, toast the fennel seeds for a few minutes until the aroma is nicely released and they change color slightly.  Crush well in a mortar & pestle or grind in a small spice grinder or coffee grinder.
Combine ground fennel seeds, olive oil, balsamic vinegar, and sea salt in a small bowl and whisk to mix.
Layer orange slices and sliced fennel bulb on serving plates.  Quickly re-mix vinaigrette then dress oranges and fennel. Garnish with arugula.*Another option for salad - Layer in a lot more arugula to have a more greens-heavy salad. The pepperiness of the arugula goes quite well with freshness of the oranges and fennel.
Hello! All images & content are copyright protected. Please do not use our images without prior permission and do not re-publish this recipe. Simply link back to this post for the recipe. Thank you.
Recipe Note for Salt: All recipes containing salt are based on kosher or sea salt amounts, not table salt. If using table salt, reduce the amount used to taste.
More Orange & other Citrus Fennel Salads:
[ad]