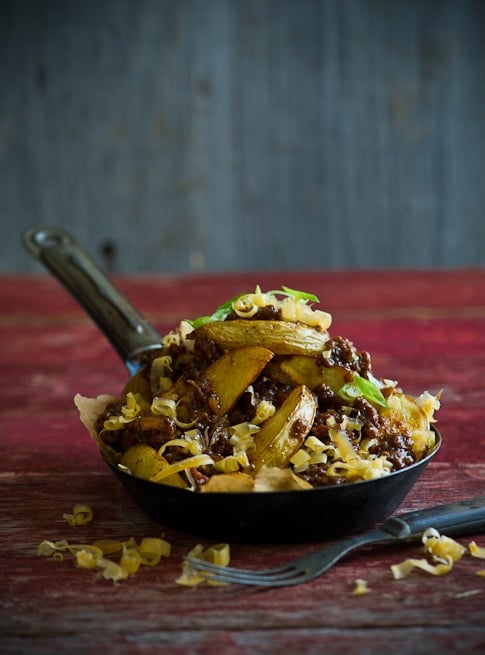 go ahead, make a mess.
Hold on tight, you'll be pleased to know that these chili cheese fries are fresh, home-made, hand-made and fried with only the best yukon gold potatoes and grape seed oil. No need to sneak through the drive-through to satisfy your greasy cravings. You can do that in the sacred privacy of your own home.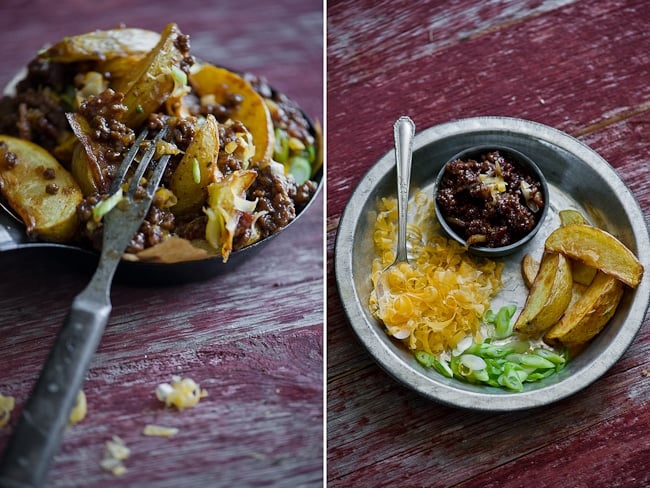 Cardiologists will probably hate us for this recipe and what they'd call Early Death Chili Cheese Fries. But for those of us who want who want to indulge in something special and lathered in rich love, we call it Holy Shit Chili Cheese Fries. Better  yet, we've cowboy'ed 'em up made them in the style of thick, rustic-cut potato wedges and added a spicy kick to the chili. The sky is the limit.
Bacon. Ground Brisket and Top Round. Super Spicy Chilies. Beer. All cooked together with sweet onion, garlic, spices, masa, and BBQ sauce. It is one hell of a chili.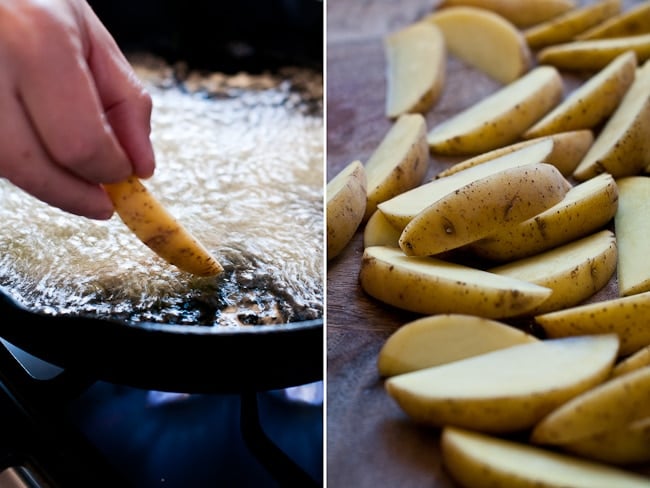 We tend to like spicy in the WORC household.  We're growing 4 types of habaneros, some jalapenos, cayenne, and a couple bushes of chilies the Vietnamese affectionately call "Devil Peppers" or "Evil Peppers" depending on how you want to translate it. Homemade Sriracha sauceis a regular part of our pantry, our chicken wings usually get the spice treatment, and we often indulge in our Viet mother's make-you-want-to-cry spicy Bun Bo Hue soup.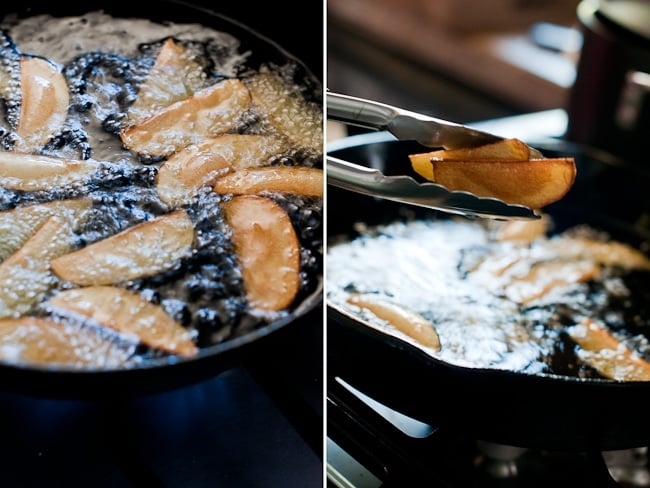 But if you can't handle it, there are always options to tame the beast.  Change the chilies to something mild or just leave them out all together. If you want another variation, grab a copy of The Pioneer Woman Cooks where Ree has a great chili recipe. After going through her recipes, we started adding masa to our chili and it was a great addition.  Gives another layer of flavor and texture.
If there is any culinary vice which does us in more than spicy foods, it's fried potatoes. It feels great to eat fresh, lots of leafy greens, healthy cooking meals, but such angelic eating needs to be balanced by the occasional sinful indulgence and french fries are at the top of our list.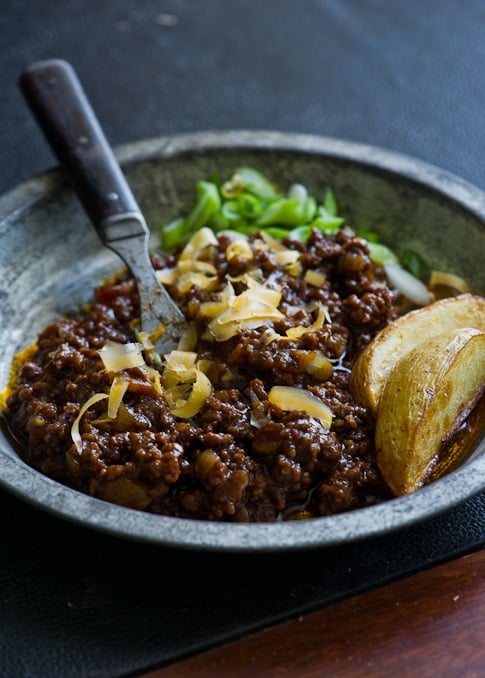 Second version: Eat more chili with your potatoes!
We'll vary on how lazy or meticulous we are feeling in making our fries.  Going all out, we'll make them the Les Halles method of soaking, drying, soft frying, then crisp frying the little pa-taters. If we are feeling lazy, then we'll just slice, wipe, and fry. Either way, we nearly always use yukon golds and either grape seed oil or peanut oil for frying. Gives it that special touch.
You only live once, so don't hold back.
The joy from the occasional indulgence easily offsets the caloric vice-filled meal. At least in our book it does, just don't tell the doctor! So what is everyone else's favorite wintertime indulgence? Share your favorite undoing!
Rock On,
-Todd and Diane
Spicy Bacon Cowboy Chili Recipe
Yield: About 4 cups
Total Time: 1 hour
Two main factors influence the taste in the chili recipe: the BBQ sauce and the choice of chilies.  We'll usually use our homemade BBQ sauce, but use whichever you're favorite it. For the spice factor, habaneros have a great spicy and flavor.  There is a fruity roundness to compliment their Scoville factor which makes them one of our favorites to use, especially the Chocolate, Congo, or Red Sevilla Habaneros.  Go with something more mild, like a jalapeno or thai chili, or even leave out the chilies all together if that is your preference.  Just drop spicy from the name ;)! If you need a recipe for making fries to make chili fries, we suggest the Les Halles fries.  They rock!
Ingredients:
2 lbs Ground Beef, combination of top round and brisket is our favorite
6 strips (300g) Bacon, diced
1 lrg Sweet Onion, diced
4 cloves Garlic, crushed
1 -2 Habaneros, finely diced
1 c (237ml)

BBQ Sauce

2 t (10g) Cayenne Pepper
2 t (10g) Chili Powder
2 t (10g) ground Cumin
2 T (30g) Paprika
2 T (30g) Brown Sugar
1 t (5g) fresh cracked Black Pepper
1/4 c (30g) Masa (corn flour), addition inspired by

Pioneer Woman's Chili Recipe

1 12 oz Beer
Directions:
Heat a large sauce pan (preferably cast iron) over med-high heat.  Add ground beef and bacon and cook until it is nearly cooked through and browned, stirring occasionally. Next add onion, garlic and habaneros and cook for another 2-3 minutes or until onions start to soften.
Add BBQ sauce, spices, brown sugar, fresh cracked pepper, masa and beer.  Stir to combine, bring to a simmer, then lower heat to keep at a gentle simmer.  Cook for 30 min - 1 hour, (flavors will develop more with the longer cooking time but isn't a requirement) adding more beer or water if necessary to maintain a good "moistness" to the chili.
Serve the chili warm. Serving suggestions - Toppings- cheese, sour cream, diced green onions. As a base or alongside - tortilla chips, crusty bread, in a quesadilla, on fries, over a sausage dog or burger, as a pizza sauce, with pasta... The variations are endless!
Hello! All images & content are copyright protected. Please do not use our images without prior permission and do not re-publish this recipe. Simply link back to this post for the recipe. Thank you.
Recipe Note for Salt: All recipes containing salt are based on kosher or sea salt amounts, not table salt. If using table salt, reduce the amount used to taste.
[ad]