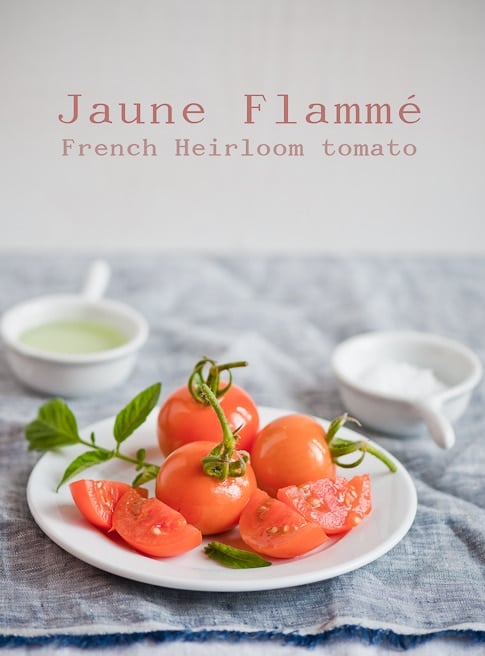 Summer is in full swing and there are two big announcements finally due out that we're equally thrilled to share. To kick-start the good vibes, the garden-geeks in us are happy to report that our heirloom tomatoes are doing fabulous this year. Of the 20 heirloom tomato plants we started, only 3 have died and that's a bumper crop record for us.
But before we delve into tomato talk, we're excited to announce a Food Blog Forum Seminar in Atlanta!
Over atFood Blog Forum, we've been working behind the scenes with Jaden of SteamyKitchen and Gwen Patesi of Bunkycooks to organize  fabulous seminars on food blogging, food photography, technology and branding. This awesome Atlanta event is full of informative sessions on how to build a better food blog, along with a Friday night mixer event and Saturday after party.
There will be plenty of intensive food blogging chatter, along with meeting new friends, great food and amazing wine and cocktails.
Buy your tickets over at the Food Blog Forum Ticket Website and we look forward to see you for another great event in Atlanta!
This year, 17 of our tomato plants have survived the normal onslaught of pests, worms and diseases. With so much luck on growing tomatoes this year, we decided to write about the different varieties heirlooms and other tomatoes in the garden.
************************************
Jaune Flamme Tomatoes, French Heirloom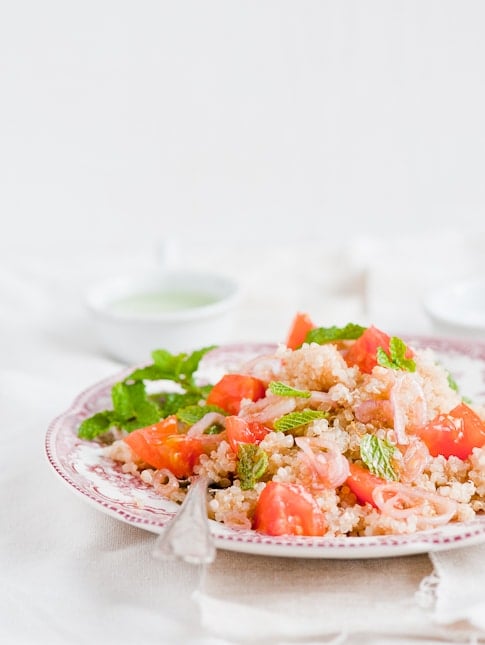 fresh mint makes this salad extra fresh and bright
A popular and generally vigorously growing French heirloom tomato is the Jaune Flamme  variety, which are bright orange, apricot-shaped tomatoes. These indeterminate, french heirlooms might be small, but they're packed with flavor  in their thick, meaty flesh.
The best part about Jaune Flamme tomatoes is that they are wonderful when dried, because they still retain their bright orange color, along with their intense flavor.
These orange tomatoes are one of our earliest producers, yielding alot of fruit before the other varieties. This was a new variety for us and these orange Jaune Flamme's have added wonderful flavor and color to our salads.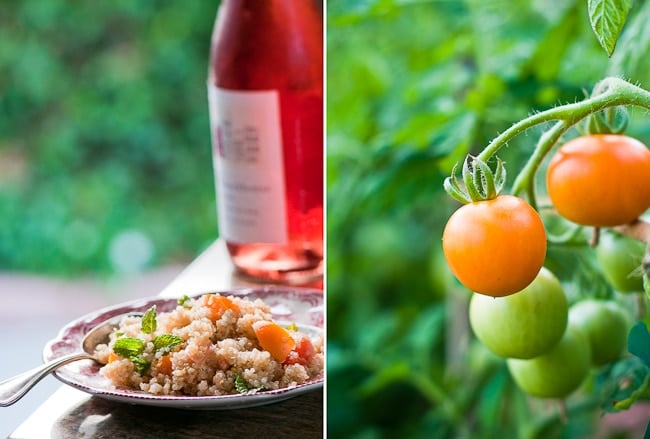 don't forget the Rosé , a nice pairing for this Summer salad
Our plants struggled a bit in the beginning of the season, but after a few treatments of organic neem oil, the stems started to perk back a bit. It's not the most vigorous tomato plant in our plots, but it definitely is a keeper for next year because it's early season fruiting, great citrus-like flavor and gorgeous color make every dish wonderful.
Simply stated, whole grain salads pair well with these colorful and flavorful tomatoes, especially when a touch of fresh mint ribbons the dish. Another keeper for go-to salad dishes, this quinoa and tomato dish should be on every summer feasting table. The mouthful of playful, mini-pop texture of the quinoa, with fresh tomatoes, mint and light vinaigrette is a celebration of Summer in a bowl.
Enjoy!
Quinoa, Tomato and Mint Salad Recipe
Yield: Serves 4
Total Time: 30 minutes
For best flavor, allow quinoa to cool to room temp. before composing salad.
Ingredients:
Quinoa
1 c Quinoa
1 1/2 c Water
pinch Sea Salt
Dressing
1 t Rice Wine Vinegar
1 t Balsamic Vinegar
2 T Olive Oil or Grape Seed Oil
1 lrg Shallot (2 T), sliced or minced
1/2 t Soy Sauce
1 T fresh Lemon Juice
Zest from 1/2 Lemon, finely grated
1/2 t Sea Salt
1/2 lb (225g) Tomatoes, 1/2" dice

Handful fresh mint

, chopped
a few small mint leaves reserved for garnish
Directions:
Prepare Quinoa. Rinse and soak quinoa for 10 minutes.  Strain and combine with 1 1/2 c water and sea salt in a saucepan.  Bring to a boil, cover pan with a lid, and reduce heat to a simmer.  Cook for @ 15 min., stirring once.  Remove from heat, fluff, and set aside to cool.
Prepare Dressing. Combine all dressing ingredients in a bowl and whisk with a fork to combine.  (For best lemon flavor, grate lemon zest directly over bowl so the lemon oil which releases when zesting will land in bowl.)
When quinoa is cool, combine quinoa, tomatoes, mint, and dressing in a bowl and toss well. Place on serving dish and garnish with remaining small mint leaves.
Hello! All images & content are copyright protected. Please do not use our images without prior permission and do not re-publish this recipe. Simply link back to this post for the recipe. Thank you.
Recipe Note for Salt: All recipes containing salt are based on kosher or sea salt amounts, not table salt. If using table salt, reduce the amount used to taste.
[ad]