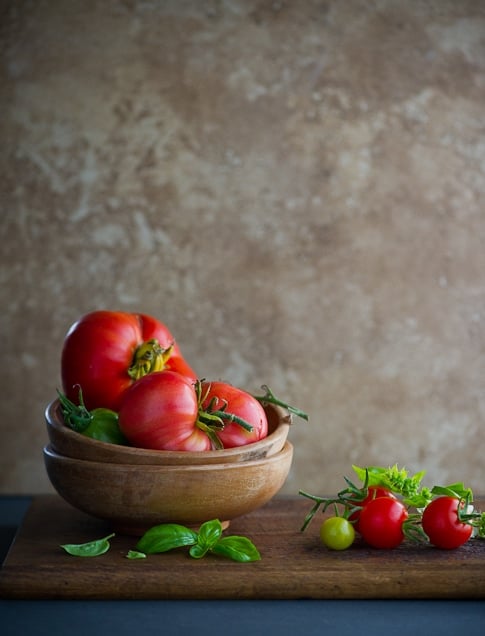 This consistently cool weather had us apprehensive, particularly as heirloom tomato gardeners. With almost 20 heirloom tomatoes plants that we've been nurturing over the last few months, all we were hoping for was some hot sun to get these plants to bolt out with tomatoes. Unfortunately there hasn't been much of the sun!
May and June gloom kept our tomatoes from ripening as intended and as impatient gardeners, the weather left us staring at green tomatoes for the last few months.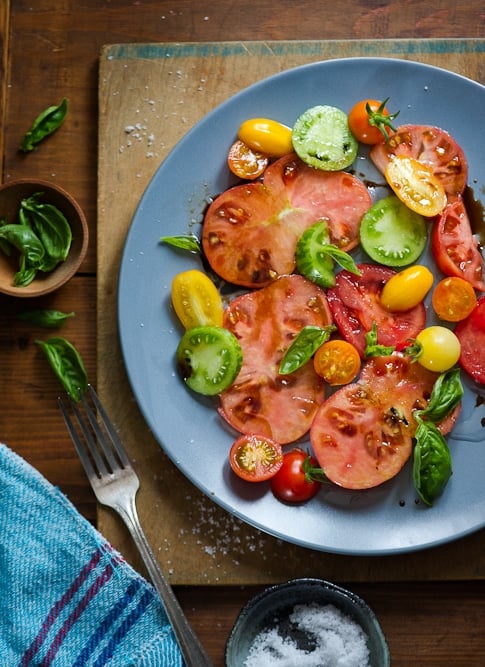 We could either pickle the green tomatoes like we often do, or just wait patiently and be as tolerant as we could to allow them to ripen. Trust us, it can get excruciatingly painful to stare at green tomatoes for months when you're craving sweet red ones.
When patches of late afternoon sun would peak out, the tomatoes were soaking up every bit of nurturing warmth. Finally, after, what seems like a decade, some of the heirloom tomatoes started to ripen to their true, sweet colors. Occasionally one or two would ripen up and we'd eat those in one sitting.
snow white heirloom cherry tomatoes
But what we were anxiously waiting for was an actual harvest full of tomatoes, meaning at least 10 tomatoes. Five for each of us. That's a fair split and substantial meal.
With this first substantial batch of ripe heirloom tomatoes, there was only one way to enjoy them. A simple, seasonally appropriate preparation of sliced garden heirloom tomatoes with a drizzle of olive oil and balsamic vinegar is perfection on a plate. Add a dusting of good sea salt, fresh cracked black pepper and aromatically sweet fresh basil. Now finally, that is perfection on a plate.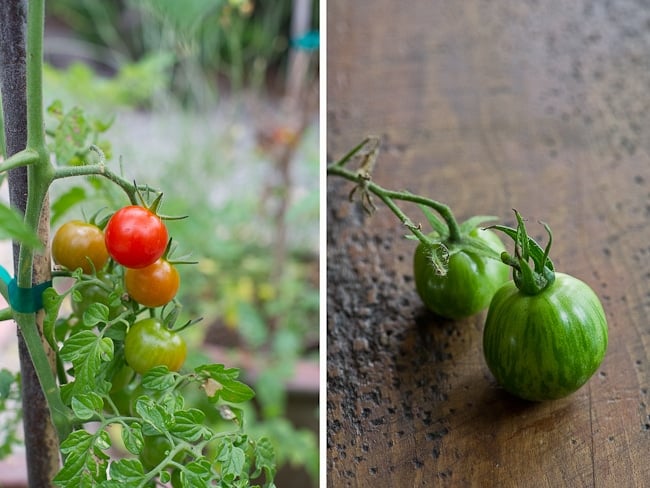 left: sweet 100 cherry. right: green zebra
Sometimes heirloom tomatoes get too much thought when it comes to preparation. Canning, stewing or drying a batch of gorgeous heirloom tomatoes is great if you have an abundance of them. But for us, to really appreciate the delicacy and treasure of an heirloom tomato is to eat it as it was meant to be: raw and fresh.
Just the heirloom tomato sliced on a place with simple accompaniments is all it takes to eat seasonally simple and to celebrate the arrival of Summer.
Less is more, especially when it comes to a good heirloom.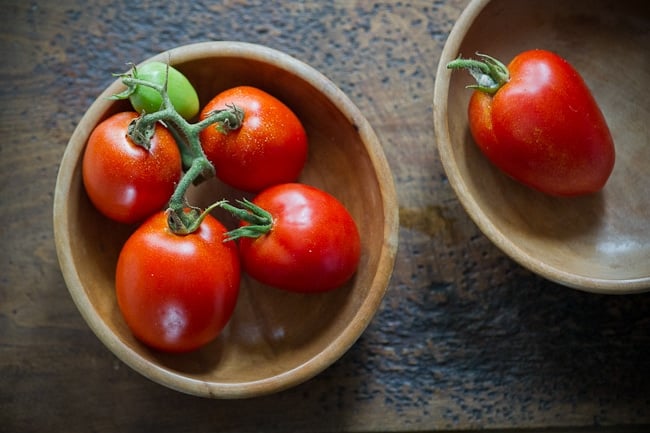 above: "jewel" enchantment heirlooms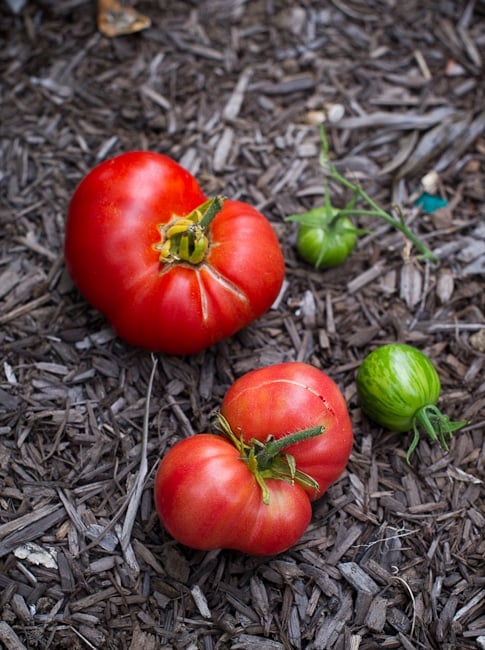 above: Neves Azorean Red & Black Krim & Green Zebra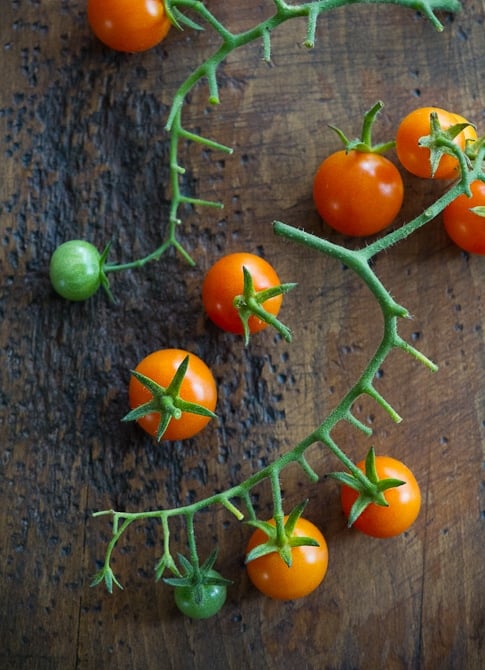 above: sun gold cherry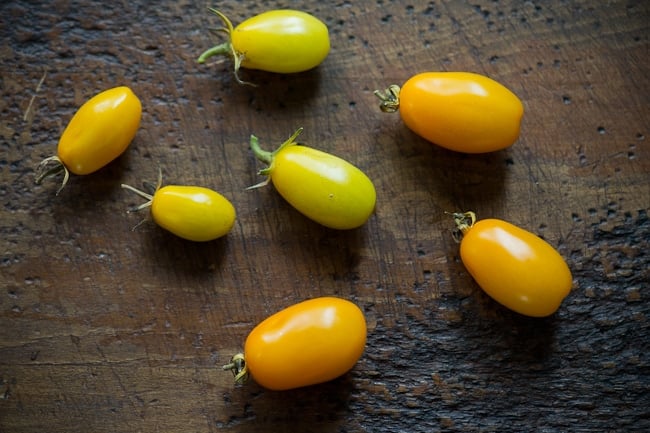 above: Pinot heirloom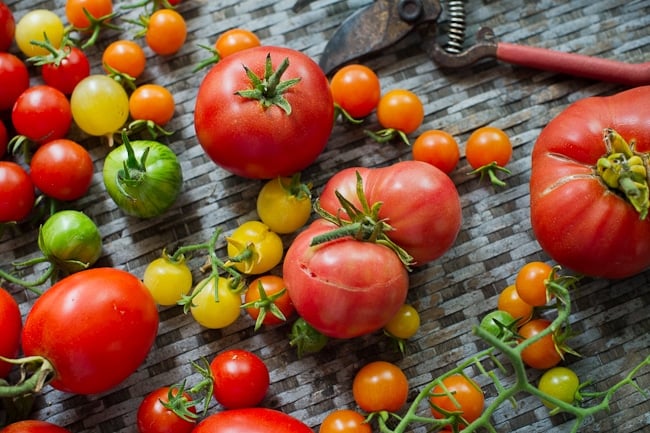 enough tomatoes for a full meal!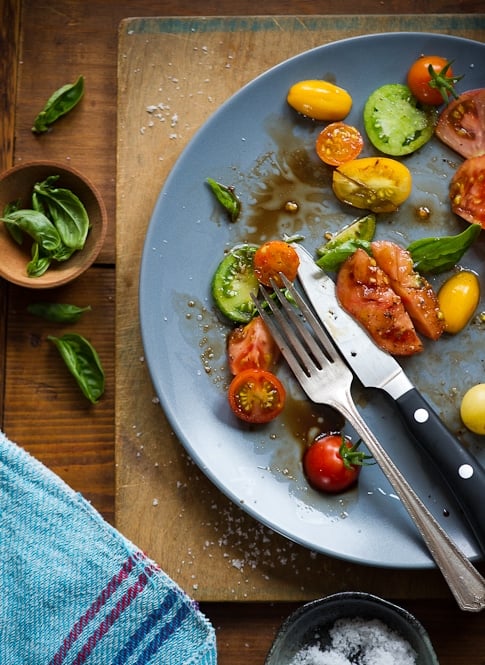 Heirloom Tomato Salad Recipe
This recipe is so simple, it doesn't really even need a write up!
Ingredients:
fresh, sweet heirloom tomatoes
olive oil
balsamic vinegar
fresh basil
sea or kosher salt
fresh cracked black pepper
Directions:
1. Slice tomatoes and drizzle with olive oil, balsamic vinegar, salt and pepper. Slice or tear fresh basil leaves on top. Enjoy!
Hello! All images & content are copyright protected. Please do not use our images without prior permission and do not re-publish this recipe. Simply link back to this post for the recipe. Thank you.
Recipe Note for Salt: All recipes containing salt are based on kosher or sea salt amounts, not table salt. If using table salt, reduce the amount used to taste.
[ad]