Grilled Prawns with a Citrus Garlic Butter -Al fresco Inspiration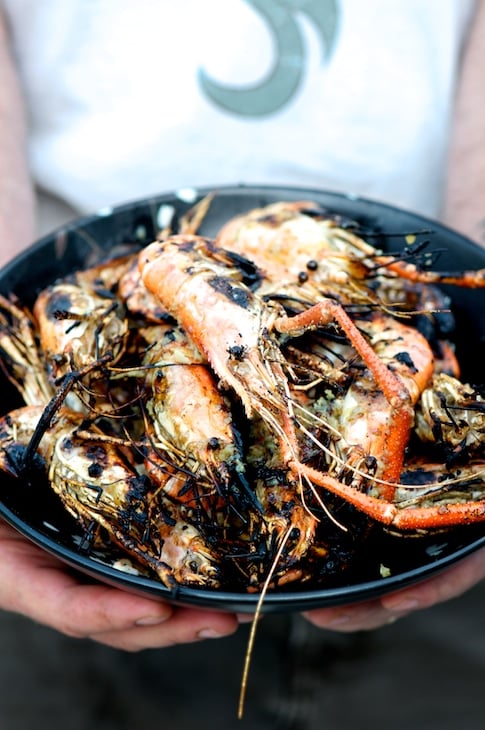 A rare day off, the sun was out, and the air springtime warm. A day peacefully spent meddling about in the garden, harvesting the last of the sugar snap peas and planting tomatoes and veggies in their stead, throwing in the occasional play session with the dogs. Video it and soundtrack in some music, and it becomes one of the moments to be shown at a birthday or funeral which evoke the crowd's tears reminding how great life can be.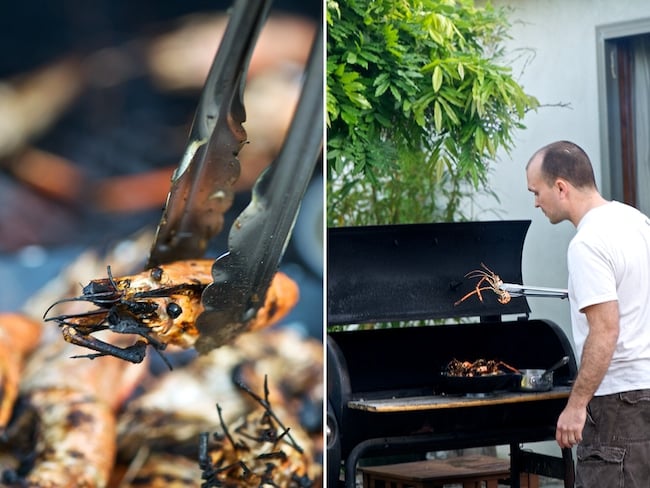 Extra crunchy charred prawn eyeballs. Oh yeah!
As the sun was dropping, hunger set in and we needed something quick, delicious and al fresco.  After a day like this, the only apropos ending would a meal licked by the flames of mesquite, so with the inspiration for some grilled prawns stemming from the vibrant spring air and from recent visits to The Lazy Ox Canteen where Josef's magical cooking was still  fresh on our palates, we set to throw dinner together.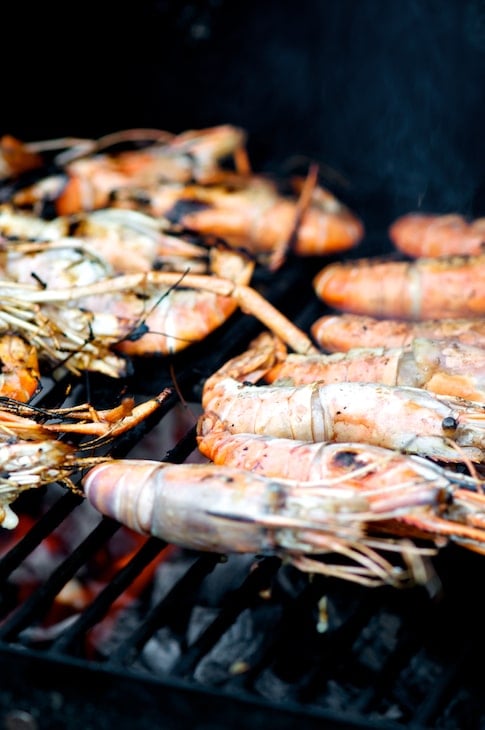 Josef has an incredible talent for dishes which have an immaculate vibrance; combining pure ingredient freshness with deft touches of spiciness, bright citrus, or other subtle nuance (try his razor clams and you'll know exactly what we mean). The spice or citrus never overpower the component they season, merely highlighting enough to make the diner's eyes sparkle with delight. That what was coursing through our minds as we concocted a butter sauce to use with our freshwater prawns.
Make sure to get the sauce all over your fingers. Worth every lick.
As the mesquite heated up to almost out-of-control hot, we let our noses and tongues guide the way in creating the garlic-butter sauce for the grilled prawns. Gently heating the butter with crushed garlic, adding a little devil pepper for a touch of spice, dried yuzu zest for citrusy brightness, nuoc mam (fish sauce) for umami and because it makes everything better, and a touch of sugar to magnify the grilled prawns' sweetness.
The prawns were rolled through the garlic butter then sent to grill on the BBQ.  With the coals' heat on the verge of an inferno, the slightest outburst of oil would ignite a prawn consuming flare-up.  Playing it fast and loose, at moments of flare up, the grill lid would get closed just long enough to starve the flames to help everything settle down, then opened back up again to allow the coals their high-heat oxygen.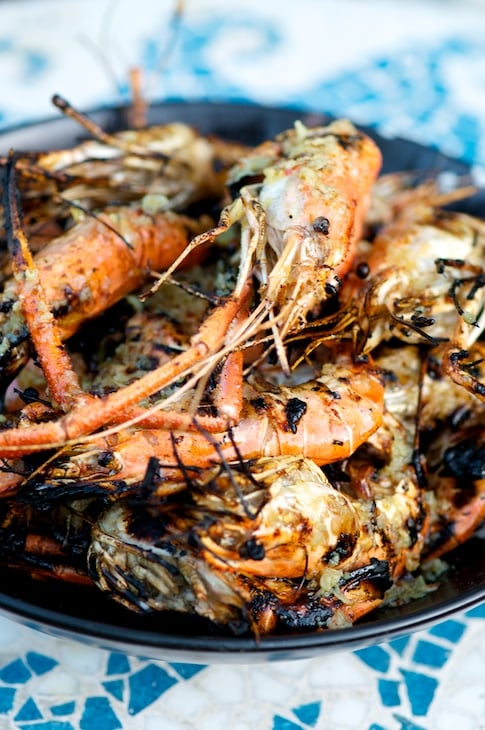 Dancing the line between perfect high heat grilling and flare up combustion, the prawns cooked quickly, charring bits of their extremities and at contact points with the grill. After retrieval with the long tongs, the prawns received a final dousing of the garlic butter, beers were opened, and dinner was served.
Some moments and meals in life are perfect due to their simplicity and spontaneity.  It wasn't pondered over or analyzed in order to to be crafted into that perfect moment.  It just was.  It is as if you get out of your head and allow your soul to be inspired, which is exactly how this meal of grilled prawns turn out to be.
Although in Southern California we are a little ahead of the curve in al fresco opportunities, but it won't be long before the most of the northern hemisphere is deep into spring and the outdoors beckon. When it does, let the open air inspire your senses and cook without inhibitions. You may just create a perfect meal.
-Todd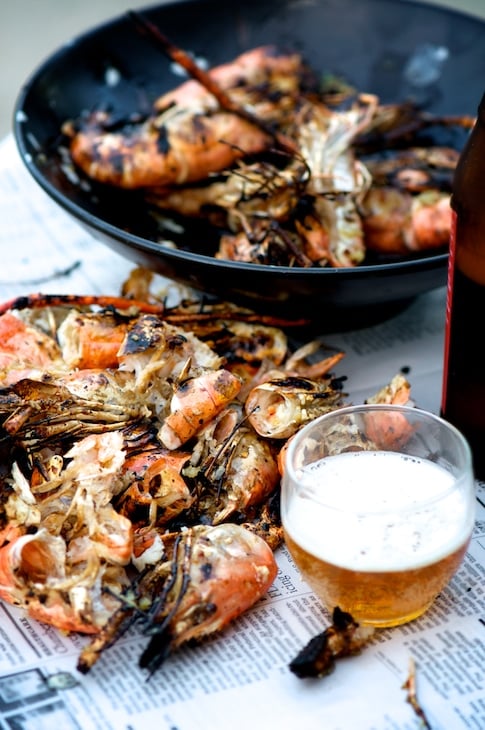 Don't forget the beer. Viva al fresco!
Hungry for more? Here's few more grilled prawn recipes we've dug up for you: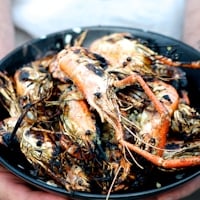 Print Recipe
Grilled Prawns with Garlic Butter
The ingredients are approximations since this dish was quickly put together. The recipe is simple and quick. Remember to use your senses as a guide to develop the flavors you love. You can also increase the garlic butter ingredients to make extra for dipping the grilled prawns into while eating.
Servings: 4 Servings
Ingredients
2 lbs. Freshwater Prawns (or other crustacean of your choice)
1 Tablespoon Sugar
2 Tablespoons Grapeseed oil (or other high-flash point oil of choice)
1/2 cup (1 stick or 115g) unsalted Butter
6 cloves Garlic , crushed
1-2 Thai Chilies (or similar variety-adjust amount for spiciness), diced and crushed
1 teaspoon Fish Sauce
1 teaspoon Citrus Zest (fresh or dried ~ yuzu, lime, lemon, grapefruit, etc.)
Instructions
Heat your grill for high heat, direct grilling. *Grilling note - if using charcoal, natural lump charcoal with cook hotter than briquettes. Competition briquettes hotter than regular briquettes.

Rinse prawn and place in a large bowl. Sprinkle with sugar and grapeseed oil.

Heat butter over low to med.-low heat. Add garlic, crushed chillies, and nuoc mam and gently cook for about 1 minute.

Pour half of butter mix over prawns then return remaining butter mix to stove.  Add citrus zest to garlic-butter and keep warm on lowest heat. (If you have a warm, indirectly heated spot on grill you can make butter sauce and keep it warm there.)

Gently toss prawns until sugar is dissolved and garlic-butter completely coats them.

Give grill grate one last cleaning scrape, oil grate, and put prawns over direct heat. Grill for about 3-5 minutes, turning at least once. (If you have a flare up, close lid for a minute or so to starve flames of oxygen. Open lid back up to allow coals to stay very hot. If the flare ups are persistent, squirt coals with a little water to tame them. You want to try and keep the coals as hot as you can without having live flames charcoal the outsides of the prawns.)

When prawns are just cooked through, remove from grill and place in a large serving bowl/platter. Pour remaining garlic-citrus-butter over grilled prawns, lay down some newspaper and eat.
We are a participant in the Amazon Services LLC Associates Program, an affiliate advertising program designed to provide a means for us to earn fees by linking to Amazon.com and affiliated sites.