We're in serious need of cocktail therapy to sooth our nerves and prepare us for another all nighter of re-coding and html corrections on the blog.  It seems appropriate to write up one of the cocktails and indulge. So for tonight's session of inebriation therapy, we made a couple of "Island Taxi" cocktails made with rum and curacao and fresh lime juice
A single is not enough tonight…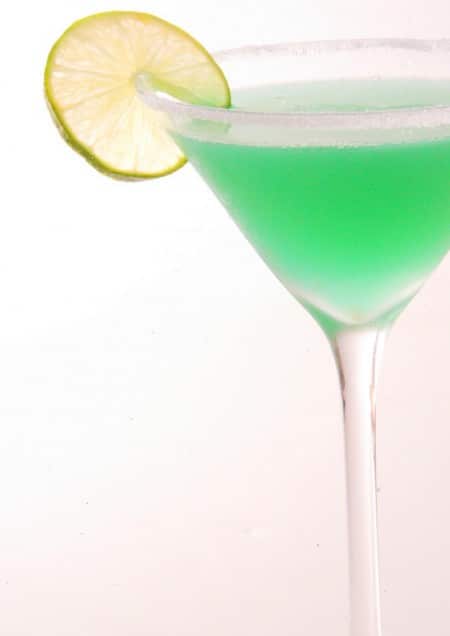 The "Island Taxi" cocktail is kind of a rum variation of one of our favorite cocktails, the Sidecar. We replaced the cognac with a light rum, swapped the triple sec to curacao to give it a beautiful color, then we played with the citrus to find a nice balance to the new alcohols. The result is quite refreshing. Both the hosts of the show, Cindy and Roxanne, loved these pretty, pretty Curacao  cocktails. But for tonight, we might have to make a few more to soothe the pain for all the loss of blog posts.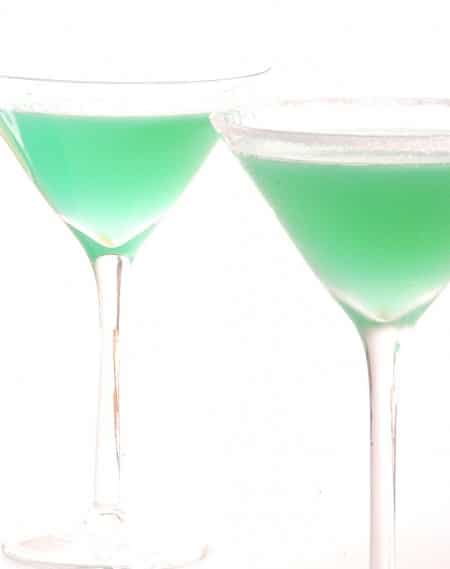 Island Taxi Curacao Cocktail Recipe
Yield: 1 cocktail
Total Time: 5 Minutes
Ingredients:
1 ounce (30ml) light Rum (Havana Club if you can get it)
1 ounce (30ml) Curacao
1 1/2 ounce (45ml) fresh Squeezed Orange Juice
3/4 ounce (20ml) fresh Squeezed Lime Juice
1/2 ounce (15ml) Simple Syrup, or to taste
sugar for the rim
lime wheel for garnish
Directions:
If possible, chill your cocktail glass beforehand.
Moisten the rim of the cocktail glass with a piece of lime, then sugar the rim.
Add your cocktail ingredients to an ice filled shaker (rum, curacao, oj, lime juice, and simple syrup), and shake vigorously for 15 seconds. Strain into cocktail glass and garnish with lime wheel. Lick & sip.
Note 1: A basic simple syrup is a 1:1 ratio of sugar dissolved in water. example- One cup sugar dissolved in one cup of water. We usually make larger batches and keep on hand in the refrigerator.
Hello! All images & content are copyright protected. Please do not use our images without prior permission and do not re-publish this recipe. Simply link back to this post for the recipe. Thank you.
Recipe Note for Salt: All recipes containing salt are based on kosher or sea salt amounts, not table salt. If using table salt, reduce the amount used to taste.
More cocktails that you might enjoy Here. 
[ad]