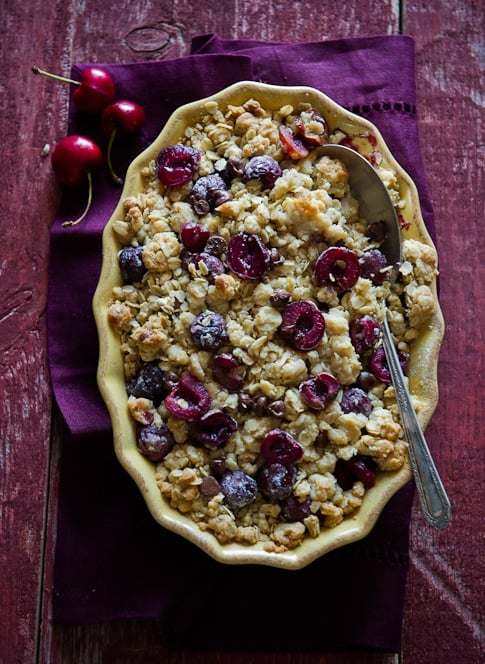 I live with a fruit thief. It's not Sierra, and I'm not talking about the neighborhood possums. I tend to think of us as living near them, not with them. No. I'm talking about the adorable and deceptively innocent looking Diane.
Take a road-trip with her and you'll see what I mean. On a quiet little drive through the countryside and happen to pass an ripe apple tree growing alongside the road, the car will be stopping. Then I will pry the fingernails off my thigh which caused the abrupt interruption, we will look around for witnesses, then climb through ditch and weeds to pluck the forbidden fruit.
She knows every calamansi and lime overgrowing the neighborhood walls in Little Saigon. And that cute little elderly Japanese man down the street growing peaches, figs, and apples, well… she's almost picked that. So far I've been able to use "elder respect" to protect his fruit from her clutches, but if his kids ever take over, look out!
The city pickings are fun, but by far our favorite mark is the countryside fruit trees. The apple trees in Sonoma or Julian. Random fruit trees coming home from the Sierras. Avocado trees down by Fallbrook. And the prime score, the cherry trees in Northeastern Oregon.
Diane loves cherries. She gets all gushy over them in ways that even I don't inspire in her. The first time we were up visiting my dad together, it took her a whole 5 seconds to spot a random cherry tree growing in the ditch turning towards Dad's place. She immediately decided we needed to take a nighttime stroll that evening.
Every time we go visit, Diane is immediately scoping the joint. Are they ripe? Any new marks? What's the flow of traffic? Did you bring the black clothing and bags? Cherries have never seen the same since teaming up with this little fruit burglar.
As with most fruit, our favorite way of getting rid of the evidence is to immediately eat the cherries. However, occasionally we'll launder the goods by baking them. What better way, than with my all-time favorite country-style dessert, a crisp.
A perfect topping made with brown sugar, butter, flour and oats concealing the ill-gotten gains laced with dark chocolate chips. A Chocolate Cherry Crisp. This evidence won't be around long.
-Todd
Chocolate Cherry Crisp Recipe
Yield: Serves 8.
Cook Time: 45-55 minutes
Ingredients:
Topping
3/4 c (100g) all-purpose Flour
1/4 c (50g) packed Light-Brown Sugar
1/2 t (3g) Sea Salt or Kosher Salt
8 T (1 stick) (115g) cold, unsalted Butter, cut into small cubes
1 c (90g) old-fashioned Rolled Oats (not quick-cooking)
Filling
2 lbs fresh Cherries, pitted and halved
1 c (180g) Dark Chocolate Chips
1/4 c (50g) Granular Sugar
3 T (45g) Flour
Directions:
Preheat oven to 375 degrees. In a large bowl, mix together flour, brown sugar, and salt. Pinch butter into flour, using your fingers or a pastry blender until mixture is the texture of coarse meal. Add oats, and use your hands to toss and squeeze mixture until large, moist clumps form. Transfer to freezer to chill while you prepare filling.
(If desired, set aside a handful of cherries to decorate the top of the crisp.) In another large bowl, toss cherries with chocolate chips, sugar and flour. Transfer to a shallow 2-quart baking dish, and sprinkle with topping mixture. Place reserved cherries to decorate top of crisp. Place baking dish on a rimmed baking sheet, and bake until golden and bubbling, 45 to 55 minutes. Let cool 10 minutes before serving.
Hello! All images & content are copyright protected. Please do not use our images without prior permission and do not re-publish this recipe. Simply link back to this post for the recipe. Thank you.
Recipe Note for Salt: All recipes containing salt are based on kosher or sea salt amounts, not table salt. If using table salt, reduce the amount used to taste.
[ad]