Bacon and Parmesan Hasselback Zucchini with Garlic Mustard Butter (Low Carb, Keto)
This hasselback zucchini recipe has bacon, parmesan and way too good to pass up as an easy zucchini side dish. Enjoy!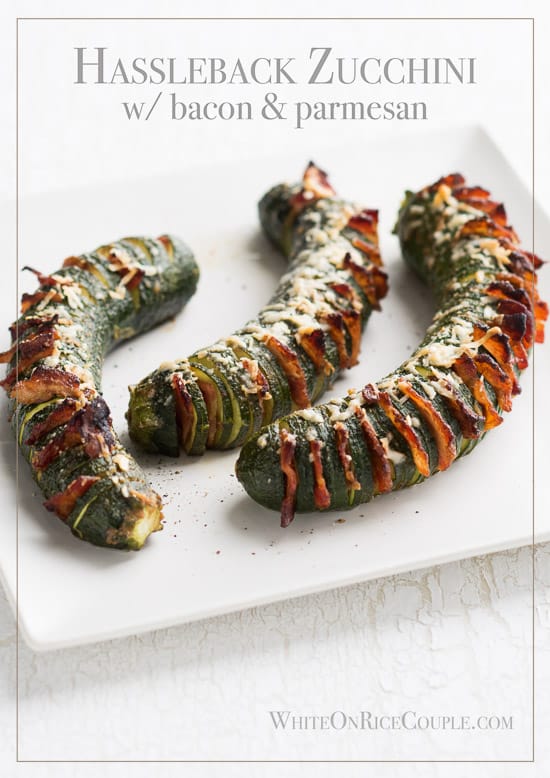 Low Carb & Keto Zucchini Recipe
It's really about time we shared this recipe. Good recipes like this shouldn't be locked up in a dropbox, which we're totally guilty of. We made is back in Summer of 2014 with over thirty other zucchini recipes for a magazine project that never got finished. But why we never published it just yet was because we're afraid you all would be tired of our zucchini recipes! We love zucchini and can explore so many new ways to cook up this humble veggie, but to post them all in a row would be overkill. It's been so popular during work because it's a low carb and keto friendly recipe that everyone has been devouring.
Video for our Hasselback Zucchini Recipe with Bacon & Parmesan
We made it again for lunch a few weeks back and realized one can never have too many zucchini recipes, even in winter. Zucchini is one of those vegetables that are in markets year round and no matter what the season, we all crave zucchini at some point. So when we were wanting a simple vegetable lunch, we popped a few of these in the oven and were thrilled (again) with the satisfying results.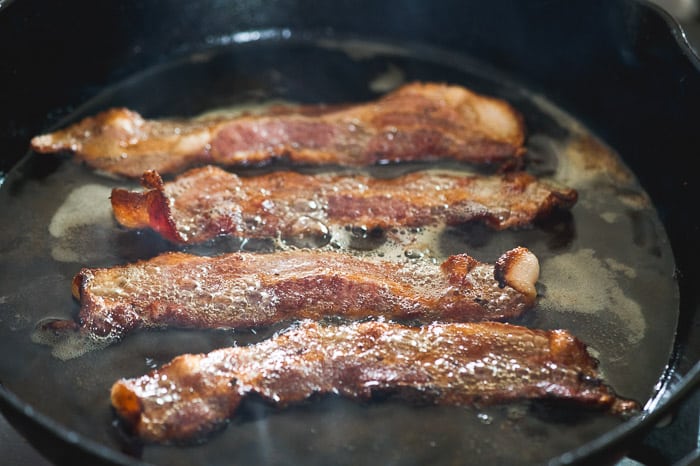 cook your favorite variety of zucchini for this hasselback recipe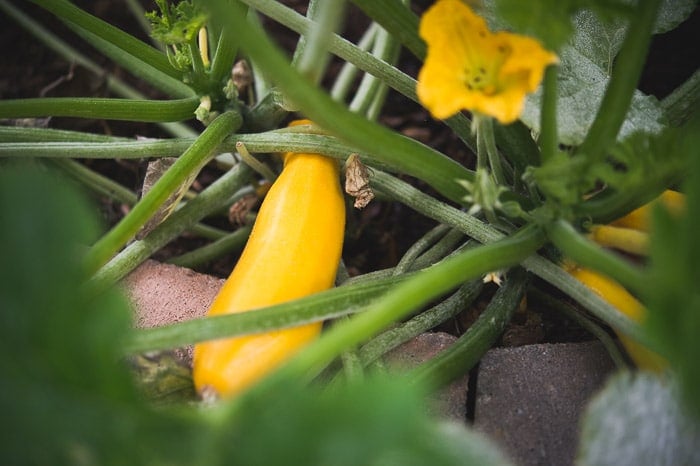 Similar to the hasselback potato where slits are cut (but not all the way through) then stuffed with cheese, the same technique applies to the zucchini. We stuffed the zucchini with some crisp bacon, drizzled some garlic mustard butter and finished off with a generous helping of grated parmesan cheese.
This hasselback zucchini with bacon and parmesan is good. Really REALLY good and darn it, if you find yourself eating only this for dinner, don't feel guilty. We've devoured this luscious dish with a few glasses of wine and never looked back.
Enjoy,
Diane and Todd
This recipe was originally published in 2015 and re-published in 2020 just in time for zucchini Summer season. Enjoy more zucchini recipes here.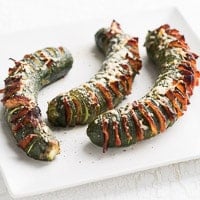 Roasted Hasselback Zucchini stuffed with Bacon
Often called accordion zucchini or known at hasselback zucchini, these are a fabulous appetizer or side dish to make. It's such a great way to cook and serve up a whole zucchini in a visually delicious presentation. Watch the video on the recipe post for the tutorial.
Ingredients
4 medium zucchini
4-6 slices bacon
2 tablespoons (30g) unsalted butter, melted
3 cloves garlic , minced or crushed
2 teaspoons (10ml) Dijon mustard
1 teaspoon (5ml) Worcestershire sauce
kosher or sea salt , to taste
fresh cracked black pepper
grated parmesan cheese (or other preferred cheese), to top zucchini
Instructions
Preheat the oven to 400° F. Line a sheet pan with parchment paper.

Cook the bacon until nearly crispy. Drain and cut into 1/2-inch pieces. Set aside.

Slice crosswise cuts into the zucchinis, about 1/8-inch to 1/4-inch thick, carefully cutting nearly through but not all the way through the bottom. You can use chopsticks or the thin handles of wooden spoons by placing them on both sides of the zucchini to keep the knife blade from cutting through. Try to keep the bottoms intact. But if it breaks, that's ok. You'll just have a shorter piece of zucchini to eat.

Slightly fanning the zucchini away from you in order to carefully open up the cuts in the zucchini, place pieces of bacon between every other cut of zucchini. Place the zucchini on the prepared sheet pan.

Combine the butter, garlic, mustard, and Worcestershire sauce. Or you can heat a pan, melt the butter and garlic together, then add the dijon mustard, worchesteshire and salt/pepper. This will give a more garlic flavor. Brush the sauce over the zucchini. Season with salt and pepper. Top with grated cheese.

Depending on the size of your zucchini, bake for 35-40 minutes or until tender and lightly browned. Zucchi varies so much in size! Enjoy the dish warm.
Nutrition Information per Serving
Calories: 181kcal, Carbohydrates: 8g, Protein: 5g, Fat: 15g, Saturated Fat: 7g, Cholesterol: 30mg, Sodium: 205mg, Potassium: 576mg, Fiber: 2g, Sugar: 5g, Vitamin A: 567IU, Vitamin C: 36mg, Calcium: 35mg, Iron: 1mg
We are a participant in the Amazon Services LLC Associates Program, an affiliate advertising program designed to provide a means for us to earn fees by linking to Amazon.com and affiliated sites.