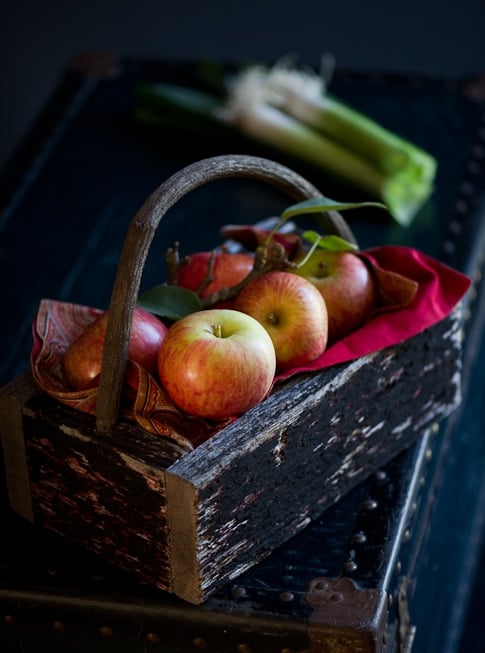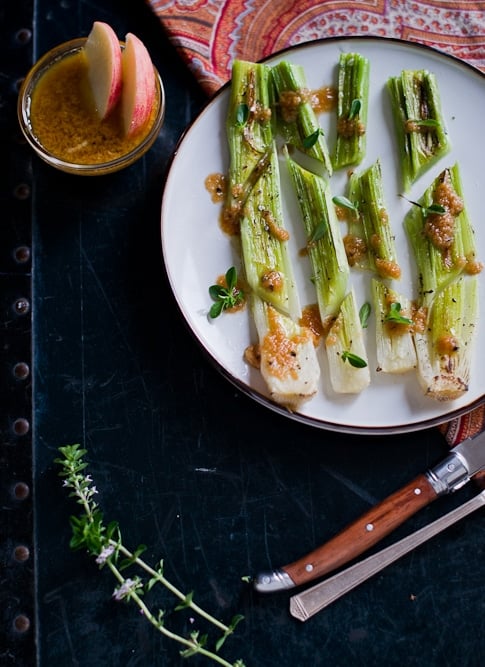 When heirloom apples arrive to the markets, we know Autumn has arrived.  Southern California might be scarce with decidious, fall-colored leaved trees, but the slight chills and touch of dry air to the nose is a clear sign that Summer has retreated to Fall.
An annual tradition for us during the last week of September is take a much needed day off and trek up to Solvang and the San Ynez Valley, our favorite local apple picking regions. This area is our Autumn playground where we go hopping from one apple grove to another, searching for crispy, sweet varieties of apples to fill our bags. Best part about these apple orchards is that you only pay for what you put in the bag, so it's not unusual for us to chomp away on apples plucked from their branches before we check-out. Samples are included all day.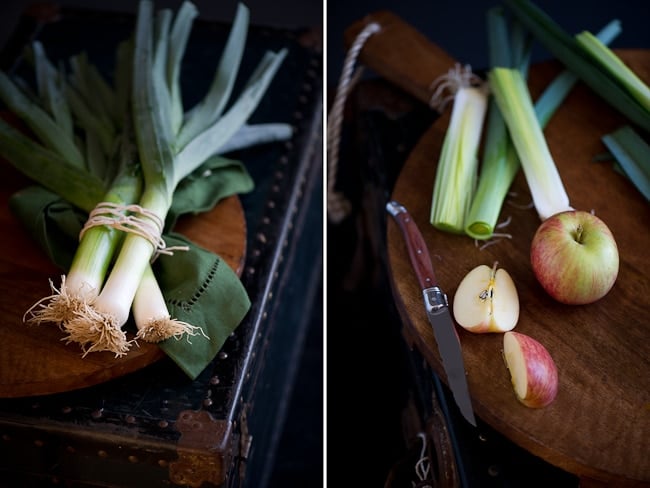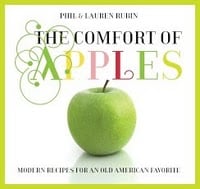 With apple season in full swing, our kitchen is always decorated with gorgeous apple specimens from green, to pink, to red and everything in between. The timing could not have been any better this year because of a new cookbook, The Comfort of Apples, that was sent to us from the amazing cooking instructor couple Phil and Lauren Ruben of Two Peas and a Pot.
The Comfort of Apples cookbook is brimming with seasonal apple recipes from comforting savories to simple, yet elegant desserts. With Fall Fest in full swing, it wasn't difficult to be inspired by apples this week, especially with The Comfort of Apples recipes to choose from.
The flavor of broiled leeks are fabulous and to add the delicate touch of a sweet and tangy apple vinaigrette is pure genius. Actually, we can't decide which is "more genius", the apple vinaigrette and charred leek combo, or just making the vinaigrette from fresh apples. When blended together, the apple acts as a perfect emulsifier between the oil and vinegar, and the apple's sweet-tart flavor adds a special flavor component to the vinaigrette.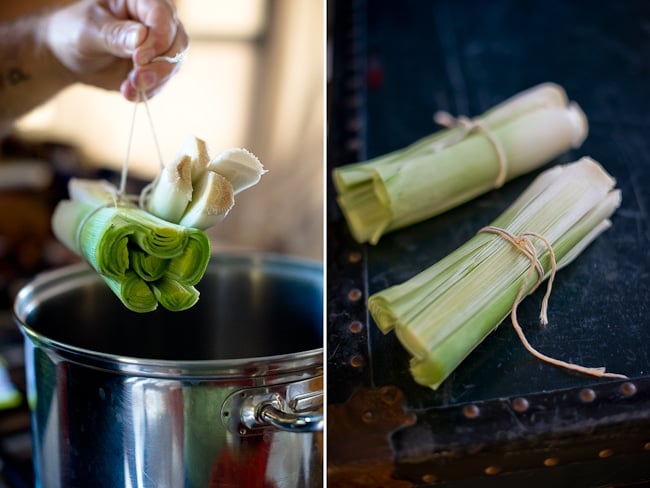 The flavor of the vinaigrette can vary as much as the different apples varieties tastes please the palate.  And it makes the freshly made vinaigrette seem more autumn apropos.  Vinaigrettes made with lemon, lime or other citrus are so beautifully bright and summery but the apples give the dressing a more rounded palate.  It's kinda like changing up from a Sidecar as the evening cocktail, to a Calvados Sidecar.  Both are delicious, but they each have their perfect season.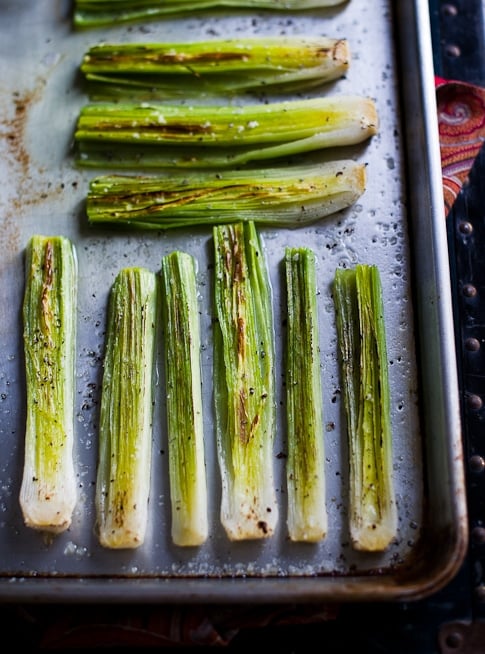 Broiled Leeks with Apple Vinaigrette Recipe
Yield: Serves 2
Total Time: 20 minutes
Adapted from The Comfort of Apples, Phil and Lauren Ruben
This recipe has so much wonderful flavor and texture, it's the perfect side dish for any occasion. The apple vinaigrette is equally versatile for any salad.
Ingredients:
For the Leeks:
4 large leeks, washed well and trimmed, discard of dark green leaves
5 tablespoons olive oil
salt and pepper
For the Apple Vinaigrette
1/2 teaspoon chopped garlic
1/2 teaspoon chopped shallot
1/2 cup chopped apple, peeled
1 tablespoon balsamic vinegar
1/3 cup olive oil
salt and pepper
Directions:
For the apple vinaigrette:
Combine all ingredients except for salt and pepper in a blender. Pulse well until smooth. Season with salt and pepper to taste.
For the Leeks:

Bring pot of salted water to boil. Fill large bowl with ice water.
Cut each of the washed leeks in half, stopping at the root so the leek remains intact. Rinse well again. Tie the leeks into snug bundles of 4 with kitchen twine. Boil leeks for about 6 minutes or until tender and immediately transfer to ice bath to cool. Once cooled, remove and drain the leeks, then untie the string. **Pat the leeks dry. Cut leeks in half lengthwise.
Preheat the broiler to high. Oil a baking sheet with 2 tablespoons of olive oil and sprinkle over 2 teaspoons of salt. Line the leek halves in a single layer on the baking sheet cut side up and drizzle with remaining olive oil.
Season with salt and pepper. Position the baking sheet on a rack 6 inches from the heat source. Broil until lightly charred, about 6 minutes. Serve the leeks on a platter drizzled with the vinaigrette.
Hello! All images & content are copyright protected. Please do not use our images without prior permission and do not re-publish this recipe. Simply link back to this post for the recipe. Thank you.
Recipe Note for Salt: All recipes containing salt are based on kosher or sea salt amounts, not table salt. If using table salt, reduce the amount used to taste.
[ad]