Caramel Roasted Pears Recipe Perfect One-Dish Dinners Cookbook Promo Video
[donotprint]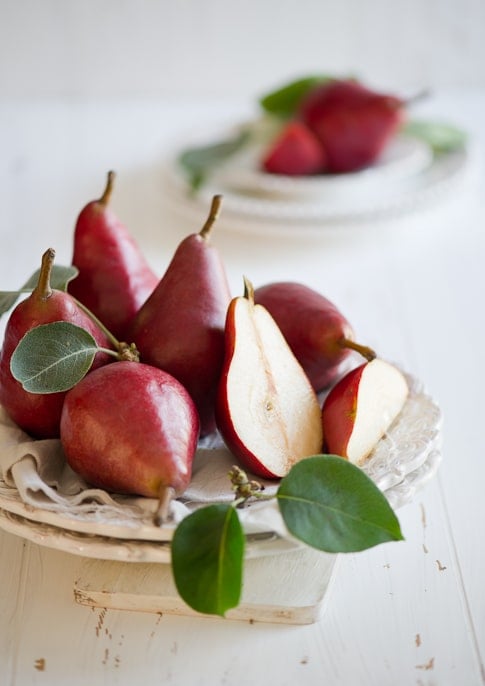 Thank you to Pam, Maggy and Sharon Anderson of Three Many Cooks for sharing with us a copy of Pam's amazing new Perfect One-Dish Dinners cookbook. We recently spent two days with them to produce and film the cookbook promo video for Perfect One-Dish Dinners. They swallowed us up into their loving, fun household and it was a joy to grab the cameras, capture their laughter, and to share meals and time with them. When we first sat down and talked the them, and Pam started to share a bit of her past, we got goosebumps. They are an inspiring, loving and strong line of women and it was a pleasure to share a bit of their story.
Please visit their beautiful blog to watch the video! ThreeManyCooks.com
Pam's latest cookbook, Perfect One-Dish Dinners is based on the belief in being able to host a food-is-so-good-everyone-gets-delightfully-stuffed get-together and the host still has the pleasure and luxury to enjoy the gathering rather than be chained to the kitchen.
This parallels how we have changed in the WORC household when hosting friends. A decade-plus ago, we'd kill ourselves for days preparing to have a handful of friends over. The food was awesome, but the workload was a bitch.
Over the years we started getting smarter about our dish choices and the logistics of hosting. The food stayed awesome, but the work became much easier and less complicated. Now it seems effortless to host 20 people in the garden, and a big part of that is by having many recipes in our repertoire which are uncomplicated in preparation but still invitingly delicious.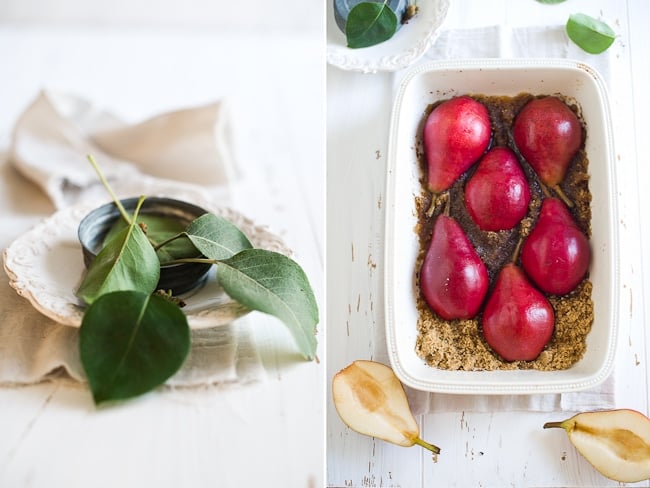 These are the sort of dishes which fill Pam's latest cookbook, "Perfect One-Dish Dinners." Uncomplicated, often served in their cooking vessels, yet definitely not simpleton or boring dishes. Beautiful all-season stews and mains like Osso Bucco, braised Salmon, blue cheese stuffed Beef Tenderloin, and Spicy Coconut Shrimp stew. Those by themselves are rock stars, but then when you add in the apps, salads, and desserts like the Smoked Trout Pate, Baked Camembert with Cranberry-Orange Relish, Baby Spinach with Fennel, Oranges, and Red Onion, and the Vanilla-Raspberry Trifle, you've made the meal overwhelmingly impressive and still effortless to create.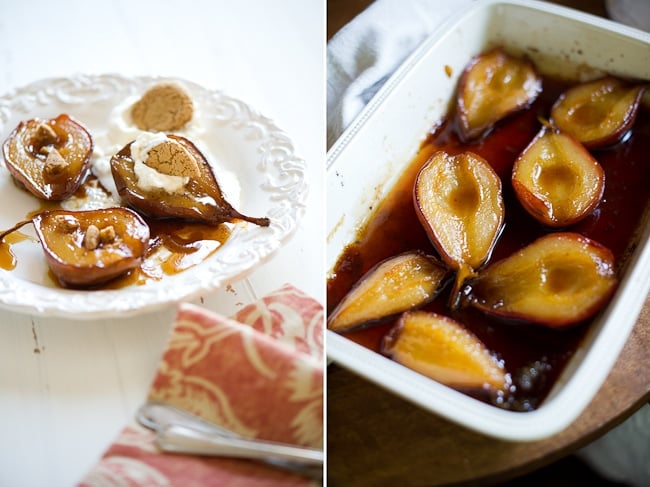 Originally for this post we were going to write about Pam's Gingersnap-Caramel Pear Parfaits. We didn't ever make it to the parfait part. Coming out of the oven, the pears and caramel were too luscious and enticing, and we ate them on the spot. So instead of a parfait, we simply have Caramel Roasted Pears served with Gingersnaps and a Ginger-Cognac (Domaine de Canton) laced Whipped Cream. If you don't have any Domaine de Canton, any cognac or brandy are fine substitutes. Of course a pear brandy would be a rock-star substitute as well.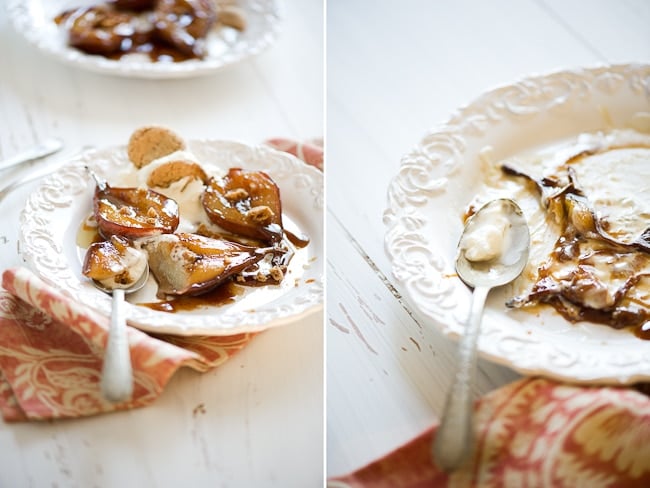 The simplicity in making the Caramel Baked Pears is "Shut-up!" shouting worthy. Melt some butter in a baking dish, add a hefty layer of brown sugar. Halve & core the pears then place them on the brown sugar, cut side down. Bake 30-40 minutes and serve with whipped cream, a fresh "perfume" of the Domaine de Canton, and gingersnaps. That's it.
As the pears bake and soften, the brown sugar caramelizes with the butter and juices from the pears. As soon as the dish is pulled out of the oven, you'll have pure heaven on your hands. Allow the pears to cool and layer them into a parfait if you can hold yourself back that long. We couldn't.
-Todd
[/donotprint]
[print_link]
Caramel Roasted Pears with Gingersnaps & Cognac Whipped Cream Recipe
Adapted from Pam Anderson's "Perfect One-Dish Dinners" cookbook recipe for Gingersnap-Caramel Pear Parfaits.
Substitute brandy or cognac for the Domaine de Canton if you don't have any. Or go virgin and just use a little more vanilla extract in the whipped cream and leave off the drizzling of alcohol on the finished pears. The longer you bake the pears, the thicker the caramel gets. If you over bake, and the caramel is too thick, re-warm the caramel and mix in a bit of water to thin out the caramel sauce. Serves up to 6-8.
Caramel Pears
4 T (60g) unsalted Butter
1 c (180g) packed Brown Sugar
4 firm but ripe Pears, halved & cored
Whipped Cream
2 c (470 ml) Heavy Whipping Cream
1 t (5ml) Vanilla Extract
2 T (30ml) Domaine de Canton (Ginger Cognac), or any cognac or brandy
2 T (15g) Powdered Sugar
3 T (45ml) Domaine de Canton (Ginger Cognac), or any cognac or brandy for topping finished pears
16-24 sm Gingersnap Cookies
Preheat oven to 400° F
1. Make Roasted Pears and Caramel Sauce. Melt butter in approx 9″x13″ baking dish in oven until butter begins to slightly brown and has a nutty aroma. Spread brown sugar over butter, then lay pears, cut side down, on top of the brown sugar. Return to oven and bake for approx. 30-40 min, or until pears are soft and sauce is thickened to coat the back of a spoon well. Set aside to cool to your desired serving temp. (Can be served still warm or room temp. – both are fantastic)
2. Make Whipped Cream. Combine whipped cream ingredients in a mixer and whisk on high speed until it reaches the soft peaks stage. Set aside in refrigerator until ready to serve.
3. Serving. Plate pears with a nice spooning of caramel sauce. Spoon the 3 T of Domaine de Canton over the pears, and serve with whipped cream and gingersnap cookies.
[ad]
We are a participant in the Amazon Services LLC Associates Program, an affiliate advertising program designed to provide a means for us to earn fees by linking to Amazon.com and affiliated sites.