Crispy Vietnamese Pork Stuffed Zucchini Flowers
If you're overloaded with zucchini flowers, try making our Pork Stuffed Zucchini Flowers. Summer always focuses on heirloom tomatoes and stone fruits. Sure, we all love the classic seasonal produce (even obsess over them at times). But truly one of the forgotten treasures of Summer lies beyond the peach, plums and tomatoes.
Vietnamese Pork Stuffed Zucchini Flowers
Let's give thanks, appreciation and more love to the delicate zucchini flower. It's this time of year that we relish in zucchini flowers and as we call it, the forgotten jewel of Summer vegetables. Years ago, we were fascinated by zucchini flowers. At first, they can look intimidating, but when stuffed with cheese, meat or what ever you like they can be one of your favorite foods. If zucchini flowers had the baby zucchini still attached, even better (female zucchini flowers have small zucchini attached and male flowers are attached to the stem only).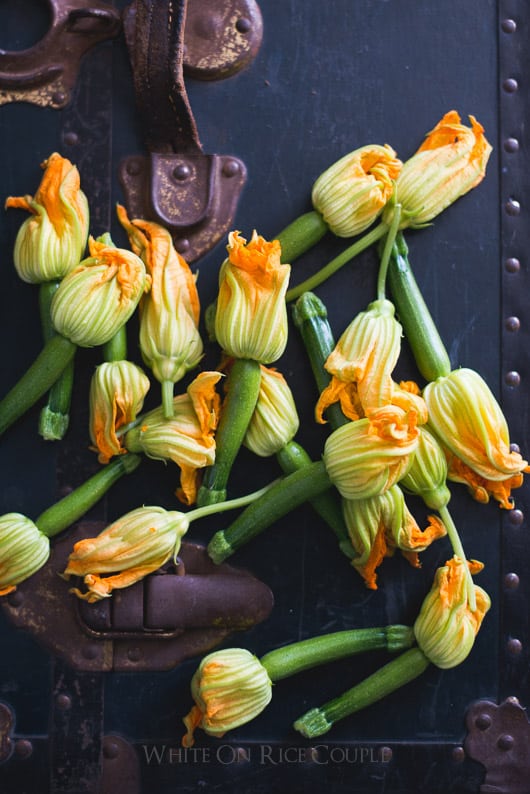 Male vs Female Zucchini Flowers?
A zucchini plant has both male and female flowers. The male flowers have a stem at the base of the flower, where as a female flower has the bulging stem, which is the ovary. If this ovary get pollinated in the female flower, then it eventually grows into the zucchini. The reproductive parts of the flower are also different, thus becomes an explanation of the birds and the bees. Either way, both types of flowers can be stuffed and eaten. Both are delicious. If you're a science nerd, here's more of a detailed explanation.
Tips for Stuffing Zucchini Flowers or Blossoms
Remove the inside stamen of the male flowers or pistil of the female flowers. If you accidentally tear one side of the zucchini flower that's ok. The flower seal around the filling.
Gently stuff about 1 teaspoon of filling into the flower. If the flower is torn, just gently press the flower up against the filling and the flower sill stick find.
Don't overstuff the zucchini blossom. Just stuff enough to where you can still handle the flower without it falling apart.
All the recipe details are in the recipe box below.
Video Making Vietnamese Pork Stuffed Zucchini Blossoms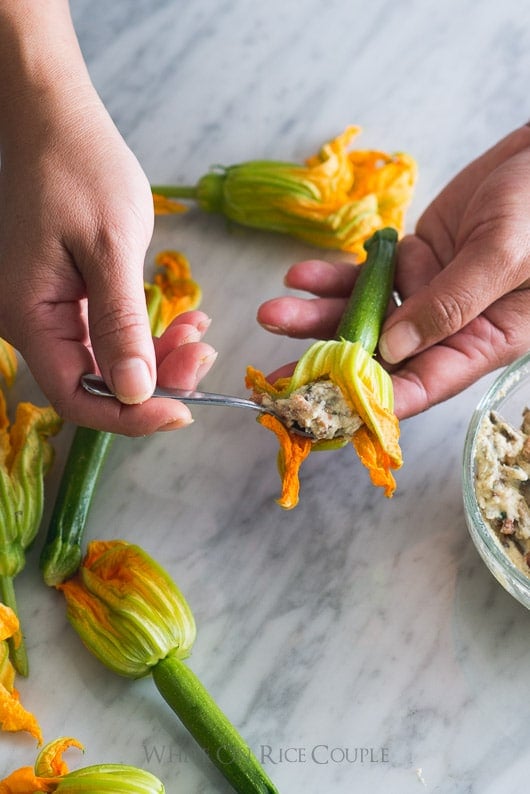 stuff these flower beauties with what ever you like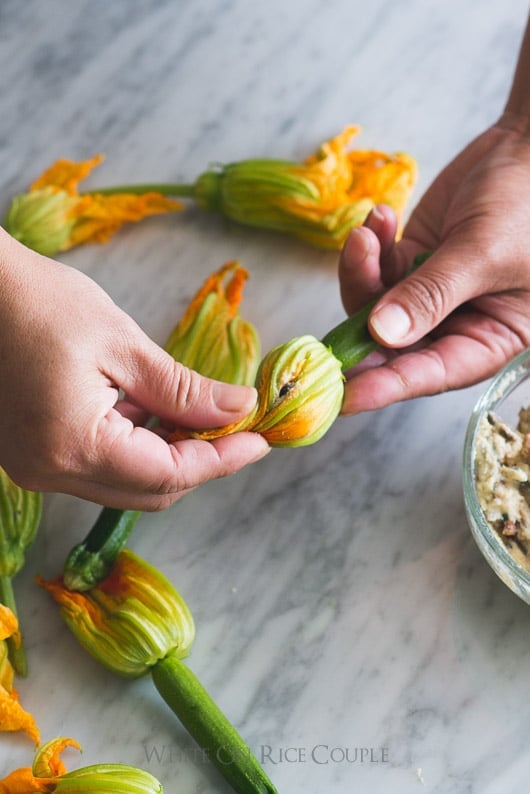 dip then fry to a crisp texture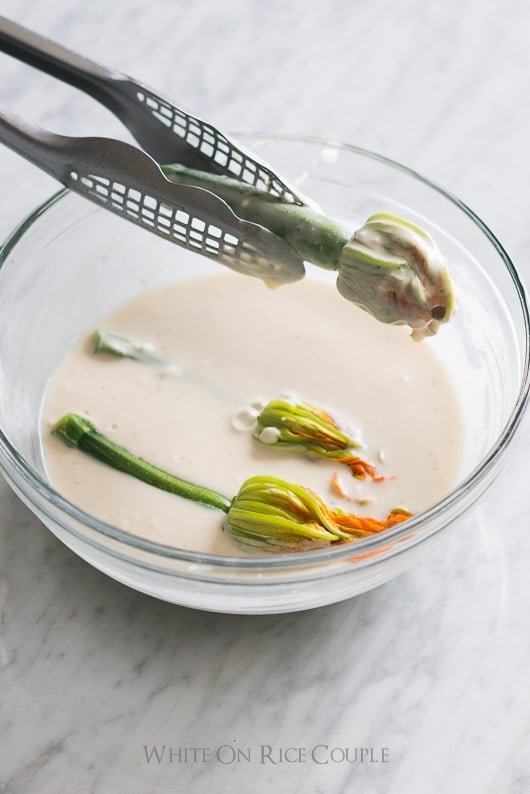 For years we've been stuffing them with different mixtures of ricotta cheese (recipe here), goat cheese, grains and meat, you name it we probably stuffed it. Years ago when we were working on all our zucchini recipes, we wanted to make a savory-Vietnamese inspired stuffing. Why not? We took a shortened version of our easy pork egg roll stuffing and fill the zucchini flowers with them.
What we get is a stellar and easy dish for anyone who loves egg rolls and zucchini. Its a great combination that will fill your Summer days with good food and to share with your best friends. Don't forget to pair it with a bottle of great wine, a beer, or a refreshing cocktail and that's all you'll need to savor Summer while it's here. Hope you love these Vietnamese pork stuffed zucchini flowers as much as we do.
Enjoy,
diane and todd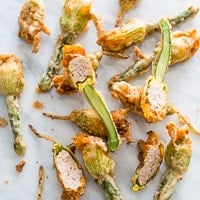 Crispy Vietnamese Pork Stuffed Zucchini Flowers
We used one of our favorite and easy pork egg roll fillings and added them to an elegant stuffed zucchini flower. The result? A wonderful stuffed zucchini flower that all our friends devoured in less than 5 minutes. It's a winner.Try to keep the filling sizes consistent so that cooking time will be the same for all flowers. Also, stuffing the flower with a thinner, longer filling will cook quicker than a thick, fat center filling.
Ingredients
For the Vietnamese Pork Stuffing
½ pound (225g) ground pork
2 cloves garlic , minced
½ teaspoon sugar
¼ teaspoon fresh cracked black pepper
1-2 teaspoons fish sauce (5-10 ml) depending on saltiness preference
1 egg yolk
12-14 zucchini flowers , center pistil or stamens removed
For the batter:
1 cup (125g) all-purpose flour
1 teaspoon (5ml) baking powder
½ teaspoon kosher or sea salt
¼ teaspoon fresh cracked black pepper
1 cup cold water (240ml) (approximately)
oil for frying
Instructions
In bowl, combine Vietnamese Pork Stuffing ingredients, except for the zucchini flowers (ground pork, garlic, sugar, black pepper, fish sauce, and egg yolk). Set aside.

Make the batter: whisk together the flour, baking powder, salt and black pepper. Whisk in water, starting with ¾ cup first. You want the consistency of the batter to be like heavy cream. Add remaining water as needed. Whisk until smooth, no lumps.

Stuff about 2 teaspoons of filling into each flower, leaving some room at top of flowers to close the petals around the filling.

Heat frying skillet with oil about 3/4-inch (2 cm) deep to 350°F.

Dip zucchini flowers in batter, shake off excess, then fry on medium-high heat for about 2 minutes per side until golden brown, or until filling is cooked. Cook in batches if needed, don't overcrowd the pan.

Remove from oil and let drain on paper towels to absorb excess oil. Serve warm.
Nutrition Information per Serving
Calories: 189kcal, Carbohydrates: 17g, Protein: 9g, Fat: 9g, Saturated Fat: 3g, Cholesterol: 60mg, Sodium: 376mg, Potassium: 131mg, Fiber: 1g, Sugar: 1g, Vitamin A: 82IU, Vitamin C: 1mg, Calcium: 14mg, Iron: 1mg
Here's our current Zucchini Recipe Collection.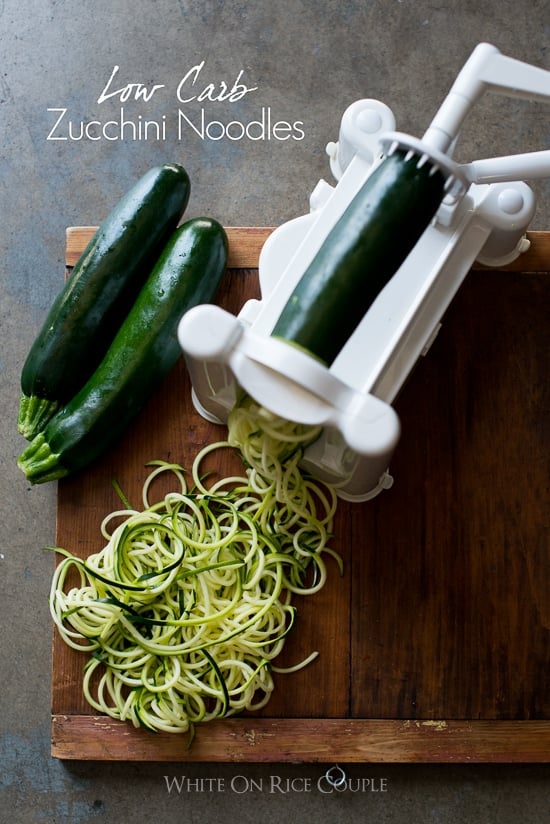 Here's more zucchini recipes for you to enjoy. This recipe was originally published in 2015 and re-published in 2020 with updated photos.
We are a participant in the Amazon Services LLC Associates Program, an affiliate advertising program designed to provide a means for us to earn fees by linking to Amazon.com and affiliated sites.