Chocolate Triple-Berry Slab Pie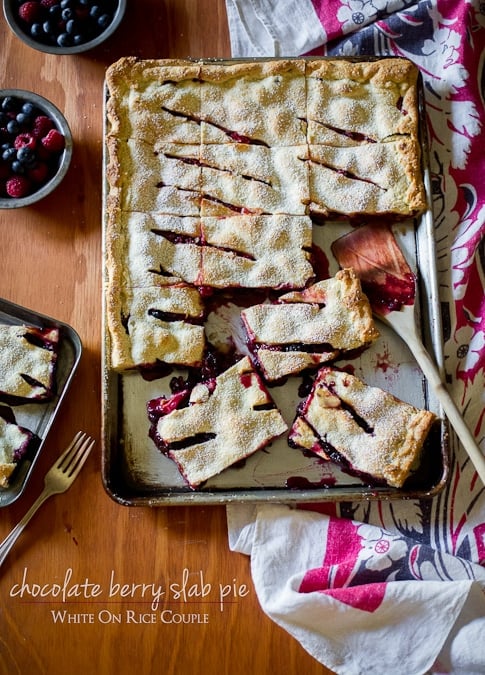 Berry Slab Pie Recipe
The first attempt at this slab pie recipe I had one immediate reaction, "Holy crap this is a big pie!" You'd think I'd intuitively know that based off of a couple factors:
– It's name is a "slab pie" – generally you wouldn't associate that with something marginal in size.
– It was filling an entire 1/2 sheet pan – baking cookies on a half sheet gives you a nice amount, but there is a majority of empty space between the cookies. This was FILLING the entire 1/2 sheet!
Yet these subtle indicators did nothing to help my baking math and I way underestimated the amount of dough and berries I'd need. After rolling out what was thought to be a huge amount of dough, I barely had enough for the bottom. And as my mounds of mixed berries scarcely served their purpose and Diane graciously went on a quick berry run to acquire a proper berry bounty.
After a quick scramble to toss together another batch of dough for the top, the end result was quite tasty. Exquisitely tasty really, and it demanded an immediate remake to refine the quantities. The end result is a dessert fit for a feast! Especially for those summertime backyard gatherings or for those upcoming game day parties.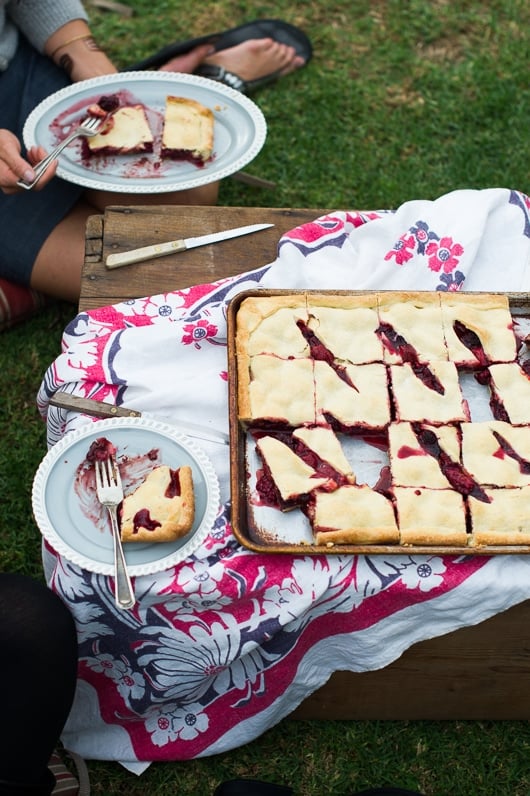 this slab pie is party perfect!
Homemade Pie Dough Recipe
I based the dough loosely on my new favorite pie dough recipe, just adding a bit of sugar to sweeten it slightly and adjusting quantities a bit to keep it simple to make, nice to handle, and still having the texture I was looking for. Add a layer of chocolate chips which melt down perfectly when the pie is baked. Then toss together a ton of berries (one can never have too many berries!), then bake, slice and serve. With a dusting of powdered sugar. Delicious!
As long as you have at least a 2'x3′ section of counter space to roll it out, this slab is well worth the monstrous proportions. And if your clan can't eat it all, I'm sure there is a neighbor or two who could use a little sweetening up. 😉
-Todd
P.S. We love this recipe so much we added it to our cookbook, Bountiful. It was a perfect recipe for our garden focused book.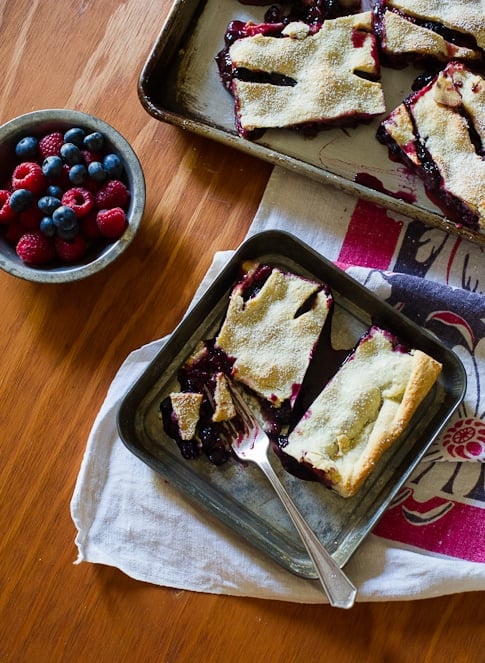 some step-by-step inspiration for berry slab pie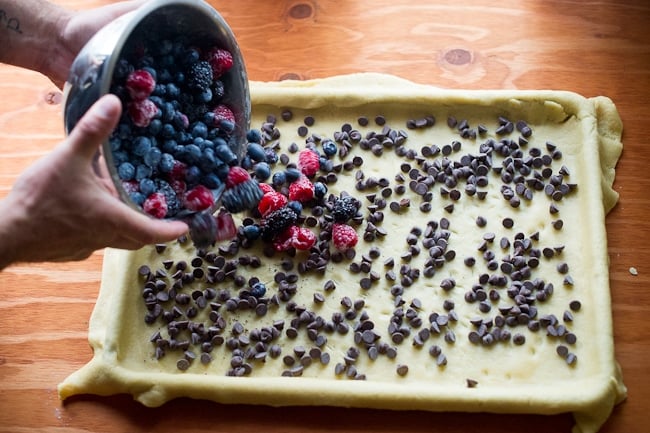 Layer pie fillings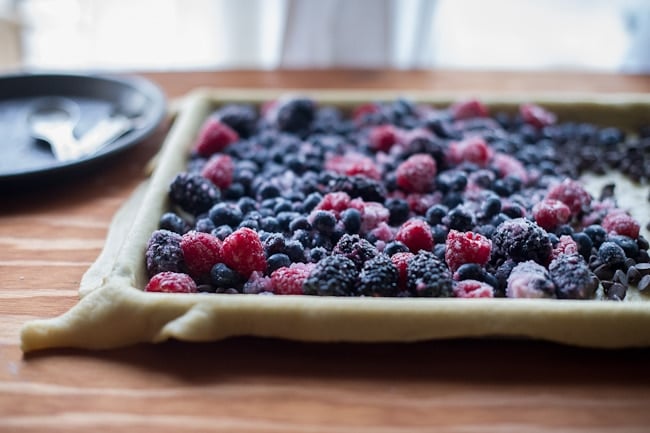 fresh raspberries, blueberries and blackberries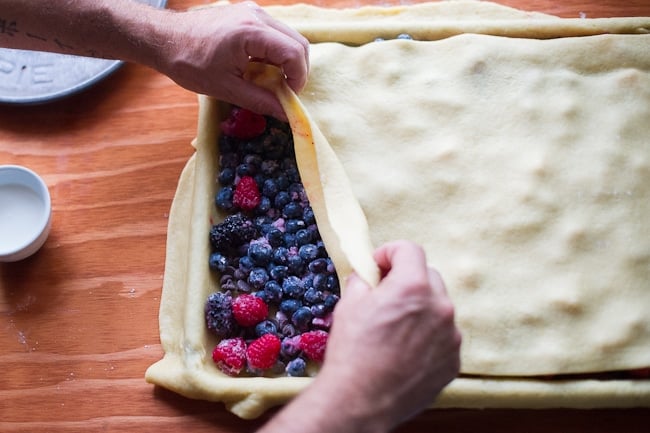 brush with heavy cream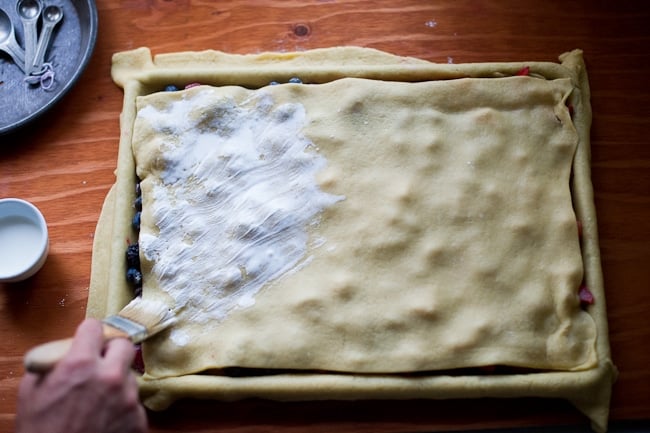 Two slices per person (or maybe three)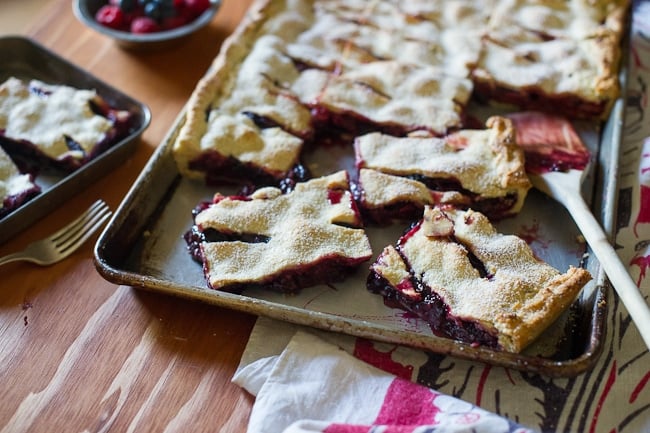 this recipe was originally published in 2012 and updated in 2020 with some new images.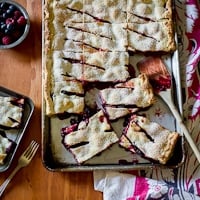 Mixed Berry Chocolate Slab Pie
We loved this recipe so much we included it in our cookbook, Bountiful. At first it may seem intimidating to roll the dough so large and transfer it to the pans, but this dough handles quite easily, and if you happen to break it, you can patch it with dough scraps. If you have fewer people to feed, you can always halve the recipe and use a smaller pan, but there are always neighbors who will take leftovers, so we encourage you to give the full recipe a shot!
One 13"x18" Pie
Ingredients
For the Filling
3 pounds (1.4kg) mixed fresh berries , larger berries halved or quartered
1 cup (200g) sugar
3 tablespoons cornstarch
1.5 cups (250g) chocolate chips
For the Crust
8 cups (1kg) flour
1 cup (200g) sugar
2 teaspoons (10ml) kosher salt
1 pound (455g) cold unsalted butter , cut into 1/2-inch pieces
3 eggs
1/2 cup (120ml) cold water
Heavy cream or egg wash, for brushing the crust
Confectioners' sugar , for dusting (optional)
Instructions
Preheat the oven to 400°F (205°C). Butter one 13 x 18-inch sheet pan. Set aside another to use as a template.

Start the filling: Put the berries in a large bowl. In a small bowl, whisk together the sugar and cornstarch until well combined. Add the sugar mixture to the berries and gently toss. Set aside.

Make the crust: In a large bowl, whisk together the flour, sugar, and salt. Pinching with your fingers or using a pastry blender, incorporate the butter into the mixture until no large pieces of butter remain and the mixture has a crumbly texture.

In a separate bowl, whisk the eggs with the cold water. Make a well in the middle of the flour mixture, then pour the egg mixture into the well. Working from the center out, combine the egg and flour mixtures until the dough holds together. If necessary, adjust by adding a little additional flour or cold water if the dough is too sticky or not holding together.

Divide the dough into two portions, one twice the size of the other.

On a large floured surface, roll out the larger portion of dough to an 18 x 22-inch rectangle (we usually roll it out slightly larger, then trim the edges straight to the correct dimensions). Dust the underside and the top of the dough with flour a few times while rolling out to keep the dough from sticking.

Gently wrap the dough around the rolling pin, then unroll it over the first sheet pan. Adjust the dough so it sits evenly in the sheet pan. Dock the pastry by pressing down with your fingertips several times, making indentations across the bottom of the pastry. Spread the chocolate chips in an even layer over the pastry. Spread the berry mixture in an even layer on top of the chips. Set aside.

Roll out the smaller dough portion to a rectangle just larger than 13 x 18 inches (32.5 by 45 cm). Flip the second sheet pan upside down and gently press it into the dough, then lift the pan off. Use the impression to cut the dough to size. Gently wrap it around the rolling pin, then unroll it over the slab pie to form a top crust.

Fold excess dough from the crust bottom up and around to meet the pie top and gently pinch the crust to form the top edge. Brush the top and the edges of the pastry with cream (or egg wash). Using kitchen scissors or a knife, cut slits into the top of the slab pie.

Bake for 30 to 40 minutes, or until the top is golden. Remove the pie from the oven and allow to cool. Dust with confectioners' sugar (if desired), slice, and serve.
Nutrition Information per Serving
Calories: 392kcal, Carbohydrates: 56g, Protein: 5g, Fat: 17g, Saturated Fat: 10g, Cholesterol: 61mg, Sodium: 206mg, Potassium: 87mg, Fiber: 3g, Sugar: 22g, Vitamin A: 528IU, Vitamin C: 1mg, Calcium: 18mg, Iron: 2mg
We are a participant in the Amazon Services LLC Associates Program, an affiliate advertising program designed to provide a means for us to earn fees by linking to Amazon.com and affiliated sites.