Fresh Apricot Bars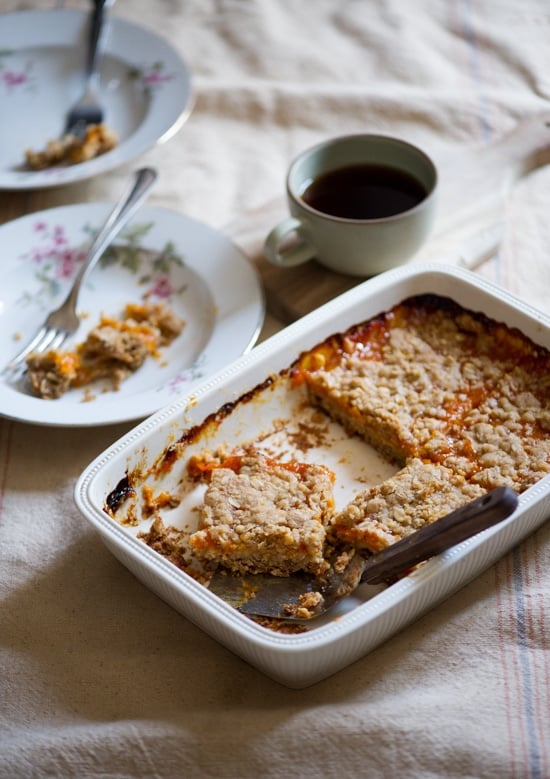 Lately it seems our cooking at home has been driven by an over abundance of ingredients. Creativity from Copiousness, if you will. Not that we are complaining. Quite the opposite really, we couldn't be happier.
The garden is going blitzkrieg with its tomato production. We've lost the battle for the blueberries with the mockingbirds, but that has distracted them from the sweet flesh of the plums, necta-plums, and soon to be pluots. Although they now have discovered the white peaches up front, but all isn't lost since we missed protecting the early buds from getting bugged out, so most of the peaches are a doomed anyway.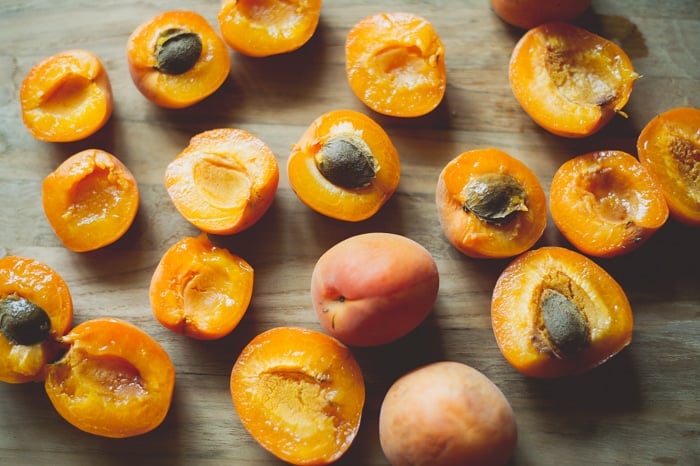 We just finished another KitchenAid shoot, this time for 22 recipes, which has left us with a surplus delectable ingredients. Time for the heroes to be eaten!
And as if that wasn't enough to keep us busy trying to make sure nothing went to waste, driving up to Palm Springs a couple weeks ago we spotted the Dowling Fruit Orchard stand on the fringes of one of their orchards. We both looked at each other, not even needing to say that on the way home we must stop there.
Visions of the fruit stand danced through our heads while we were relaxed in the cool Riveria Palm Springs hotel and then explored town while dealing with the triple digit heat of Palm Springs summer. And again later as we went from nearly sea level, up the tram to about 8500′, then hiked another 5+ miles up to San Jacinto peak, at roughly 10,800′. Neither the swank, the heat, the lack of oxygen, nor the "we're not in shape to hike over 11 miles at elevation but did it anyway" could push the thought of that fruit stand from our minds.
Coming down from the mountain, the day was quickly dwindling. We hopping into the truck as well our spent legs enabled, and scurried down the highway, praying that Dowlings would still be open, and that we would remember exactly where it was at. Scanning the opposite side of the road, trying to recall nearby landmarks, we had nearly given up hope. We must have missed it not always able to see over the highway divider. Then, suddenly, there it was.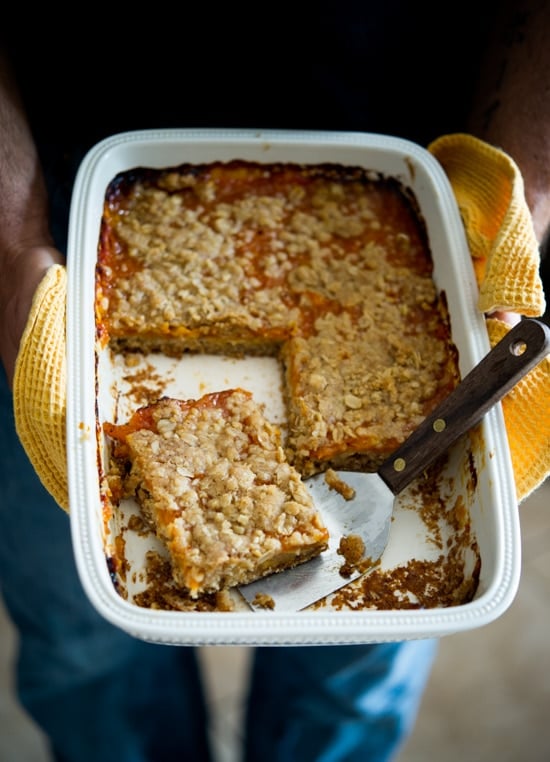 We dived in, the sun dropping, and the produce about to be carted away for the evening. We had just made it, 5 minutes before close! Flats of peaches for $7.90. Flats that tasted like home garden picked. Mounds of apricots. Watermelons. Oh the fruits in all their glory! We snatched up as much as we figured we would be able to eat in a few brief minutes, not wanting to delay the hard working staff in getting them home.
We ate, sucking juices as we bit, nearly half the flat of peaches on the way home. Probably would have ate it all if it weren't for the apricots in all their deliciousness.
Once back home, the boxes of recently purchased tastiness now had to compete with the garden's bounty. With the apricots life short lived, we made these fresh apricot bars to enjoy them a little longer. Hope you love them as much as we did. The apricots were briefly cooked to help break them down, then pureed and spread over, and baked with a crisp type of crust with the oats, butter, and brown sugar. It is a great way to use up an abundance of apricots. If you happen to get some apricots which are bit of a let down in straight snacking ability, these apricot bars will give them a chance to regain glory.
-Todd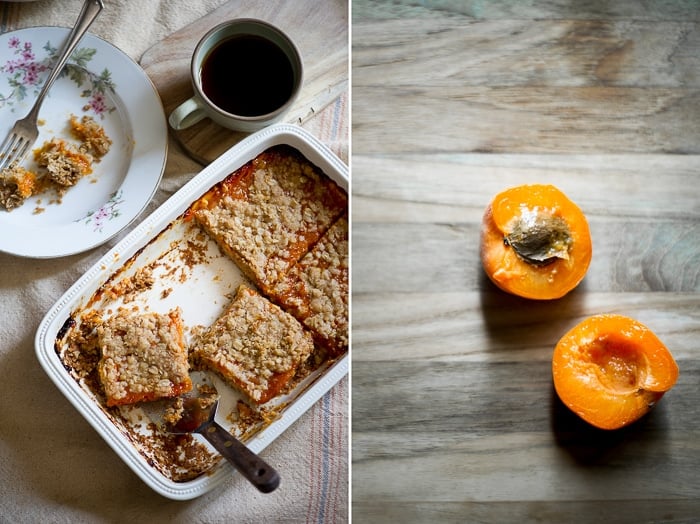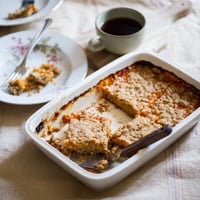 Fresh Apricot Bar Recipe
Makes great use of an overabundance of apricots, or revitalizes the flavor of off-season apricots. If you don't have fresh apricots on hand, substitute apricot jam. If your apricots aren't very sweet, adjust sugar amount to taste.
Ingredients
2 lbs (910g) ripe Apricots
3/4 cup (150g) sugar, or to taste
1 Tablespoon (15ml) orange liqueur (such as Grand Marnier)
1 cup (125g) flour
1/2 cup (110g) packed brown sugar
1/2 teaspoon Kosher or Sea Salt
1/4 teaspoon Baking Soda
1/2 cup (113g) cold unsalted butter , cut into small cubes
1 cup (90g) old fashioned oats
Directions
Preheat oven to 350°F. Butter a 2 quart baking dish.

Combine the apricots and sugar in a saucepan. Cook over medium heat until the sugar is dissolved and the apricots are soft (will vary tremendously depending on the ripeness of the apricots-very ripe apricots will only take minute or two). Stir in the orange liqueur.

Puree the apricots in a blender or food processor until smooth. Pour into a bowl and set in freezer to chill while you make the crust.

In a bowl, whisk together the flour, brown sugar, salt, and baking soda. Pinch in the butter pieces into the flour mixture (or cut them into the flour with a pastry cutter), until it resembles coarse sand. Pinch in the oats until well combined.

Press 2/3rds of the crust mixture evenly into the bottom of the prepared baking dish. Spread the apricot puree over the crust bottom. Sprinkle the remaining crust over the top of the apricot puree.

Bake for 1 hour or until the crust is golden brown.

Allow to cool, then slice and serve. Store in the refrigerator.
Did you make this recipe?
Let us know what you think!
Leave a Comment or share a photo on Instagram with the hashtag #whiteonricecouple.
We are a participant in the Amazon Services LLC Associates Program, an affiliate advertising program designed to provide a means for us to earn fees by linking to Amazon.com and affiliated sites.