Joy to Your World & Ginger Molasses Dark Chocolate Crinkle Cookies
Happy holidays friends and enjoy these festive ginger molasses crinkle cookies with dark chocolate.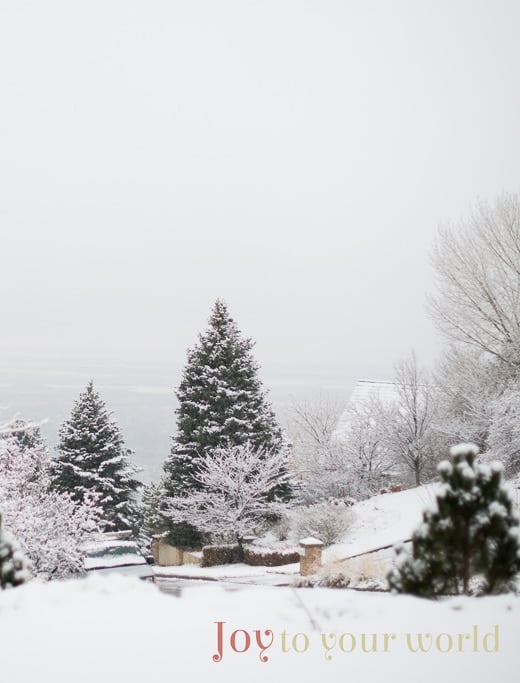 Soft and Chewy Ginger Molasses Crinkle Cookies
Wishing lots of joy to your world today and for the rest of this holiday season. We're envious of your winter wonderland scenes filled with fluffy-cold snow. And we're sure you might be a little jealous of our warm, sunny days at the beach. But the best part of all the different ways that we enjoy our holidays is that we get to experience one another's joy through blogging. Where ever you are, we wish you lots of joy and love in your end of the world.
As we're writing this post (Monday, 23rd at 9:30pm), we just finished our last day of shooting several campaigns and editorial assignments. We're happy to just think about being able to sleep in tomorrow, what a treat! But you know, working, shooting and being able to make things that we love really makes us so happy. So doing what we love is what gives us so much energy and satisfaction, even if it means shooting for several weeks straight.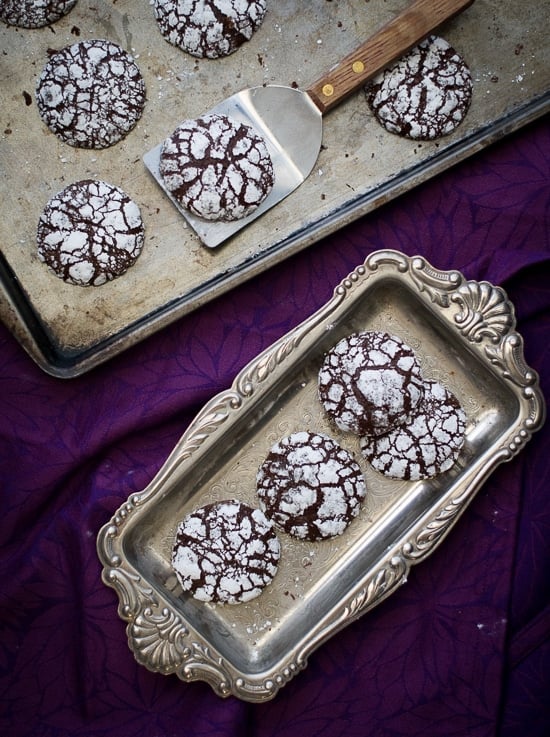 Now that we're able to finally settle down and treat ourselves to nine days off (yes, 9 days!), we're looking forward to being in our own kitchen and cooking for ourselves again. When we perused online tonight to catch up to what our blog friends have been cooking up, it's thrilling to see so much beautiful food and wonderful gatherings taking place. There definitely is so much joy going on in your worlds!
Video of our delicious ginger molasses crinkle cookies:
While going through our archive of images, we found some images of pre-holiday fun we had while in Utah last month when we were at our Bountiful cookbook signing. We signed booked at Kings English in Salt Lake City and lovely Kalyn from Kalyn's Kitchen invited us to stay at her beautiful house. On top of that, Kalyn and Maria worked together and hosted a little gathering at Kalyn's house.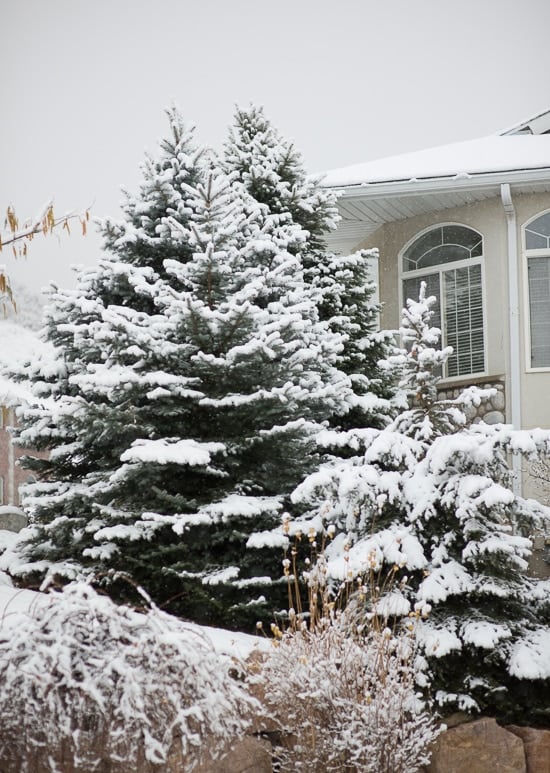 winter wonderland scene in Kalyn's front yard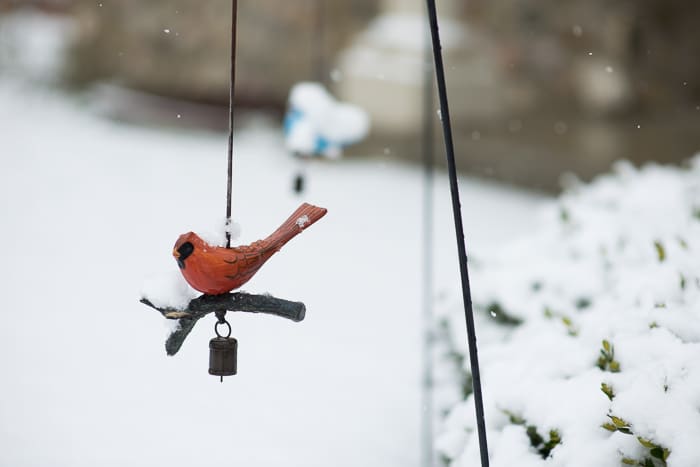 It was so awesome to see these lovely bloggers at our signing and best of all, they brought some of their beautiful food and desserts to the potluck at Kalyn's house. Their talent in the kitchen is incredible. No doubt, we tasted some of the most incredible food from our blogging friends.
Thanks ladies for bringing such wonderful food to share. We loved every bite! & we love you!
Delicious savory dishes from Kalyn of Kalyn's Kitchen , Dara of Cookin' Canuck and Becky of The Vintage Mixer
Great Holiday Desserts
Incredible desserts from: Maria of Two Peas and Their Pod, Rachael of La Fuji Mama, Barbara from Barbara Bakes, Annalise from Completely Delicious, and Holly from Phemomenon.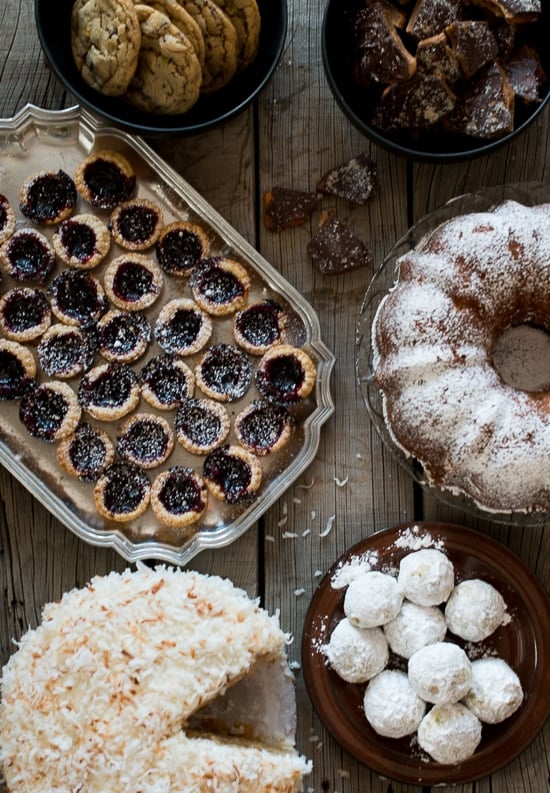 Inspired from everyone's cooking and baking online, we're sharing one last holiday cookie recipe for you. Because we can't get enough of our favorite crack (or crinkle) cookies, here's another one for ya: these ginger molasses dark chocolate crinkle cookies.
A little while back we shared our bourbon dark chocolate crack cookies and we just had to make another batch of these ginger molasses crinkle cookies with dark chocolate for Christmas, so we made a ginger molasses version, which is just as good.
Christmas isn't the same without ginger molasses crinkle cookies cookies, so bring em' on! And hope your holidays are filled with lots of sleep, cookies and joy.
love you all,
diane, todd, lexi and sierra.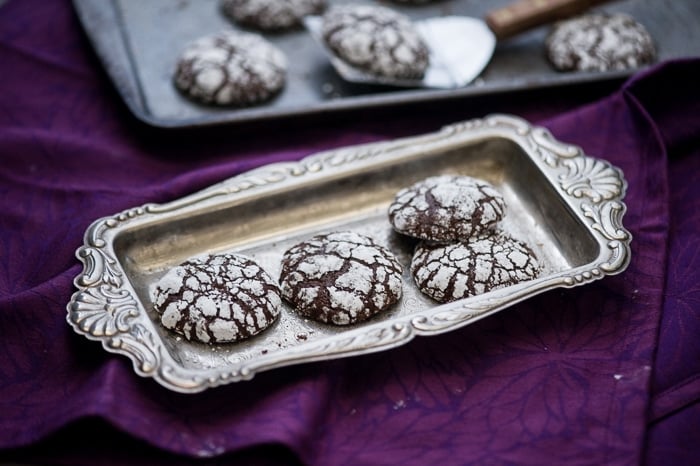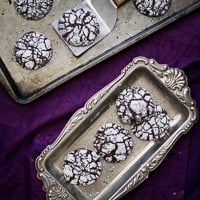 Ginger Molasses Dark Chocolate Crinkle Cookies
Adapted from Ready for Dessert by David Lebovitz. We will often freeze the chocolate dough balls after they've been coated with the cinnamon sugar, and when ready to use, thaw for about 30 minutes, coat in confectioners sugar and bake.
The dough can be refrigerated for up to 5 days or frozen for up to 1 month. These chocolate cookies are best eaten while still warm (aren't most cookies) or at least the same day.
Ingredients
3/4 cup (100 g) all-purpose flour
1/2 teaspoon baking powder
1/4 teaspoon kosher or sea salt
1/2 teaspoon ground cinnamon (+ 1 tablespoon for coating cookies)(optional)
1/2 teaspoon ground ginger
1/4 teaspoon ground clove
8 ounces (225 g) dark chocolate , chopped (or dark chocolate chips)
1/4 cup (60 g) unsalted butter
1/4 cup (60ml) unsulphured molasses
2 teaspoons vanilla extract
2 large eggs
1/3 cup (65 g) sugar (+ 1/2 cup for coating cookies)
Confectioners Sugar (for coating cookies)
Instructions
In a bowl, whisk or sift together the flour, baking powder, salt, 1/2 teaspoon cinnamon, ginger, and clove for at least 20 seconds. Set aside.

Combine the dark chocolate, butter, molasses, and vanilla extract in a medium bowl over a pot of simmering water. Gently melt the chocolate and butter, stirring frequently until smooth. Remove the bowl from the simmering water.

Whisk together the eggs and sugar on high until the mixture forms a well-defined ribbon when the whisk attachment is lifted out (@ 5 min). Gently stir in the melted chocolate mixture.Stir in the flour mixture until just combined. Cover and refrigerate until firm (1-2 hours).

Preheat oven to 325°F. Line a couple baking pans with parchment paper.

Whisk the 1 tablespoon of cinnamon and 1/2 cup of sugar together in a bowl. Pour the confectioners sugar in a separate bowl. Form chocolate cookies into 1" balls. Roll the balls in the cinnamon sugar, and then roll in the confectioners sugar to coat. Place on the baking sheets spaced about 1" apart.

Bake for 12-14 minutes. Cookies should still be slightly firm on the edges and fairly soft in the centers. Don't overbake them.Let the cookies cool on the sheet pan until firm enough to handle then transfer to a cooling rack.
Nutrition Information per Serving
Calories: 105kcal, Carbohydrates: 10g, Protein: 2g, Fat: 6g, Saturated Fat: 4g, Trans Fat: 1g, Cholesterol: 21mg, Sodium: 34mg, Potassium: 139mg, Fiber: 1g, Sugar: 5g, Vitamin A: 85IU, Vitamin C: 1mg, Calcium: 22mg, Iron: 2mg
We are a participant in the Amazon Services LLC Associates Program, an affiliate advertising program designed to provide a means for us to earn fees by linking to Amazon.com and affiliated sites.