Peanut Butter Cocoa Cookies with Jam & Life Altering Moments
These peanut butter jam cookies are simple and satisfying. This peanut butter and jelly sandwich as a cookie.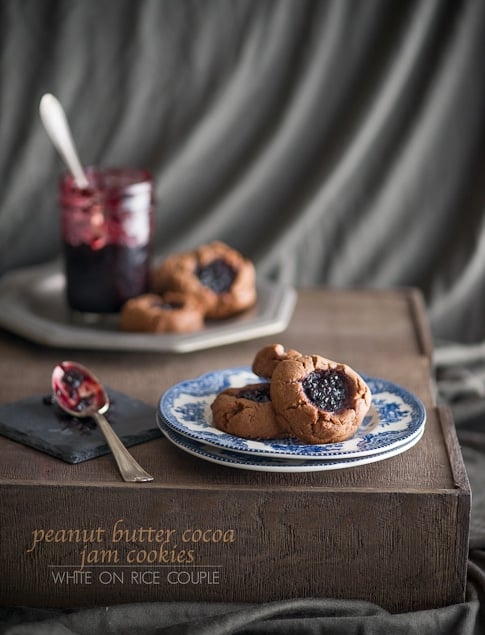 Easy Thumbprint Cookies
There are only a handful of things you come across in your life which change how you live everyday. An extraordinary person. Discovering a dream job. Having a baby or in our case, bringing home a puppy for the first time. Maybe a life altering moment which sends you in an unforeseen direction.
Or maybe it was something less dramatic. Something you picked up as a hobby or started learning for any number of reasons, but you found yourself deeply drawn into it. It quietly changes you little by little, embedding itself into your life. You start thinking about it all of the time. In the shower, while driving, standing in line at the grocery store. Your daily culture is now infused with it.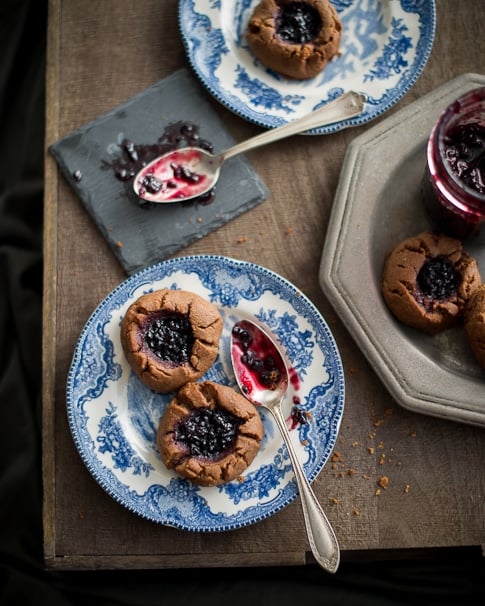 For me there have been a few of the former instantly altering moments; meeting Diane over 16 years ago, us raising our pups together, buying a home together. As far as the less dramatic events, there are only a couple which have fully become a part of me. Cooking and aikido.
Peanut Butter Jam Cookies
Cooking began as a young teenager on our cattle ranch. We always had a freezer full of beef, and since we tended to be a very self sufficient set of individuals in the family, I started fixing my own meals. It started out teenage boy basic – monster sized burgers. Then I started making sauces, then cooking trout caught in the creek running through our property. It continued to blossom and the joy and curiosity in cooking has never strayed from my soul.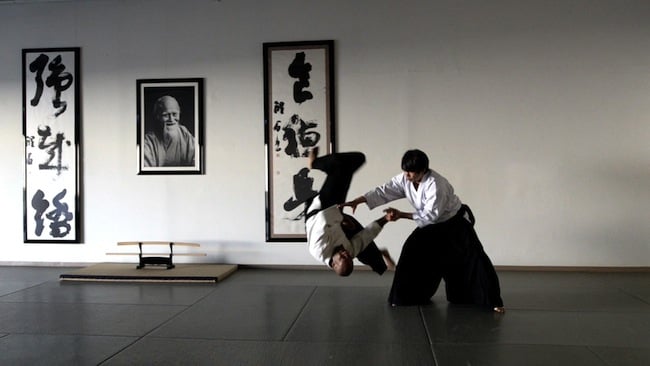 Aikido began much later. A little over eight years ago I stumbled across a dojo one night after watching a movie with Diane. I had been casually looking for something to help stay fit and maybe develop some skills. I had heard of aikido and it seemed like a good fit to my personality, but I didn't know much. We watched from the window as their class went on, a mix of several races and ages of people all in white uniforms, many with traditional black Japanese hakama. There was a calm yet powerful presence to the class.
Aikido
I recognized one of the gentlemen with a hakama on. He was one of our regular customers at the restaurant where I managed. I liked him. He was "good people" as we liked to say. Next time he was in I chatted with him about aikido and felt myself being drawn in towards it. It wasn't long before I had my first intro class. He was too humble at the time to mention it, but I soon discovered he was the head instructor at the dojo.
This a video we filmed and produced for dojo.
Over eight years ago. And now it is hard to remember life before aikido. Our Sensei, or head teacher, is one of the kindest most sincere people I know. He is also able to disable any attacker with core shaking power, like a massive wave instantly and effortlessly sweeping you up in its motion. And even though the dojo has produced several amazing and powerful martial artists, it is also welcoming to nearly all ages and abilities. From the old to the young, the fit to the initially uncoordinated, from the stocky man to the petite woman.
For me, through the dojo, I have found another home and family. I move through crowded rooms differently now, more aware and with greater body control. Life's difficulties somehow seem less unsettling and are often met with a calmer head. I have become more patient with myself and gradually become more aware of my weaknesses and in doing so, I'm able to lessen them. Aikido has become a great influence in the quality of a person I try to be. And have come to know and trust a great group of people in which we meet with a smile and dude hug.
For the food fixated, I am amazed if you have made it this far through the post. You must be wondering what in the hell does any of this have to do with peanut butter cookies. Where's the sweets?!
Every year Diane and I try to make the time to have the dojo and their families over to the house. It is always a great afternoon with everyone chatting away, kids playing, Sierra nudging her way into constant affections. Just before 4th of July it was the dojo's 10th anniversary so we freed up our schedule and put our party hats on.
We smoked up an 11 hour Texas brisket. Grilled sliced pork shoulder to throw into sliders. Made a curried noodle salad and a refreshing cucumber-jicama mint salad. Fried Vietnamese egg rolls. Put out the house-made pickles and kim chi. Froze up a bunch of zero-proof and adult ice pops. Made mini cupcakes using Joy the Baker's amazing frosting recipes. It was good eating.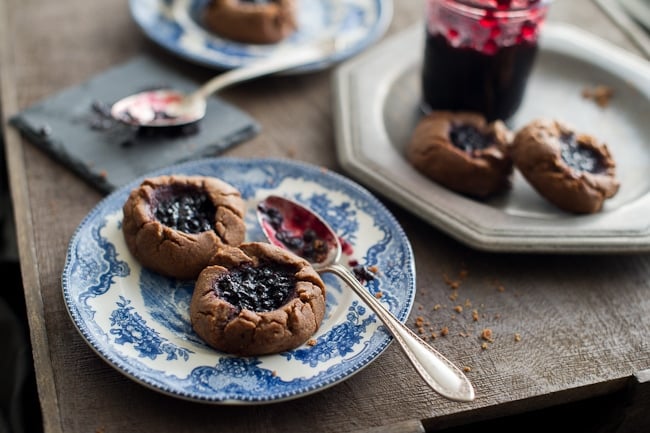 One of the dessert favorites was an adaptation of Giada's Peanut Butter Blackberry Jam Cookies. They have become another house favorite. I've added a bit more flour to get the texture how I like them, a touch more salt, a little heavier on the brown sugar, less on the regular, and we'll play with different jams. For the party I used up the last of my strawberry jam from this spring and it was quite delicious. Marmalades have been a surprisingly great addition as well.
Hope you enjoy these peanut butter jam cookies. We'd love for you to share any of your own life altering passions or moment. Thanks for listening!
Todd
Peanut Butter Cocoa Cookies with Berry Jam
Ingredients
1 1/3 cups (170 g) All-Purpose Flour
1/3 cup (29 g) Unsweetened Cocoa Powder
1/2 teaspoon (2 g) Baking Soda
1/4 teaspoon (1.5 g) Kosher Salt
1/2 cup (1 stick or 113 g) unsalted Butter , at room temperature
3/4 cup (195 g) Creamy Peanut Butter , at room temperature
1/2 cup (100 g) Sugar
3/4 cup (165 g) packed Brown Sugar
1 large Egg
1 teaspoon (5 ml) Vanilla Extract
1/4 cup Blackberry Jam *see note 1
Instructions
Preheat oven to 375°F. Line 2 baking sheets with parchment paper.

In stand mixer bowl on low speed, whisk together flour, cocoa powder, baking soda, and salt for at least 30 seconds. Pour onto a sheet of wax paper and set aside.

In stand mixer using a paddle attachment, beat the butter, peanut butter, and sugars together until fluffy (about 2 minutes), scraping down sides of bowl as necessary. Add the egg and vanilla extract and beat until incorporated.

With the machine on the lowest speed, slowly pour the flour mix into the batter. Mix until incorporated, stopping occasionally to scrape bowl sides and bottom.

Roll the dough into balls or use a cookie scoop to form the balls and arrange apart and evenly on sheet pans.

Press a 1/2" divot into each ball. Put jam in a piping bag *see note 2. Pipe jam into each hole.

Bake for 11-14 minutes or until the dough it just set (I'll usually give the nearest one a little push test to feel if it seems too soft or if it feels like it has set up). Cool on a wire rack.
Notes
Note 1: Giada originally calls for Blackberry jam which is excellent, but we've found many variations to be equally or even more delicious. Try a nice homemade strawberry jam or some unique jam in your cupboard. Marmalades are a great choice too. If using homemade or boutique jams, make sure the jam isn't too runny.
Note 2: For a quick piping bag, place jam in a quart size ziplock bag and snip one of the bottom corners off of the bag to create your piping hole.
Nutrition Information per Serving
Calories: 220kcal, Carbohydrates: 28g, Protein: 4g, Fat: 11g, Saturated Fat: 5g, Trans Fat: 1g, Cholesterol: 24mg, Sodium: 121mg, Potassium: 126mg, Fiber: 1g, Sugar: 18g, Vitamin A: 173IU, Vitamin C: 1mg, Calcium: 20mg, Iron: 1mg
We are a participant in the Amazon Services LLC Associates Program, an affiliate advertising program designed to provide a means for us to earn fees by linking to Amazon.com and affiliated sites.