Our Fresh Summer Rolls Recipe Feature in Sunset Magazine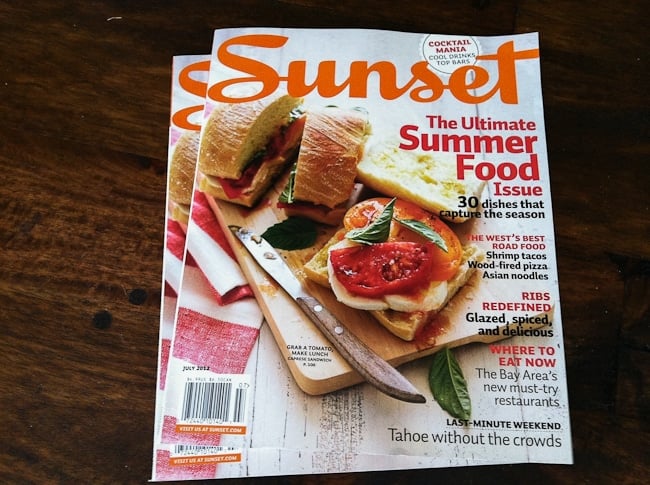 It's finally out! Apologies for teasing you all with a recipe story that we've been working on for Sunset magazine over the past few months. The July 2012 issue is finally out on the stands and grab yourself a copy!
Huge thank you to all the editors at Sunset Magazine and the whole team. The wonderful and amazing team on the magazine made this article happen and we could not have done it without the support and encouragement of everyone there. The incredible Chefs at the Sunset test kitchen, editors who helped us write the recipes better and the amazing photography/styling team made this story surpass all our expect ions.
hoisin dip recipe from the issue: photo credit: Jefferey Cross
On pages 88-91 of the July 2012 issue showcases our new and favorite spring roll (summer rolls) recipes. Our Sunset Magazine food editor helped us narrow down some of our favorite recipes to share. We discussed spring roll ideas that were fresh, flavorful, interesting and exciting. It was so much fun to create some new recipes and dips for you all.
Here's the DIY Roll Your Own Summer Roll recipes you can find in the July 2012 issue:
Turkey Bacon and Avocado Summer Rolls
Tofu, shitake and spinach Summer Rolls
Crunchy Cucumber Summe Rolls
Two dips: Almond Hoisin Sauce and Citrus Soy Dip
Also included are some very cool graphics of how to roll from the graphic designer!
These Fresh Summer Rolls are perfect for your picnics and gatherings. Best of all, with some simple prepping and planning, you can have your very own DIY rolling party! We love having these summer rolling parties where everyone gets to make their own.
photo credit: Jefferey Cross
In fact, the whole July 2012 issue is wonderful! This month, the magazine highlights the West's Best Road Food. Photographs, stories and recipes from diners, to fish shacks and taquerias fill the gorgeous pages.
So grab yourself a copy of the issue, be inspired to celebrate the seasons road food and have fun rolling these recipes all Summer long.
And for the rest of Summer, here are some more of our favorite Summer/Spring Roll recipes from our blog:
hugs,
diane and todd
[ad]
We are a participant in the Amazon Services LLC Associates Program, an affiliate advertising program designed to provide a means for us to earn fees by linking to Amazon.com and affiliated sites.