Baked Sweet Pea Pot Stickers w/ Ginger Soy Dip
This pea potstickers recipe is a great vegetarian snack or meal. Homemade pea dumplings are delicious.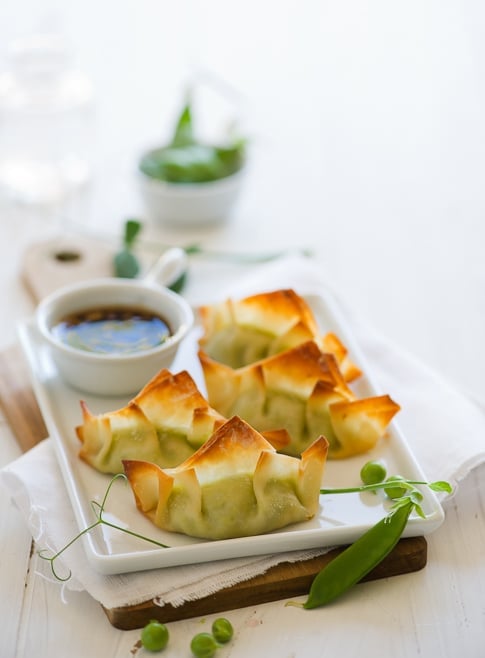 Pea Potstickers Recipe
Truth be told, we have killed many garden plants, none of which were intentional. Since the Sunset Magazine articles about us and our garden were published, everyone thinks we're master gardeners. Folks! There's a long list of garden failures that we've yet to publish. Maybe we'll share some of our garden disaster stories so you can see how much of our initial gardening career was (and still is) by trial and error. But what we love so much about gardening is that it's a continuous learning experience.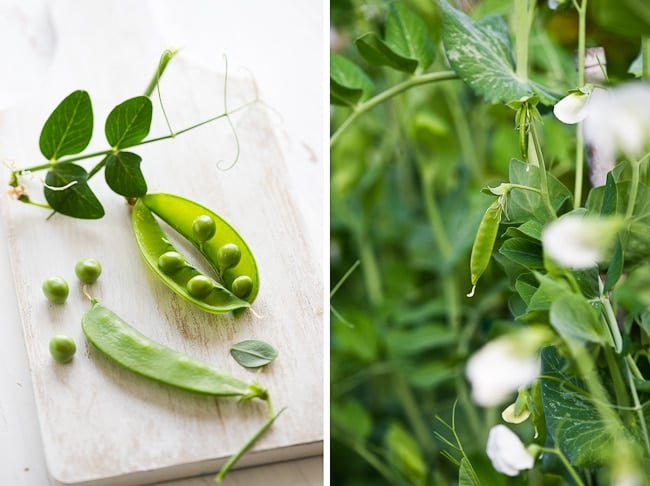 One set of plants that we've had 100% success rate with are snow and sweet peas. There's something special in the air this time of year because our pea vines are exploding with sweet, candy-like pods. Growing peas are so easy that even brown-thumbed gardeners can grow them with reasonable success. When the weather begins to warm up in Spring, the vines seem to take a life and attitude of their own, sprawling over the trellis like happy serpents.
Friends come over and treat themselves to the pea pods straight off the vines and they think we're gardening genuises. If you want plant a vegetable that is easy to grow and that will make yourself look mighty impressive to your guests, then peas are star plants.
Peas love cool weather and lots of sunshine. Within a few months, tendrils will creep up the trellis faster than we can control them. In fact, we've had to give the vines a serious hair cut to just control their erratic growth spurts. That doesn't really do much good because within a few weeks, they grow back even stronger.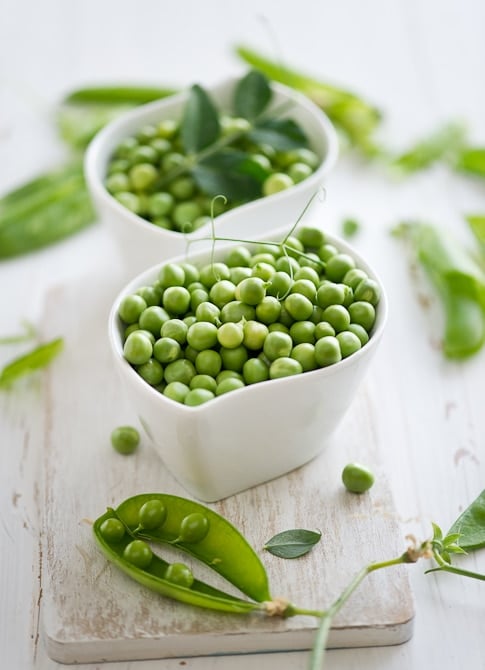 With so many peas to harvest, we were looking for some new pea recipes that were beyond our basic stir-frys and salads. Heidi's 101cookbooks.com site quickly came to mind because she has the most extensive, reliable and healthy recipe archive online, on Earth and in the galaxy. A quick search through her recipe archive led us to her fabulous Plump Pea Dumplings post.
We were all over her wonderful recipe and what a great way to rally in Springs celebration of fresh peas.
Normally, we'll pan fry or deep fry our dumplings and pot stickers, but we chose a healthier baked version to maintain the fresh, sweet flavors of the pea fillings. With a just few personal touches that we added to Heidi's recipe, these pea pot stickers arrived out of the oven with the perfect chewy crunch. Adding a bright ginger soy as a dip was the perfect ending to this wonderful appetizer.
Enjoy,
diane
How to Make Pea Potstickers Recipe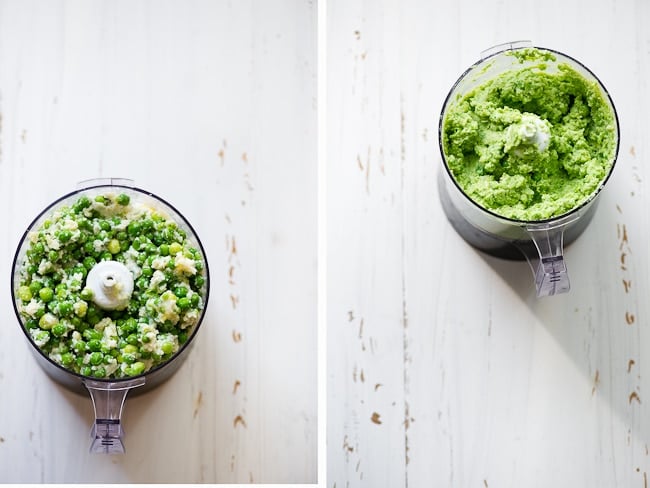 blend peas & ricotta mixture to desired texture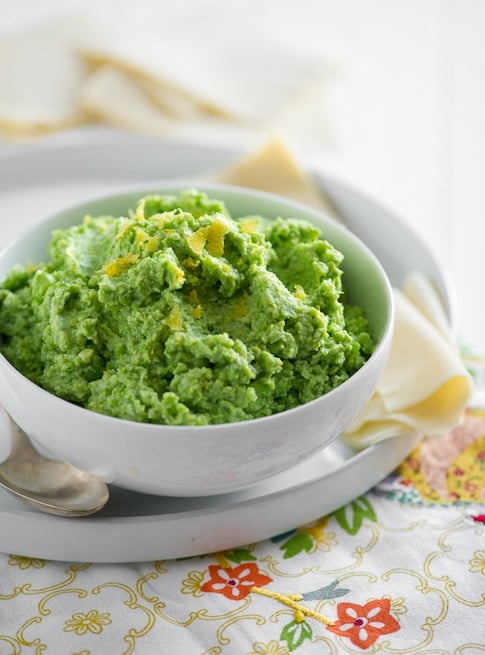 select dumpling shape from Heidi's technique or Jaden's pot sticker tutorial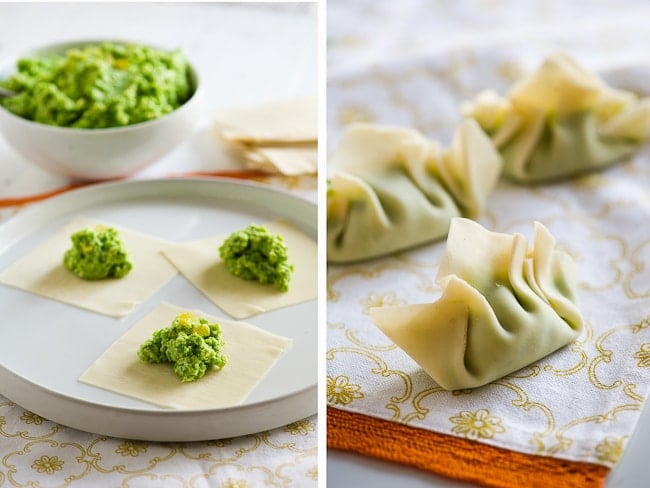 brush with oil, bake & ta da! healthy, crispy golden brown treats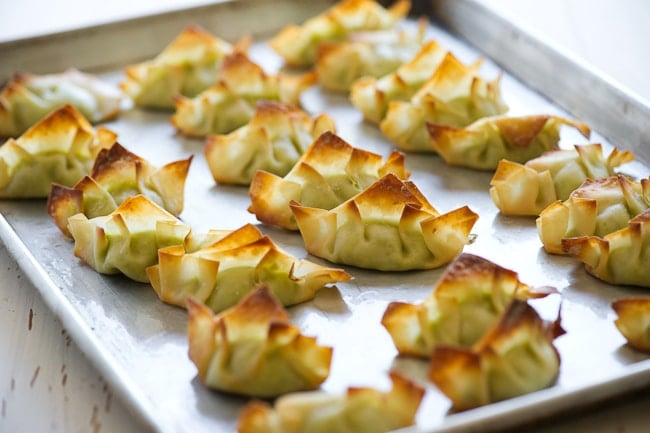 dig in, you deserve it.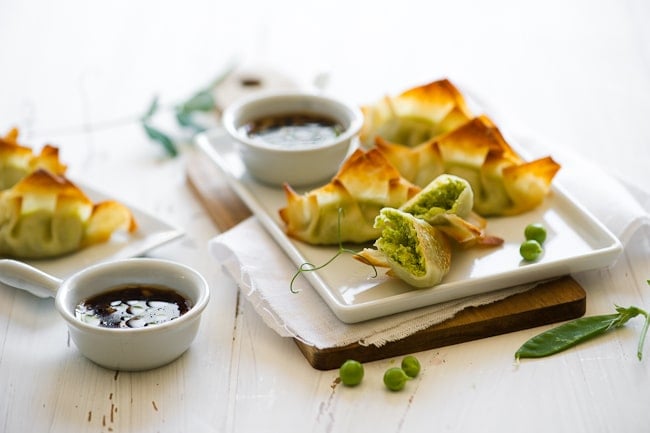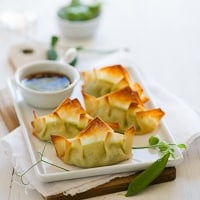 Sweet Pea Pot Stickers Recipe
Ingredients
10 ounces frozen or freshly shelled peas , about 2 cups
2/3 cup low fat ricotta cheese
1 Tablespoon sesame oil
1 Tablespoon olive oil
1/2 teaspoon sea salt
1/3 cup grated Parmesan cheese
zest of one large lemon
1 package wonton, gyoza or dumpling wrappers
For the Ginger Soy Dip:
1/4 cup soy sauce ( or 1/2 cup low sodium soy sauce)
1/4 cup water
1 Tablespoon fresh lemon or lime juice
2 Tablespoons freshly minced or grated ginger , or to taste
1 teaspoon sesame oil
Instructions
Bring water to boil in a medium saucepan, then add a little bit of salt to the water.

Cook the peas until they are soft. For frozen peas, this should take about 1-2 minutes. For fresh peas, this should take around 3-4 minutes, depending on size of peas. Remove saucepan from heat and drain the peas under cold water till peas are cool.

Pre-heat your oven to about 350°F.

In a food processor, blend the peas, ricotta cheese, sesame oil, olive oil and salt to a smooth or chunky texture, depending on your personal choice. Empty this mixture to a larger bowl and add parmesan cheese and lemon zest.

Add about 1 teaspoon of pea filling in middle of each pot sticker wrapper. Moisten the edges of the wrapper with a bit of water and fold over sides. There are many different shapes you can fold your pot stickers. Please visit Jaden's tutorial and Heidi's thorough write up for her dumping folding technique.

On sheet pan brushed with a light layer of grapeseed or vegetable oil, place all pot stickers about 1/2 inch from one another. Gently brush each potsticker with a light coating of vegetable or grapeseed oil. We prefer to use grapeseed oil because it's lighter, cleaner tasting and has a higher flash point for the oven temperature. Bake for about 15-20 minutes until pot sticker edges become golden brown. Rotate the sheet pan about 10 halfway during baking time to allow pot stickers to brown evenly.

For dip, combine all ingredients in a medium bowl (soy sauce, water, lemon or lime juice, ginger, and sesame oil). Serve pot stickers with the ginger soy dip.
Nutrition Information per Serving
Calories: 62kcal, Carbohydrates: 9g, Protein: 3g, Fat: 2g, Saturated Fat: 1g, Cholesterol: 3mg, Sodium: 214mg, Potassium: 42mg, Fiber: 1g, Sugar: 1g, Vitamin A: 88IU, Vitamin C: 3mg, Calcium: 31mg, Iron: 1mg
We are a participant in the Amazon Services LLC Associates Program, an affiliate advertising program designed to provide a means for us to earn fees by linking to Amazon.com and affiliated sites.