Junk Food Confessions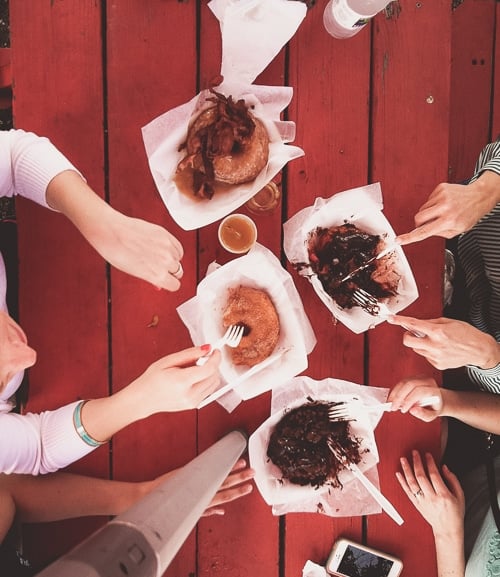 Let's be honest. We all have our vices and hidden underneath or behind our pantry shelves somewhere probably lies a half eaten box of Little Debbie chocolate cupcakes. It could possibly be our box of stress-relief after a long days work or when you need to quietly sneak your kid some sugar contraband just so that they can leave you alone to write your blog post. Either way, I know nearly all home cooks are guilty, at some point, of eating outside their "local, seasonal, organic and sustainable" repertoire. Why? because sometimes we all need our junk food fix and I would never judge anyone based on their box of Twinkies.
This thought came to mind again when Todd showed me a funny comic strip about a gardener dad and his kids. The images showed a proud dad and family surrounding their newly built organic garden planter. It had all the signs of a family committed to living a healthier, greener and natural way of living and eating. And then the caption is from the Father who proudly boasts about their accomplishment and decides to take the family to celebrate at "Burger King!".
I laughed out loud. Really loud. Why? Because after a long days work on the garden, all I want is a greasy burger too, at In-n-Out. Add me a side of animal fries (extra crispy please) and neopolitan shake and I'm fueled up to plant another ten rows of organic vegetable seedlings.
The truth is, we all have our little junk food secrets that some of us would never publicly admit. Why? probably because many of us here are committed to fresh eating, home cooked meals, sustainable agriculture, ya-da, ya-da and more ya-da. Yes, it's fabulous that we all are focused to a better food system and more sustainable food culture. But I'm not judging anyone and would never think less of an organic farmer who snuck a snickers bar (or two) on occasion.
Gordough's doughnut eating fest with friends in Austin, TX. Instagram @DianeCu
So I wanted to be the first to list out some of my vices. I try my best to be a conscious citizen in this food world, thus our garden collection of almost 40 fruit trees and 10 vegetable plots. But dang-it, sometimes I just want a bag of potato chips. Sour cream and onion flavor, please.
I'm opening up to you all here, so please don't think less of me. And let me know your confessions? I'll love you more for it.
I'll list my top 5 junk food vices, starting with favorite first:
Confession #1. Potato Chips. Potato Chips and more Potato Chips. I have a love affair with anything crunchy, salty and potato-y. I affectionately call them "my chippies" or "my crunchies" and when others reach for an afternoon espresso, I reach for my favorite bag of kettle cooked chips.
And when I have a headache, a bag of sour cream and onion potato chips will cure me faster than a bottle of Advil. How sad is that?
Confession #2: French fries. And I'm not talking about any fancy shoestring or "frites". I'm talking about those thick, greasy, salty wedges of potato fries that you get from those little local burger joints. When I get a chance to sneak-in my drive thru moments, you can find me placing an order of large french fries with extra ketchup. Oh, and malt vinegar mixed in with the ketchup too! Pretty please!
Confession #3: One doughnut. I don't have much of a sugary sweet tooth, but when I feel like a bad girl, I scream out for a simple glazed doughnut or a handful of doughnut holes. That's it, that's all I need and when I want one, I want it NOW.
Confession #4: In-n-Out hamburger, animal-style fries and a Neapolitan shake. I don't care if the lettuce isn't locally sourced. I don't care if the potatoes aren't sustainable. I don't care to know the farmer who brought in the tomatoes. This occasional meal warms my soul, fuels my spirit and makes me duper happy.
Confession #5: Almond Joy candy bars. Gosh, I haven't had one of these in years, but I still remember the days when one of these made me so satisfied when I needed to sneak in some guilty sugar pleasure. The combination of sweet coconut, coating of cheap chocolate and that surprise bite of almonds in the middle is the bomb!
Now, it's your turn.
-diane
[ad]
We are a participant in the Amazon Services LLC Associates Program, an affiliate advertising program designed to provide a means for us to earn fees by linking to Amazon.com and affiliated sites.