Vietnam's Ocean Bounty-Grilled Red Snapper, lemongrass, chili's
This grilled red snapper recipe is an ode to our travels in Vietnam. The people and the food, especially the seafood is incredible there and I hope so many of you get the chance to experience its magic.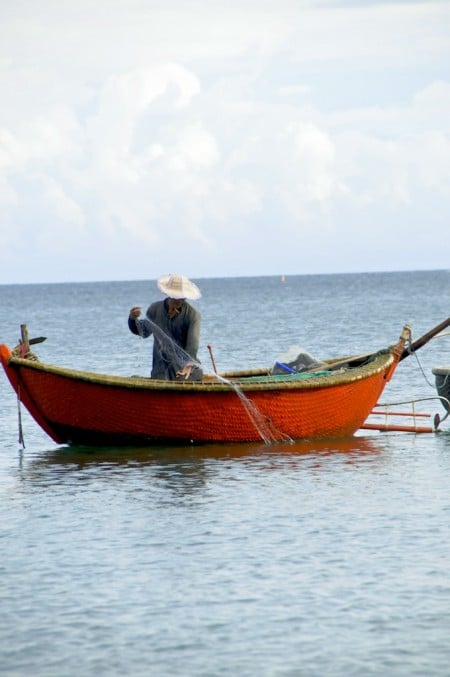 local fisherman in My Khe beach, Da-Nang, Viet-Nam
Every time I return to my birthplace, Vietnam, I'm continually drawn and connected to the ocean. I was born in Da-Nang, which is only a few minutes scooter ride to My-Khe beach, where I grew up as a small child. When we escaped Viet-Nam and made home in America, my mother would always reminisce and tell me stories of how close the ocean was and how we fed off the amazing bounty of Viet-Nam's wealth of seafood. I now have my own memories of the collapsing waters of my childhood beach, as well as stories and delicious experiences of how the bounty of the ocean has nurtured me every time I return to Viet-nam.
I have a pile of written stories, recipes and photographs to share with all of you as time charges ahead. But I was fortunate to be contacted by Heather of Diary of a Fanatic Foodie, who also happens to be the food editor for a great new travel website called, Go Galavanting. When the food editor asked me to contribute a food article, obviously, I was thrilled to contribute a recipe and article to Go Galavanting. I was ready to share my love of Vietnam's abundance of seafood and how it nutures my body, soul and spirit.
Go Galavanting is fabulous online women's travel website started by Kim Mance and Katy Quissell, two gorgeous and exuberant world travelers who's mission is to connect , inspire and empower women from around the globe. They "tell women's stories of discovery, self-discovery, and insider tips, as well as practical advice to keep travelers safe and culturally connected while out galavanting.". Fella's, you don't need to feel left out because the wonderful information here is great for guy travelers too. Just ask Todd!
So, hop on over to Go Galavanting to read my full story and peruse this awesome site for global trekking inspiration. Please, leave me a comment over there as well and join me in celebrating the world!
Read "Vietnam's Ocean Bounty" story and view the photo gallery HERE.
Thank you & hugs to you all !- Diane
Grilled Red Snapper with Lemongrass & Chilies
My mother grew up eating Grandma's grilled red snapper as a child and has now passed this family recipe on to me. Wrapped in banana leaves (when we can get it in America), the infusion of the lemongrass's fresh, bright and grassy flavors on the delicate meat of the snapper, over the heat of slowly, fire charring coals is phenomenal.
Ingredients
about 1 pound whole red snapper , cleaned and gutted OR fillet's
For Marinade:
2 cloves garlic
2 stalks fresh lemongrass , cut in 1/4" stalks
1 Tablespoon fish sauce
1 teaspoon sugar
3 Tablespoons peanut oil , or vegetable oil
2 Thai chilies , sliced thinly
Instructions
Wash fish and pat dry with paper towels. For the whole fish, make 2-3 1/4" cuts diagonally across the fish body.

Smash the stalks of the lemongrass. Reserve about a 1" stalk and chop finely or crush in mortar & pestle.

In bowl, combine garlic, fish sauce, sugar, oil, chilies, crushed lemongrass in both forms. Let diced chili infuse in marinade for about 5 minutes, then remove chilies and set aside for later use.

Pour marinade over fish. For the whole fish, place the smashed lemongrass stalks in the body cavity of the fish. This will give extra lemongrass flavor.

Let marinade for about 20 minutes.

Place fish on hot grill. Cook for about 2 minutes on each side for fillets, 10 minutes on each side for the whole fish, or until cooked to your liking. Cook time for whole snapper will also depend on the size of your fish.

Remove fish from grill and dress with the diced chili's.
Nutrition Information
Calories: 337kcal, Carbohydrates: 11g, Protein: 48g, Fat: 10g, Saturated Fat: 2g, Cholesterol: 84mg, Sodium: 857mg, Potassium: 1237mg, Fiber: 1g, Sugar: 5g, Vitamin A: 671IU, Vitamin C: 70mg, Calcium: 98mg, Iron: 2mg
We are a participant in the Amazon Services LLC Associates Program, an affiliate advertising program designed to provide a means for us to earn fees by linking to Amazon.com and affiliated sites.