Grilled Artichokes & Stems with Tarragon Garlic Butter, a edible extension of the heart
Grilled Grilled Artichoke hearts are popular. But have you tried grilled artichoke stems? Don't waste them because they're tender and delicious.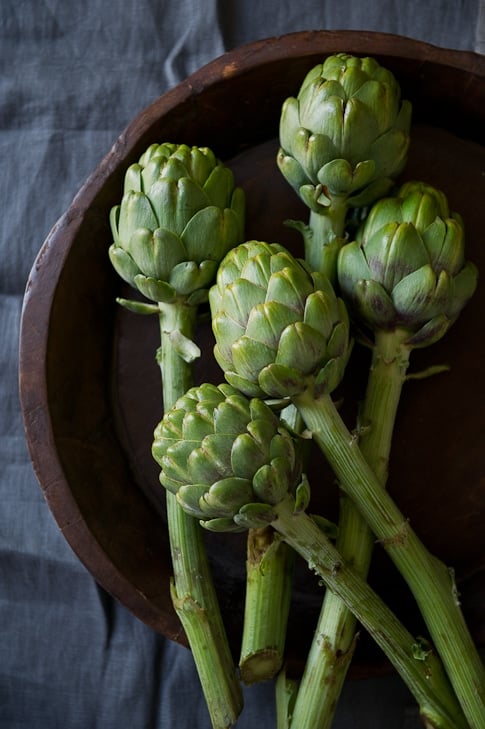 Grilled Artichoke Hearts
Yesterdays trip to our local farm stand was better than we ever expected. They always have the most beautiful field of artichokes growing and when the artichokes go to flower, a sea of purple buds decorate the normally stark field lying alongside the major freeway.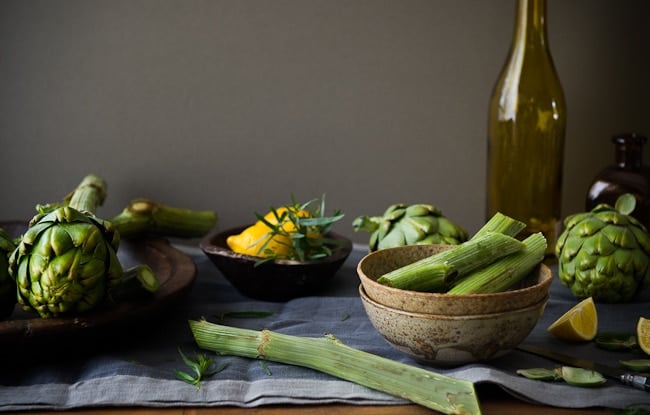 We were fortunate that they still had beautiful, tender artichokes for sale. At a whopping 75 cents a head, these farm fresh artichokes were the best deal in town. It's times like these that we can afford to eat artichokes till we drop!
Earlier that morning, the farmers kept the long stems on the artichokes and they were gorgeous displays in the corner of the stand. It was hard to decide if the artichokes should be cooked or be left as a floral decoration. The farm-stand lady grabbed the artichokes we requested and told us to eat the stems because they're edible extensions of the heart.
Eat Artichoke Stems
We were amazed and enlightened to hear such information! eat the grilled artichoke heart and stem? they're tender extensions of the heart? that makes total sense! how do you prepare them? After showering her with a series of curious artichoke stem questions, she was equally enthusiastic to share how she prepares her stems.
With a quick little tutorial from the stand-lady, we so excited to be buying artichokes with the long stems and to cook with them! The stems on the artichokes were perfect tender specimens to be extensions of the heart.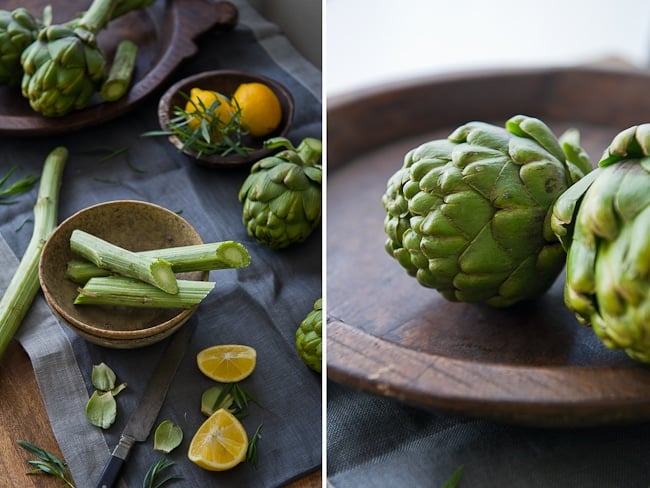 Depending on how young the artichokes are, you may or not want to peel the artichoke stems. It isn't always necessary, but with slightly older stems, peeling makes them a little better.
For grilled artichoke hearts and stems, unless they are super tender, we will boil them first and then grill them just to slightly char and add a nice smokey flavor. In between boiling and grilling, the 'chokes and stems will get marinated, then that marinade is later used as part of the garlic butter. No waste, all delicious flavor!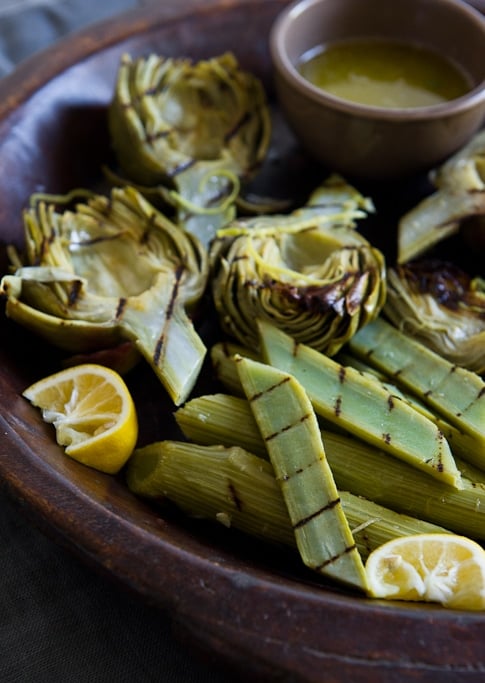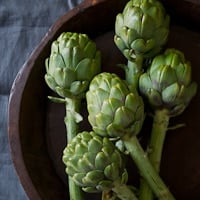 Grilled Artichokes and Stems with Garlic Tarragon Butter
The quality of the artichokes you are able to get will vary time it takes to cook them. Older artichokes are usually tougher and require longer cook times. Cook by feel and testing, rather than strictly following time directions. For this recipe, first you boil them to mostly cook the artichokes, then marinate them (this can all be done ahead to time), then finish by grilling to give them an extra special "smokey" quality. When boiling, you'll want the artichokes nearly all the way cooked, as they won't cook much more on the grill. The step is more for the smokey flavor and to give it a depth of texture. If you can find artichokes with the stems still attached, cook the stem up too. It is like a extension of the heart.
Ingredients
6 medium Artichokes with Stems
1/4 cup Sea Salt (for boiling water)
2 small Lemons
3/4 cup Olive Oil
1/4 cup preferred Vinegar (we'll usually use Rice Wine Vinegar, but any vinegar will work)
4 cloves Garlic crushed or minced, divided
1/2 cup (1 stick) unsalted Butter , cut into 1/2" chunks
2 teaspoons Sea Salt , for sauce
2 Tablespoons fresh Lemon Juice
2 Tablespoons minced Fresh Tarragon
fresh cracked Black Pepper , to taste
Instructions
Bring a large stock pot 3/4 filled with water and the 1/4 cup of salt to a boil. While the water heats, trim the artichokes. Cut off the stems, and cut them into manageable lengths (usually in half). Peel the outer layer of the stems and rub with half of a lemon. Trim the top third off of the artichokes, then trim the tips of the remaining leaves.

Slice the remaining 1 1/2 lemons into large wedges. Put the lemon wedges, artichokes and stems in the boiling water. Place a few layers of paper towels over the artichokes to weigh them down, sinking them deeper in the water. Boil for 20-30 minutes or until the heart is tender when pierced and an outer leaf pulls off easily and the meat is tender.

Drain and allow to cool upside down in a colander until easy to handle. Slice stems in half. Cut artichokes in half and remove choke with a spoon.

Combine olive oil, vinegar, and about 1/3 of the garlic in a plastic bag large enough to marinate the artichokes and stems. Add artichokes and stems to the marinate, toss to coat, and allow to marinate 30 minutes to an hour.

Heat a grill set up for direct heat. Remove artichokes and stems from marinade (reserving the marinade to make sauce) and grill artichokes and stems until lightly charred, about 5 minutes.

Add remaining marinade to a sauce pan and heat over medium heat. Add remaining 2/3 of garlic and cook until garlic is soft (about 3 minutes). Remove from heat. Whisk in butter chunks until completely melted. Add sea salt, lemon juice, tarragon, and black pepper, whisking to combine. Serve immediately with grill artichokes and stems.
Nutrition Information per Serving
Calories: 229kcal, Carbohydrates: 10g, Protein: 3g, Fat: 21g, Saturated Fat: 7g, Trans Fat: 1g, Cholesterol: 20mg, Sodium: 2808mg, Potassium: 307mg, Fiber: 4g, Sugar: 1g, Vitamin A: 298IU, Vitamin C: 19mg, Calcium: 53mg, Iron: 1mg
We are a participant in the Amazon Services LLC Associates Program, an affiliate advertising program designed to provide a means for us to earn fees by linking to Amazon.com and affiliated sites.