Dark Chocolate Gingersnap Cookies with Holiday Stencils
Our favorite chocolate gingersnap cookies are super festive and easy to make. Holiday baking and cookie making is so much fun.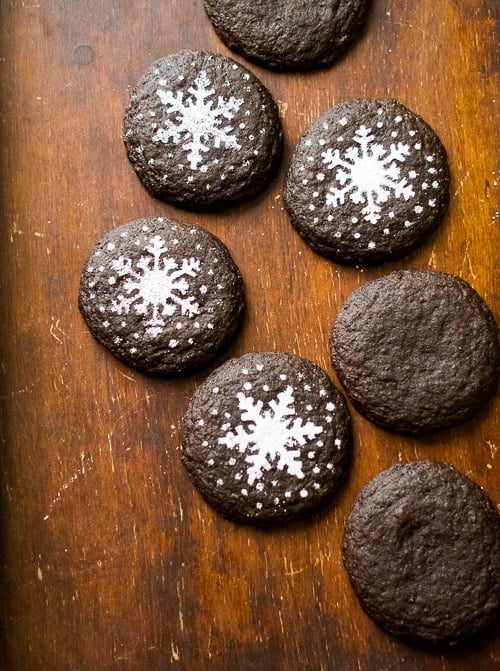 For the first time in my life I think I had a chocolate hangover. Maybe it was eating three additional pieces of See's candy before I went to bed that threw me over the edge. I'm the savory-girl. The girl that hovers over the holiday buffet table where the cheesy dips are displayed and quietly dips my crackers in the pool of yummy calories in between conversations. But to make it clear, I'll never double-dip. My table side manners are always in-check.
Offer me anything savory and I'll eat till the plate is empty. But offer me some dessert and I'll be happily satisfied with about 3 bites. My love of desserts runs deep and a slice of moist cake or thick-and-chewy cookies are what I crave. Even though I love being around desserts as well, those three bites are enough to end my day perfectly.
Watch the fun video: Chocolate Gingersnap Cookies Recipe: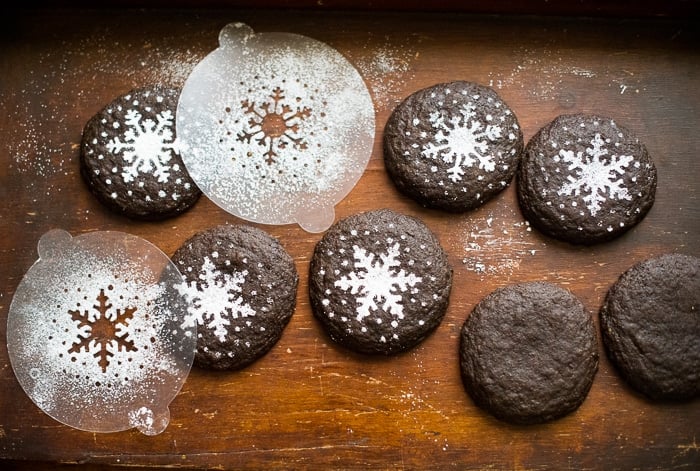 So how is it that a savory-girl can get a chocolate hangover with just three pieces of candy? You see, it started two weeks ago when we had a two day shoot at Terranea and the second day was "dessert day". The chefs were bringing out the most incredible desserts, many of which had chocolate and one of which was the most decadent chocolate brownie I had ever laid my lips on. My fork and fingers had to make sure I had a bite of almost everything single dessert.
Next, these cookies. These dark chocolate gingersnap cookies had me sprung with holiday cheer. Oh my goodness, they're so good, chewy, and full of fresh ginger and dark chocolate flavor that I swear I ate two in one sitting. For me, that's a huge feat for savory-girl-me to eat two big cookies back to back.
How To Make Chocolate Gingersnap Cookies
We adapted these chocolate gingersnap cookies from Alice's fantastic new cookbook, Savory Sweet Life. Visit Alice's blog and you'll be treated to some incredible family recipes, including her spot-on dessert creations. After making her chocolate cookies, we had to re-visit another of her cookie recipes when the cravings called and her cookbook offered the perfect answer to our needs.
Alice's original recipe is the soft chocolate gingersnap cookies. To make them extra chocolate-y, we add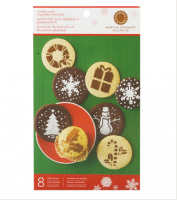 ed an extra-dark cocoa, along with some freshly grated ginger. What lies before you is a perfectly soft & chewy cookie that you can sink your teeth into.
To make them extra fun and holiday festive, we used sprinkled powdered sugar and Martha Stewart's cookie stencils. This particular set is currently out of stock, but we were able to find a similar, possibly updated set, over here at amazon. This is the first time we've ever decorated with cookies and were curious how they'd turn out. The dark color of these gingerbread cookies provided the perfect base for the whole stenciling.
Each cookie became so much more festive with all the different holiday icon designs. Now these cookies had so much more visual interest and personality. That's why it was so easy for me to eat two back to back. On top of that, we busted out the box of See's candy to celebrate Thanksgiving so there you have it, the reason why I had a chocolate hangover.
I can't wait till I sober up again from all the chocolate in the past week because the first thing I'm reaching for again are a few more of these terrific cookies. I'm addicted to these chocolate gingersnap cookies!
hugs,
diane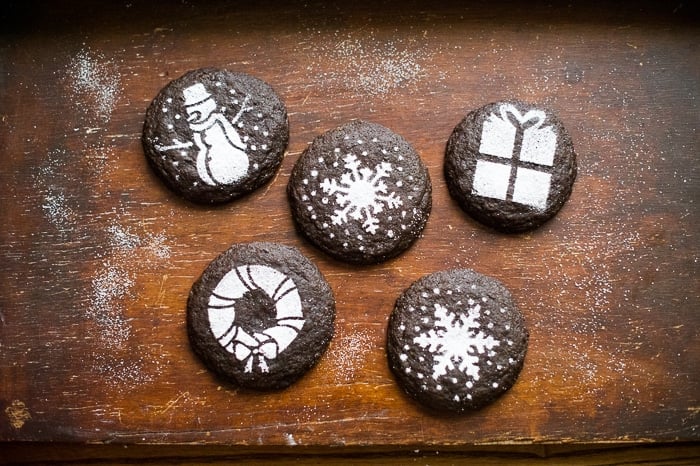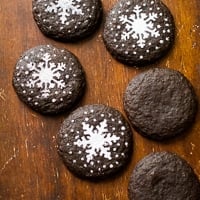 Soft Dark Chocolate Gingersnap Cookies
Adapted from Alice Currah's Savory Sweet Life Cookbook. We used at special dark cocoa powder and used fresh grated spices when applicable. Alice's recipes are fantastic, especially her desserts. This is a great cookbook to have in the kitchen.
Ingredients
2 cups (250g) all-purpose Flour
3 Tablespoons (16g) unsweetened Cocoa Powder (special or extra dark if you can find it)
1/4 teaspoon Salt
1/2 teaspoon Baking Soda
1 1/2 teaspoons ground cinnamon (or freshly grated cinnamon if desired)
1 Tablespoon freshly grated Ginger (or 1 teaspoon ground Ginger powder)
1/2 teaspoon freshly grated Nutmeg (or 1/4 teaspoon ground Nutmeg)
1/2 teaspoon ground Cloves
1/2 teaspoon Cream of Tartar
1/2 cup (114g) unsalted Butter , at room temp.
3/4 cup (165g) firmly packed Brown Sugar
1/2 cup (100g) Sugar
1 Egg
1/4 cup (85g) Molasses
Confectioners Sugar for dusting
Instructions
Preheat oven to 350°F. Line sheet pans with parchment paper.

Whisk together flour, cocoa powder, salt, baking soda, spices (cinnamon, ginger, nutmeg, and clove), and cream of tartar for 20 seconds or until well combined. Set aside.

In a mixing bowl cream the butter, brown sugar, and sugar on medium-high until light and fluffy (@2 minutes). Slow down mixer speed and beat in egg and molasses until combined, scraping bowl sides and bottom at least once.

Slowly stir dry ingredients into butter mixture until just combined. With an 1 1/2" cookie scoop, form balls and place 2 inches apart on lined sheet pans.

Bake for 14-16 minutes or until set. Allow to cool for 5 minutes on sheet pan, the carefully lift onto a wire rack to finish cooling.

After cool, if using stensil, place stensil over cookies and dust with confectioners sugar or just dust with confectioners sugar.
Nutrition Information per Serving
Calories: 129kcal, Carbohydrates: 22g, Protein: 1g, Fat: 4g, Saturated Fat: 3g, Trans Fat: 1g, Cholesterol: 17mg, Sodium: 54mg, Potassium: 98mg, Fiber: 1g, Sugar: 14g, Vitamin A: 129IU, Vitamin C: 1mg, Calcium: 19mg, Iron: 1mg
We are a participant in the Amazon Services LLC Associates Program, an affiliate advertising program designed to provide a means for us to earn fees by linking to Amazon.com and affiliated sites.