Amazing Chicago Food Discoveries with Fairmont Chicago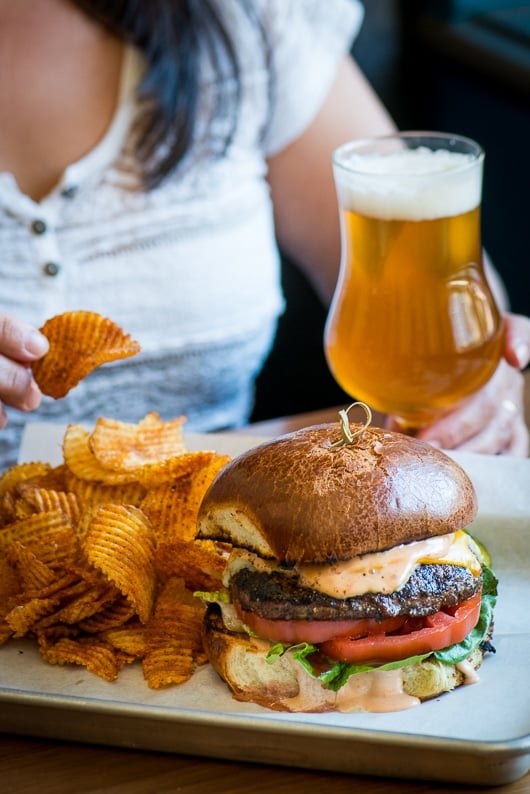 We can't believe we haven't explored the Chicago food scene more. The last few times we've visited, we only had enough time to eat at one of our favorite restaurants and rarely had a chance to even think of eating anywhere else. Thanks to all the amazing folks at Fairmont Chicago, Millennium Park hotel, we were able to eat and explore this gorgeous city like hungry champions. Seriously, we would not have had the in-depth eating journey and discovery of Chicago's food culture without the folks at Fairmont Chicago Millennium Park.
Chef Atticus, Colleen and Michelle, all of whom are part of Fairmont Chicago's amazing team, are truly food obsessed. It's rare to connect and eat with folks who are as obsessed as we are about food, eating and cooking. We were so lucky to have them guide us and eat with us through some of the city's gems and what makes Chicago such an exceptional food city. They were our food professors and we were hungry, attentive students that said yes to everything they fed us. Hopefully we received an A+ as students of Chicago food culture.
[fbvideo link="https://www.facebook.com/WhiteOnRiceCoupleBlog/videos/vb.78892690210/10154648081205211/?type=3″ width="700″ onlyvideo="1″]
Oh boy, how to truly do justice to Chicago in one food visit? We can't. It's impossible. This city is a kaleidoscope of cultures, both old and new, all of which are integral to why Chicago is such a fantastic food-town. It's also an absolutely gorgeous city beyond what we can even describe. We always knew this city was a food-gem but never had the chance to truly dive into the delicious depths of what this city has to offer. If you're wanting a fun weekend getaway, Fairmont is offering an amazing Sunday Fun Day Package that includes two nights accommodations and $100 in food/beverage credit. It's the perfect escape and we have tons of inspiration here to make your two days filled with amazing food.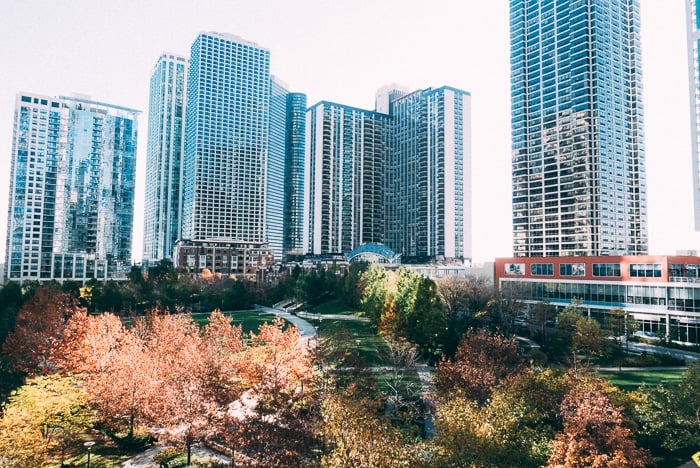 stellar views from our Fairmont room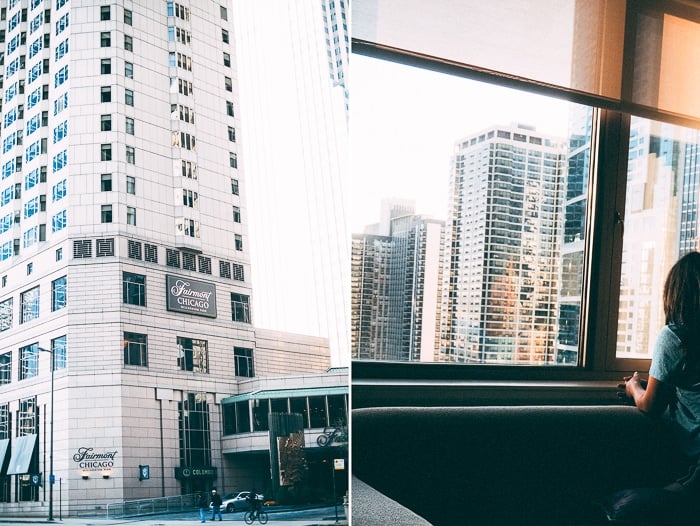 we were so lucky to visit during their Fall colors!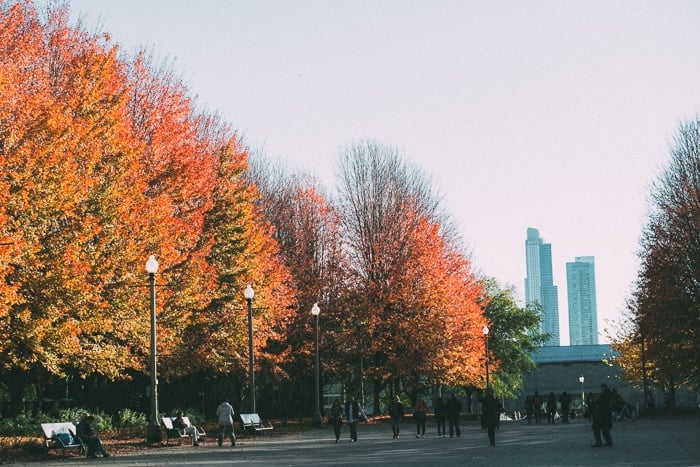 Now we finally did eat and live like kings & queens. Best of all, we had the most amazing accommodations and views of the city during our stay at Fairmont Chicago Millennium Park. This hotel is elegant, yet contemporary and luxuriously comfortable and approachable. It's not surprising that they've beed recognized for exceptional service and amenities from US News and Condé Nast Traveler's Top 15 Hotels in Chicago. They have features that we've always loved in hotels, two of which are great central location and killer views. Not only are they within walking distance to Millennium Park and great restaurants, they have mind-blowing views of the city.
Chef Atticus Grant & his amazing "eggs & bacon". We have proof it's amazing. Video here.
The rotisserie chicken rocks along with his bbq cauliflower. And we have a video here!
Let's start with really, really great food. First off, we didn't have to travel far because of Fairmont Chicago's own urban tap house, Columbus Tap. This charming neighborhood spot serves some of the city's best urban gastropub dishes, all easily washed down with their local beer offerings. Yup, over 16 draft beers on tap from local Chicago and Midwestern breweries. Executive Sous Chef Atticus Garant kills it with his vision and extraordinary understanding of flavors, seasonal ingredients, textures and umami.
THE BEST pretzels and beer cheese. Ever. Seriously.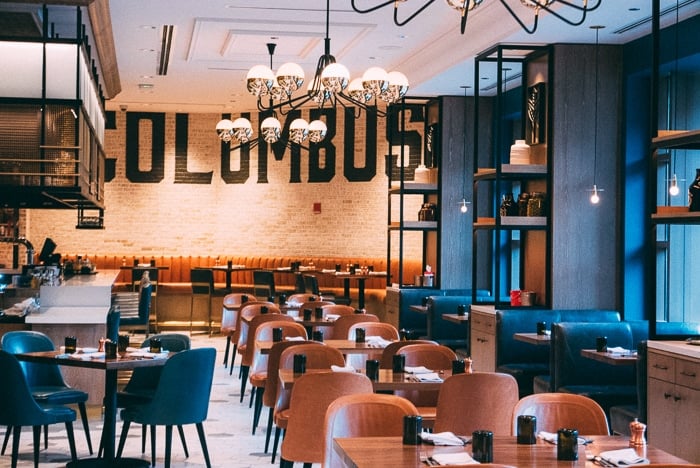 This is a slight tangent, but he's so damn cute, he even has his own Instagram account. We're obsessed with food and dogs. Can't you guys already tell? We didn't have to leave the hotel to find amazing food AND we were able to visit the most adorable English Bulldog on the face of the earth. But beyond the talent and amazing food at Columbus Tap, another reason why we adore Chef Atticus so much is because of his gorgeous and charming partner Karla and his freaking adorable, slobbering, cuddly, snorting English Bulldog Harold! He even has his own Instagram account at @MisterHarold .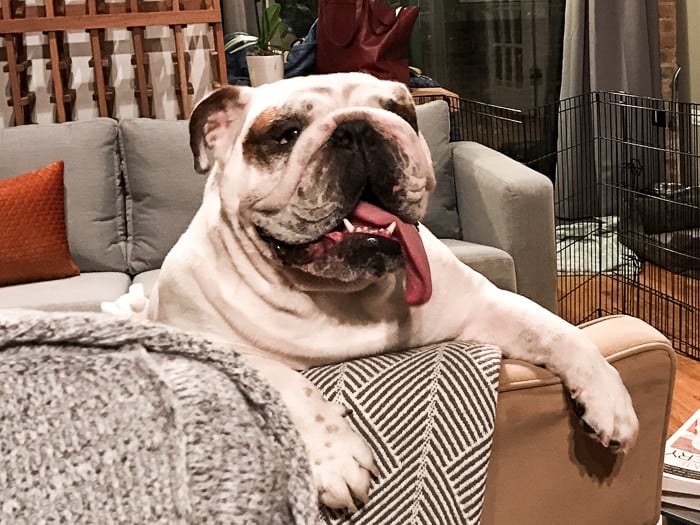 Anyways, back to food, yeah? We learned so much about Chicago food culture from Michelle, Colleen and Chef Atticus, it was mind boggling. Here's a sampling of what we learned and devoured:
Visiting Vosges chocolate factory was a awesome sweet treat. Their philosophy on life, chocolate, cultures and how they all relate in a single bite is true art. Chocolate and curry together in a truffle? Yes! It totally works and tastes divine.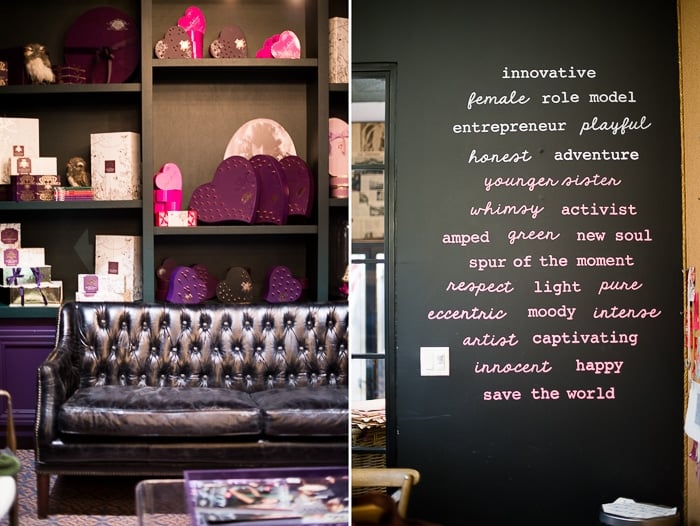 We had a chance to visit the kitchen of Lou Malnati's and see how they make their famous deep dish pizzas. Whoa, they don't hold back and every pizza that comes out of their kitchens reflects just how much cheesy love is in each slice. Here's a glimpse of our visit to Lou Malnati's kitchen.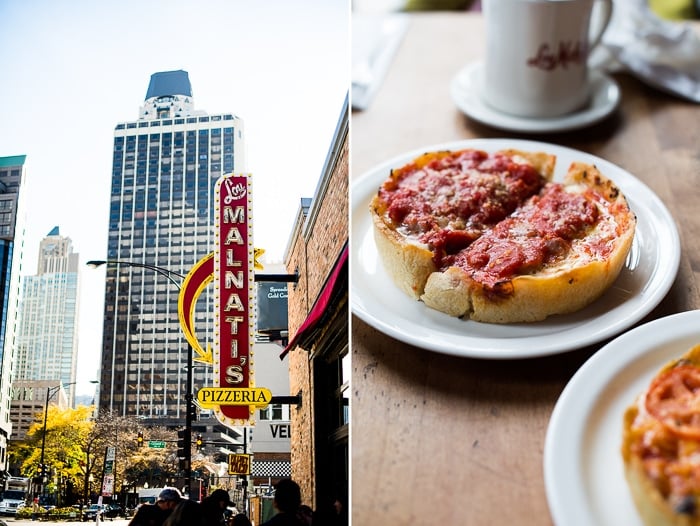 Sweet Beginnings is an inspiring company. A small grassroots company creating their beelove honey and honey based skin care products from their urban apiary in the North Lawndale community in Chicago. At the same time they are providing opportunities and skills in transitional employment for those in their community who would otherwise be struggling to get back into the workforce.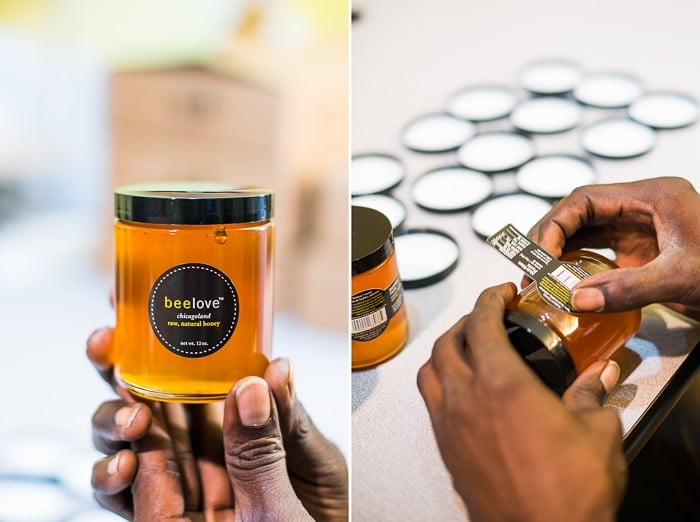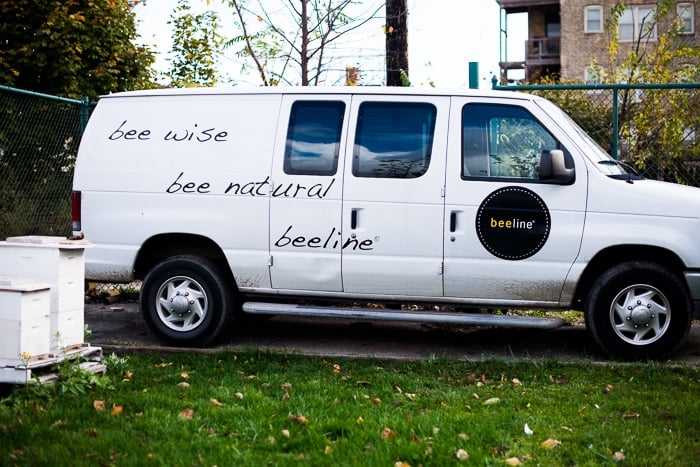 We love FEW distillery and were beyond stoked to find out that we'd get to visit the folks who make some of our favorite Gins and Whiskeys. If you visit our kitchen, you'll know how huge of fans we already are. And they have a new gin! We're beyond happy and can't wait to get our hands on some.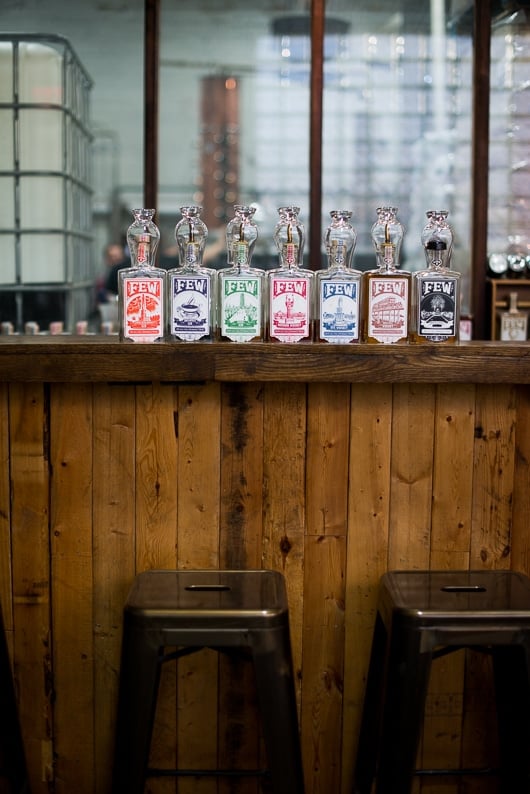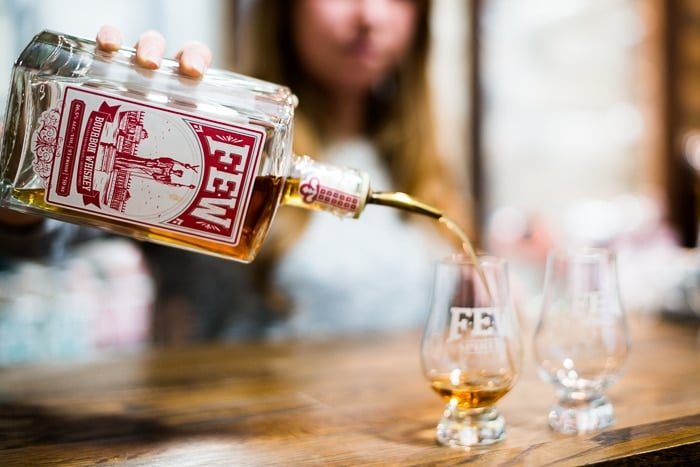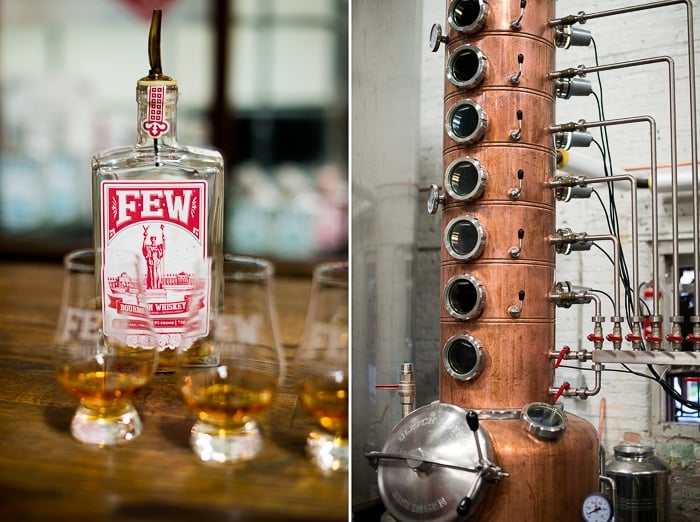 Exploring a food town with an awesome chef has its definite perks. Chef Atticus got us an inside glimpse at Publican's bakery. Publican is a butcher shop, neighborhood café, bakery and gourmet market. It is awesome. And around the corner they have their own wholesale bakery where they are are baking up some of the best breads we've had, not too shabby considering we are bread obsessed and try to find the best bread makers in every city we visit. And of course they are one of the great local sources that Chef Atticus uses back at the Fairmont Chicago.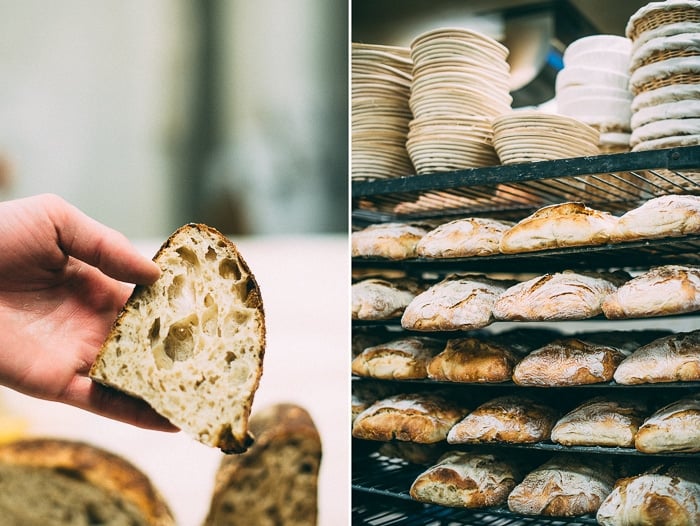 Roister and Aviary. Just a couple of Grant Achatz's places. You know, the superstar chef of Alinea fame; considered by many to be one of the masters of molecular gastronomy. Located in the amazing restaurant area of the Fulton Market district, these two places we a couple of the half dozen great spots we hit within walking distance of one another. It would take an hour to describe the experiences, so we'll just leave the descriptions at "unforgettable" and "mind blown".
The more we discover in Chicago, the more we love it. One thing is for sure, if you are planning a trip to Chi-town, give yourself a couple days just to explore the food scene. It would be easy to spend weeks just exploring the Fulton Market/meat packing district. And that's just the West Loop area. So much great food and great architecture everywhere in this great city. We can't thank Chef Atticus, Colleen, and Michelle enough for sharing their love of food and their city with us. From the places they pointed us to, to the places we were able share a table with them, to the hours of geeked out food conversations we had with the three of them, they helped make it an amazing trip.
Epic thanks to Fairmont Hotels & Resorts for sponsoring us on this project supporting our love on culture, travel and food discoveries!
We are a participant in the Amazon Services LLC Associates Program, an affiliate advertising program designed to provide a means for us to earn fees by linking to Amazon.com and affiliated sites.