Exploring Northern California Bay Area with Fairmont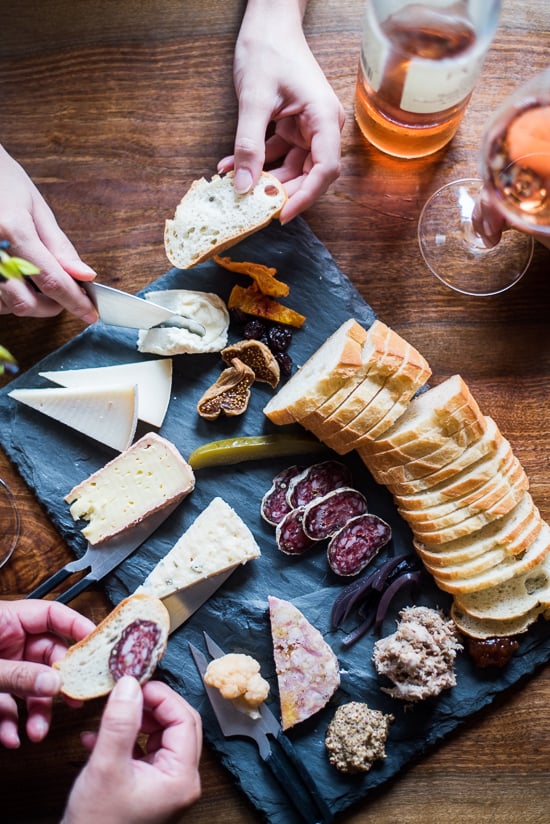 We've always loved the Northern California Bay Area and over the past 20 years, we've made many trips back to eat and explore. But this last trip back with Fairmont Hotels and Resorts was a dream because we had the opportunity to discover so many new jewels of the Bay Area in one swoop with guidance and recommendations from area experts. It really helps to have the folks who live in the area to show us their favorite local spots! And in our case, it was three different regions, each with their own unique flavors.
It was pretty much like a road trip through the San Francisco Bay area, exploring it with new, open eyes. The amazing team at the 3 Fairmont Hotels and Resorts in the Bay area guided us through our food journey and provided us with world class accommodations at three of their bay area hotels: Fairmont Sonoma Mission Inn & Spa, Claremont Club & Spa and Fairmont San Francisco. We ate, photographed, filmed, ate way more than we should have but because we're truly food obsessed, we considered it food research. We're good at that.
Fall is a gorgeous time of year to visit Sonoma wine country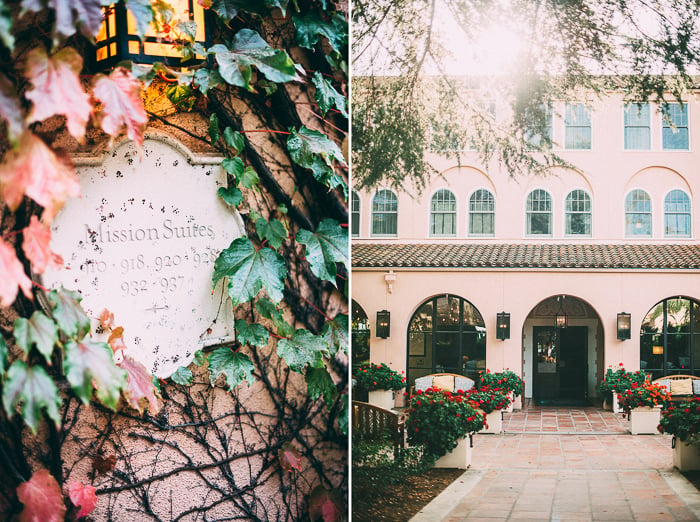 Our trip started with a gorgeous stay at Fairmont Sonoma Mission Inn & Spa. This beautiful and serene resort is nestled in the heart of California Wine Country. We visited in late October and it was a beautiful time, with harvest just finishing off and the vines were in their Fall color glory. And they're already on our favorites list because they're dog friendly! Lexi and Sierra didn't get to indulge on this trip and not sure if we'd want to bring them because they're too many cute squirrels around. They'd be wanting to chase every critter they see.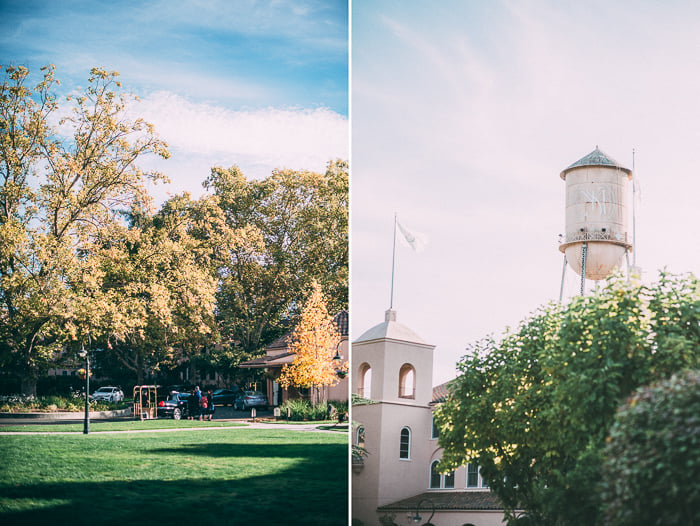 They're famous for their natural mineral hot springs in Sonoma Valley, which sets the perfect setting to their Willow Stream Spa which is one of the only luxury spa resorts in the country with its own source of thermal mineral water. They even have their own championship Sonoma Golf Course, which is super cool to be golfing across the street from beautiful and tranquil vineyards.
Dreamy wine, cheese and Michelin Star dinner.
Dinner was at their signature restaurant, the Michelin award winning Santé Restaurant. Our tasting menu dinner was outstanding and paired with perfect wines from local wineries. The roasted ribeye of free range lamb was one of the best lamb dishes we ever had. Topped with tabbouleh, eggplant, minted yogurt and bordelaise aioli it was hard to not lick the plate clean. And to top off this amazing dinner experience, during out stay we were able to visit Kendall Mini Farm and Linda, who provide the micro greens for Santé. It was amazing to taste, experience and film this whole farm to table experience. You can watch it on Facebook here.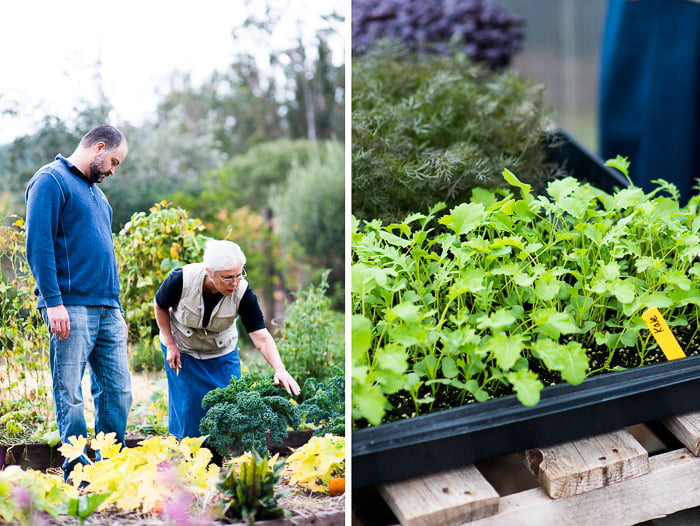 Chef Andrew Cain and Linda of Kenwood Mini Farm talk fresh produce
Here's a video of that great day:
Benziger Family Winery was another eye-opener visit because it was our first time visiting a biodynamic winery. Jill Benziger led us through an education and tour about their family winery and their passion on making wines that are certified Biodynamic, organic and by using sustainable farming methods. Their quality wines taste even better knowing that they're being made by folks who care about the land and the sustainable future of wine making.
Their super cool wine cave was spectacular for our lunch stop.
After a dreamy two days in Sonoma, we hopped in the car and drove to the latest addition to the Fairmont family of hotels and resorts: the historic Claremont Club & Spa. Literally nestled between Berkley and Oakland (one portion of the property lies in Oakland, the other in Berkley). The Claremont is full of character and lore. From one of its owners winning the property in a game of checkers to being nearly caught up in the 1991 Oakland fire. Frank Lloyd Wright called the Claremont "One of the few hotels in the world with warmth, character, and charm."
the best view of San Francisco from our room at The Claremont and at their restaurant Limewood
Following the Fairmont's acquisition of the Claremont and a beautiful remodel, you can add "swank" to that description. The visual lines leading from the front door to the lobby pulls you into the hotel, which suddenly opens up like a breath of fresh ocean air.
Steer towards the lobby bar with the massive windows with views overlooking both the Bay and Golden Gate bridges and we found ourselves drawn into the Hillary-Tenzing Room. Named and remodeled after explorer Edmund Hillary, his sherpa, Tenzing Norgay, and their adventures, the stunning rich blue room is seeped with mountaineering and Nepalese artifacts. With cocktail in hand, we could spend days on end in that room and never tire of its charm.
It's a great thing that the Claremont's guests have exclusive access to The Club at the Claremont. With its beautiful lap pools, tennis courts, daily fitness classes, and TechnoGym equipment, we needed some calorie burning activities to help balance all the food we ate while we were there.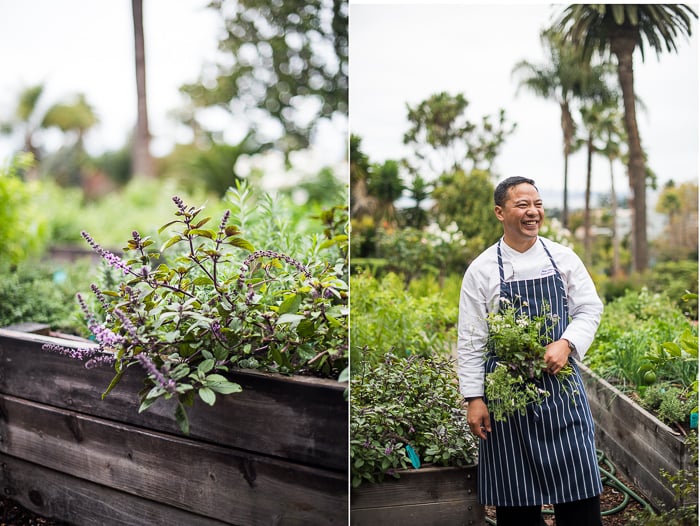 Meals at both Meritage and Limewood restaurant were insanely delicious
Whether it was the great food, cocktails, and wine at the Limewood Bar and Restaurant, great bites in the Lobby Lounge and Hillary-Tenzing Room, to the meals at Meritage, we found ourselves clearing plate after plate. How can you not? They do a great job sourcing from the exceptional regional cuisine, and prepare the dishes to highlight how good it is.
After spending a couple days with stunning views of San Francisco from the Claremont, we headed across the bridge into the city itself. Perched atop Nob Hill, the Fairmont San Francisco welcomed us with open arms. For over a century it's been known for its elegance and impeccable service, and is the perfect launching point for excursions into the city. Step out the door and head down the hill to one of the great food cities in the world. You can even hop on an iconic San Francisco trolley just outside the hotel.
The Penthouse Suite and inspired cocktails from the Tonga Room & Hurricane Bar
Here's a snippet of our own little Penthouse Suite party:
Not that we needed to leave the Fairmont to have a good time. The Fairmont San Francisco may be elegant and grand, but don't mistake it for stuffy. They love to have a good time. We arrived in perfect time to see their departments' Jack 'o Lantern carving contest entries displayed in the lobby for all to vote, while at the same time in the lobby their annual 2-story gingerbread house was being build brick-by-gingerbread-brick by their culinary team.
Head on over to the Tonga Room in the hotel and you'll find a place Anthony Bourdain declared, "If you have no love in your heart for this place, you are a sick, twisted lonely…" (we''ll leave it at that but you get the point, it has Bourdain's love). The Tonga room is the oldest continuously operating tiki bar in North America and shows no signs of slowing down and we could agree more with Bourdain's sentiment.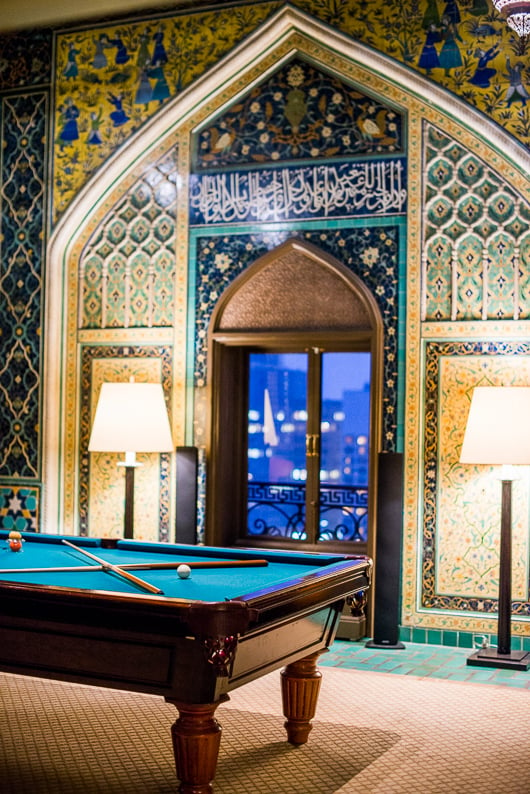 Within these same hotel walls, if you head up to the The Penthouse Suite, you'll find 6,000 square feet of luxury. It's housed royalty to rock stars and has more than a fair share of unforgettable parties and history changing events. There's even a secret passageway in the suite's library. This a place with so many stories to tell. It's certain both JFK and Mick Jagger added to its legendary history.
One of the best food tours we had with Foodie Chap and Fairmont San Francisco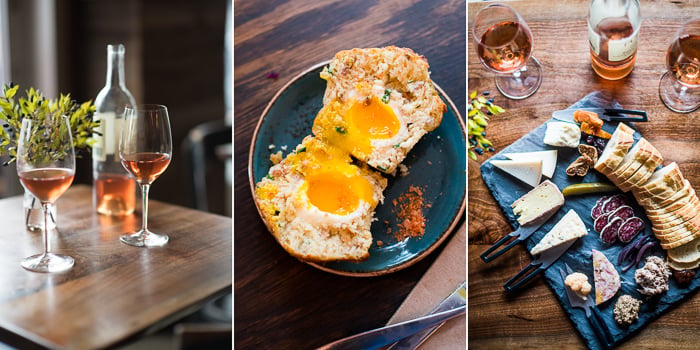 Our experiences across the Fairmont Hotel family in the Bay area was extraordinary. Each location is reflective of the variety of character the region epitomizes. From the relaxed wine country, amazing artisan food producers, elegant and historic settings, spectacular views, an iconic bustling city, it was wonderful to experience the diversity in their character. They were all remarkable in each of their own individual ways.
Epic thanks to Fairmont Hotels & Resorts for sponsoring us on this project supporting our love on culture, travel and food discoveries!
We are a participant in the Amazon Services LLC Associates Program, an affiliate advertising program designed to provide a means for us to earn fees by linking to Amazon.com and affiliated sites.