Deep Dish Snickerdoodle a la Mode – Episode 2 of the Pizookie Files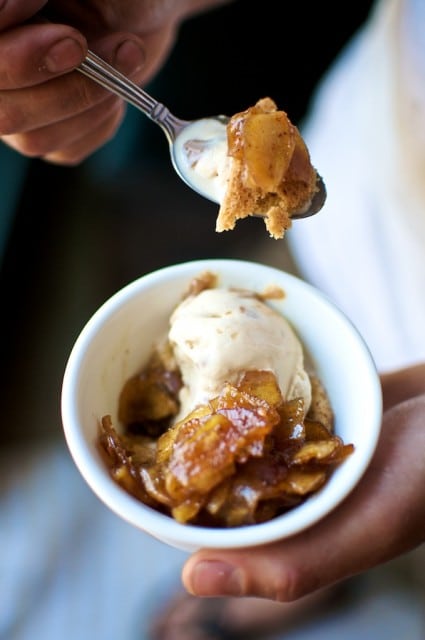 In Episode 1, we introduced the dangerous pleasures of the pizookie, a deep-dish-baked cookie topped with ice cream. The comments were filled with sweet tooth adoration, a handful of guilty trembling, and a few expletives in excitement. We had mentioned the unlimited possibilities of pizookies, and since the response was so ecstatic over the first pizookies post, we thought it would be fun to have a series, The Pizookie Files, dedicated solely to the brilliance of pizookies. It shall appear from time to time, here at WORC, and we hope you all enjoy this as much as we do.
The Pizookie Files: Episode 2. Snickerdoodles.
The inspiration for this deep-dish cookie came from a comment on Episode 1, from Carla at ChocolateMoosey. "Have you tried snickerdoodle?" she innocently asked. Now, we had several cookies lined up for the Pizookie files, but suddenly they were all shoved aside. "Snickerdoodle?!!?" I perked.
A cookie I love the potential of, yet had rarely come across a super tasty variety. Even where I used to manage where our cookies were generally outstanding, I wasn't overly fond of our snickerdoodles. The challenge was made, and I was determined to find (or create as it turns out) a great snickerdoodle recipe, then craft it into a glorious pizookie. This was going to be fun.
The hardest part was finding a super tasty snickerdoodle dough recipe. As most everyone has read in the previous post, the cookie mojo was flowing and I quickly remedied that problem. Next came the pizookie part. A simple dough like the snickerdoodle requires something with a little more pizazz than a straight vanilla ice cream.
After a little perusing at our Ice Cream God's site (aka David Lebovitz) we hit the money maker, Salted Butter Caramel Ice Cream. Hell yeah! The flavors of the caramel ice cream playing off of the cinnamony-sugar goodness of the snickerdoodles. Be steady my trembling heart.
Now, we realize that most of you don't have the time to make you own ice cream on a regular basis. No worries, because there is one more addition that sends this pizookie over the top. Snickerdoodle + Ice Cream + Warm Sauteed Apples. Purrrrrr.
A killer triumvirate that is very quick and easy to throw together. If one has enough foresight, it gets even easier by making big batches of sauteed apples in the fall, then canning them to use all year. For the last 5 or 6 years we have always made the time to go apple picking each fall, and one of the resulting products is jars and jars of sweet, cinnamon-sauteed apples that we can use for a base in crafting desserts or just straight up as a topping on ice cream, toast, etc…
Can you taste it? A warm cinnamon sugar cookie, soft with touches of crispness along the edges of the ramekin. Cool, creamy ice cream gently melting and spreading it's sweet liquid over the cookie. Then comes along a warm layer of softened, sweet apples that have been sauteed with a bit of butter and cinnamon. We might have to start putting up warning disclaimers.
-Todd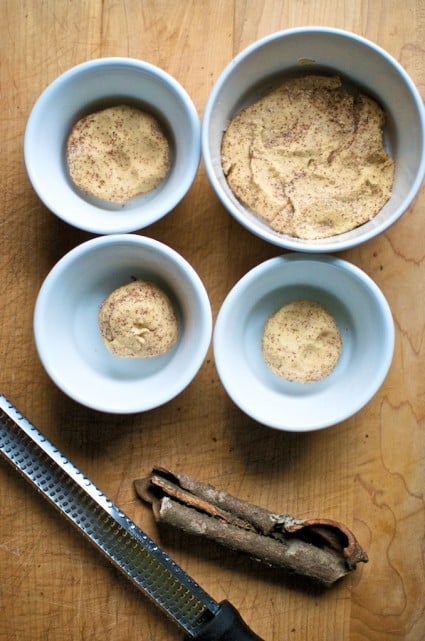 Snickerdoodle Pizookies ready to bake!
Snickerdoodle Deep Dish Cookies a la mode (plus) Sauteed Apples
What's even better than a fresh snickerdoodle. A warm snickerdoodle with ice cream and sautéed apples.
Ingredients
Sauteed Apple Ingredients (makes about 1 c)
2 Fuji or Granny Smith Apples
1 Tablespoon (15 ml) fresh Lemon Juice
2 Tablespoons (30g) unsalted Butter
1 Tablespoon Brown Sugar (to taste, depends on how sweet you want the apples to be)
Cinnamon (to taste)
1 teaspoon Brandy (optional)
dash of Sea Salt
Instructions
Sauteed Apple Directions
Peel, core and slice the apples thinly, toss with lemon juice, then saute in butter until soft.

Add the brown sugar and cinnamon and continue cooking until the brown sugar is completely dissolved. Add the brandy and salt, stir, then remove from heat.
Assembly
Preheat oven to 350ºF Bake

Grab enough dough to fill your ramekins approx. 1/2" deep. Make a disc out of dough, then toss in cinnamon sugar mix. Gently press dough into ramekins.

Bake for approx. 12-15 min., depending on the size of your ramekins and how deep you filled them. Bake until they are light golden brown.

Remove from oven, allow to cool for @ 5 min., then top with ice cream and sauteed apples. Repeat all steps as needed. 😉
We are a participant in the Amazon Services LLC Associates Program, an affiliate advertising program designed to provide a means for us to earn fees by linking to Amazon.com and affiliated sites.