Roasted Potatoes w/ Fried Sage, Brown Butter – A Healing Memory
These roasted potatoes with sage are aromatic, crispy and flavorful. Perfect to cook up a batch of these when you can get your hands on some fresh sage.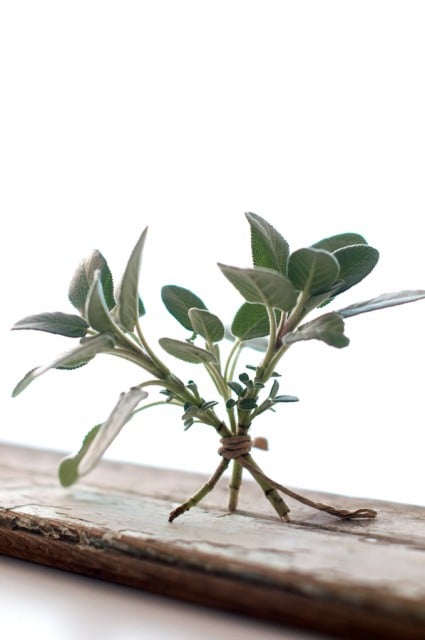 Roasted Potatoes with Sage
I've often wondered what value my Ethno-botany days at the University have on my current career now. Back in my college days, I dreamed of finding the cure to cancer via medicinal plants, to live in the rainforest with native cultures and learn their traditional methods of healing through local plants. I romanced the idea of healing the world, to be the Medicine Woman, to climb big tall trees and scale the mountain tops, just like Sean Connery.
Now, I photograph pictures of food & the lifestyle that surrounds it. Go figure. When I walked the garden the other morning and found our sage plants in booming glory, with their fuzzy leaves stretching out to the warm SoCal sunlight, old memories of college days were calling out to me.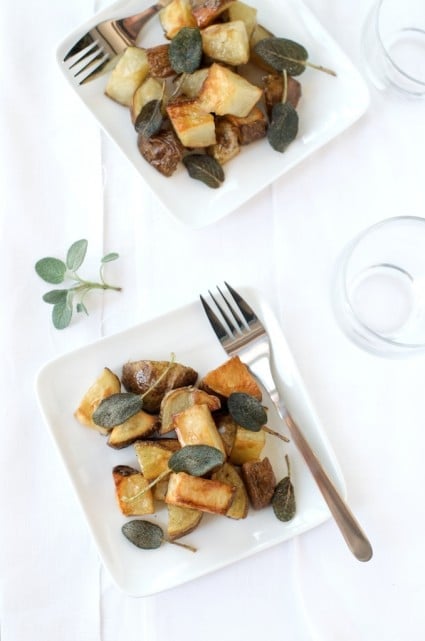 I was first introduced to sage and many varieties in the Salvia Genus during a research project I conducted in college. My thesis was focused on medicinal plants used by local Native American tribes and what I expected to be an ordinary school project was actually, life changing. Through my many hours of interviews and personal time with local members of these tribes, I embarked on a remarkable personal journey of healing through the gentle hands of Native American healers and their sacred traditions of respecting nature and the Earth.
Sage is powerful beyond the medicinal confines of its medicinal chemicals. Sage is earthy, warm, healing, therapeutic and a wonderful companion in the kitchen. Their fragrant, velvety leaves remind of the desert that I love so much and when I use them in my cooking, I'm instantly transported to those early morning sunrises.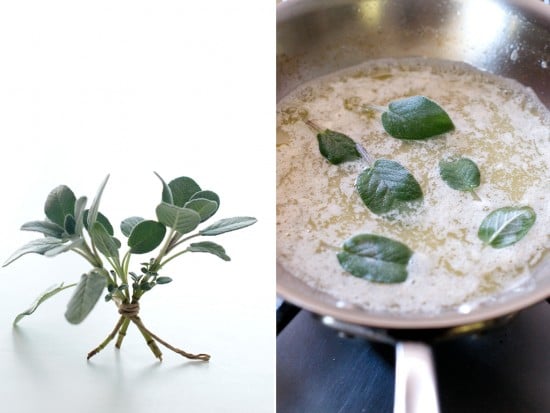 Sage feeds the belly, mind, soul and it's equally significant and wonderful to the garden. All the different varieties of sage can brighten your garden and their low water tolerance makes it even easier to grow. They just need some warmth, occasional attention and you'll be basking in a medicinal garden.
So today I picked some sage sprigs, smelled their warm hints of earthy pine and was reminded of the nutty flavors of brown butter. Perfect for roasted potatoes with sage. I thought about this amazing pairing and decided to simply roast them with potatoes to soak up the duo of flavors. This whole dish is simply comforting to me, reminding me of those lessons from my Native American healers and what I'm currently doing today on my food blog.
This fried sage dish makes all my hours of studying significant because now I value the powers of sage beyond the culinary table. Sage is healing to both my appetite and spirit.
I can tell my Professors that I'm finally making good use of my old research days. I think they'll be pleased. Hope you enjoy this roasted potatoes with sage recipe.
thank you,
diane
This recipe was originally published in 2009, and was updated in 2021.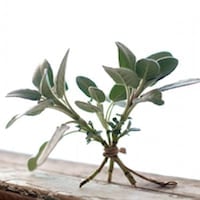 Roasted Potatoes w/ Fried Sage and Brown Butter
The nutty flavor of brown butter, coupled with the earthy sage is wonderful. Even just one teaspoon of the brown butter and fried sage provides an amazing amount of flavor to all those potatoes! Have fun with the fried sage brown butter and add it to your pasta or noodle dishes.
Ingredients
2 lbs. (907 g) potatoes (approximately), washed, cubed
2-3 Tablespoons (30-45 ml) olive oil
3-4 cloves garlic , crushed or minced (or 1 teaspoon garlic powder)
salt , to taste
7-8 fresh sage leaves , divided (mince 3 leaves worth)
2-3 Tablespoons (30 ml) butter
Instructions
Preheat oven to 400ºF/205°C.

In large bowl, toss potatoes, about 3 sage leaves (minced), enough olive oil to coat potatoes, garlic or garlic powder, and salt to taste.

Place potatoes on sheet pan and roast in oven for about 30-45 minutes, or until golden brown. Turn potatoes at least once during the roasting period.

While the potatoes roast; in sauté pan, gently melt butter over medium heat. Don't melt the butter too quick, or it will burn.

Once butter melts and starts to bubble, add the rest of the sage leaves. Fry sage leaves on both sides, until crispy and until the butter starts to brown. Keep an eye on the butter as you fry the sage & the butter browns, it can change quickly. Take butter off heat when it is golden brown (should be a rich caramel color).

Toss potatoes with the brown butter and fried sage leaves. Taste for seasoning & add more salt if needed. Serve warm.
Nutrition Information per Serving
Calories: 191kcal, Carbohydrates: 26g, Protein: 3g, Fat: 9g, Saturated Fat: 3g, Trans Fat: 1g, Cholesterol: 10mg, Sodium: 42mg, Potassium: 638mg, Fiber: 3g, Sugar: 1g, Vitamin A: 120IU, Vitamin C: 30mg, Calcium: 20mg, Iron: 1mg
Here's a great savory galette you might enjoy,
We are a participant in the Amazon Services LLC Associates Program, an affiliate advertising program designed to provide a means for us to earn fees by linking to Amazon.com and affiliated sites.