Cucumber and Zucchini Carpaccio Salad – Cristina Ferrare's Big Bowl of Love
This cucumber zucchini carpaccio recipe is from our friend Cristina. It's refreshing and super light and healthy.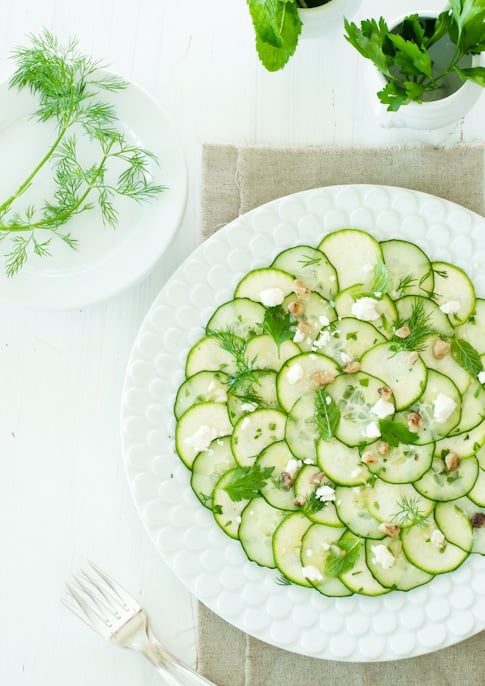 Cucumber Zucchini Carpaccio
We love our job. Of course there are always challenges that come with each project we photograph or film, but at the end of the day we are always thankful for the wonderful people that we work with and Cristina Ferrare is one of those wonderous souls that help us love our job to no end.
Last year she selected us to photograph her new cookbook, Big Bowl of Love, which is also the title of her cooking show on the Oprah Winfrey Network.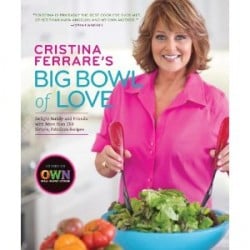 To work with her on photographing her recipes and lifestyle shots for the Big Bowl of Love was such a huge honor, we're still over the moon about the whole project. We wrote about the behind the scenes of her cookbook shoot a while back.
Cristina is a true cook and a shining example of someone who feeds from the heart. Every single one of her recipes in the cookbook was cooked with her own two hands and she make sure each dish was made with the utmost care.
Cristina Ferrare Cookbook
She didn't treat the project like a cookbook shoot. There was no fake food or prissying up the dish for the camera. Instead, each recipe in the book was prepared as if she was feeding her loved ones. She selected the freshest and best ingredients she could gather from the markets and prepared them in her own kitchen. We were just the very fortunate photographers to be there to capture it.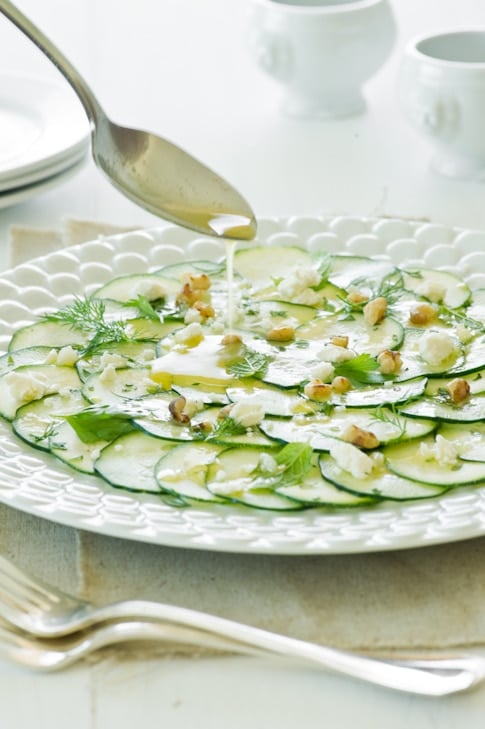 We also ate EVERY SINGLE DISH and gained 10 happy pounds each. Every bite was bliss on the job.
The best part about this project is that her book embodies everything that represents love, family, feeding, feasting and more love in big bowls. We were surrounded by her amazing family (Tony, Alex, and Arianna), all of whom love, support and respect one another deeply. This project was like working with family, they treated us like family and that meant the world to us.
Cristina's love of food and family spills from every page of her book and we're so happy to be sharing one of her recipes with you here today. It's a Cucumber Zucchini Carpaccio Recipe that's amazing. Thin slices of zucchini and cucumber is a brilliant way to present healthy salad.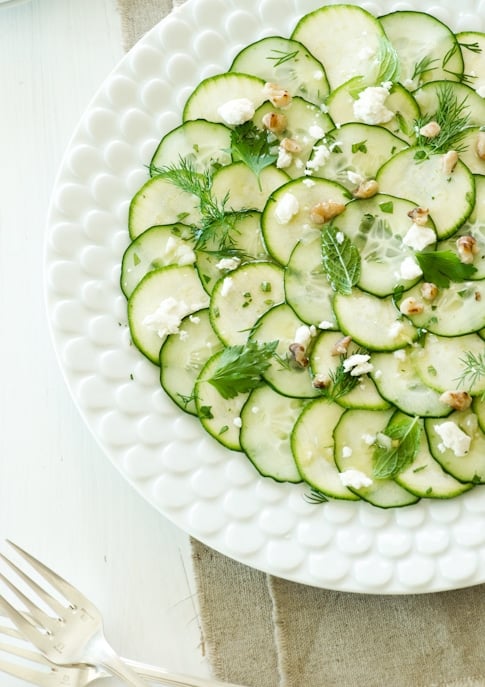 Cristina having fun with her daughters Ari & Alex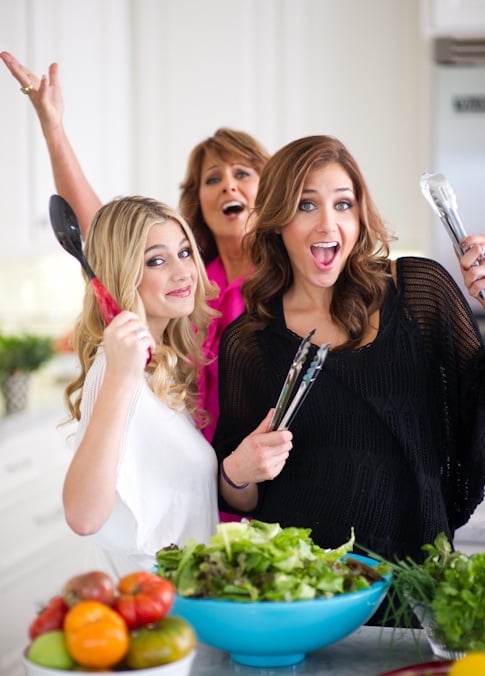 Cristina cooked for her big party & feast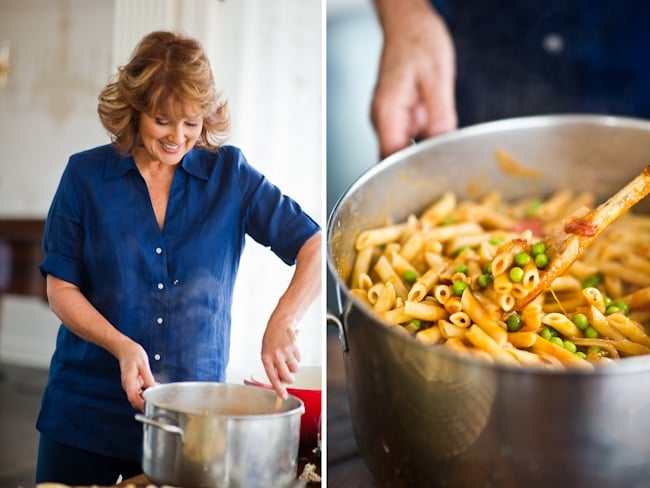 fresh ingredients and flavorful recipes Alex and Ari helping out in the kitchen and set up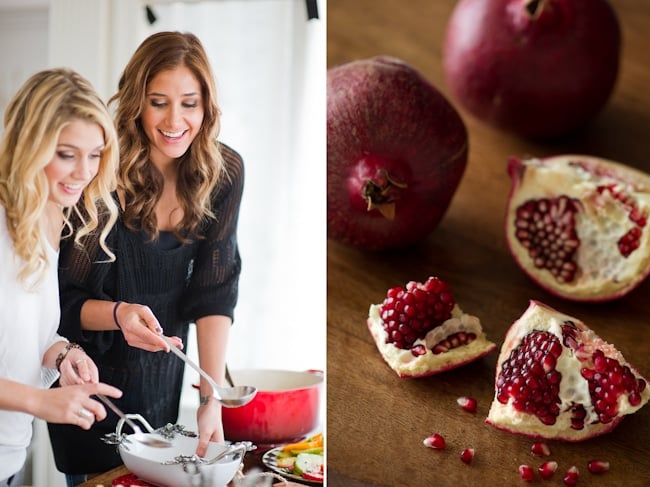 A party at Cristina's would not be complete w/out fresh flowers!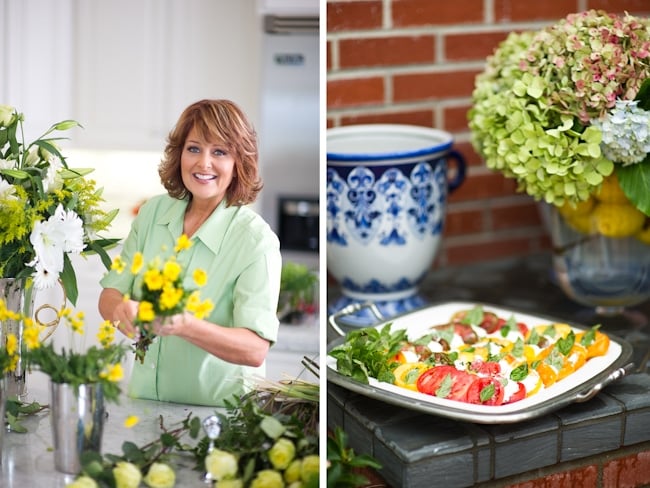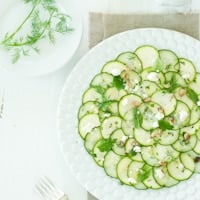 Cucumber and Zucchini Carpaccio Salad Recipe
Ingredients
1/4 cup Extra Virgin Olive Oil
1/4 cup fresh Lemon Juice
1 Tablespoon Rice Wine Vinegar
1 Tablespoon finely chopped fresh Mint
2 teaspoons finely chopped fresh Dill
1 Tablespoon finely chopped Italian Parsley
2 Zucchini , sliced paper thin
2 Cucumbers , sliced paper thin
1/2 teaspoons Kosher or Sea Salt
1/2 cup crumbled Feta Cheese
1/4 cup finely chopped, roasted Walnuts
fresh cracked Black Pepper
Instructions
Combine olive oil, lemon juice, rice wine vinegar, mint, dill, and Italian parsley in a medium bowl and whisk together to combine. Set aside.

Arrange sliced zucchini and cucumbers on a large platter, alternating zucchini slices with the cucumber slices.

Sprinkle slices lightly with kosher salt. Drizzle 3 Tablespoons of dressing over the slices. Sprinkle with crumbled feta, walnuts, and fresh cracked black pepper.

Serve immediately. (If you are not going to serve right away, do not dress slices with vinaigrette yet. Wait until you are about to set then add dressing at last moment.)
Nutrition Information per Serving
Calories: 171kcal, Carbohydrates: 6g, Protein: 4g, Fat: 15g, Saturated Fat: 3g, Cholesterol: 11mg, Sodium: 342mg, Potassium: 355mg, Fiber: 2g, Sugar: 4g, Vitamin A: 351IU, Vitamin C: 20mg, Calcium: 95mg, Iron: 1mg
More Easy Recipes:
We are a participant in the Amazon Services LLC Associates Program, an affiliate advertising program designed to provide a means for us to earn fees by linking to Amazon.com and affiliated sites.