Chocolate Chip or Chunk Cookies
Our chocolate chip cookies recipe is an oldie but goodie! We'll often make these cookies with chocolate chunks (cutting up bars or blocks of chocolate), but chocolate chips are perfect and easy too. It just depends on how much you are craving that big chocolate ooze!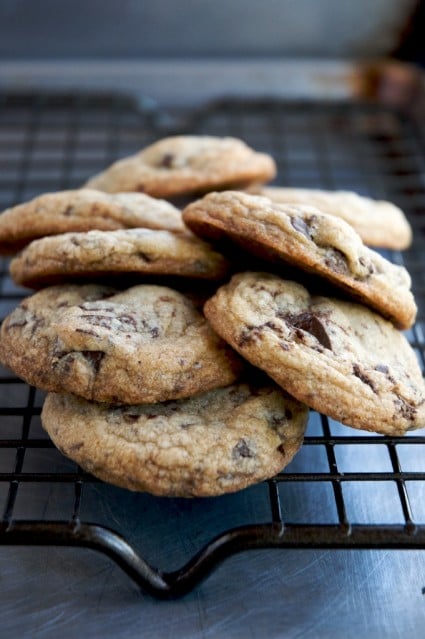 Nothing brings unadulterated joy like a perfectly baked, warm, soft chocolate chip cookie. The whole process of making the cookies; the smell of the chocolate, licking the finished beaters, using the edges of my finger to scrape every last bit of dough from the bowl, the scent of the cookies right before they are done in the oven, and finally to breaking into the still warm cookies, chocolate oozing and quickly swooping in with the other hand in order to not lose a drop of deliciousness, they all take me back to my childhood days on the ranch when we would get treated to a batch of homemade cookies from mom.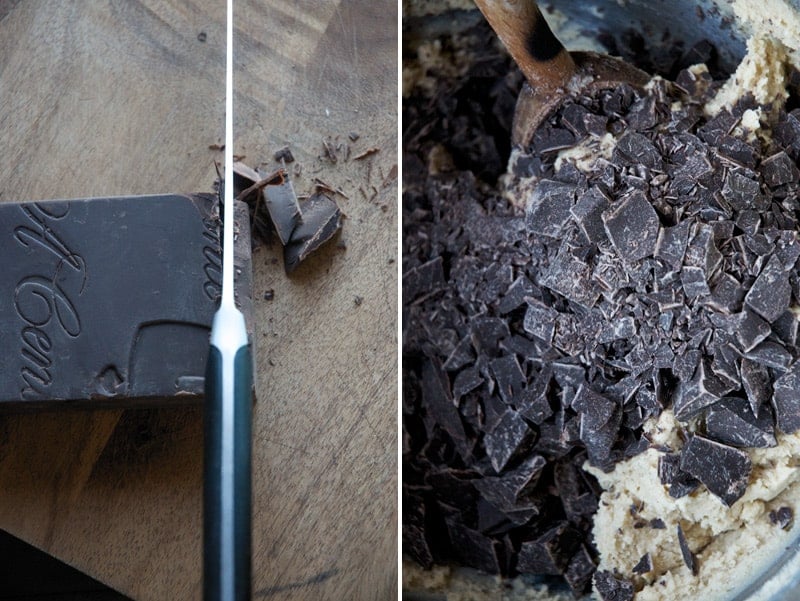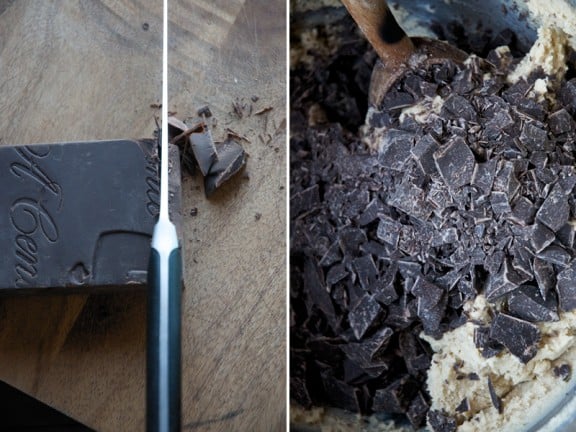 Chocolate Chip Cookie Recipe
It took years of recipe tryouts to find the perfect chocolate chip cookie recipe. It wasn't until we bought Bo Friberg's Professional Pastry Chef cookbook that the search for the perfect chocolate chip cookie recipe ended. His chocolate chip cookie recipe was the best we'd ever had, and has yet to be trumped. Over the years I've tweaked this chocolate chip cookie recipe. I make them with cut up chunks of good quality dark chocolate, rather than chocolate chips. I've also found it makes a big difference to not skimp on two other key ingredients.
If at all possible, I try to always use Plugra European style butter for these chocolate chip cookies. No other butter tastes as good unless you spend an impractical amount of money. At least for what we have available in our area. And the salt must be a good sea salt or kosher salt. It seems trivial being such a small fraction of the recipe, but the taste isn't as good without that little detail. So don't skimp on those three things, good dark chocolate, good unsalted butter, and good salt.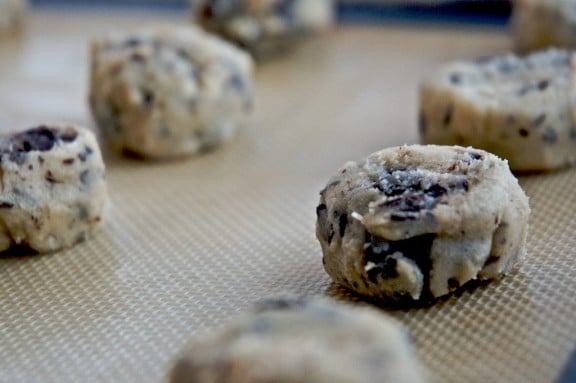 A few cookie cooking tips.
Cookies may be a hugely common dessert, but they can actually be fairly finicky. A 30 second lapse in cooking time will affect the cookies texture a good deal. Under bake these chocolate chunk cookies slightly to help them stay soft and chewy.
Ingredients are best weighed for accuracy. If you are heavy handed with the sugar, they will cook runnier, leaving you with a flatter, crispier cookie. That's not what I'm what I really like in a chocolate chip cookie, but if that's what you like, enjoy. Too much flour and you'll loose the chewiness that make these so tasty. If you make the cookies bigger, drop the temp. 25° and increase the baking times. This recipe is easily doubled, so make more dough than what you need and freeze the extra. There should always be some cookie dough ready to bake in the freezer.
For the uninitiated on cookie log rolling, here is a quick tip on how to roll your cookie dough into a log: Lay out a sheet of plastic wrap. Lay the roughly shaped log on the wrap and roll it up inside the plastic wrap. Smooth out the log, using your thumb and forefinger in an "ok" sign, and by rolling the log on the counter top or cutting board. When the log is even, unwrap the plastic wrap to remove all the wrinkles, then roll it up again, smooth as silk (sort of).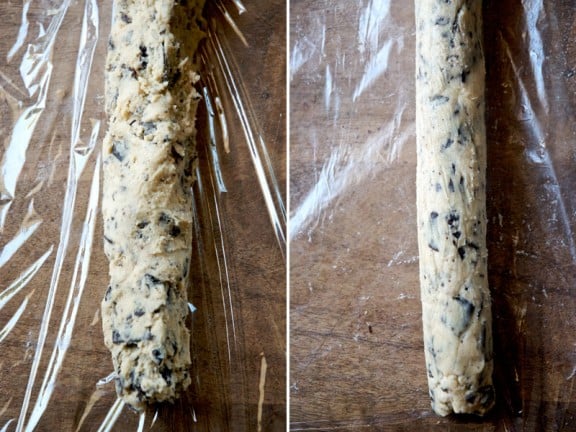 All of you twitter followers were delightfully tormented and teased by my precious Diane with pics of these chocolate chip cookies presented in a tantalizing fashion. In order to not be out brattied by her, I won't be sharing the secret sweetness with the rest of you. Not yet. Maybe tomorrow. However, today everyone will be getting the basic recipe for these delectable chocolate chunk cookies. So tune in tomorrow for Part 2 of Chocolate Chunk Cookies, and until then pull out the good butter and make your sweetie a batch of chocolate joy!
– Todd.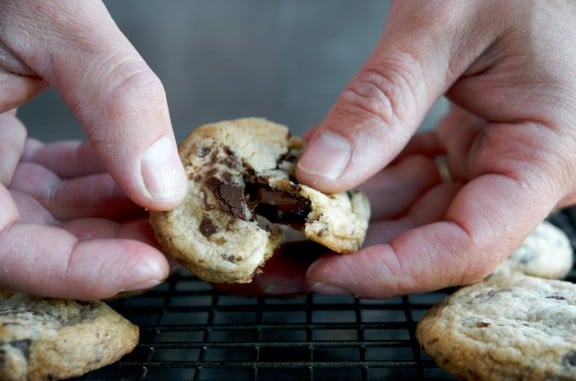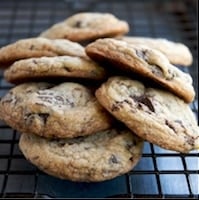 Chocolate Chip or Chunk Cookies
You can make this with chocolate chunks or chocolate chips. It is a little more work to cut up the chocolate chunks, but if you are eating them warm, it is so worth it.
Ingredients
2 1/4 cups (280g) all-purpose, unbleached Flour
1 teaspoon Kosher Salt
1 teaspoon Baking Soda
1/2 teaspoon Baking Powder
3/4 cup (160g) packed Brown Sugar
3/4 cup (150g) Granulated Sugar
1 cup (225g) unsalted Butter, at room temp.
2 large Eggs
1 teaspoon Vanilla Extract
12 oz. (350g or .75 lb) Dark Chocolate (cut into 1/2" chunks or smaller) , or dark chocolate chips
Instructions
In a bowl, whisk together the flour, salt, baking soda, and baking powder. Set aside.

In a mixer using the beater blade, beat together the butter, brown sugar and granulated sugar until light and fluffy. Beat in the eggs and vanilla extract.Stir the flour mixture into the batter until just combined, then stir in the chocolate chunks.

Roll into 1 1/2" thick logs. If not using soon, freeze the logs for future use, otherwise cut the cookies into equal portions, about 3/4" thick. Pat the discs even and circular then place on the prepared sheet pan. Space the cookies so they won't bake into each other when they spread.OrScoop into ping pong sized balls using a medium cookie scoop. If not using soon, place in a ziplock & freeze the for future use. If baking now, place onto the prepared sheet pan.

Bake at 350° F for @ 12-14 minutes, making sure to take them out when they are still slightly underdone looking. They will be a light golden brown on the outside edges. After the cookies cool for a minute or two, then transfer to a cooling rack and allow them to cool enough that the chocolate won't burn your mouth before eating.
Nutrition Information per Serving
Calories: 165kcal, Carbohydrates: 21g, Protein: 2g, Fat: 8g, Saturated Fat: 6g, Cholesterol: 23mg, Sodium: 118mg, Potassium: 86mg, Fiber: 1g, Sugar: 12g, Vitamin A: 171IU, Vitamin C: 1mg, Calcium: 39mg, Iron: 1mg
We are a participant in the Amazon Services LLC Associates Program, an affiliate advertising program designed to provide a means for us to earn fees by linking to Amazon.com and affiliated sites.