Chocolate Chip Oatmeal Cookies with Apricots
Always a favorite, these chocolate chip oatmeal cookies with apricots are fantastic. We've shared these so much that they've become everyones favorite cookies.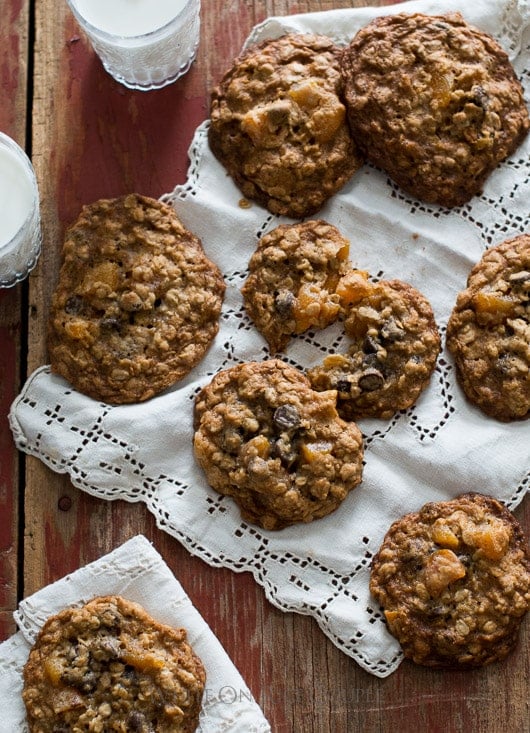 Oatmeal Apricot Cookies with Chocolate Chips
A really good oatmeal cookie makes me into a cookie monster. I love them. I mean, really, really love them. In my top 10 favorite cookies, oatmeal cookies have a about half of the spots. When they are soft, with those slightly crisp edges, combined with that perfect chewiness which good old-fashioned oats provide… super delish.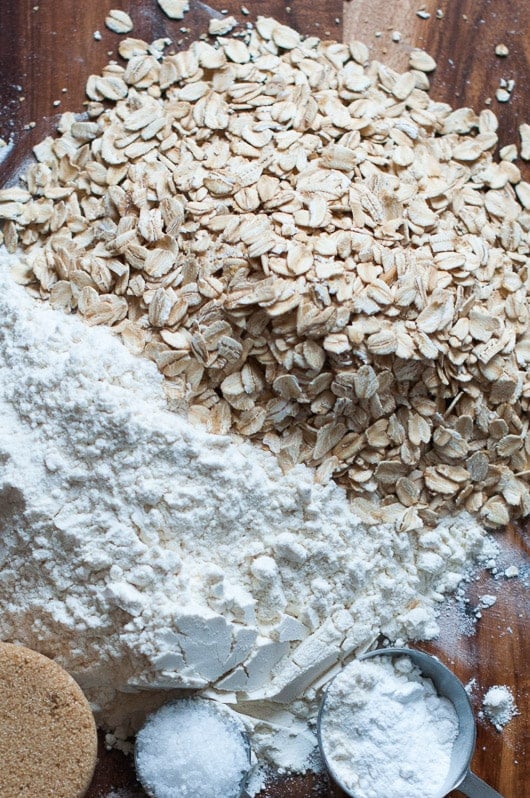 Nearly 2 years ago while shooting an assignment for Food and Wine, we came across one of our favorite oatmeal cookies. It was their "Granola Cookie" and it reminded us of a beloved cowgirl cookie we had in a little bakery while traveling through the Eastern Sierras. Full of nuts, dried fruits, chocolate chips, and peanut butter chips, the granola cookie was loaded.
The cookie had a great texture and the dough quickly became our oatmeal cookie base, just tweaking things here and there for different nuts or fillings and compensations to keep a great texture.
After tons of variations, this variation of dried apricots and chocolate chips steadily became one of ours and many of our clients' (nothing better than warm cookies to make a shoot even more enjoyable) favorite. There is just something special about the golden-orange apricots balancing out the oats and of course the melty, softened chocolate chips.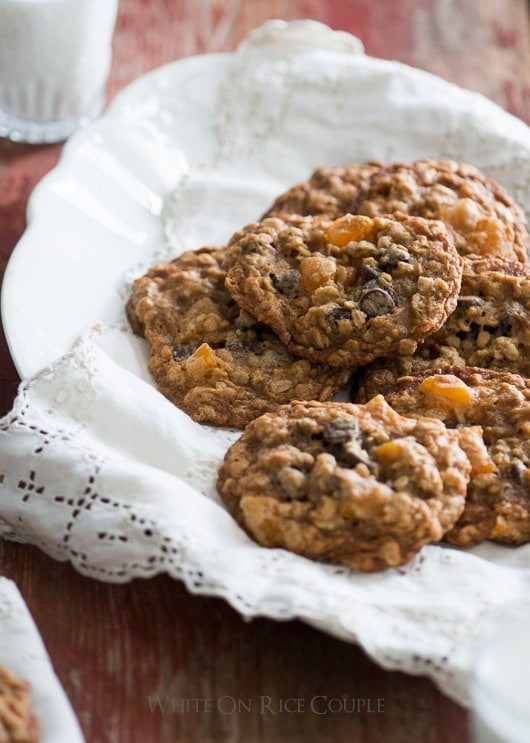 We'll be making a huge batch of these cookies to share with some folks this weekend at food photography workshop at the studio. So many of you have asked about our latest studio expansion and latest news is that it's going great. When we think we're finished, we're adding new features and adding a fresh coat of paint. We love having this creative space so much, we just can't stop.
Maybe in a few weeks we'll be sharing some final photos of what the studio looks like but in about 6 more months, we'll be banging out some walls (again!) to be building out a new kitchen again in Studio #2. Stay tuned!
In the meantime, enjoy these chocolate chip oatmeal cookies and we hope you love them as much we we do.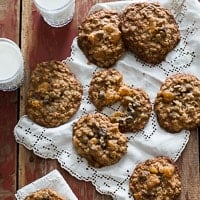 Apricot Oatmeal Cookies with Chocolate Chips
These are a wonderfully soft and chewy cookies with slightly crisp edges. This dough freezes very well. We will roll or scoop them into balls, then freeze in freezer bags until ready to bake. For thawing, we will just take out the ones we are going to bake when we first turn on the oven and start it to preheat. By the time the oven is to temperature, the cookies have thawed enough.
Ingredients
2 cups (250 g) (250g) Flour
1 teaspoon (5 g) (5g) Baking Soda
1/2 teaspoon (2.5 g) Baking Powder
1/2 teaspoon (2.5 g) (3g) Kosher Salt
2 cups (180 g) (180g) Old-Fashioned Oats
1 cup (225 g) (225g) unsalted Butter , at room temp.
2 cups (440 g) (440g) packed Brown Sugar
2 large Eggs
1 teaspoon (5 ml) (5ml) Vanilla Extract
1 cup (200 g) (200g) dried Apricots , cut into 1/2" pieces
1 cup (170 g) (170g) Chocolate Chips
3/4 cup (75 g) chopped Roasted Pecans , or similar nut (optional)
Instructions
In a bowl, whisk together the flour, baking soda, baking powder, and salt. Stir in the oats. Set aside.

In a mixer, beat together the butter and brown sugar until well combined, about 1 minute. Beat in the eggs and vanilla.

Stir in the flour mixture until just combined. Stir the apricots, chocolate chips, and optional pecans into the batter. Chill the dough for at least 30 minutes or up to overnight (the dough can also be pre-scooped and frozen for future use).

Preheat the oven to 350°F/175°C. Line a couple sheet pans with parchment paper.

Scoop the heaping tablespoon sized portions (or use a medium cookie scoop) of the dough onto the lined sheet pans, spacing them about 1 1/2-inches apart.

Bake at 350°F/175°C for 12-16 minutes or until the cookies are lightly browned. Let them cool for a few minutes and then transfer to a wire rack to finish cooling.
Nutrition Information per Serving
Calories: 147kcal, Carbohydrates: 23g, Protein: 2g, Fat: 6g, Saturated Fat: 3g, Trans Fat: 1g, Cholesterol: 24mg, Sodium: 72mg, Potassium: 93mg, Fiber: 1g, Sugar: 14g, Vitamin A: 303IU, Vitamin C: 1mg, Calcium: 21mg, Iron: 1mg
We are a participant in the Amazon Services LLC Associates Program, an affiliate advertising program designed to provide a means for us to earn fees by linking to Amazon.com and affiliated sites.