Edible Radish, Beet & Carrot Top Greens Salad : No Waste
Carrot Radish Beet Tops Salad
There's a misfortune and almost tragic waste of food occurring in the vegetative world. Greens that that we tend to overlook or don't normally deem as edible are being tossed to the side as trash or compost material. Beautiful green tops from beets are normally valued as edible, but great tops from radishes and carrots are often poorly mistaken as un-edible.
Sadly, some beet and mostly carrot and radish top greens rarely ever make it to the plate. They're not poisonous (so long as you have no allergies) and are simply, delicious.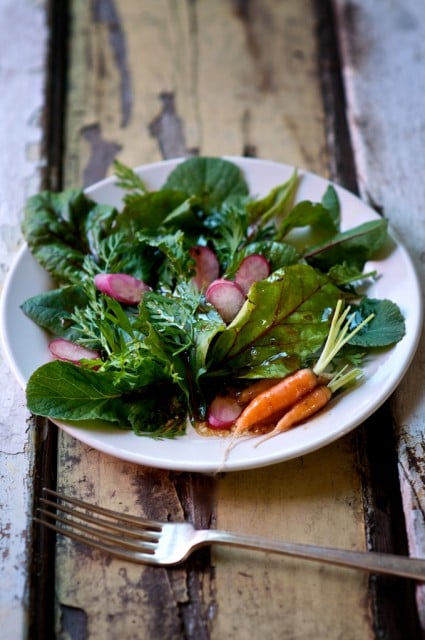 Edible Beet and Radish Greens
Granted, when these tops are bought when the tops are older and tough, the texture and bitter taste can be un-pleasing to the palate. In addition to pesticide concerns that may lay remnant on the greens (buy pesticide-free greens!), these can be valid considerations to tossing them away. But when gardeners who are able to harvest the greens when they're fresh and tender and who don't use chemical sprays on their vegetable plots, there's no reason to waste these marvelous greens! High quality, and superbly tender green tops can be found at farmers markets as well.
Fresh from the garden, carrot, radish and beet greens are so tender and flavorful in their raw state. When the roots are still young, the leaf colors and textures bring a whole new dimension to salads. Their nuances really make a compelling addition to almost any dish.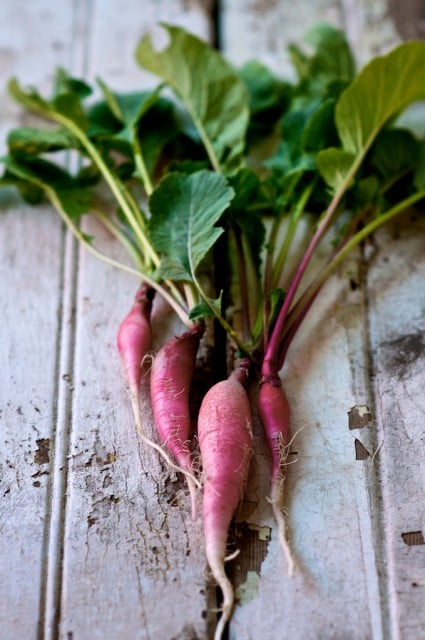 Radish Green Tops: The wonders of radish greens tops are endless. Completely edible and wonderfully peppery in taste, these can be add great bite to so many dishes. Even when they've reached their bitter stage, a few leaves tossed in a lettuce leaf salad will add a nice "bite". If you can't harvest baby radish leaves, then look for bunches with the most tender and new leaves when at the farmers market.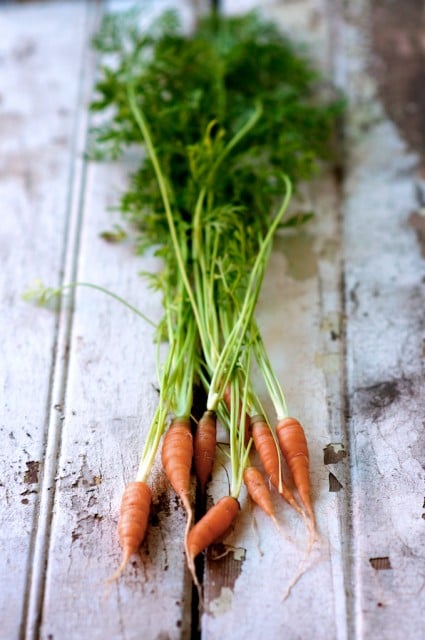 Carrot Tops: These delicate, lacy and gorgeous leaves are a wonderful finish to salads. Also high in nutrients, they're great in brothy, healing soups. When buying your carrots, don't let anyone remove their tops! Keep them on the carrots and enjoy!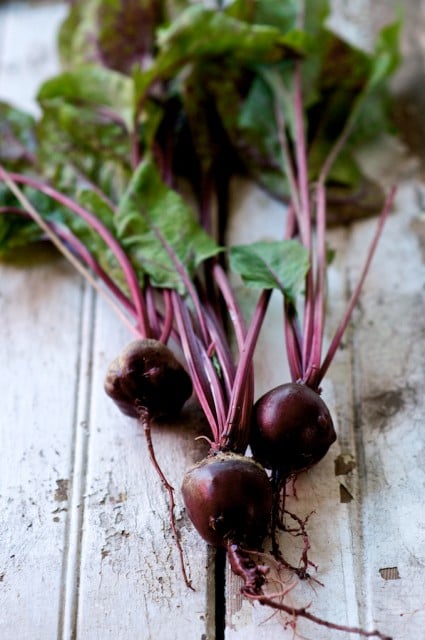 Beet Tops- These greens get lots of salad love and their brilliant red colors are deserving of all their salad alcolades. But even beyond the salad, beet greens are wonderful when prepared in other types of dishes. Treat all these tops like any other nutritious green and feel good about it too. No waste. Let's all forage ahead and start eating leaf to root, top to tip, or what ever it takes to take the whole vegetable to your plate. Here's a great article about cooking beet greens.
enjoy all your greens! Here's more recipes for you: Baked beet leaves recipe, Roasted radish with greens.
-diane and todd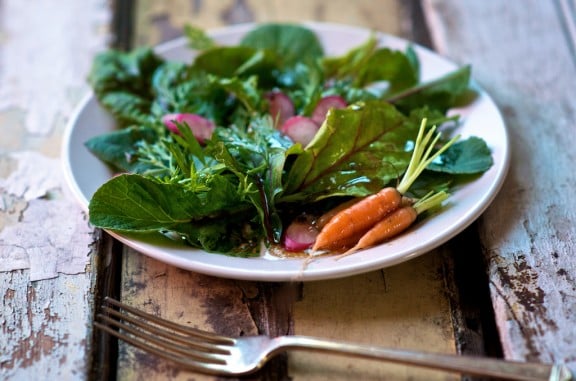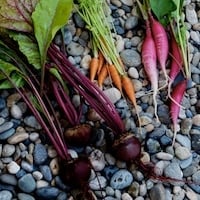 Salad of Radish, Carrot and/or Beet tops with Vermouth Vinaigrette
This is one of our favorite vinaigrettes, adapted from our favorite cookbook, Private collections. Our spinach salad with toasted almonds is hugely popular when dressed with this vermouth vinaigrette. This dressing is super flavorful and a wonderful accompaniment to all the peppery, grassy and more bold flavors of radish, carrot and beet greens. You can keep the salad to purely tops from these vegetables, or use them as an accompaniment in a lettuce salad.
Ingredients
1 pound greens- any combinations of radish, carrot, beet or lettuce Remove any tough stems or central veins. Washed and dried.
1/4 cup sliced carrots or radishes
2 tablespoons white wine vinegar , or vinegar of choice
2 tablespoons olive oil
2 teaspoons dijon mustard
1 teaspoon soy sauce , gives great flvaor
1/2 teaspoon curry powder , optional
1/4 teaspoon sugar
1/2 teaspoon salt
1/4 teaspoon fresh ground black pepper
1/3 cup grape seed oil , olive or salad oil
optional accompaniments- tomatoes , toasted almonds, walnuts, croutons
Instructions
In a medium bowl or mason jar, combine all ingredients together except for greens, vegetables and accompaniments (white wine vinegar, dry vermouth, dijon mustard, soy sauce, curry powder, sugar, salt, black pepper, and grape seed oil).

In bowl, whisk ingredients together well. In mason jar, close lid tightly and shake well until all ingredients are combined

Toss into greens, then top with accompaniments.
We are a participant in the Amazon Services LLC Associates Program, an affiliate advertising program designed to provide a means for us to earn fees by linking to Amazon.com and affiliated sites.