Baked Butternut Squash Crumble-Casserole Recipe
This butternut squash crumble recipe is the perfect Thanksgiving, Christmas or Holiday vegetable side dish. It's a reader favorite! dish
Back by reader request, here's our classic butternut squash crumble recipe with new images and updated technique. It's a holiday reader favorite since 2010 and also shared in our Bountiful Cookbook. Great as a side dish or vegetarian entree, you can adapt it with sausage or ground meat for a meat-lovers version. Enjoy and Happy Holidays!
Video: Butternut Squash Crumble Recipe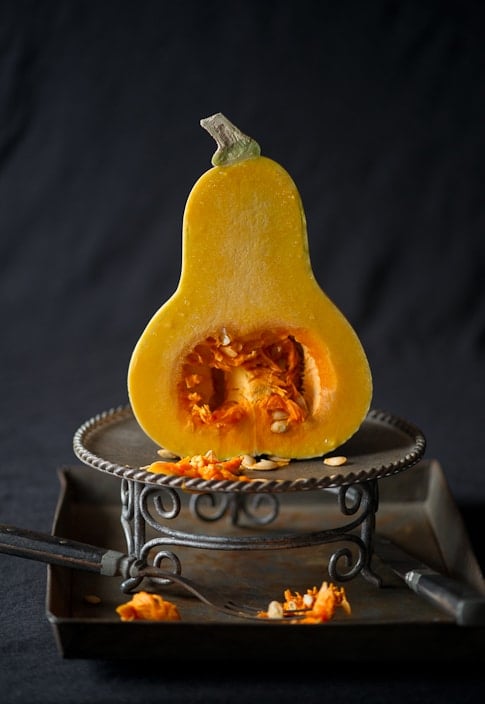 Sweet, nutty and tender butternut squash
When Fall and Winter arrives, we get giggly excited about butternut squash . It's one of our favorite vegetables that we rarely ever get exhausted of. This sexy, curvaceous shaped looking gourd is a sign that the holidays are around the corner and we'll be pacing ourselves with back to back feasts. Time to hit the gym and dojo for extra calorie burning sessions.
The curves of butternut squash are always fun to photograph and when exposed down the center, the squash has even more visual interest. It's just so darn sexy and pretty. Add some spices, butter and heat, this beautiful beast is double trouble delicious.
We've started to get a little bored with our truffled butternut squash soup and our standard roasted butternut squash apple casserole . They are really, really good, but if we have them all of the time, they stop being special.
We started looking around for something we haven't had before and that sounded delicious. We came upon this Butternut Squash Crumble from Martha Stewart and instantly knew it was a winner. It is a fantastic savory take on a crumble. A different twist for the squash and a different twist for the crumble, and definitely a good marriage.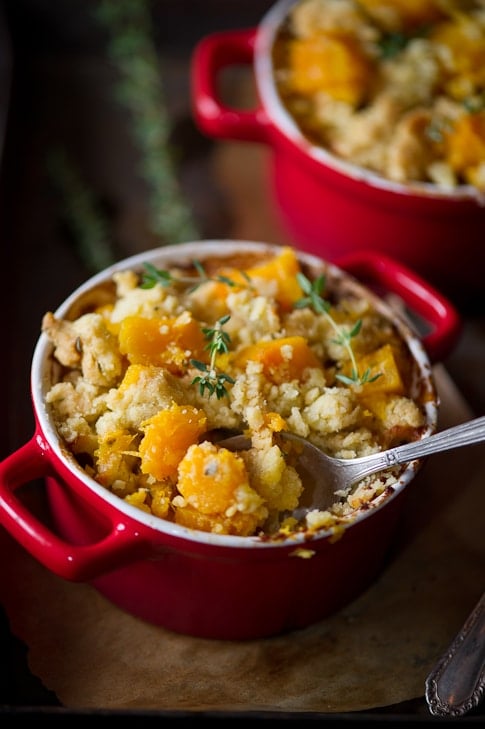 You can make this in a larger 2-quarat baking dish or divvy it up between several smaller ones, either way works great. We made ours with some homemade stock from a smoked turkey and it took the flavors over the top. Regular stock (chicken, turkey, veal) will work fine too and you could always add bacon for a little extra kick. If you happen to be smoking a turkey or any chickens this fall, make sure to save the carcasses to use for stocks. Freeze the stocks in 2 cup increments, and pull them out for the the "holy cow" factor for your recipes.
Hugs to you all,
todd and diane
More Great Food Blogger Butternut Squash Recipes:
Butternut squash and apple casserole
Our Easy Butternut Squash Soup with Truffle Oil
Dairy Free Butternut Squash and Pear Soup
Good Life Eats – Butternut Squash Risotto
Two Peas and Their Pod- Butternut Squash Pizza, Caramelized Onions, Rosemary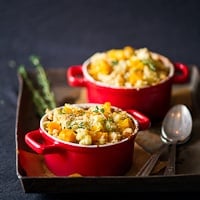 Butternut Squash Crumble
This recipe easily changes from a 2-quart baking dish crumble to smaller individual crumbles. Choose the serving size you wish, then for the smaller sizes, reduce the cooking times just a bit.
Ingredients
Filling Ingredients
3 pounds (1.4 kg) butternut squash (1 lrg or multiple small) peeled and cut into about 1/2" pieces
2 tablespoons (30ml) olive oil
1 teaspoon (5ml) truffled olive oil (optional)
3-4 large shallots , thinly sliced
2 cloves garlic , minced or crushed
3-4 slices bacon or pancetta, cut into small pieces
1 cup (70g) chopped brown mushrooms
2 tablespoons coarsely chopped Italian parsley
1 fresh sage leaf , finely chopped
1/2 cup chicken stock or turkey stock
kosher salt , to taste
fresh cracked black pepper , to taste
Topping Ingredients
3/4 cup (95g) all-purpose flour
1/4 cup (30g) finely chopped walnuts
1 tablespoon (15ml) brown sugar
1/2 tablespoon (8ml) chopped fresh thyme
1 teaspoon (5ml) kosher or sea salt
fresh cracked black pepper , to taste
1/2 cup (1 stick or 113g) cold unsalted butter , cut into 1/4" pieces
Instructions
Preheat oven to 375° F. Generously butter a 2-quart gratin dish or several small equivalents.

Make the filling: In a large skillet heat olive oil (and optional truffled olive oil) over medium-high heat. Add the shallots, garlic, and bacon or pancetta, and sauté until the shallots are soft, 1-2 minutes. Add the mushrooms and butternut squash and sauté for about 5 minutes. Add parsley, sage, stock, and season with salt and pepper to taste. Remove the butternut squash filling from heat.

Pour the squash mixture into the prepared baking dish(es).

Make the crumble topping: Place the flour, walnuts, brown sugar, thyme, salt, and pepper in a bowl. Add butter pieces and pinch with your fingers until mixture is the consistency of coarse meal, there will still be some pea sized lumps of butter.

Scatter crumble topping over squash. Bake for about 40-45 minutes or until topping is golden brown. Serve warm or at room temperature.
Nutrition Information per Serving
Calories: 332kcal, Carbohydrates: 34g, Protein: 6g, Fat: 21g, Saturated Fat: 9g, Cholesterol: 36mg, Sodium: 378mg, Potassium: 737mg, Fiber: 4g, Sugar: 6g, Vitamin A: 18541IU, Vitamin C: 39mg, Calcium: 100mg, Iron: 2mg
We are a participant in the Amazon Services LLC Associates Program, an affiliate advertising program designed to provide a means for us to earn fees by linking to Amazon.com and affiliated sites.