Bryce Canyon and Zion National Parks
It was last Thanksgiving that we wanted to take advantage of the holiday where everyone was going to be gathered around the feasting table. We thought it would be a brilliant idea to hop in the truck with the pups and visit these super popular National Parks during the off-season. The weather would be perfect and cool for the pups and we'd have both parks all to ourselves! Maybe it'll be snowing and we'll get to see Bryce Canyon in it's Winter glory! Nope, we were wrong on basically all of our assumptions except for the Winter glory part.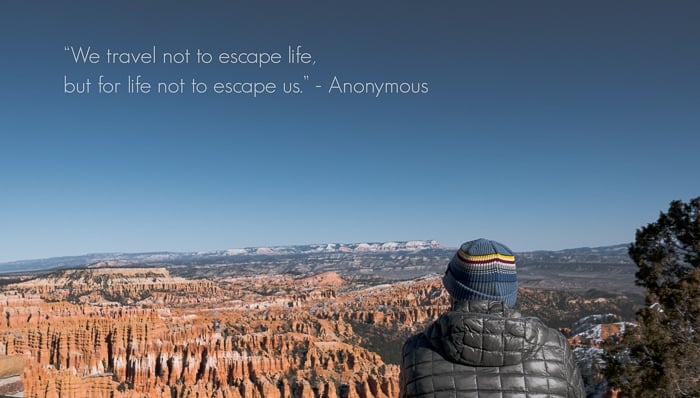 Holy geez cow. It seemed like tens and thousands of other people had the same, brilliant idea that we had. Both parks were flooded with excited adventurers like us. After talking to some park rangers, we "kinda" did have a good idea to be traveling at the end of November. BUT during the Thanksgiving holiday weekend, visitors to the parks sky rocket and create a mini-peak season during Thanksgiving. So we weren't alone, but we still made the most of our trip and it was wonderful.
Dogs aren't allowed on non-paved trails in National Parks and only allowed on designated paths, but that didn't stop us from having an amazing trip. The views were spectacular and the pups still enjoyed hanging out on the paved paths with all the other visitors and their pups. Bryce Canyon was tremendous. Gosh, we can't say enough about how gorgeous all the red rock formations were when topped with snow. It was dustings of powdered sugar everywhere throughout the park and in some parts, the snow was pretty thick on the mountains. If you guys are wanting to visit with your pups, make sure it's not during the hot Summer because it can be really uncomfortable for the pups where temperatures in Bryce Canyon during Summer can reach day time highs in the mid 80's F. Sure, that's ok for humans but for dogs, it's like wearing a jacket in the middle of the hot Summer sun plus the heat coming off the pavement doubles up their discomfort. So our November trip was perfectly planned for the pups. No panting dogs in the car and that itself was a pleasurable road trip.
Zion National Park was so busy that cars weren't allowed in the park. Visitors had to be shuttled into the interior of the park, so that meant that the pups were more or less banned. Boo. But that's ok because there were still some fantastic paved trails that they were allowed on. We all had a fabulous time at the Visitors center and definitely explored all the trails around that area and along a section of the Virgin River, which was more than enough for a day visit.
Our Utah trip was definitely another one off our bucket list and we look forward to going back again next Fall or Winter, but definitely NOT during Thanksgiving. Happy adventuring everyone!
About our gear: Our full time day jobs as commercial photographers has us lugging big cameras, lenses and gear constantly. Rarely do we ever have a work day that doesn't involve being behind a camera, unless it's an editing (office day). So when we're taking personal time-off, we leave it all behind. Why? Because when we bring our bigger camera and slew of lenses, we're finding that we're sometimes missing out on the moments that happen when we're too involved with switching lenses and gear. Our photographic travel gear of choice is sometimes simple: we use our iPhones, a GoPro and this small but awesome point and shoot camera that captures great photos and 4K video. All three cameras fit in our jacket pockets and going lean and simple allows us to connect with everyone around us more. Sure, we'll sometimes bring our DSLR's and favorite lenses but at least we have options that allow us to just document our travels simply when we crave it.
Go Pro Camera — We used our GoPro Hero4 Black – There is also a newer version out – the Hero5.
Point and Shoot — We love our little Lumix DMC-LX100. Manual capabilities, 4K video, and Leica glass.
We are a participant in the Amazon Services LLC Associates Program, an affiliate advertising program designed to provide a means for us to earn fees by linking to Amazon.com and affiliated sites.