Homemade Caesar Salad Dressing that Everyone's been asking for
Our homemade caesar salad dressing is quick, simple and delicious for your next salad bar!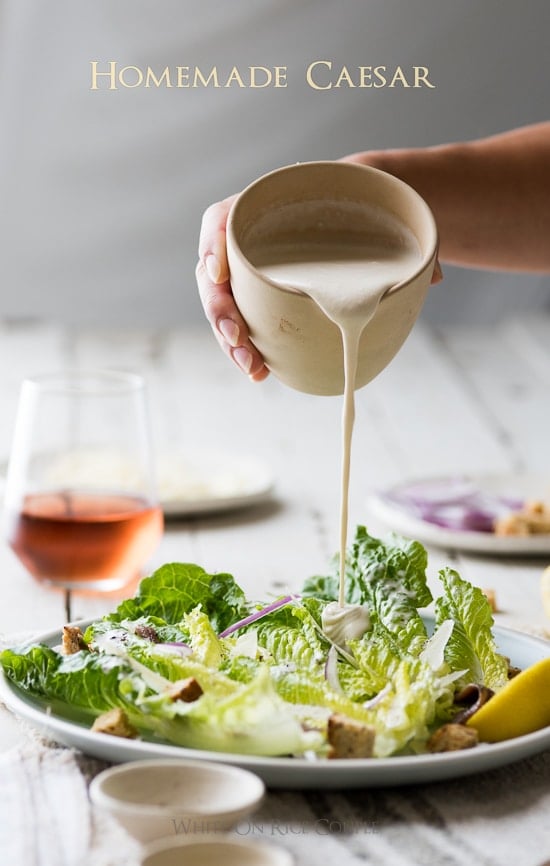 Easy Caesar Salad Dressing Recipe
Team lunch is always mandatory when we're working at the studio. It's the 30 minutes that everyone one-set can walk away from focusing on all the food details and get to chill with a big lunch spread. When other food stylists are on-set we get more free time to create a huge lunch with all the trimmings, including homemade dressings for our salads. Everyone on-set is always asking for our homemade caesar salad dressing and are always asking what we put in it. Maybe it's all the fresh lemon zest and Parmigiano Reggiano. Or maybe it's the generous amounts of anchovy fillets or paste. What ever it is, it's our homemade version that will make it hard for you to ever want to buy a pre-made bottle again.
Finally, we're sharing it today because we finally found time to photograph it! Hopefully you guys will enjoy it as much as we all do at work. And *waving* hi team, here's the recipe so you don't have to keep asking anymore! LOL.
Cheers,
diane and todd
Here's some more delicious salad recipes to add to your next lunch.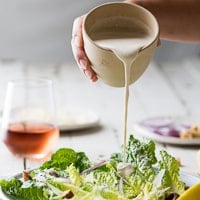 Caesar Salad and Homemade Caesar Dressing
The thickness of the dressing will vary depending on what type of parmesan cheese you use. Also, everyone likes a different consistency in their dressing. So adjust the amount of oil to your preference. We prefer to use a neutral tasting oil such as grape seed oil for our dressings.Makes about 2 cups of Caesar Dressing
Ingredients
For the dressing
1/4 cup (60ml) oil (about) *see head note
1 cup (240ml) mayonnaise
Zest of 1 medium lemon
1/4 cup (60ml) fresh lemon juice
1 Tablespoon (15ml) anchovy paste or 3 anchovy fillets packed in oil, drained
2 cloves garlic , minced
1 teaspoon (5ml) black pepper
1 cup (240ml) freshly grated Parmigiano Reggiano
1 teaspoon (5ml) sugar
For the Salad:
4 Romaine hearts , washed & lightly towel dried leaves separated
1 cup croutons
1/2 cup parmesan shavings
black pepper , to taste
lemon wedges (optional)
Instructions
Combine all the ingredients in a blender (oil, mayonnaise, lemon zest, lemon juice, anchovy paste or fillets, garlic, black pepper, Parmigiano Reggiano, sugar) until everything is smooth. Place the dressing in a storage container and chill for at least 2 hours (dressing will thicken up as it chills and rests in fridge).

Add croutons and Caesar dressing to romaine lettuce or your favorite lettuce greens.

Add parmesan shavings and season with black pepper, to taste. Serve with some lemon wedges
Nutrition Information
Calories: 363kcal, Carbohydrates: 7g, Protein: 9g, Fat: 34g, Saturated Fat: 7g, Trans Fat: 1g, Cholesterol: 27mg, Sodium: 578mg, Potassium: 198mg, Fiber: 2g, Sugar: 2g, Vitamin A: 5095IU, Vitamin C: 5mg, Calcium: 250mg, Iron: 1mg
We are a participant in the Amazon Services LLC Associates Program, an affiliate advertising program designed to provide a means for us to earn fees by linking to Amazon.com and affiliated sites.