Valentine Cocktail & Our 13 year Anniversary
This Between the Sheets Cocktail was one of our first recipe posts back in 2009, an oldie but goodie. It's fun to see how our photography and garden has changed over the years! This is a lovely balanced cocktail with cognac, rum and lemon.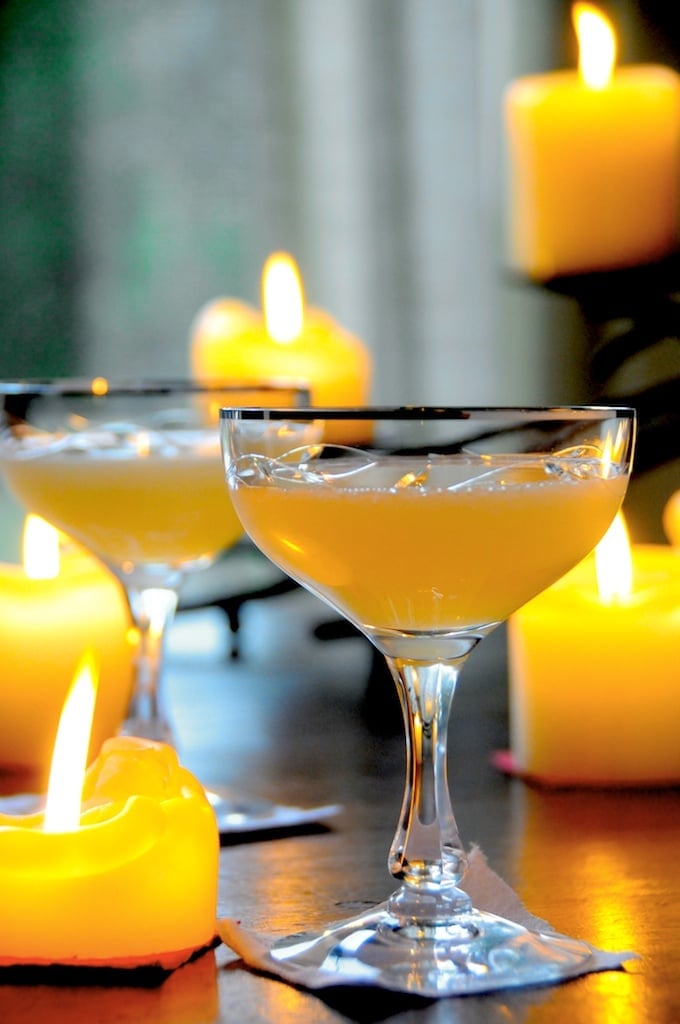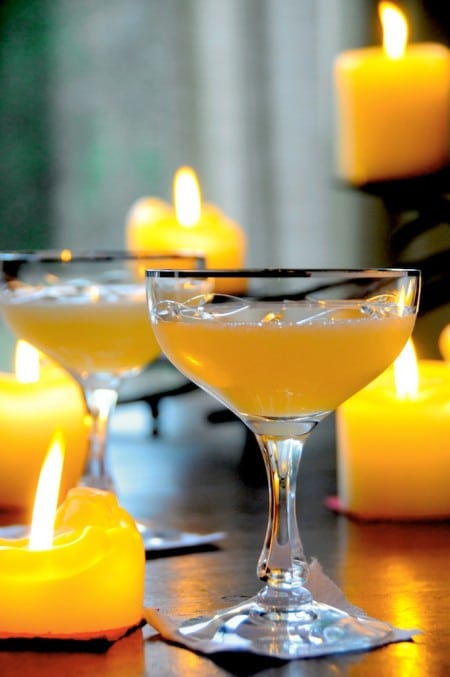 Between the Sheets Cocktail Recipe
Gentlemen, Flash Alert! Valentine's Day is tomorrow! (In some parts of the world, it is already here!) Are you ready to woo your sexy other? If you've been a good man and have shown how much you love and appreciate your beau all year, then this little Love Holiday should be old hat for you. However, if you need to make up for some past transgressions or have someone new who you are trying to impress, you may benefit from some advice.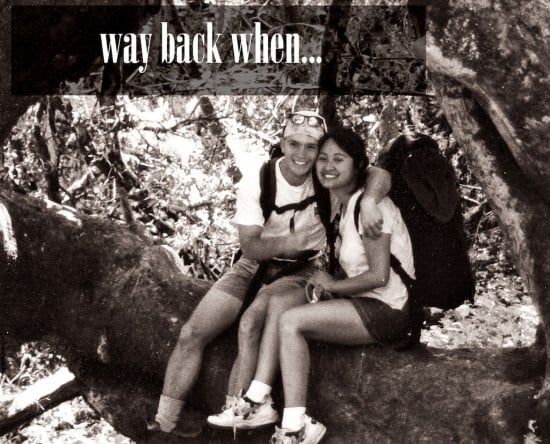 Together Since 1996
Here's some of the things I've learned in the 13 years (Feb. 15th 1996, is our official anniversary!) where I've managed to convince my beautiful Diane that I am someone worth hanging on to:
Personal and passionate best purely purchased any day. Don't go out and buy and generic bouquet of flowers or some jewelry at the place with the cheesy, annoying commercial and think you are good. Plan a fun evening, hand make a card (make it personal reminding them of how great it is to be spending time together, pictures of you together, or as simple as a heart made of glitter and glue), and make their favorite dessert for them. Fill the day with meaningful personal moments.
Notice the details and compliment them. Realistically and genuinely and particularly those non-physical.
A good home-cooked romantic dinner beats any restaurant.
Share. Give your date some of your dinner, and let them give you some of theirs. Two spoons, one dessert. A passionate couple is one entity, not two individuals.
The day or morning before, clean the house. Trust me and just do it.
Be generous and compassionate to everyone. If you take them out to a nice dinner, then leave a crappy tip, you are letting them know you are a cheap-ass. If you open the door for your date then let it swing shut on a little old lady, then you've jus declared yourself a pure idiot.
Have fun. Do what you love doing together and enjoy every minute of it. Sounds simple, but oftentimes we get so wrapped up in making everything perfect, we forget to actually enjoy it. Enjoy this Between the Sheets Cocktail !
13 years later we've affected each other psychologically: more madness…
Valentines Day Drink
There's a little jump start, the rest is up to you, gents. If anyone has more advice as to what makes an unforgettable Valentine's Day, please share (particularly you ladies, you know us men don't understand you very well.) As an added bonus, here's a classic cocktail recipe you can use to start the evening off with, or to invite your date in for a nightcap. Or pull an Esquire tip and put the recipe out on a business card, then hand it to the bartender when out on the town. – Todd
Oh, by the way….we'll be on KCRW's (89.9 FM) Good Food show with Evan Kleinman on Saturday, Valentines Day between 11:30am – 12pm. If you can't get it, they archive all their podcast's so you can catch it later…alligator! Hope you enjoy this between the sheets cocktail recipe!
Check out our Cocktail Recipes Here and our Complete Whiskey Guide.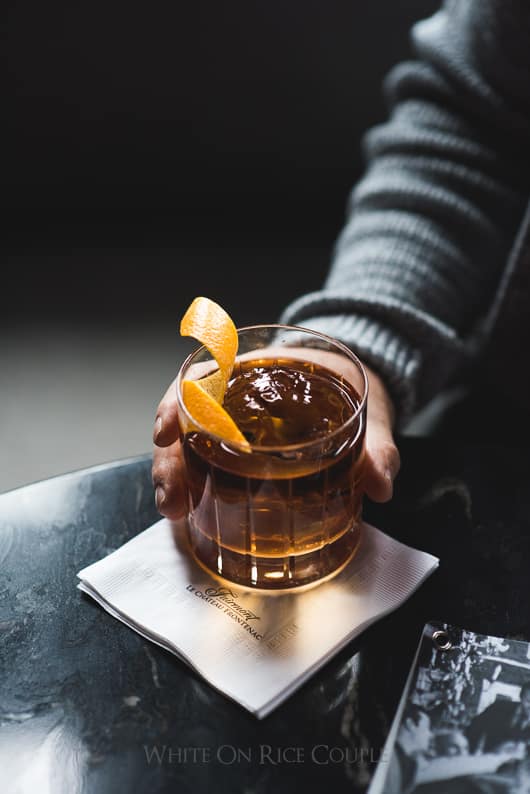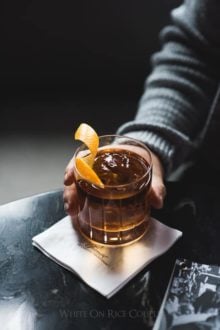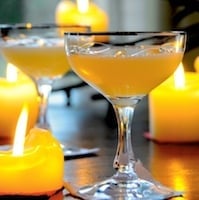 Between the Sheets Cocktail
A great classic cocktail. Feel free to use whatever orange liquer you prefer. They will all vary in sweetness, affecting the cocktail. Fresh lemon juice will be significantly better than bottled juice.Simple syrup is a 1:1 ratio of sugar:water. Heat to a simmer to dissolve the sugar then allow to cool before using.
Ingredients
1 ounce (30ml) Cognac
1 ounce (30ml) Light Rum
1 ounce (30ml) fresh Lemon Juice
1/2 ounce (15ml) Grand Marnier
1/2 ounce (15ml) Simple Syrup , or to taste
dash Orange Bitters
optional , sugar for the glass rim
Instructions
If desired, rub the rim of a chilled cocktail glass with the lime wedge & sugar the rim.

Put all ingredients (cognac, rum, lemon or lime juice, Grand Marnier, simple syrup, and orange bitters) into a cocktail shaker with ice, then shake it with passion for 15-20 seconds. Strain into your cocktail glass. Garnish if desired.
Nutrition Information
Calories: 181kcal, Carbohydrates: 7g, Protein: 1g, Fat: 1g, Saturated Fat: 1g, Sodium: 2mg, Potassium: 35mg, Fiber: 1g, Sugar: 5g, Vitamin A: 2IU, Vitamin C: 11mg, Calcium: 2mg, Iron: 1mg
We are a participant in the Amazon Services LLC Associates Program, an affiliate advertising program designed to provide a means for us to earn fees by linking to Amazon.com and affiliated sites.