Chocolate Mousse Recipe – For all your Valentines
Valentines week is here to spoil every sweetheart in your life who is deserving of this chocolate mousse recipe. A little whipped cream, strawberries and huge dollop of silky chocolate mousse says it all to show you care. We've already started celebrating and this sweet treat never gets dull. In fact, it's a little too easy to eat and don't be surprised if you inhaled a huge bowl of this chocolate mousse in less than a minute!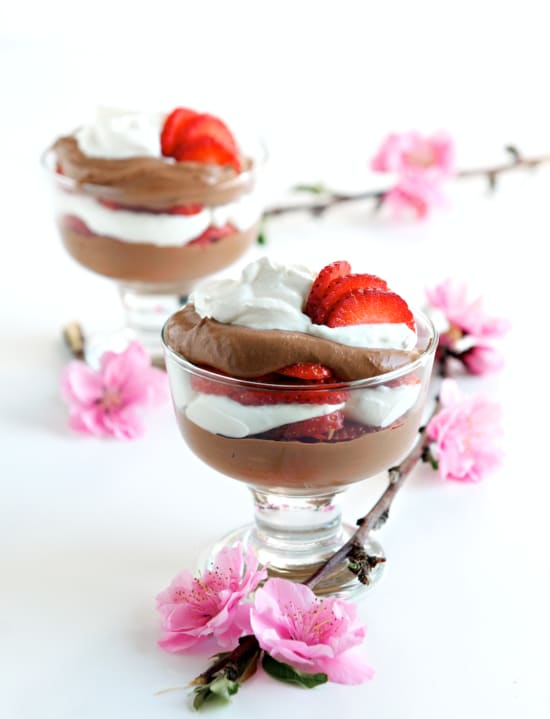 Chocolate Mousse Recipe
Our chocolate mousse recipe is luscious. The soft, billowy, creamy texture given to chocolate by folding in whipped cream and swiss meringue is absolute heaven. Combine the chocolate mousse with some fresh whipped cream and ripe berries (although this time of year it may be better to go sans berries or use some brandied cherries) and you have a dessert that will make your love purr.
How to Make Chocolate Mousse: (photos below)
Make the egg yolk mis. Fold chocolate into egg yolk mix
Use heavy heavy whipping cream and whip until nearly stiff peaks. Fold in whipped cream
Fold in Swiss Meringue. All recipe details are in the recipe box below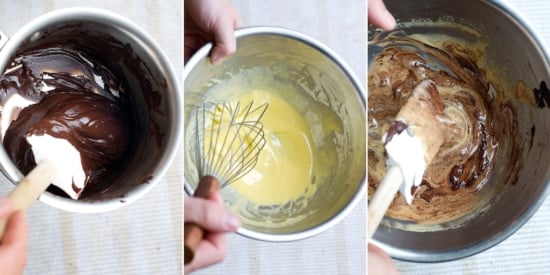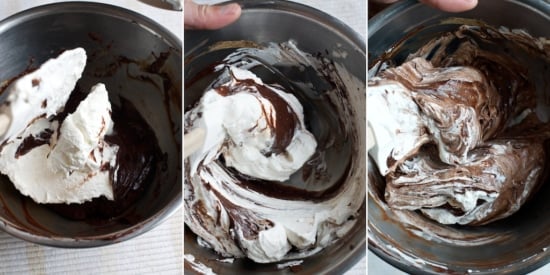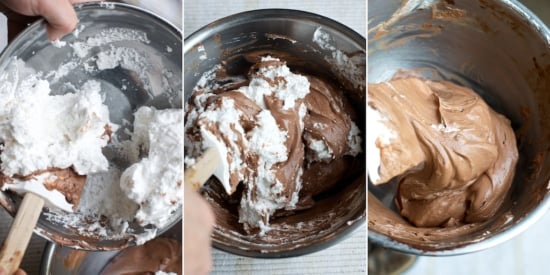 If it seems complex, do not worry, because chocolate mousse is easy to make. You are merely whipping and folding. That's it. Even better, is that you are able to make the chocolate mousse a couple days ahead of time and it won't deteriorate in quality. Make extra and enjoy for days.
Can you make this ahead?
Yes! This is the perfect dessert to make ahead of time. We dish the mousse out in individual serving cups. Then let the mousse chill. When it comes times to serving, we add some fresh berries on top and dessert is served. Super easy peasy.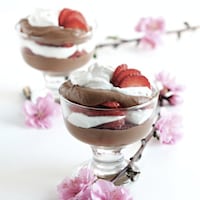 Chocolate Mousse Recipe
By staying organized and having your mise en place set, this is an easy, creamy, billowy-textured, luscious chocolate dessert that can be prepped days ahead without losing quality. If you can whip and fold, you can make this dessert. The chocolate mousse is basically four components made separately, then folded together. This recipe can easily be scaled up for mass servings or other enjoyable uses. Adapted from Bo Friberg's The Professional Pasty Chef.
Ingredients
Chocolate Mousse Ingredients
1 cup (240ml) heavy cream
2 large eggs , separated
1/4 cup (50g) sugar
1/4 cup (60ml) warm water
1/3 cup (40g) cocoa powder
1 1/2 tablespoons (25ml) dark rum (or vanilla extract)
3 ounces (85g) dark chocolate , cut into small pieces
1 1/2 tablespoons (25ml) corn syrup
Whipped Cream Ingredients
1 cup (240ml) heavy cream
1 teaspoon (5 ml) vanilla extract
2 tablespoons (30ml) confectioner's sugar
Optional
Strawberries, raspberries, or blackberries for layering into finished dessert
Instructions
Whip the heavy cream for the mousse to until nearly at stiff peaks and set aside in the fridge.

Combine egg whites and sugar in a bowl (preferably your mixer bowl) and place bowl over pot of simmering water. Whipping constantly to keep egg whites from cooking, heat and whip until the sugar is completely dissolved (test by rubbing between your fingers) until temperature reaches 140º F. Remove from heat and whip until completely cool. Set aside.

In another bowl, combine warm water, cocoa powder, and rum and mix until completely smooth. Melt dark chocolate in a bowl over the simmering water and combine with cocoa mix. Set aside and keep warm.

Whip egg yolks in a medium-large bowl just to break them up. Heat corn syrup to a boil and slowly add to the egg yolks, whipping constantly. Whip until thick and fluffy.

Fold chocolate base into egg yolk mix until incorporated. Next, fold in the plain whipped cream from step 1. until incorporated. Fold in the whipped egg whites until incorporated. Store chocolate mousse in fridge until ready to dish and serve.

Combine the whipped cream ingredients (heavy cream, vanilla extract and powdered sugar) for the finished dessert's whipped cream layer and whip to until nearly stiff peaks then set aside covered in the fridge.

Final Presentation: Slice berries. If chocolate mousse and whipped cream have sat for a day or more, stir them up to a creamy consistency. In a glass vessel (dessert bowl, Champagne glass, wine glass, etc.) layer in chocolate mousse, berries, and whipped cream.
Nutrition Information per Serving
Calories: 344kcal, Carbohydrates: 20g, Protein: 4g, Fat: 28g, Saturated Fat: 17g, Trans Fat: 1g, Cholesterol: 123mg, Sodium: 44mg, Potassium: 191mg, Fiber: 2g, Sugar: 14g, Vitamin A: 938IU, Vitamin C: 1mg, Calcium: 58mg, Iron: 2mg
Enjoy more of our Dessert recipes here. And if you want more inspiration check out this super easy chocolate pie recipe.
We are a participant in the Amazon Services LLC Associates Program, an affiliate advertising program designed to provide a means for us to earn fees by linking to Amazon.com and affiliated sites.