Heirloom Tomato Tart with Pesto and Goat Cheese
This heirloom tomato tart recipe with a fresh pesto and goat cheese is a perfect summer delight. It's perfect for outdoor parties.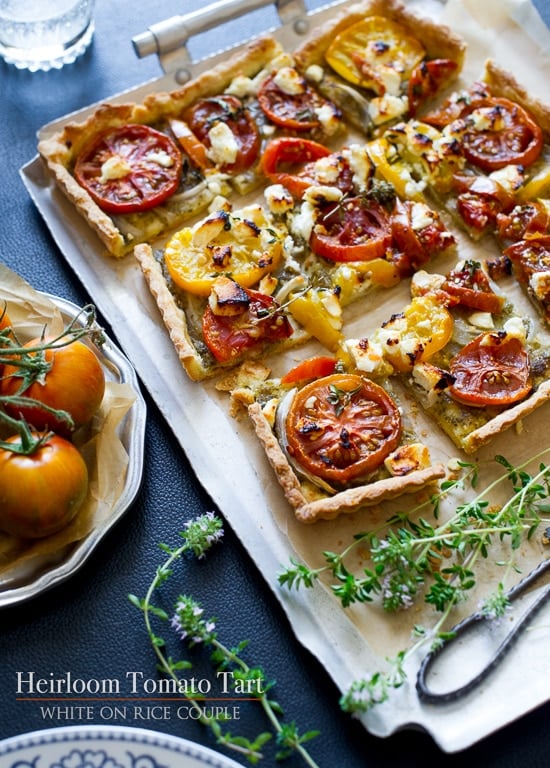 Tomato Tart Recipe
We've been lucky, our tomatoes have been very successful this year. After struggling to grow them the past couple years we were determined to have a good crop this year. I think we may be on to something. After months of waiting for the weather to warm up so we can begin our tomato frenzy, we'll hit the nurseries scouring for tomato young-ins. We make sure to find a few of our favorites (meaning roughly 10 varieties). We'll ask, read, and stumble upon new varieties that sound either delicious or sexy or both. Then after filling all of the available garden space, we'll end up finding a few more we just have to try, re-arrange a few things in the garden, then plant some more tomatoes. All is in the hope that we'll have a Midsummer Night's Dream of having more tomatoes than we'll know what to do with. Sometimes dreams do come true.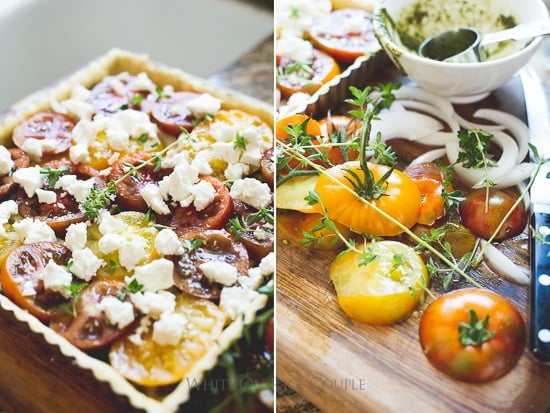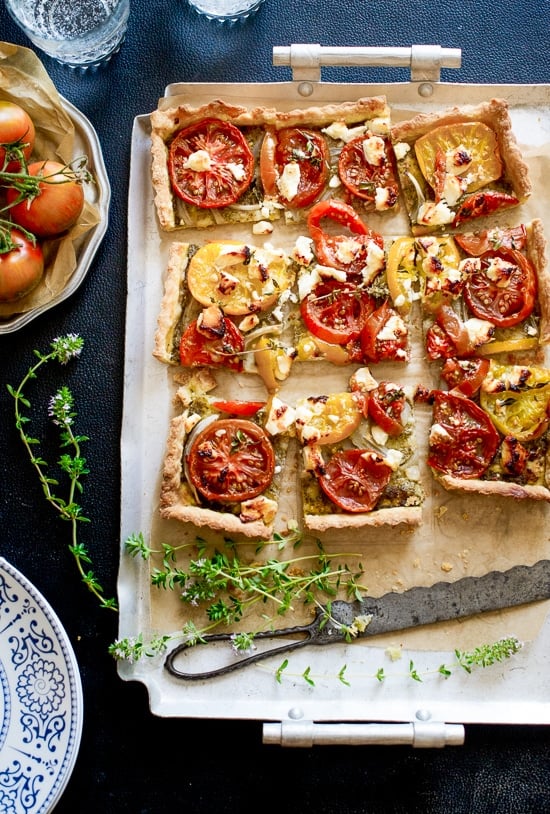 Homemade Pie/Tart Dough
One tomato recipe I've been craving is a tomato tart or pie. The simplicity of the tart, highlighting the beauty of the tomatoes is seasonally perfect. Our home meals have involved tomatoes, one way or another. Everyone has been amazing with the sharing of your favorite recipes, several of which have landed on our feasting table. the peak of their season sounded perfect. In a pastry crust, a thin layer of mustard, a layer of thick cut tomatoes, fresh herbs, and goat cheese all baked together to a slight singe. We have a go-to pie and tart dough recipe. So quick, non-fussy, and utterly delicious. It handles nice to roll out and flip into the tart pan. It seemed effortless to make the crust.
The for our heirloom tomato tart, we made a fresh pesto sauce to use instead of the mustard and added layer of onions below the tomatoes.
-todd
How to Make Our Tomato Tart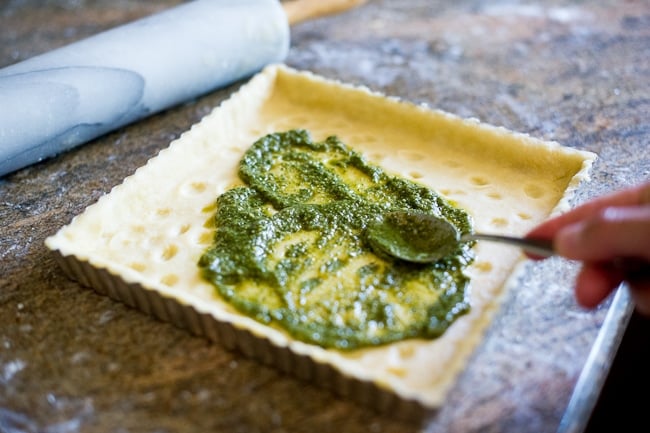 start with fresh tomatoes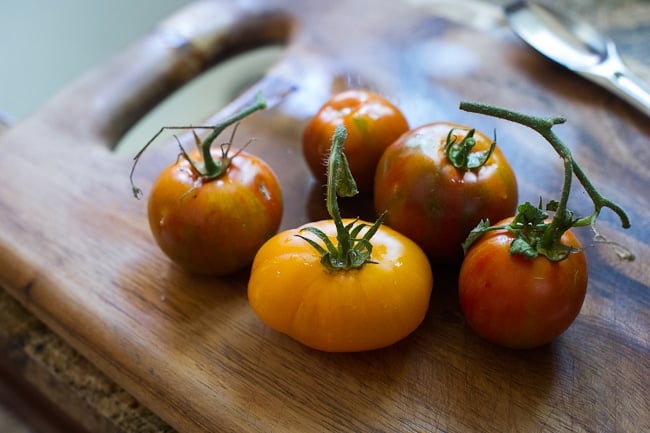 slice, slice and slice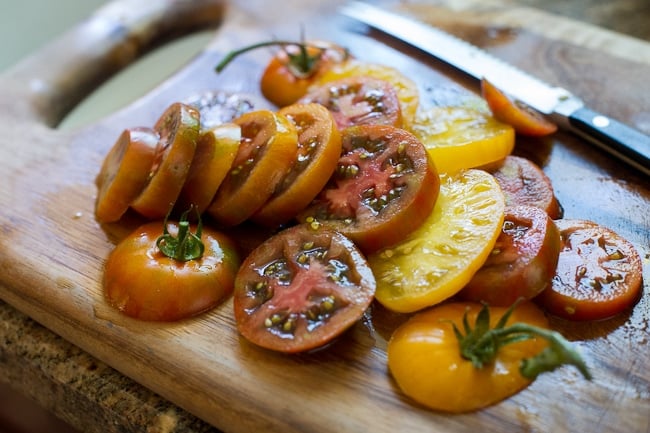 layer with pretty slices of onions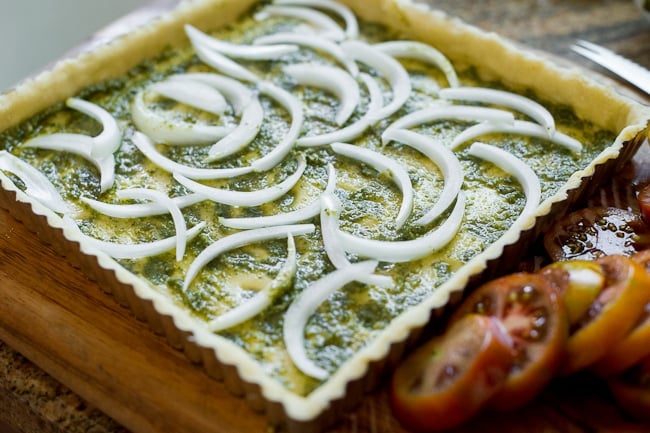 layer with tomatoes, goat cheese and fresh herbs
We'd still love to hear of any more favorite tomato recipes, plus we'd love to hear of your favorite varieties or growing tips. Here's some of the varieties we love or tips that have worked for us.
Favorite Tomato Varieties
Kentucky Beefsteak
Sweet Million
Sungold
Green Zebra
Anna Russian
Pineapple
Dr. Wyches
Black Zebras
Cherokee Purple
Most any Brandywine (the potato leaf variety has been fabulous)
Tips for growing tomatoes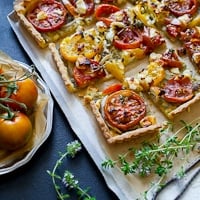 Tomato Tart with Pesto & Onions
The Pesto recipe makes about 1 1/2 cups (you'll only need about 1/4 cup for this tart). We'll store the extra pesto in a closed jar in the fridge to use over a couple weeks time.
Ingredients
for the crust
1 cup (125 g) flour
1/2 teaspoon (2.5 ml) kosher salt
1/4 cup (57 g) cold unsalted butter , (1/2 stick) cut into 1/2-inch (12-mm) pieces
1/4 cup (60 ml) cold water
for the filling
1 lb. (455 g) fresh tomatoes , slice about 1/2" thick
1/4 cup (60 g) pesto , recipe follows
1/2 medium (1/2) onion , sliced about 1/4" thick
3 ounces (85 g) goat cheese
1 teaspoon (5 ml) fresh thyme leaves , optional
kosher salt or any preferred finishing salt
(1.25 ml) freshly cracked black pepper , to taste
Instructions
Make the Crust Dough:
In a large bowl, pinch together the flour, butter, and salt with your fingertips until most of the big chunks of butter are flattened or broken up. Incorporate the cold water into the flour until the mixture binds together and forms a rough ball (you may need to gently knead the ball to incorporate the last of the flour).

Flatten the ball into a disk. Wrap in plastic wrap and place it in the fridge. Chill for 30 minutes or up to overnight.
Complete the Tomato Tart
Preheat the oven to 400°F (205°C).

On a floured surface, roll the dough disk out to a circle slightly large enough to fit your tart pan. Gently place the dough in the tart pan, pinching off the excess dough. Press the bottom of the tart with your fingers to "dock" it, making indentions in the bottom.

Spread the 1/4 cup of pesto over the bottom of the crust. Layer in the onions, creating a light layer loosely covering the bottom of the tart. Layer tomatoes on top of the onions.

Crumble the goat cheese into large chunks and spread over the tart. Sprinkle thyme leave over tart. Season tart with sea salt and fresh cracked black pepper to taste.


Bake for 40-45 minutes or until cheese and edges of tomatoes are starting to char, and crust is golden. Serve warm or at room temperature.
Notes
Everyday Pesto Recipe (makes about 1 cup)
2 cups fresh basil leaves, or herb leaves of your choice
.5 - 1 cup freshly grated Parmesan (depending on how rich you like your pesto)
1/4 cup pine nuts or chopped nuts of choice (walnuts, pecans, cashews, pistachios, etc…)
2 cloves garlic
1 teaspoon kosher salt or sea salt, or to taste
black pepper, to taste
1 tablespoon fresh lemon juice
1/2 cup extra-virgin olive oil, approximately
In a food processor, combine the basil, Parmesan, nut of choice, garlic, salt, pepper, and lemon juice. Pulse several times to mince the ingredients.
Add about 1/2 of the oil to the food processor and process until very fine.
Gradually add the remaining oil, to taste, pulsing until smooth (you may not need the full amount of oil, depending on your preferred texture for the pesto). Taste for seasoning and add additional salt, pepper, and/or lemon juice to taste. Pulse to combine completely if additional seasoning is used.
Store in fridge. The olive oil based pesto will begin to firm in the fridge, so bring it out to come to room temperature if you want it more oily.
Nutrition Information per Serving
Calories: 179kcal, Carbohydrates: 15g, Protein: 4g, Fat: 11g, Saturated Fat: 5g, Cholesterol: 20mg, Sodium: 261mg, Potassium: 161mg, Fiber: 1g, Sugar: 2g, Vitamin A: 930IU, Vitamin C: 8.7mg, Calcium: 39mg, Iron: 1.2mg
This recipe was originally published in 2012 and re-published in 2020 with updated recipe.
We are a participant in the Amazon Services LLC Associates Program, an affiliate advertising program designed to provide a means for us to earn fees by linking to Amazon.com and affiliated sites.