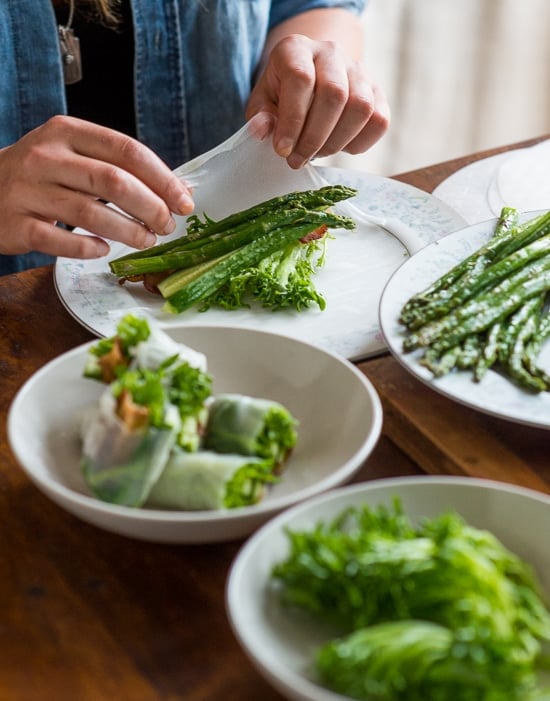 Who fast-forwarded the time clock? Or even more specific, 2016? Yesterday we both looked at each other with google eyes and realized that we're already in May. Geez, we've gotta make an even harder effort to enjoy each day because it zooms by like lightening. This past weekend was at least a great one that forced us to slow down and enjoy the start of May properly.
One of the things we're trying to enjoy as much as possible are Spring veggies. Fresh, sweet and tender carrots always make a showing on our table. We've been swimming in sweet English peas both in-studio and at home. Love sweet peas, can't get enough of them. Now it's time to eat every sprig of asparagus we can while they're tender and priced perfectly. It's not just because asparagus are delicious this time of year, but they don't cost an arm and a leg either. This is the affordable time of year to indulge.
Fresh spring rolls, summer rolls, rice paper rolls, gỏi cuốn, or what ever you prefer to call them are always a favorite on our menu. We've made so many variations of these beloved rolls that even Diane's Mom was shocked at a few modern-creations. Regardless of how traditional or non-traditional our rolls are, everyone agrees that they are as versatile as pizza and loved by all.
A few years ago for our cookbook, we create a huge asparagus and bacon spring roll party at the house. It's an special occasion, our spring roll parties. Everyone comes in high spirits with a bottle (or two) of their favorite wines to pair. This time, with asparagus and bacon there's something for everyone. Asparagus for the vegetarians, bacon for the carnivores and the combination of both and everything in-between for the rest of the crowd.
The fresh bite of roasted asparagus with salty bacon, all layered in crisp lettuce, crunchy cucumber and fragrant herbs is a seasonal favorite. Enjoy these rolls for your next meal and let us know if you decide to break the rules too and add something different.
Here's a tutorial on how to roll spring rolls and a collection of more rolls galore.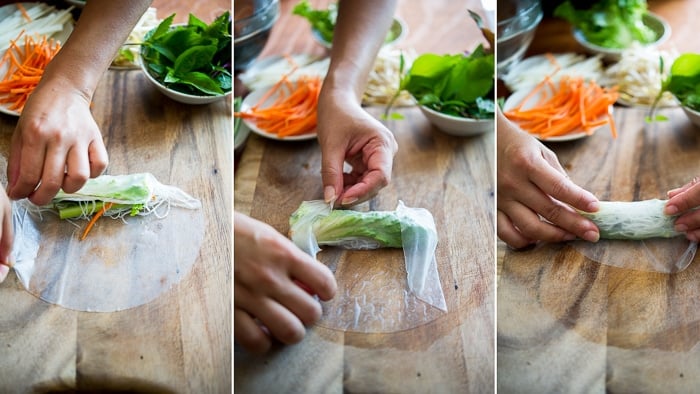 Have fun,
diane and todd
Fresh Spring Rolls with Roasted Asparagus and Bacon
Yield: About 10 rolls
Total Time: 45 minutes
This recipe is from our cookbook Bountiful. For a visual guide on how to roll a fresh spring roll, see this page. The fillings here are not traditionally Vietnamese, but they are examples of the endless possibilities for spring rolls. This recipe is not paired with a dip because the bacon is already quite salty, however you can click here for different dip options and ideas.
Ingredients:
1 bunch tender baby asparagus (about 1/2 pound / 225g)
1 tablespoon olive oil
Freshly cracked black pepper
12 slices bacon, cooked
1 cucumber, cut into matchsticks
1 medium carrot, cut into matchsticks (optional)
Lettuce leaves
Fresh basil or mint leaves
Rice paper wrappers
Directions:
Roasting Asparagus Directions
Preheat the oven to 400°F (205°C).
Trim any dry or tough ends from the asparagus spears. On a sheet pan, toss the asparagus with the oil. Add pepper to taste. (Do not salt the asparagus because the bacon will be salty.)
Roast until tender, 10 to 15 minutes. (Cooking time will vary depending on the size and thickness of the asparagus.)
TO ROLL
Gather the roasted asparagus, cooked bacon, cucumber, carrot (if using), lettuce leaves, herb leaves, and rice paper wrappers and prepare to roll.
Fill a large bowl with warm (bath-temperature) water. Gently dip each rice paper wrapper in the water for a few seconds, just until damp. (Don't oversoak.) Place the wrapper on a plate or wooden board. As the wrapper begins to absorb the water and becomes softer and pliable (10 to 30 seconds, depending on the thickness of the wrappers and the water temperature), begin to add the fillings.
On the one-third of the wrapper closest to you, place a layer of each filling (asparagus, one slice of bacon, cucumber, carrot, lettuce, and herb leaves).
Start rolling the wrapper over the fillings, away from you, tucking and rolling the wrapper with your fingers, making sure all the fillings remain within the wrapper and tucking in the sides as you roll.
Serve immediately, or cover with plastic wrap to eat a few hours later.
Hello! All images & content are copyright protected. Please do not use our images without prior permission. If you want to republish this recipe, please re-write the recipe in your own words, or simply link back to this post for the recipe. Thank you.
Recipe Note for Salt: All recipes containing salt are based on kosher or sea salt amounts, not table salt. If using table salt, reduce the amount used to taste.