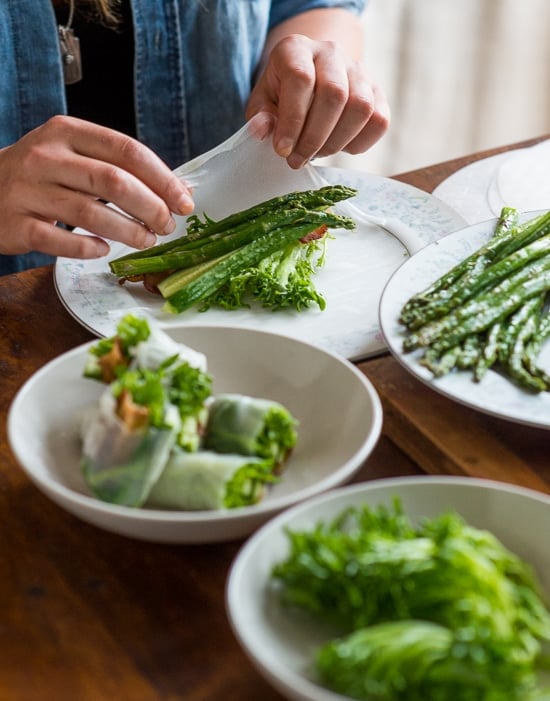 Who fast-forwarded the time clock? Or even more specific, 2016? Yesterday we both looked at each other with google eyes and realized that we're already in May. Geez, we've gotta make an even harder effort to enjoy each day because it zooms by like lightening. This past weekend was at least a great one that forced us to slow down and enjoy the start of May properly.
One of the things we're trying to enjoy as much as possible are Spring veggies. Fresh, sweet and tender carrots always make a showing on our table. We've been swimming in sweet English peas both in-studio and at home. Love sweet peas, can't get enough of them. Now it's time to eat every sprig of asparagus we can while they're tender and priced perfectly. It's not just because asparagus are delicious this time of year, but they don't cost an arm and a leg either. This is the affordable time of year to indulge.
Fresh spring rolls, summer rolls, rice paper rolls, gỏi cuốn, or what ever you prefer to call them are always a favorite on our menu. We've made so many variations of these beloved rolls that even Diane's Mom was shocked at a few modern-creations. Regardless of how traditional or non-traditional our rolls are, everyone agrees that they are as versatile as pizza and loved by all.
A few years ago for our cookbook, we create a huge asparagus and bacon spring roll party at the house. It's an special occasion, our spring roll parties. Everyone comes in high spirits with a bottle (or two) of their favorite wines to pair. This time, with asparagus and bacon there's something for everyone. Asparagus for the vegetarians, bacon for the carnivores and the combination of both and everything in-between for the rest of the crowd.
The fresh bite of roasted asparagus with salty bacon, all layered in crisp lettuce, crunchy cucumber and fragrant herbs is a seasonal favorite. Enjoy these rolls for your next meal and let us know if you decide to break the rules too and add something different.
Here's a Few of our Favorite Spring Roll Ingredients and Tools:
It can sometimes be hard to find good spring roll ingredients and tools. Here's some of the favorites:
Here's a tutorial on how to roll spring rolls and a collection of more rolls galore.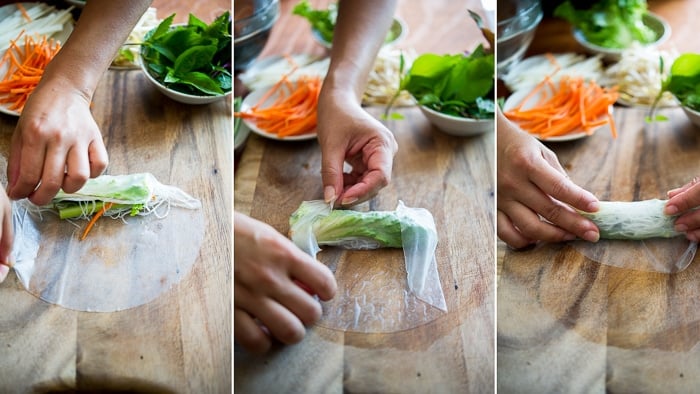 Have fun,
diane and todd