Asparagus Bacon Spring Rolls
If you love bacon AND asparagus, then these bacon asparagus spring rolls are perfect. They're a fantastic appetizer for any party or gathering.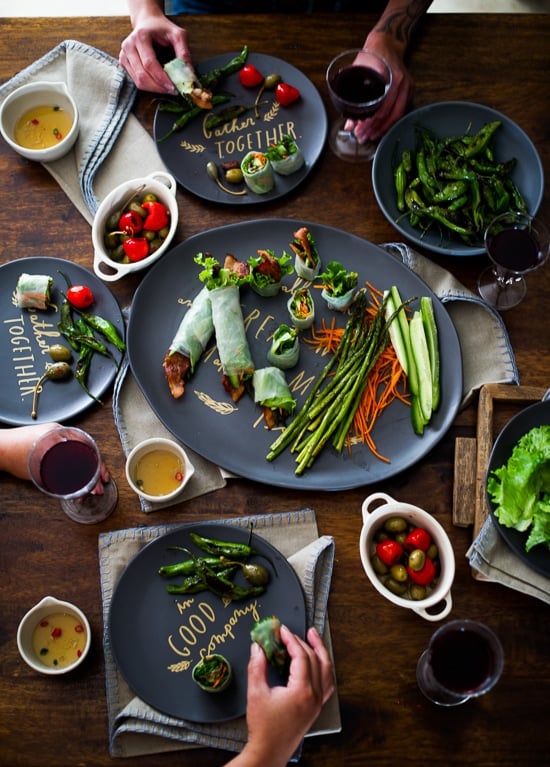 Asparagus Bacon Spring Rolls Recipe
Our popular asparagus bacon spring rolls were a hit when we hosted a special little holiday tapas dinner in collaboration with and some of West Elm's dishes, which we can never get enough. Before they ever reached out to us to collaborate on a tapas party shoot, we had their dishes stocked high in our studio's prop room already. So adding a few more pieces to our collection was an easy "yes". Pull our arms, why don't 'cha?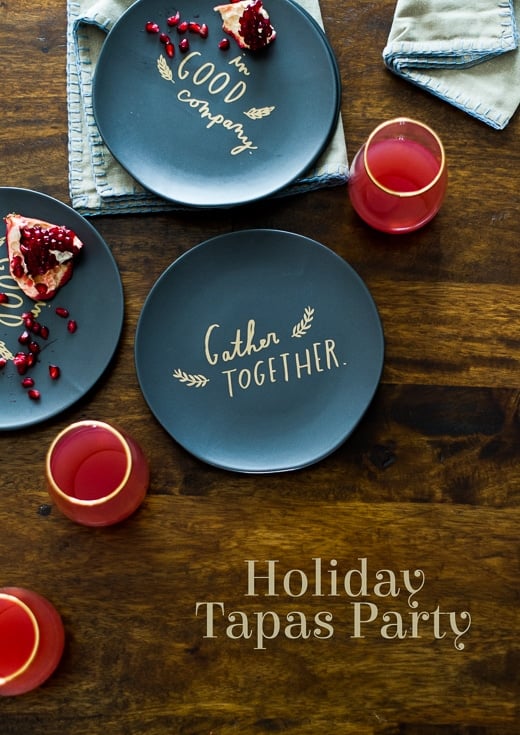 On the menu were some favorite recipes from our cookbook Bountiful including our roasted asparagus bacon spring rolls, charred shishito peppers and ever-so-popular and fattening crack dip.
We chose West Elm's Gather Plates for our party because the etching and theme of what we're about is gathering. The evening couldn't have been any more perfect and with the addition of some personal favorites from Lindsay's Suite One Studio dishes we bought, the table was set the exactly the way we wanted: simple, un-fussy and loaded with tons of great asparagus bacon spring rolls.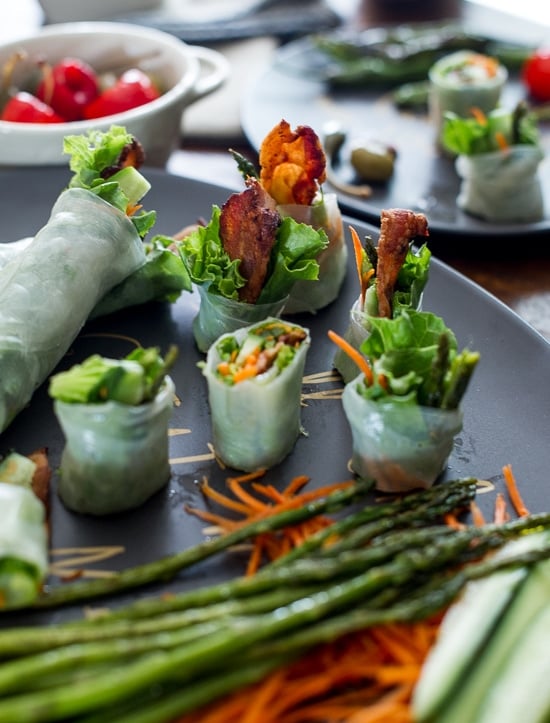 If you've never rolled spring rolls before or have failed, no worries. Rolling these are actually so much easier than you'd ever think and best of all, you can roll anything in them. It's one of the most fun ways to gather a group of friends together and eat tapas and enjoy these asparagus bacon spring rolls.
Here's a tutorial we wrote on how to roll spring rolls for any of you newbies.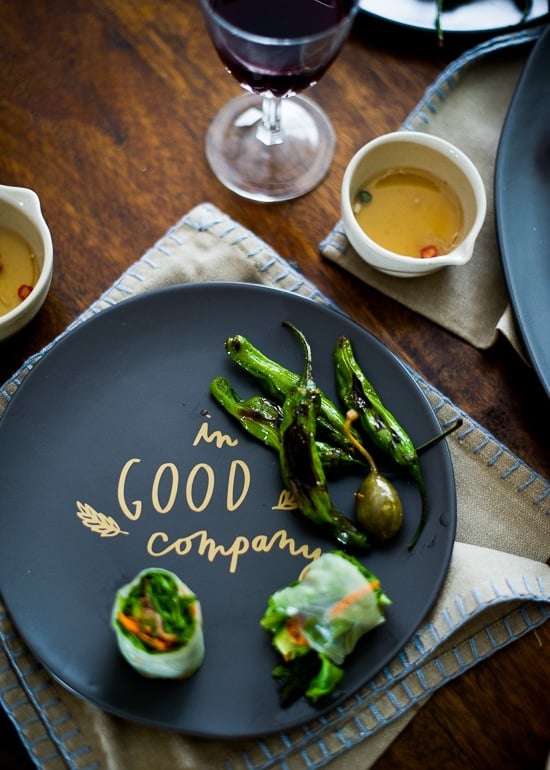 Part of the fun of our spring roll parties is to have everyone roll their own rolls and cut them into bite sized pieces to share with others. For tapas, that's the best part because you can small bites from everyones creation. But the real fun at our gathering is watching to see how everyone rolls. Some spring rolls come out like skinny cigars, while other friends roll huge burrito sized spring rolls. It's always a great laugh to poke fun at those who end up making burritos instead of spring rolls. But it's all in fun and that's why gatherings are so wonderful. There's never a boring moment. Hope you enjoy these asparagus bacon spring rolls!
Here's a tutorial on How To Roll Spring rolls and All Our Great Spring Rolls Recipes

Favorite Spring Roll Ingredients and Tools:
It can sometimes be hard to find good spring roll ingredients and tools. Here's some of the favorites: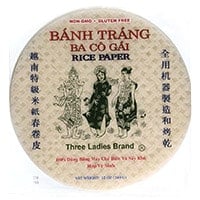 Three Ladies Rice Paper Wrappers – Love these wrappers. Easy to work with. Consistently one of the best wrappers we've found.
Rice Paper Water Bowl – The perfect bowl for dipping the rice paper at the table. These have been life changers when it comes to our spring roll parties. Easy for everyone to dip and takes up so much less table space.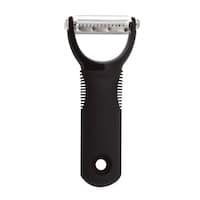 OXO Julienne Tool – This little tool makes julienning the carrots and other ingredients a breeze.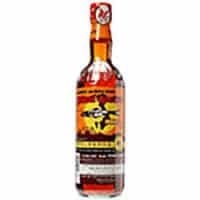 Flying Lion Fish Sauce – This has been our house fish sauce for decades. Great stuff! We'll use it to make our dipping sauces as well as marinades.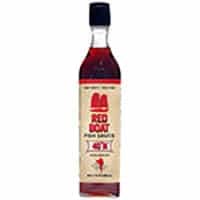 Red Boat Fish Sauce – 100% all natural first press extra virgin Vietnamese fish sauce. A solid craft fish sauce producer.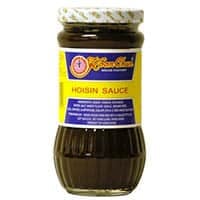 Koon Chun Hoisin Sauce – Our house favorite hoisin sauce. Great flavor. We use it to make a dipping sauce for spring rolls.
Now we have two weeks before Christmas arrives and we still can't believe it's almost here. Where did 2011, 2012 and now 2013 go to? If you figure it out, let us know!
Hope all your holiday planning is swell, full of family and great food. And fingers crossed, less mall time and less stress!
hugs,
diane and todd
Here's my personal recipe for Vietnamese Fish Sauce Dip and click here for all our popular Vietnamese Recipes that are sometimes traditional and definitely sometimes not.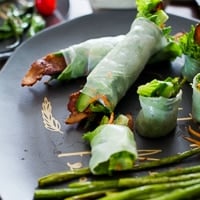 Roasted Asparagus Spring Rolls with Bacon
The fillings here are not traditionally Vietnamese, but they are examples of the endless possibilities for spring rolls. This recipe is not paired with a dip because the bacon is already quite salty. For dip ideas see our other spring roll recipes.
Ingredients
1 bunch (1 bunch) tender baby asparagus (about 1⁄2 pound / 225g)
1 tablespoon (15 ml) olive oil
Freshly cracked black pepper
12 slices (12 slices) bacon , cooked
1 (1 ) cucumber , cut into matchsticks
1 medium (1 medium) carrot , cut into matchsticks (optional)
Lettuce leaves
Fresh basil or mint leaves
10-12 (10-12 ) Rice paper wrappers
Instructions
Trim any dry or tough ends from the asparagus spears. On a sheet pan, toss the asparagus with the oil. Add pepper to taste. (Do not salt the asparagus because the bacon will be salty.)

Roast until tender, 10 to 15 minutes. (Cooking time will vary depending on the size and thickness of the asparagus.)

Gather the asparagus, bacon, cucumber, carrot (if using), lettuce leaves, herb leaves, and rice paper wrappers and prepare to roll.
To roll:
Fill a large bowl with warm (bath-temperature) water. Gently dip each rice paper wrapper in the water for a few seconds, just until damp. (Don't oversoak.) Place the wrapper on a plate or wooden board. As the wrapper begins to absorb the water and becomes softer and pliable (10 to 30 seconds, depending on the thickness of the wrappers and the water temperature), begin to add the fillings.

On the one-third of the wrapper closest to you, place a layer of each filling (asparagus, one slice of bacon, cucumber, carrot, lettuce, and herb leaves).

Start rolling the wrapper over the fillings, away from you, tucking and rolling the wrapper with your fingers, making sure all the fillings remain within the wrapper and tucking in the sides as you roll.

Serve immediately, or cover with plastic wrap to eat a few hours later.
Nutrition Information
Calories: 188kcal, Carbohydrates: 13g, Protein: 5g, Fat: 12g, Saturated Fat: 3g, Cholesterol: 19mg, Sodium: 288mg, Potassium: 173mg, Fiber: 1g, Sugar: 1g, Vitamin A: 1220IU, Vitamin C: 2.6mg, Calcium: 22mg, Iron: 1.3mg
We are a participant in the Amazon Services LLC Associates Program, an affiliate advertising program designed to provide a means for us to earn fees by linking to Amazon.com and affiliated sites.