When Summer arrives and figs are abundant, making baked figs with bacon and blue cheese is the ultimate celebration of the season.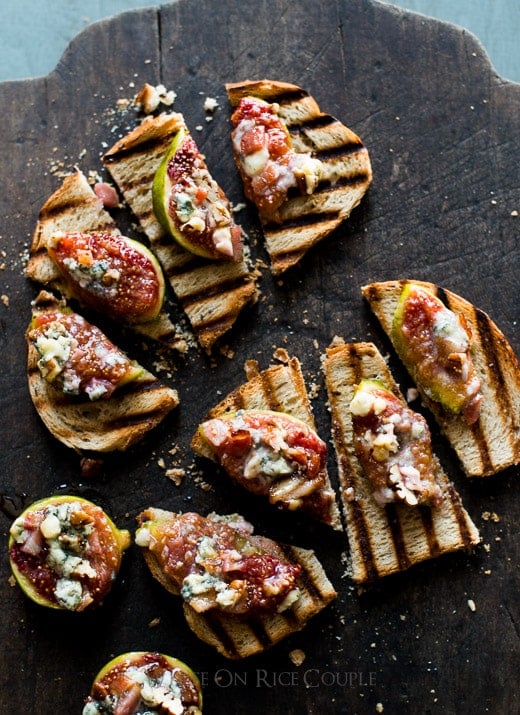 We scored big time this year guys! For once, we're actually home for more than a week at a time during Summer. Because we're not traveling as much, we're able to hang out in the garden and beat all the garden critters to the figs. This is huge. Literally, huge in both the harvest and in eating all the figs we want without losing it to the squirrels, beetles, and birds.
With two keen sets of eyes waiting for the right timing to pick the figs, we planned it just right for our first picking. Normally this time of year, the squirrels and birds left us half-pecked fruit. These greedy critters couldn't even finish what they were eating before feasting on another piece of fruit. It killed us to look up and see nothing left for the humans. Even the pups couldn't enjoy any of the fig rewards other than the cored out fig skins. This year, we prepared ourselves weeks in advance and what we were rewarded were all this figs. Finally, we beat out the critters.
Delicious video making the baked figs with bacon. Addicting! :
before and after  
With so many figs ripening every few days, we were indulging in foggy-happiness, it was like being drunk on figs. First we ate them whole. Sweet and luscious as ever when they're tree ripened. With the best of the first batch, we made fig balsamic for cheese plates, fig jam and what you see before you: baked figs. Oh goodness, you must make these.
Baked figs with crisp salty bacon, blue cheese, crunchy nuts all spread of crust bread is out of this world. This is literally one of the easiest fig dishes to make, but it packs a whole 'lotta punch and flavor. And if your next Summer gathering doesn't go nuts over this dish, then they just don't get figs. Don't invite them back!
We're making more fig recipes that we can't get enough of and will be sharing another one next week. In the meantime, get yourself a basket of sweet figs and make one of the most incredible appetizers for Summer.
Enjoy,
diane and todd
More Fig Recipes: Fresh Fig Ice Cream Recipe, Roasted Rigs with Wine & Sage Recipe, Fig Pecan Sticky Buns Recipe
This post was originally published in 2014. We've updated the recipe and added a quick video making the baked figs. Enjoy!
Baked Fig with Bacon, Cheese, and Roasted Nuts
Yield: Serves 4
Total Time: 30 Minutes
The best part of this recipe is that you can add as much cheese and bacon as you like. To add more toppings, just press some bacon or cheese down on the center of the fig. You can even lightly scoop out a little bit of fig center, but if the fruit is super sweet and good, then don't waste it. Push the filling down into the figs and enjoy!
Use whatever nuts you'd like to top the figs-pecans, walnuts, hazelnuts, etc... Whatever you enjoy!
Ingredients:
about 8 fresh figs, cut lengthwise in half
4 slices cooked bacon, cut into small pieces
3-4 ounces blue cheese or goat cheese, softened and crumbled
2 Tablespoons (30ml) finely chopped roasted nuts (pecans, walnuts, hazelnuts, etc...)
2 Tablespoons (30ml) honey
optional-grilled or toasted bread to serve the baked figs on
Directions:
Pre-heat oven to 350 degrees F. Line a sheet pan with parchment paper.
Place cut figs on a lined sheet pan. If any of the figs don't sit level, make a small flat cut across the bottom of the fig so that it sits flat when you add the toppings. Top the figs with the crumbled cheese and bacon. Press the nuts into the cheese to help keep them from falling off.
Bake the figs for 10-15 minutes or until the figs are soft or to your desired texture and the cheese is melted. After removing from the oven, drizzle honey over the baked figs.
Enjoy the figs warm or at room temperature. Serve as an appetizer or spread figs on toasted bread and serve with your favorite glass of wine.
Hello! All images & content are copyright protected. Please do not use our images without prior permission and do not re-publish this recipe. Simply link back to this post for the recipe. Thank you.
Recipe Note for Salt: All recipes containing salt are based on kosher or sea salt amounts, not table salt. If using table salt, reduce the amount used to taste.
[ad]