Video- Eggs Poached & appreciating life details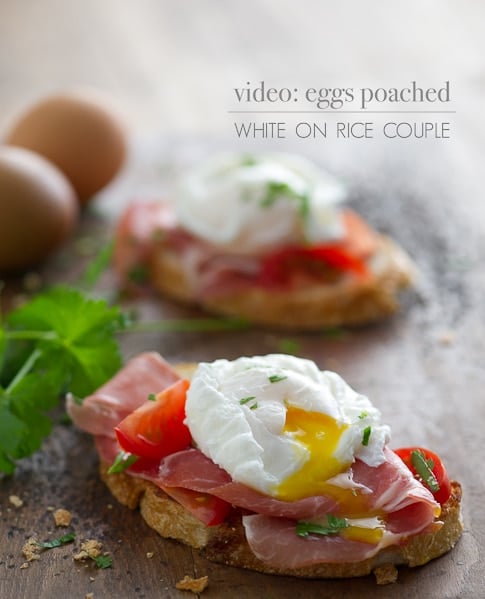 It's the little details in life that always fascinate us. We often just sit and witness the small life moments that happen both in and out of our kitchen. It's those little things that are so inspiring to us to have endless hours of conversations. These thoughts and ideas drive us to become more creative and how to share the story filled with life detail up close.
Poaching eggs is a wonderful morning ritual we love sharing. Often times, the beautiful process of poaching eggs can often be overlooked. But for us, every step of this egg poaching process is full of inspiration. From the moment we patiently wait for the water to boil, to the mesmerizing swirl of the water bath, to the final pierce of the egg, all this is a gorgeous event happening before our eyes.
So, back in December we wanted to share the story of poaching an egg. We weren't wanting to make a "how to" video per se, because there are so many great instructional videos out there.
Instead, we wanted to share an egg poaching story and the journey of an inspiring morning ritual.
For some, poaching an egg is a process to get a meal on the table. But for us, egg poaching is one of those life moments that we love. One of those regular rituals which fill in the details of our daily lives. And we love every single little step along the way.
Hope you all take a moment to appreciate one of those life details in the kitchen.
And hope you enjoy our eggs poached story.
Have a great day to you all,
diane and todd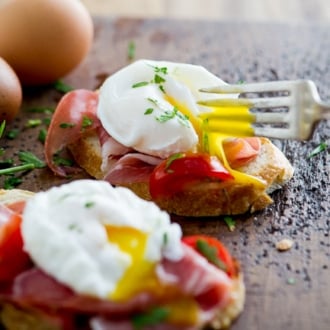 Perfect Poached Eggs
Serve the eggs however you like, on toasted, buttered bread, English muffins, bagels, on a sliced croissant, on rice, etc… Same with the garnishes. Some of our favorites are sliced cherry tomatoes, prosciutto, maybe a little hot sauce or soy sauce, a sprinkling of cheese. Cracking the eggs into individual bowls beforehand will help you make sure all egg yolks are intact before cooking. Pay close attention to the timing when you cook the eggs. A 30 second span of time can quickly change the texture of the center. Egg cooking time will vary slightly depending on egg freshness, temperature, and size.
Ingredients
Eggs
1-2 teaspoons (5-10 ml) white vinegar , optional (will help set the eggs, but can flavor them and isn't required to set)
fresh cracked black pepper , to taste
flaky salt , to taste
chopped Italian parsley cilantro, or dill , for garnish
cherry tomatoes , sliced for garnish
toasted bread , English Muffins, bagels, etc (optional)
prosciutto slices , optional garnish
Instructions
Heat water in a stock pot or in a deep skillet (if using a skillet, make sure the water is at least 1 1/2" deep). Optional - Add the white vinegar and bring to a simmer over medium heat. Meanwhile, crack the eggs into small individual bowls or ramekins.

When ready to poach, stir the water in one direction until it's all smoothly spinning around (this method is great to help prevent the whites from spreading out but is tricky to do for larger batches of poached eggs - for larger batches we'll crack the eggs in a fine mesh colander or slotted spoon to drain the loose whites, then place them in their bowl - when poaching we will not stir the water, but will just slide them into the simmering water from their bowls).

Carefully slide the eggs, one at a time, into the center of the whirlpool (or placed spaced separately around the pan if doing a larger batch). Cook until the eggs are your desired firmness (Cooking Times: 2 minutes 30 seconds - Yolks runny, Whites just set | 3 minutes - Yolks runny, White firmly set | 4 minutes - Yolks edges beginning to set | 5-6 minutes - Yolks firmly set).

Remove the eggs with a slotted spoon and serve immediately, topped with a little flaky salt (Murray River salt is our favorite), fresh cracked pepper, and any other garnish you prefer. Alternatively for serving at a later time, slightly undercook the eggs and place the eggs to an ice bath and refrigerate up to 8 hours. Reheat in warm water for about 30 seconds to 1 minute just before serving.
We are a participant in the Amazon Services LLC Associates Program, an affiliate advertising program designed to provide a means for us to earn fees by linking to Amazon.com and affiliated sites.