Fruiting shrubs, plants & vines
This page is currently under construction: soon to add more pictures of the dragon fruit, passion fruit vines and miracle fruit plant

Dragon Fruit – 5 varieties 🙂 –
They're so cool! They look like a sprawling cactus, but when they fruit, it's so unique! Looking at the fruit, you would never expect it to come from a plant like this. The white with black seeded fruit is light and refreshing. It's a easy plant to grow in a area of full sun.
Previous Dragon Fruit Posts and Photographs:
-'08 Update – Diane's dad led us to a great grower. We've added 2 more rare varieties. One's fruit smells of jasmine and is incredibly juicy. Plus it seems to be growing like a weed. Go Dragon, Go!
Passionfruit: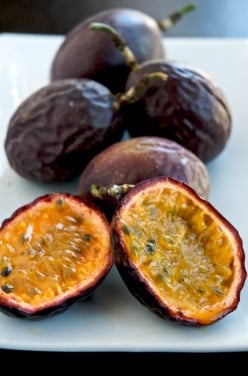 This is an exciting addition to the garden at the beginning of '09. We are attempting to grow the passionfruit over a trellis along the pathways and in front of our garage! With a total of 3 vines, we hope to be drowning in passion fruit cocktails next year!

Pepino Dulce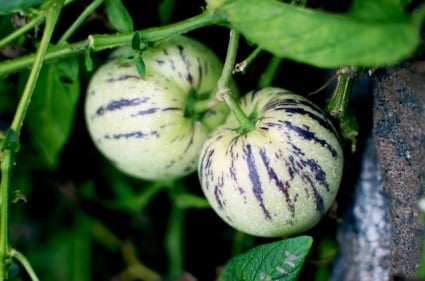 In the fall of '08 we were wandering through one of our favorite nurseries and saw this. "What's that?" we exclaimed. "What does it taste like?" They didn't even know at the nursery, so out of curiosity we brought it home. After a little research we found that this little fruiting shrub is a native of Peru and is now making it's way around the world. It has a soft, edible skin and the fruit reminds us of crossing a melon with a cucumber, and add a little honey and vanilla. Quite tasty. As of spring '09, it is starting to explode. Can't wait to play with it more.
Our Garden Inventory: Here is a tally of what we have grown thus far, what has died, marginally survived and what is currently flourishing in our continually evolving garden.