Creamy, Slow Cooked Scalloped Potatoes – first time and not last.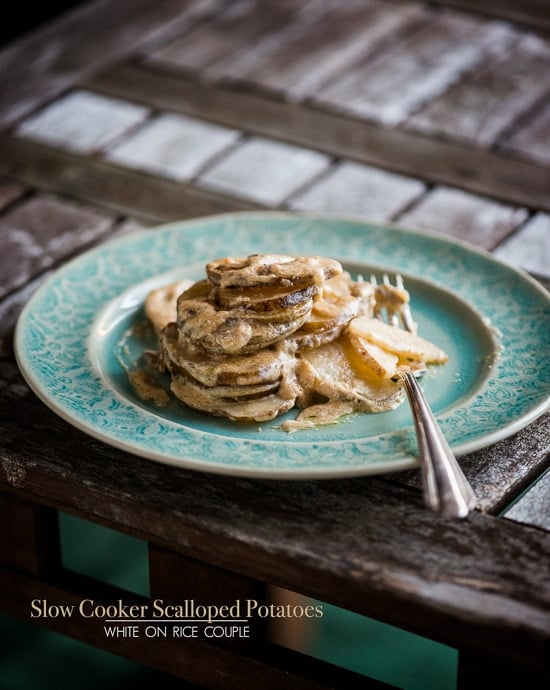 Slow Cooker Scalloped Potatoes Recipe
This is my first time, this curious obsession, of cooking with a slow cooker. For as long as I could remember, I've been stalking slow cooker recipes, often wondering how/why/what could possibly be the advantage having a slow cooker. Quite frankly, I'm more fearful of actually pressing a button on an appliance, leaving it on all day and coming home to a burned down house.
My gut feeling has always been to leave the house with everything turned off and I've been known to circle back on the freeway to make sure my curling iron was on off. That's how much of a wimp I am about leaving anything with heat on all day.
Then there's this talk, I hear, about how a slow cooker can cook things down to a wonderful, flavorful texture. Oh great, so will everything taste like a stew? Gloppy soup?
Then there's the photographs I see on Pinterest with incredible cheesy, gooooeeey, decant mac and cheese recipes. Obviously their house didn't burn down during the making of the dishes.

And the photographs of roasts cooked down to the perfect fork-tender texture slay me to eye-popping interest. Well, if they were able to pin this photo, then their house still must be standing up, untouched by fire.
Ok, so I'm comforted to know that people are still alive, standing and cooking food that makes my stomach growl at midnight when I'm browsing Pinterest.
So here I go, and I tell Todd that I want a slow cooker and I want it now. Like, right– now — so I can experiment with a scalloped potatoes recipe for Christmas.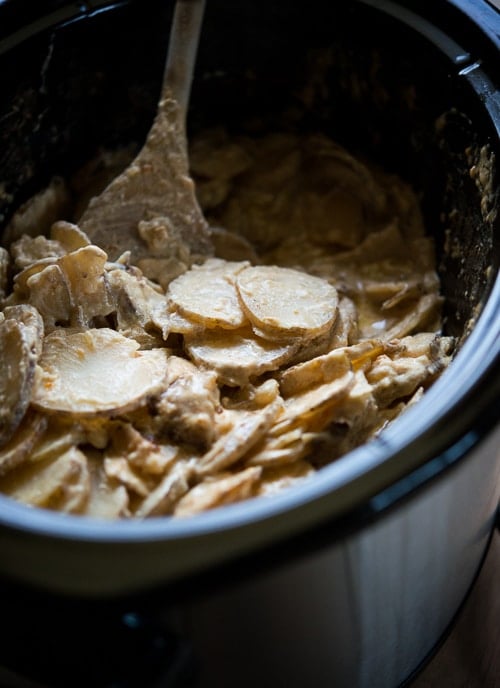 Todd, the most awesome guy in the world, the same guy that will nurture dishes through hours of laborious steps just to get the perfect texture, and who doesn't judge me nor my secret obsession. We bought a slow cooker that very day.
The first thing I made upon bringing home my first slow cooker (now 3 weeks ago) was a pork rillette dish. My traditional recipe calls for about 4-5 hours of braising the pork over the stove, but it also requires stirring the pot every 30 minutes. I successfully made the dish to tender perfection with only stirring twice. Wow! And the cleanup was super easy.
Now I'm hooked and more curious to find out what type of dish can benefit from this all-day-cooking process with a push of ONE button.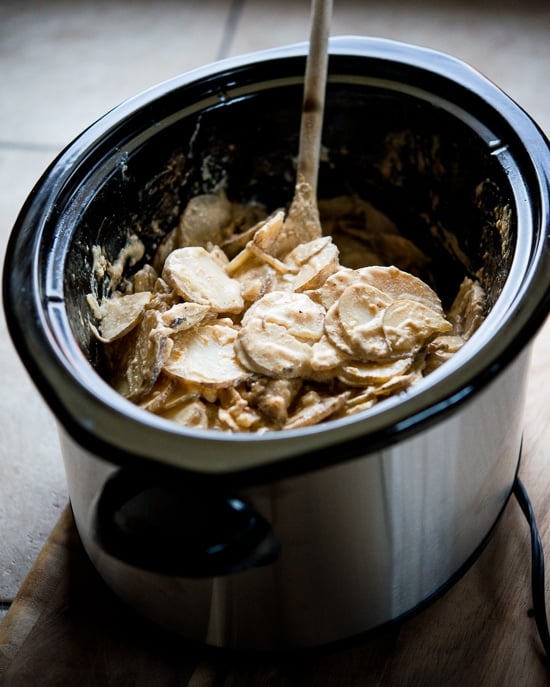 Granted, there are some dishes that I would never cook in the slow cooker because I'm looking for a different flavor and texture. But for anything cheesy or stewy, I'm all for experimenting.
This time, I've been intrigued by scalloped potatoes in the slow cooker so that for Christmas, it can stay warm during the feasting without drying out. This is one of those potluck dishes that often dries out and gets cold so fast, that the warm-tender texture of the potatoes has dissipated.
My second slow cooking experiment were these potatoes and it was a super success, resulting in a cheesy, creamy and quickly eaten batch of scalloped potatoes. Best of all, the dish can remain warm, and still gooey, meltingly cheesy throughout the evening.
I'm hooked and look forward to cooking more from the slow cooker. Best of all, my house hasn't burned down!
Any favorite slow cooker recipes that you have? I've love to see. Please leave your link.
Hail to the slow cooker!
-diane
Our Favorite Cookers:
Whether you prefer a slow cooker, pressure cooker, or a multi-cooker, these kitchen counter appliances help make dinner a little easier for the busy household: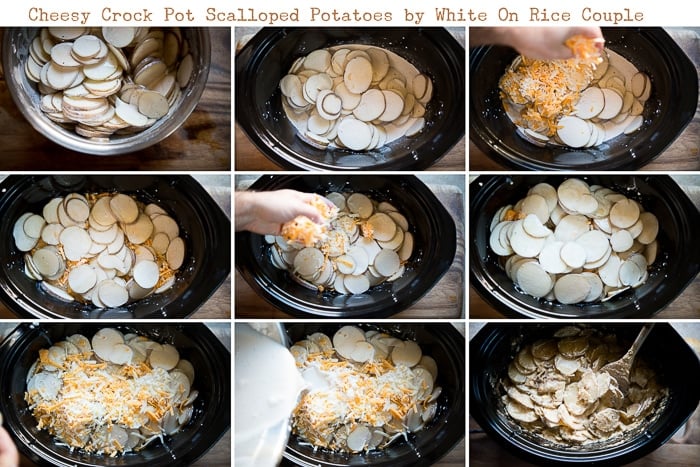 We are a participant in the Amazon Services LLC Associates Program, an affiliate advertising program designed to provide a means for us to earn fees by linking to Amazon.com and affiliated sites.