Gift of Cheer- Video Rudolph Peanut Butter Cookies Recipe
These rudolph peanut butter cookies are super easy to make and a fantastic holiday cookie recipe to make everyone happy and full of holiday cheer.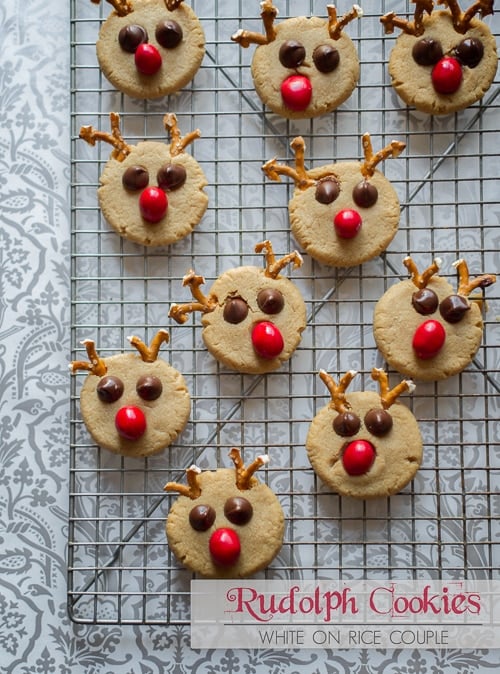 In today's times, let's not forget the joy from a simple hug, smile, phone call and cheer. We all can certainly use a gift of love and laughter, regardless of what our circumstances are. We want to share a moment here, a gift of holiday spirit because we, Diane and Todd, have been longing for something bright, fun and festive over this last week.
We sincerely wish you all, the warmest of the holiday season, with continued love, family, health and friendship. Without the joy that you bring to us everyday, we wouldn't be here today.
Watch Video: Rudolph & Friends: Rudolph Peanut Butter Cookies:

So in the spirit of eating, calorie hoarding and more cookies, we're adding to the pile of sweets because cookies just make us happy. And hopefully with these Rudolph cookies, we'll be reminded of the eternal light of compassion, friendship, community and joy that resonates this holiday.
We have our own favorite peanut butter cookie recipe, but found an inspired decorationand couldn't help it but to decorate our cookies in the same way. Rudolph makes us smile, big.
Enjoy the video, the rudolph peanut butter cookies, Rudolph and his friends. And we're sending our love to you all this holiday season. Stay safe, stay warm and hope you enjoy it with your loved ones. It's moments like these that we cherish so much and because of this, you must share and eat more cookies!
Merry Christmas to you all. xoxo
love,
todd, diane, sierra and lexi
Rudolpoh and his other Friends. Can't waste those other M&M colored candies.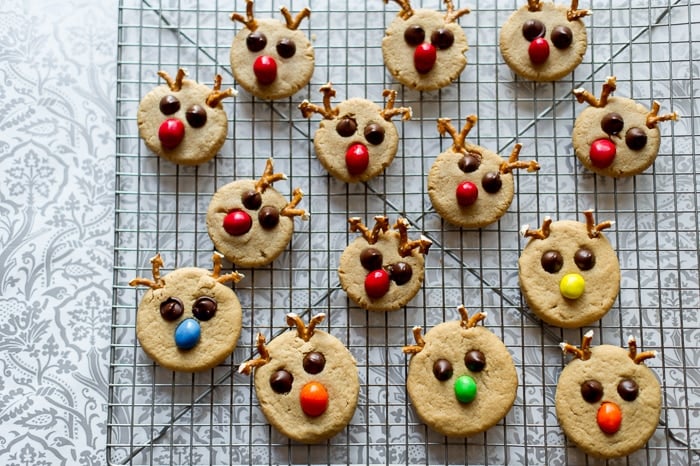 Chomp. Rudoloph peanut butter cookies are super delish.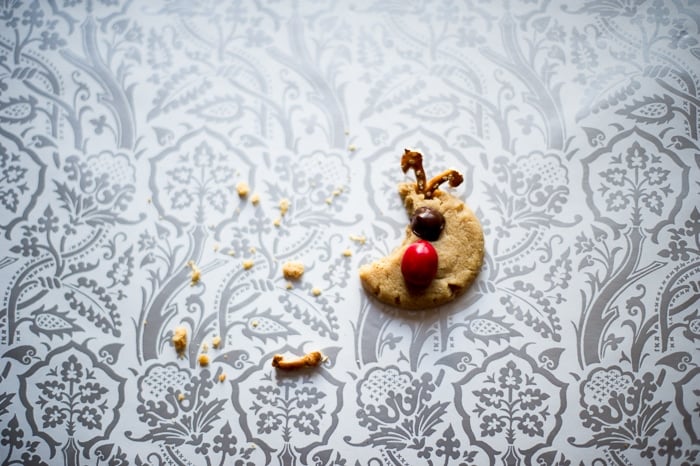 Here more of our holiday cookie collection and more holiday dessert recipes here.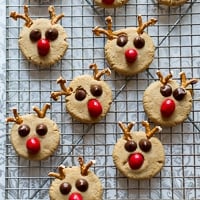 Peanut Butter Reindeer Cookies
We recommend only baking one sheet pan at a time, since you need to quickly place the facial features into the cookies as soon as they come out of the oven and before they have a chance to set. Also have your eyes, noses, and antlers ready before you start baking so you aren't scrambling when the cookies come out of the oven.
Ingredients
1/2 cup (1 stick or 113g) unsalted Butter , at room temp.
3/4 cup (195g) creamy Peanut Butter
1/2 cup (110g) packed Brown Sugar
1 Egg
1 teaspoon (5ml) Vanilla Extract
1 1/4 cups (155g) Flour
1 teaspoon (5g) Baking Powder
1/2 teaspoon (3g) Salt
24 M&M's for the noses, we used the peanut ones
48 Dark Chocolate Chips for the eyes
24 Pretzel Pieces for the antlers
Instructions
Preheat oven to 375°F. Line baking sheet pans with parchment paper.

In a mixer with a beater blade, mix together butter, peanut butter, and brown sugar until fluffy. Reduce speed to medium and mix in egg and vanilla extract.

In another bowl, whisk together flour, baking powder and salt for 20 seconds. Stir into peanut butter mixture until combined.

Roll dough into 1 1/2" balls and place on lined sheet pan 2" apart. Flatten the balls slightly.

Bake for 8-10 minutes or until edges are just lightly browned. Immediately place eyes, noses, and antlers into cookies. Allow to cool for 5 minutes, then transfer to a wire rack to finish cooling.
Nutrition Information per Serving
Calories: 143kcal, Carbohydrates: 13g, Protein: 3g, Fat: 9g, Saturated Fat: 4g, Trans Fat: 1g, Cholesterol: 17mg, Sodium: 117mg, Potassium: 83mg, Fiber: 1g, Sugar: 7g, Vitamin A: 131IU, Vitamin C: 1mg, Calcium: 28mg, Iron: 1mg
We are a participant in the Amazon Services LLC Associates Program, an affiliate advertising program designed to provide a means for us to earn fees by linking to Amazon.com and affiliated sites.