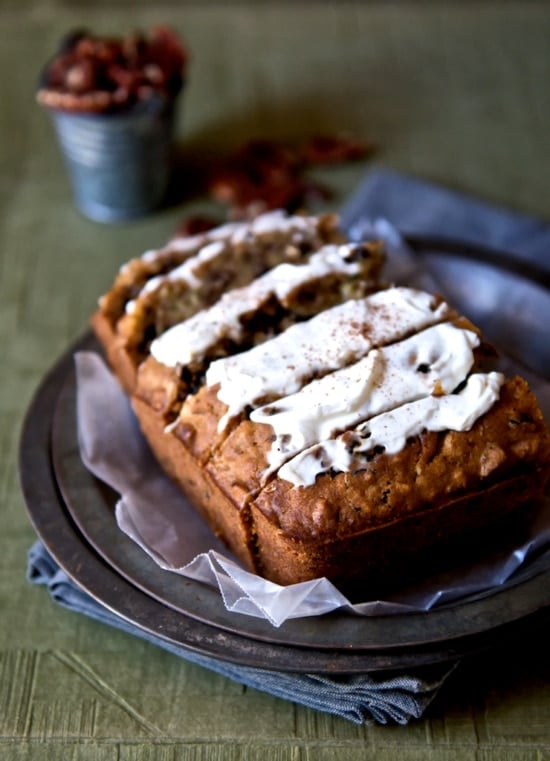 As the air has a dry, cool feel, nights have become chilly, the  southern California signs of autumn are filling our every breath.  However, the garden still has summer bounty to enjoy and our long growing season is still gifting us wonderful zucchini.
Even though it is lovingly homegrown and picked just moments before being prepared, it is getting late in the year for our zucchini.  They don't have that tight crispness and the seeds are getting bigger and a bit obtrusive for many dishes utilizing zucchini.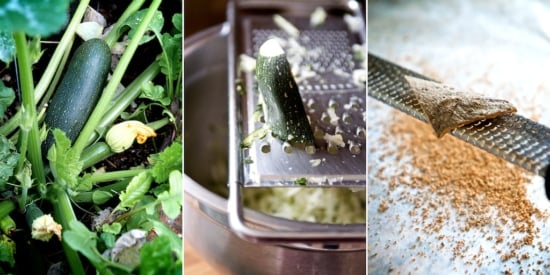 What to do?  Zucchini bread of course.  Although most of you had already guessed this since you read the post title.  Is there any better way to use up a tired veggie than make a quick bread out of it?  Hell, half the time you don't even know there is a vegetable in the bread.
There is the added bonus for me, in that baking it also one of my favorite ways to warm up the kitchen.  In the cool morning air, the siren's call of the oven is overwhelming.  It's worth getting up early to feel the oven gently warming the home from its kitchen heartbeat and then to have the sweet smell of the quick breads intoxicating the air. As I made and drank my cappuccino amongst such sweetness, accompanied by my love and pups, the feeling of perfect contentment filled my soul.
This recipe was initially based off of a recipe from the "Too Many Tomatoes, Squash, Beans, and Other Good Things" cookbook.  Every gardener should have this cookbook on their shelves. Countless times some of my favorite veggie recipes began from this book, then I  would tweak it here and there to my own personal preference.
For the little additions to the zucchini bread, we used what we happen to have in the cupboard, but feel free to substitute your favorite dried fruits, nuts, chocolate chips, or any other add-on you like.  We've topped this one with a cream cheese/sour cream frosting, but the zucchini bread is excellent without the frosting.  You are the one going to eat it.  Make the recipe to your own taste. 😉
-Todd
Zucchini Bread w/ Cream Cheese Frosting
Yield: 1 Loaf
Total Time: 1 hour
Ingredients:
Zucchini Bread
2 c grated Zucchini (if seeds are too big, you can scoop them out before grating)
2/3 c (150ml) Vegetable Oil
1/2 c (100g) Granulated Sugar
1/2 c (80g) Golden Brown Sugar
2 Eggs, beaten
2 c  (240g) Flour
1 t (5g) Baking Powder
3/4 t (3g) Baking Soda
3/4 t (3g) Sea Salt
1 t (5g) Cinnamon, freshly grated if possible
1" Fresh Ginger, grated
3/4 c (110g) Dried Currants, or whatever dried fruit you want-raisins, blueberries, strawberries, etc
3/4 c (90g) Pecans, chopped
Dark Rum or Kahlua (enough to to cover currants)
Cream Cheese/Sour Cream Frosting
4 oz (113g) Cream Cheese, at room temp.
4 T(60ml) Sour Cream
4 T (30g) Powdered Sugar
1/2 t (2.5ml) Dark Rum
1/2 t (3g) Cinnamon, preferably freshly grated
Directions:
Preheat oven to 350°F
Begin by macerating the currants in the dark rum. By the time everything else is mixed, they will have plumped up enough to use. Grease a 9.25" x 5.25" bread pan and set aside.
Grate zucchini into a large bowl.  Add vegetable oil, sugars, and beaten egg and mix until well combined.
Put flour, baking powder, and baking soda into a sifter, then sift into the zucchini mix.  Add sea salt, cinnamon, and ginger then gently stir until just combined. -Do Not Over-mix.
Drain currants, then add the currants and pecans to the zucchini mix and stir a couple times until it is just mixed.
Pour into greased bread pan, place on a baking sheet and put in oven.  Bake for approx. 45 min., or until a tester toothpick comes out clean. (If top starts to brown too much, place sheet of aluminum foil over the loaf to protect it.)
Remove from oven and allow to cool a bit.
Make Frosting
Whisk all ingredients until well combined and smooth.  Frost at will.
Feel free to adjust to your own taste.  This is made to be not too sweet, and to compliment the ingredients in the Zucchini bread, however if you'd like it sweeter, up the powdered sugar.  Lemon zest would be another good addition.
Hello! All images & content are copyright protected. Please do not use our images without prior permission and do not re-publish this recipe. Simply link back to this post for the recipe. Thank you.
Recipe Note for Salt: All recipes containing salt are based on kosher or sea salt amounts, not table salt. If using table salt, reduce the amount used to taste.
[ad]