Roasted Strawberry Whole Wheat Muffins – Dedicated to Dante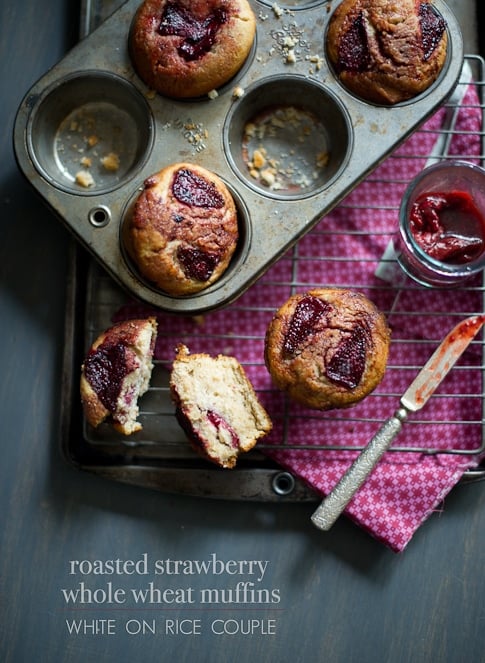 It's hard to not think of Dante when I look at the strawberry patch. The ruby red berries are still dangling from their lengthy stems, begging to be plucked. Normally this is the time of year Dante and Sierra both would scour every inch of the patch for sweet berries. And this was the time of year that we'd share the fruit with not just our beloved dogs, but with the other garden critters and hungry, pecking visitors.
Dante was a strawberry lover and in fact, a lover of all foods. Sierra, on the other hand, is much more timid about approaching strange food, particularly anything green or in the vegetative state. But she trusted her big brother Dante and if he ate the strawberries with abandon, then it was good enough for her to copy him.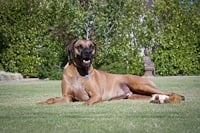 Nearly every morning before breakfast Dante would wander over to the strawberries. Sierra would follow him to the patch and watch him carefully pluck, then inhale the brightest red ones. Then she would cautiously follow suit, but plucking the small ones first, with caution to make sure it wasn't a chili pepper.
We'd find the patch stripped of anything red and then we'd loudly complain about never getting to eat enough garden strawberries. Though deep inside, we always laughed it off because we thought it was so cute that Dante and Sierra would beat us to the berries. There are advantages to waking up early. We'd rather have them eat the fruit.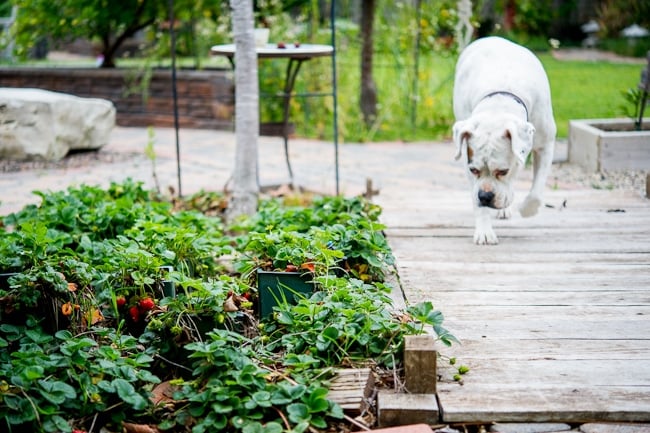 Sierra, heading to the strawberry patch
This April, there is an abundance of red fruit on the vines. Sierra doesn't have Dante with her to give guidance knowing which one is worth eating. She doesn't have her big brother to follow around and watch, follow and mimic. She always did whatever he did, even if it scared her. Now, she walks over to the patch alone, staring at the fruit and waiting for Todd or I to hand feed her a berry.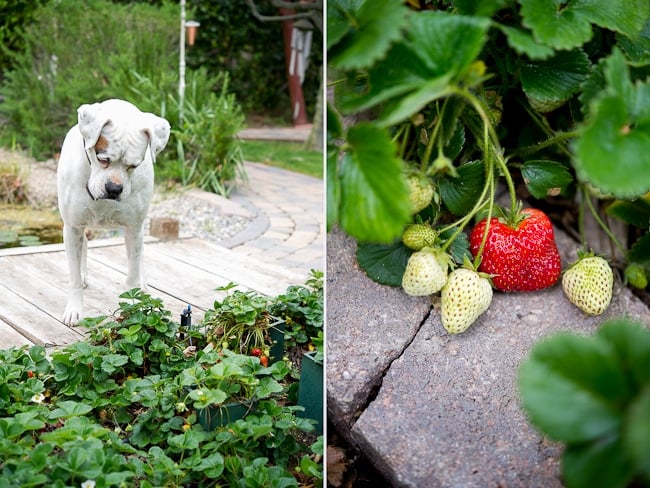 Since Dante was lost to cancer last May, we still haven't gotten used to having so many ripe strawberries from the garden. I feel like I want to save them to ripen on the vines and to let the dogs get to them first. But staring at all this fruit isn't going to bring Dante back.
All the fruit staring back at me reminds me to celebrate him and this wonderful season of Spring where new life starts to awaken in the garden. The fruit needs to be eaten because thats what Dante would have wanted and done himself.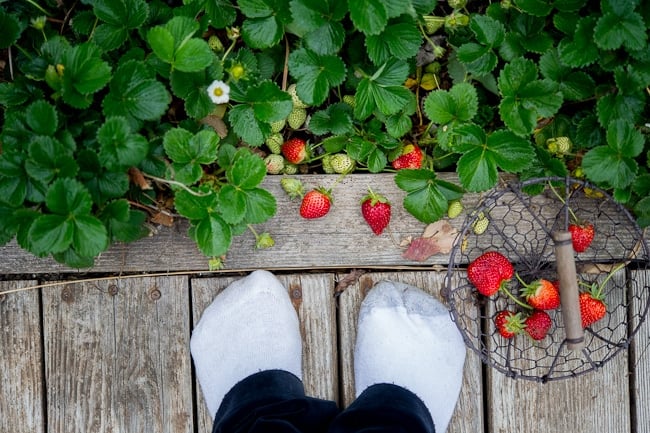 So, I asked Todd to make some roasted strawberries and add them to my favorite whole wheat muffins. I know Dante would have loved to have one of those, warm out of the oven. I wanted a big batch of muffins with lots and lots and lots of roasted strawberries. I wanted each muffin to be bursting with roasted strawberries. What the garden didn't have enough of, we'll head out to the local farm stand to get more strawberries.
I'm a lucky girl like that, where I can ask my guy to make me muffins and within the hour he'll dedicate the first hot batch to me with an embrace.
And I'm a lucky girl because I was able to have the joy of raising my very first puppy together with Todd.
Raising our first puppy together is like raising our first baby. And anyone who has ever had a pet to love and nourish would understand both my pain and joy to have loved than to have never loved at all.
Dante, these muffins are for you. Actually, two of them. I would have snuck you two muffins.
Enjoy your Spring,
diane
Cooking Method & Notes: 
i love whole wheat muffins & roasted strawberries make them extra special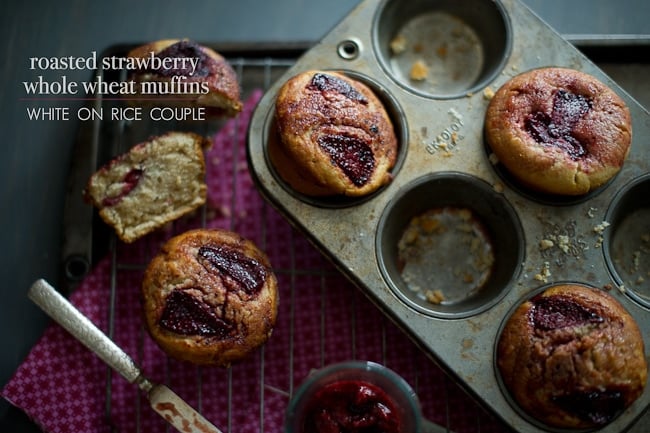 start with plump, ripe strawberries. And lots of them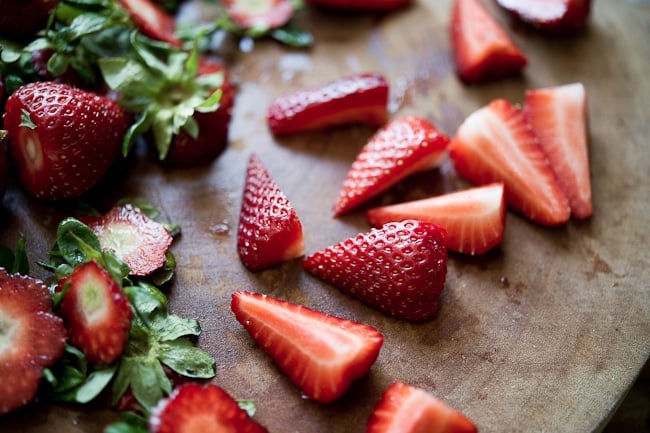 slice them to bite size pieces or size them to your bite (hope that makes sense) 
toss with olive oil, light touch of balsamic vinegar, honey, sea salt, black pepper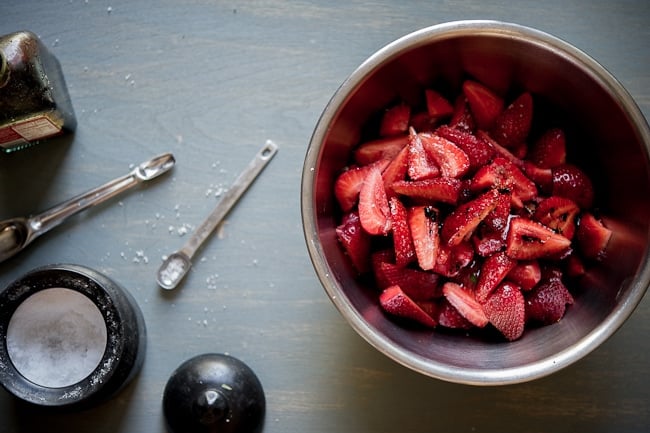 toss them again on a baking sheet. Ready. Set. Roast.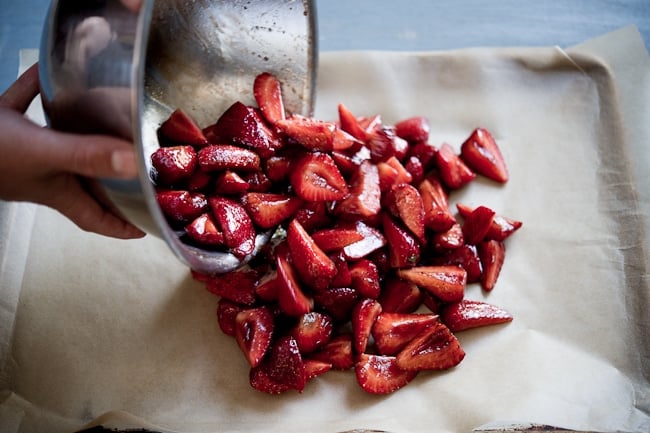 can you smell these? the scent of roasted strawberries is magical.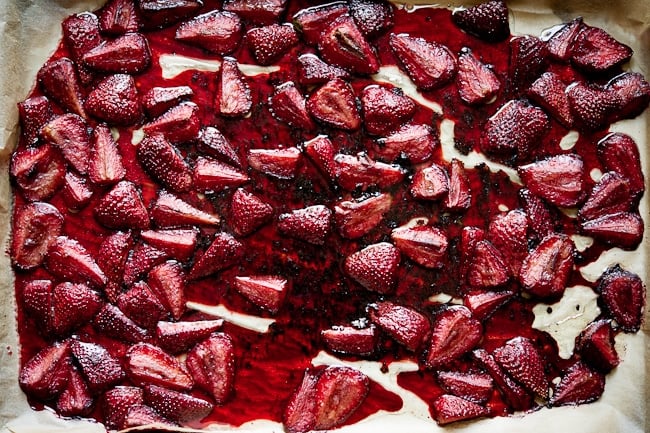 Dante would have loved to licked the juicy pan. I would have let him.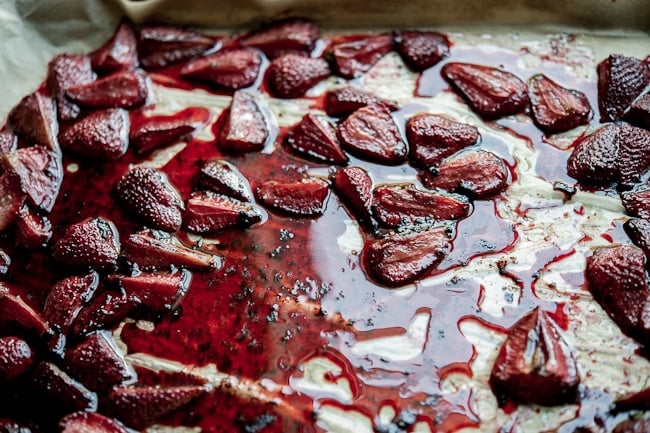 fill half way, then add a layer of roasted strawberries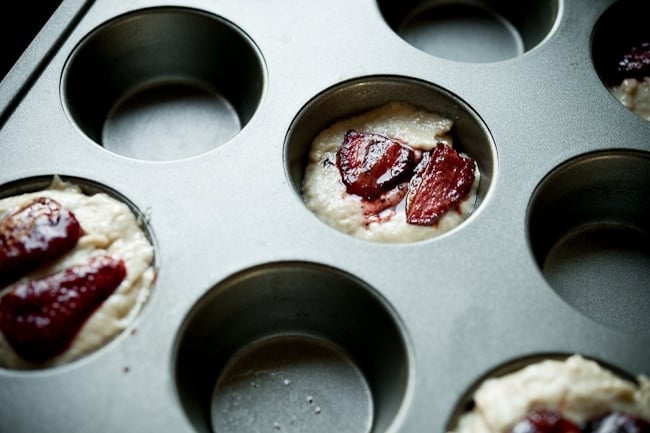 then top off with batter and add more strawberries on top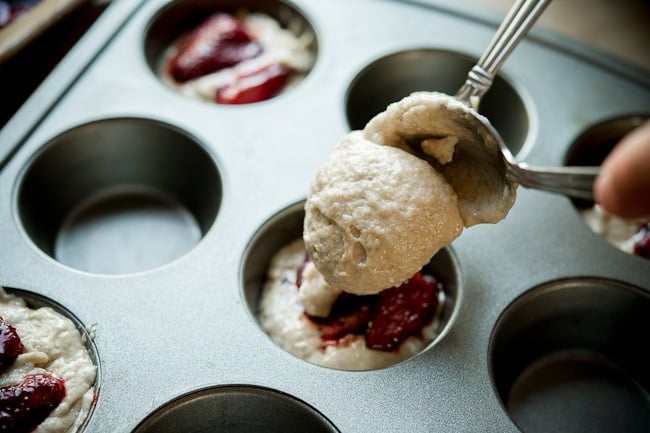 the yummy strawberry juices can get messy. Use a spoon….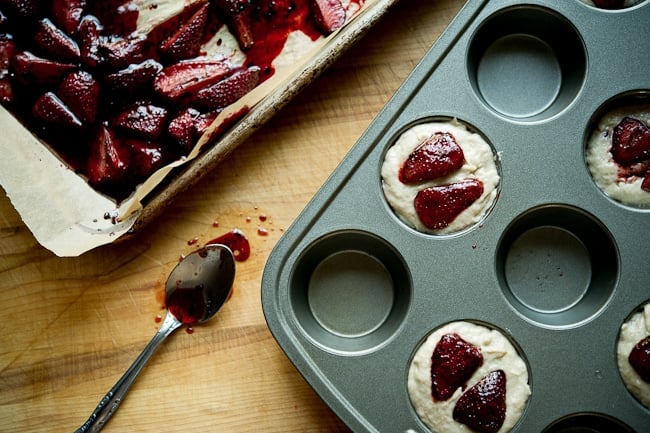 …. or use your fingers. Make sure to lick them afterwards! fun.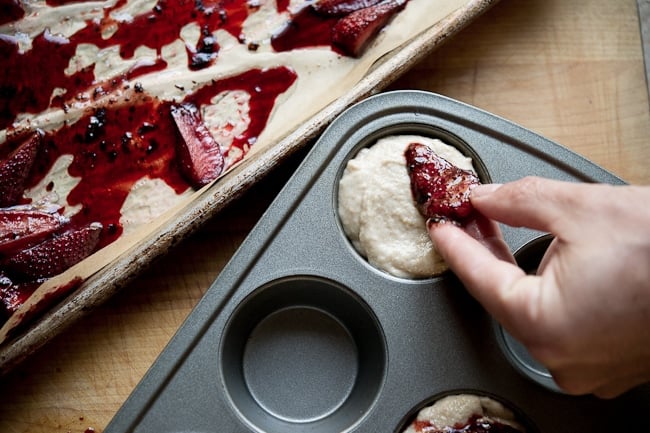 after baking, brush on some of the roasted juices as a glaze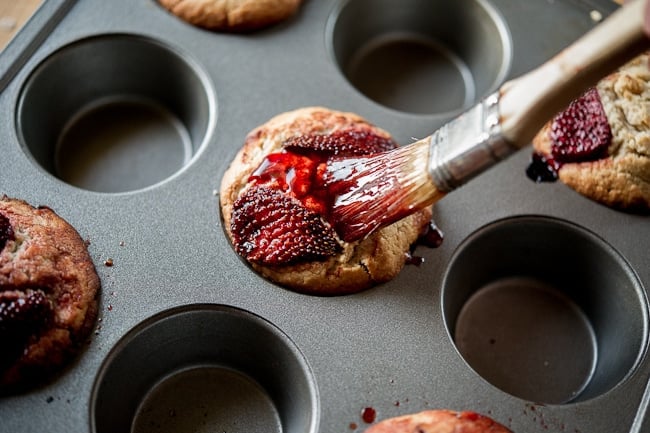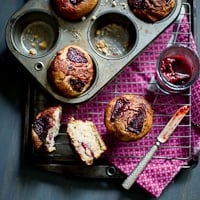 Print Recipe
Roasted Strawberry Whole Wheat Muffins
The oat and whole wheat flour adds an extra heartiness to the muffins. Another dimension to the flavor and texture.
Servings: 9 Muffins
Ingredients
Roasted Balsamic Strawberries
1 lb fresh Strawberries , hulled
1 T Honey
2 T Grape Seed Oil
1 T Balsamic Vinegar
1/2 t Sea Salt
(optional) 1 T Port
Muffin Ingredients
1 c (100g) Oat Flour
3/4 c (100g) All-Purpose Flour, unbleached
1/2 c (60g) Whole Wheat Flour
1/4 c (55 g) Sugar
1/2 c (110g) Golden Brown Sugar
2 t (9g) Baking Powder
1 t (4g) Sea Salt or Kosher Salt
2 T (30g) unsalted Butter
1/2 c Canola or Grape Seed Oil
1/2 c Sour Cream
1 Egg
1 t Vanilla Extract
1/2 c Heavy Whipping Cream
Instructions
Roasted Balsamic Directions
Preheat oven to 350º F. Line sheet pan with parchment paper.

Cut smaller strawberries in half, larger strawberries in quarter.

Combine strawberries, honey, oil, balsamic vinegar, salt, and port in a medium bowl. Gently mix until strawberries are evenly coated.

Spread strawberries evenly onto the prepared sheet pan. Bake until juices just begin to thicken,  40-50 minutes. After cooled, gently pick up strawberries and place in a small bowl. Reserve juices in another small bowl.

Use immediately or store in the fridge for up to one week.
Muffin Directions
Preheat oven to 425º F. If you have a baking stone, place stone on lower third shelf. Butter and flour 9 muffin tin cups.

Combine flours, sugars, baking powder, and salt in a large bowl. Whisk for at least 30 seconds to thoroughly blend.

Melt butter in a small saucepan and cook on medium-low heat until gently browned.

In a medium bowl, whisk together oil, browned butter, sour cream, egg, and vanilla extract. Whisk until well combined.

Make a well in the center of the dry ingredients. Pour oil mixture into the well and stir until just combined.

In a medium bowl, whip heavy cream to soft peaks. Fold whipped cream into batter.

Using two large soup spoons or an ice cream scoop, fill the nine prepared muffin cups half way with batter. Lay 2-3 roasted strawberries over the batter. Fill muffin cups nearly to the top.

Lay 2-3 slices of roasted strawberries on top of muffins. Gently press into batter.

Reduce oven temperature to 400º F. Open door and leave open for 10 seconds then place muffin tin on baking stone or lower third shelf.

Bake for 20-25 minutes, or until a toothpick comes out clean when inserting into middle of muffins.

Poke several holes in tops of each muffin with a toothpick. Brush muffins with reserved roasted strawberry juices.

Gently loosen top edges of muffins and twist each muffin out. Lay them on their side in the muffin cups to cool. Best eaten same day.
We are a participant in the Amazon Services LLC Associates Program, an affiliate advertising program designed to provide a means for us to earn fees by linking to Amazon.com and affiliated sites.