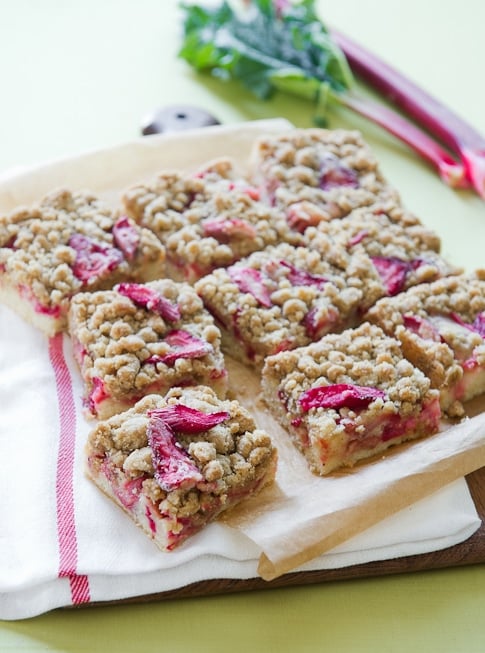 Spring Fling is here and were celebrating Spring's bounty with Deb, Editor of Food Network, Margaret of Away to Garden, Jaden Hair of Steamy Kitchen,  Matt Armendariz of Matt Bites, Shauna of Gluten Free Girl, Gaby of What's Gaby Cooking and Nicole of Pinch My Salt.
This week's theme is rhubarb and to participate, just share your rhubarb recipe link in our blog on the comments below, as well as the blogs of all our participating friends!
The world needs more rhubarb dishes. It's fun to say.  You can freak people out by telling them the leaves are poisonous. It looks like a funky red celery stalk. It magically transforms when cooked from firm and crispy to melting-ly soft and it has an amazing sweet-tart tang.
Here in Southern California, it seems like we hardly ever see anyone using rhubarb. You'll find the few tired stalks in the grocery produce section, and the better farmers' markets will always have a farmer or two with their freshly hacked red canes, but I can't remember the last time I saw rhubarb on a restaurant dessert list or in a bakery's selection. Maybe we just aren't hitting the right places.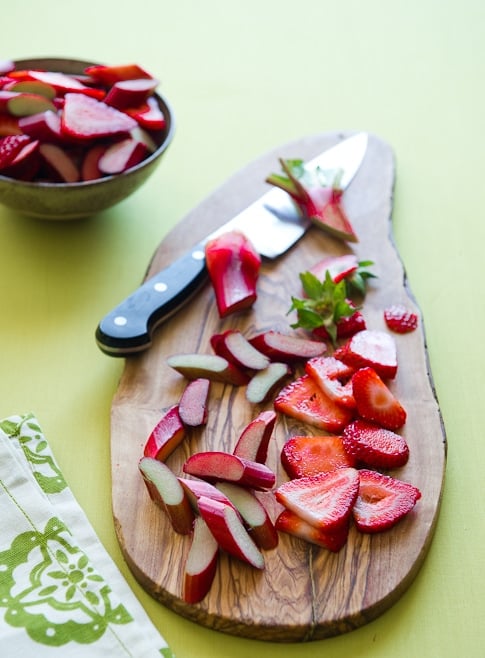 Yet despite it's So Cal scarcity, anytime we make something with rhubarb when we have guests over, they go nuts.  All the sudden it becomes Prairie Home Companion time and everyone starts recalling tales of their youth and home town stories. "I haven't had rhubarb in forever! Reminds me of back when…"
Maybe it is a good thing we don't get spoiled with regular rhubarb delights. It's kind of nice having an ingredient remind us of our innocent years. It takes me back to the house of one of Dad's cutting horse buddies (who was also our Jr. High P.E. teacher) and the evenings spent there where us kids tried to play pool while the adults gabbed about boring adult stuff, and all summer long there was almost always a rhubarb pie perched on the counter top. Regular Norman Rockwell times.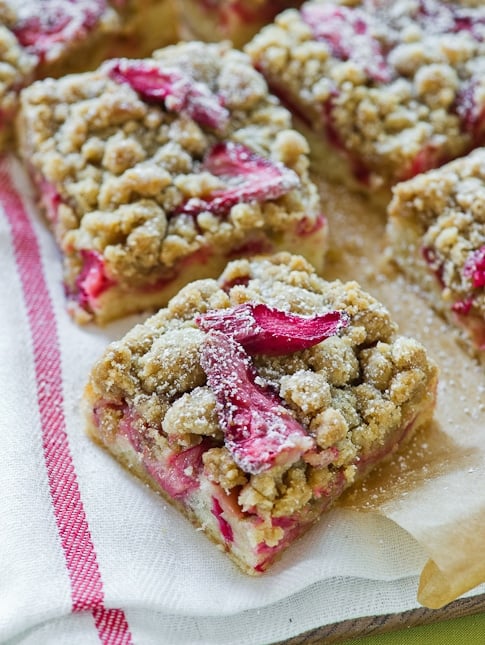 In preparing for this dish, I was determined to avoid the cliche of the rhubarb-strawberry pairing.  "Sure they are fantastic together, but it's… too cliche," I kept protesting in my head. However one of our photo gigs this past week was to shoot a local strawberry farm for Whole Foods, and the berries were sooooo good. So Cal rocks the strawberry fields, and when they are in season, it is hard to get them out of your head.
My no-strawberry will power lasted until literally a hour before I had time to make the crumb bars to shoot. But that last trip to the market to get eggs gave me just enough of an excuse to deviate over to a nearby farmer's stand and get a 3-pack of juicy, sweet gorgeous strawberries.
So this bar recipe is now a Strawberry-Rhubarb Crumb Bar recipe. If you have more will power than I, just double the rhubarb and leave out the strawberries.  You can always save the pardoned strawberries for Strawberry Mojitos.
These bars are rhubarb rock stars. The base batter bakes into a wonderful soft, moist cake. The next layer is  the sweet-tart dynamic duo of the strawberries and rhubarb which have baked down to a tender tang. Then everything is finished off with a brown sugar streusel topping.  If you really want to go crazy, whip up a batch of fresh whipped cream and top the bars with a little heaven. Mamma.
-Todd
Step by Step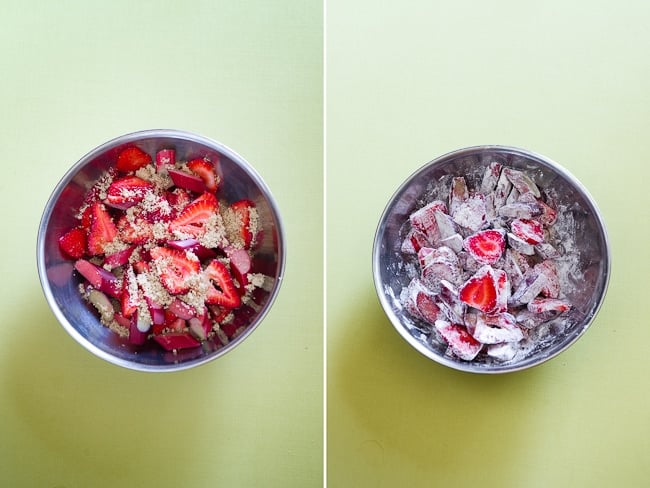 coat rhubarb & strawberries w/ brown sugar,  flour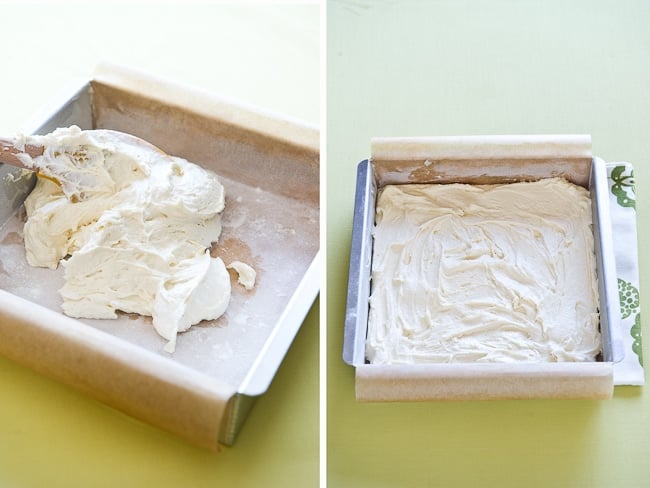 spread batter in bottom of pan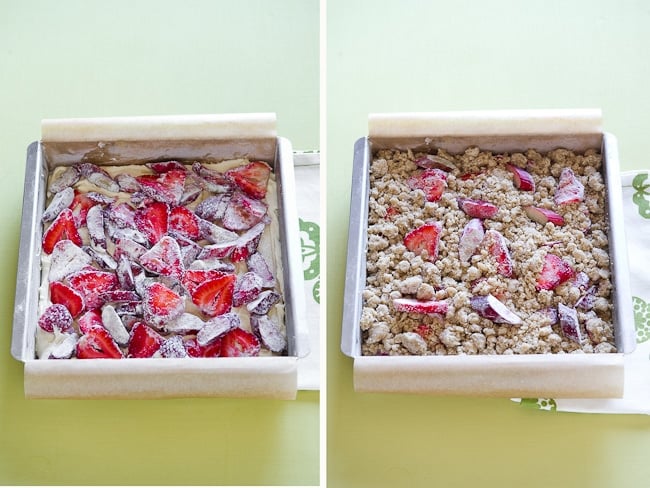 layer rhubarb, strawberry mix, then add streusel topping then bake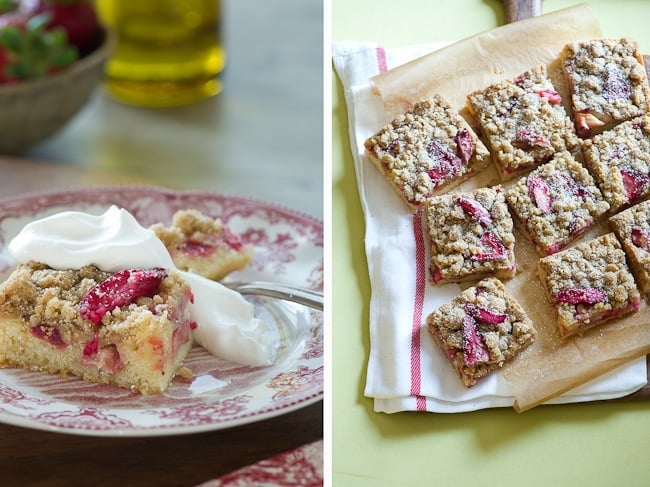 add big dollop of whipped cream to celebrate rhubarb!
Our friends this week sharing their favorite Rhubarb recipes!
Strawberry-Rhubarb Crumb Bar Recipe
Yield: Serves 16.
Total Time: 1 hour 20 minutes
Ingredients:
For the Streusel
1/2 c (115g) unsalted Butter, melted, plus room-temperature butter for pan
3/4 c (160g) packed Golden Brown Sugar
1/4 t (2g) Sea Salt or Kosher Salt
1 1/4 c (160g) all-purpose Flour, plus more for pan
For the Bars
1/2 lb (225g) Rhubarb, cut into 1/2" pieces
1/2 lb (225g) fresh Strawberries, hulled and sliced 1/4" thick
1 1/2 T (15g) Golden Brown Sugar
1 1/3 c (200g) all-purpose Flour
3/4 t (3g) Baking Powder
1/2 t (3g) Sea Salt or Kosher Salt
3/4 c (170g) unsalted Butter, room temperature
1 1/4 c (140g) Confectioners' Sugar
2 large Eggs, beaten
3/4 t (3ml) pure Vanilla Extract
Whipped Cream Topping
(optional)
1 c (240ml) Whipped Cream
1 T (9 g) Confectioners' Sugar
1 t (5ml) pure Vanilla Extract
confectioners' sugar for dusting the top
Directions:
Preheat oven to 350° F. Line a 9" square baking pan with parchment paper, leaving a 2" overhang on two sides (use a swipe of butter on edges of pan to help keep parchment flush with pan. Butter and flour parchment and pan, tapping out excess flour.

Make Streusel

Whisk together butter, brown sugar, and salt. Add flour and mix together using a fork or your fingers to create large crumbs. Refrigerate until ready to use.

Make Cake

In a medium bowl, combine rhubarb, strawberries, brown sugar, and 1/3 c (50g) of flour. Sift or whisk together remaining flour, baking powder, and salt, then set aside.
In a mixer, beat butter and confectioners' sugar until light and fluffy. Slowly add eggs and vanilla extract. Stir in flour mix until just incorporated.
Spread batter in prepared pan, top with rhubarb/strawberry mix then top with streusel topping.
Bake 50-55 minutes or until golden and a toothpick comes out clean. Let cool in pan, then remove from pan using the overhanging parchment tabs.
While bars bake, whisk together whipped cream, confectioners' sugar, and vanilla extract to firm peaks. Set aside in refrigerator until ready to serve.
Slice bars to preferred size, dust with confectioners' sugar and serve or top with whipped cream and serve.
Hello! All images & content are copyright protected. Please do not use our images without prior permission and do not re-publish this recipe. Simply link back to this post for the recipe. Thank you.
Recipe Note for Salt: All recipes containing salt are based on kosher or sea salt amounts, not table salt. If using table salt, reduce the amount used to taste.
[ad]