Pomegranate Margarita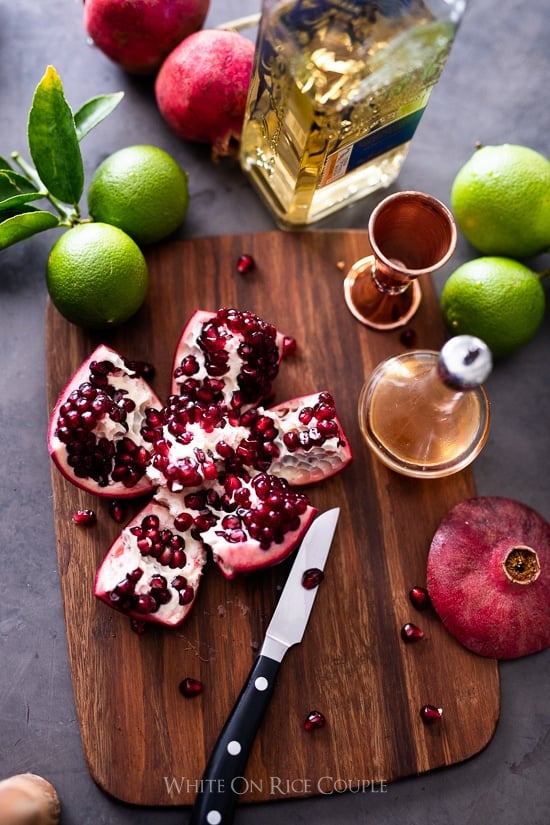 How many versions of margarita recipes do we have? Oh, more than we can count on one hand so it's pretty obvious we're obsessed.  Our favorite is always the classic margarita, but we've been known to dive into other citrus variations. With over forty fruit trees, it's hard to not play with different fruits in our mixes. Besides, it's fun, refreshing and there's always an occasion for a seasonal margarita.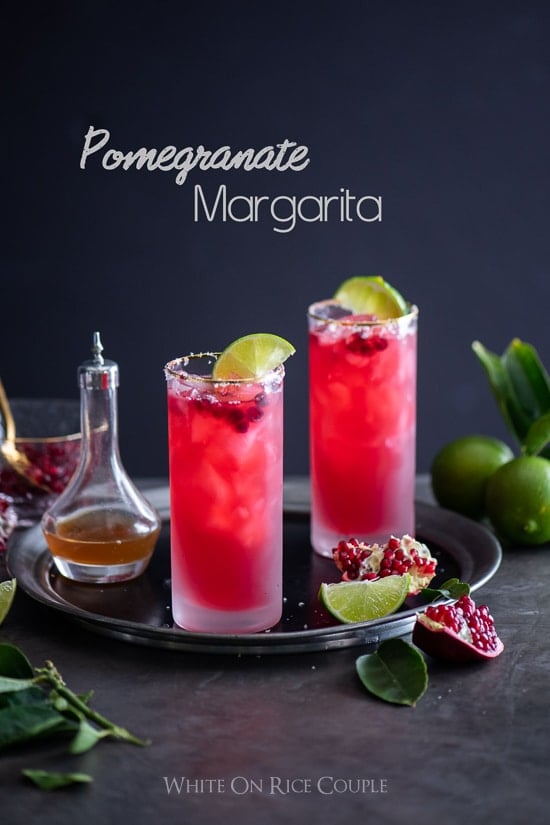 Tis' the season for pomegranates. Though our pomegranate tree had more leaves than fruit this year, we're still drinking what we can. When it comes to Fall, Winter and New Years pomegranate cocktails are always a delicious pleasure to sip. They're visually stunning too and the red hues are perfect for this time year.
Video: Refreshing Pomegranate Margarita Recipe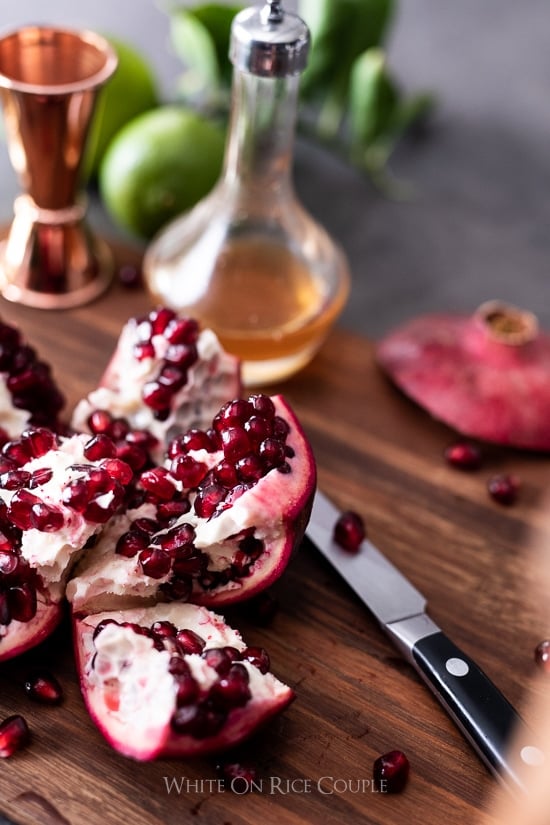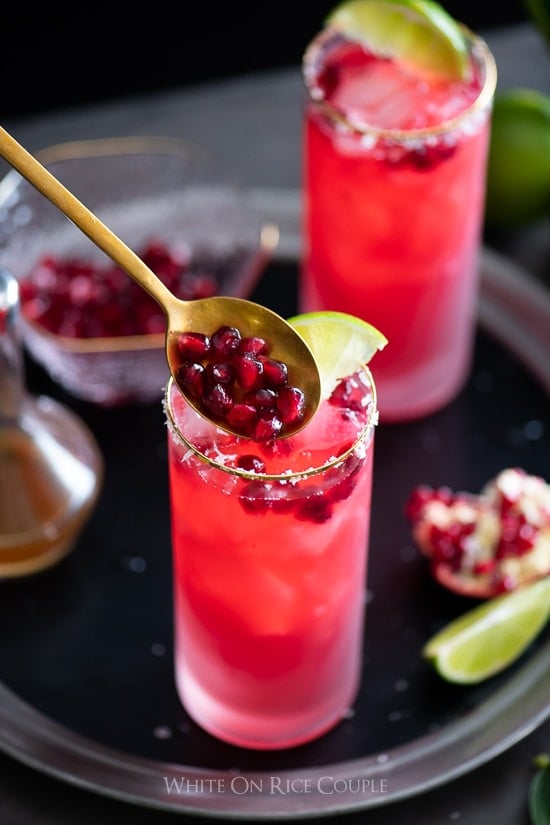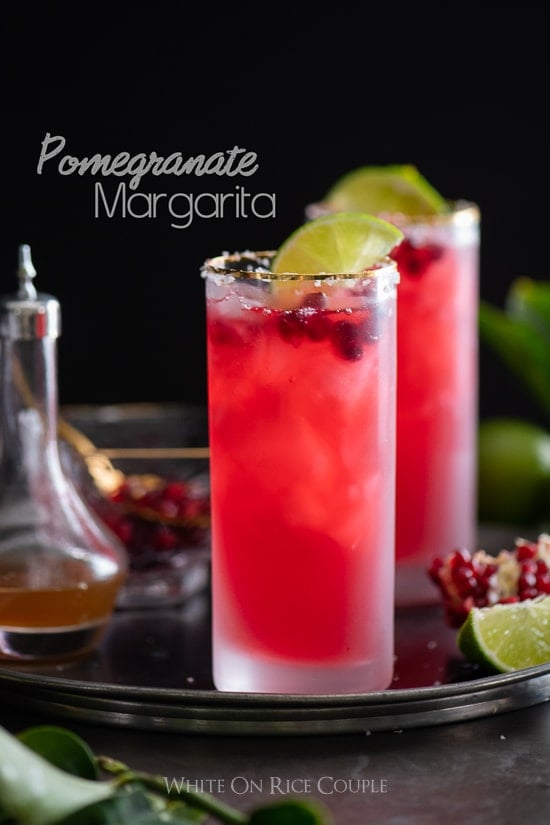 The tart and bright flavors of muddles pomegranate arils lends wonderfully to margaritas. The flavor pomegranate juice pairs wonderfully with the lime-infused tequila. There's layers, delicious flavors and perfect colors to make any gathering festive and fun. Give it a try and wow your guests with a platter of these beauties. Hope you enjoy these pomegranate margaritas as much as we do!
Enjoy,
diane and todd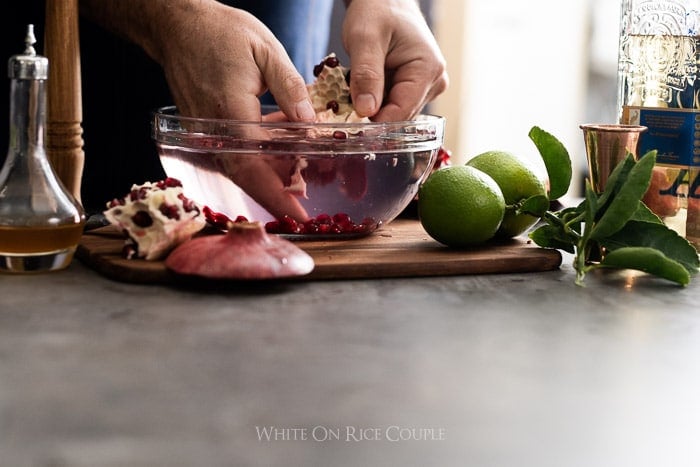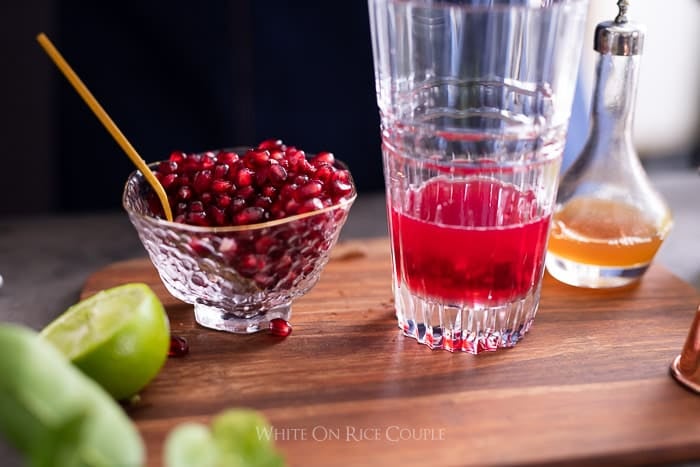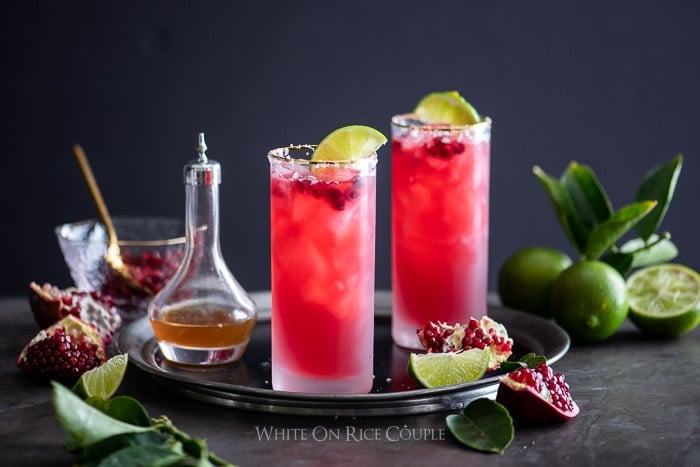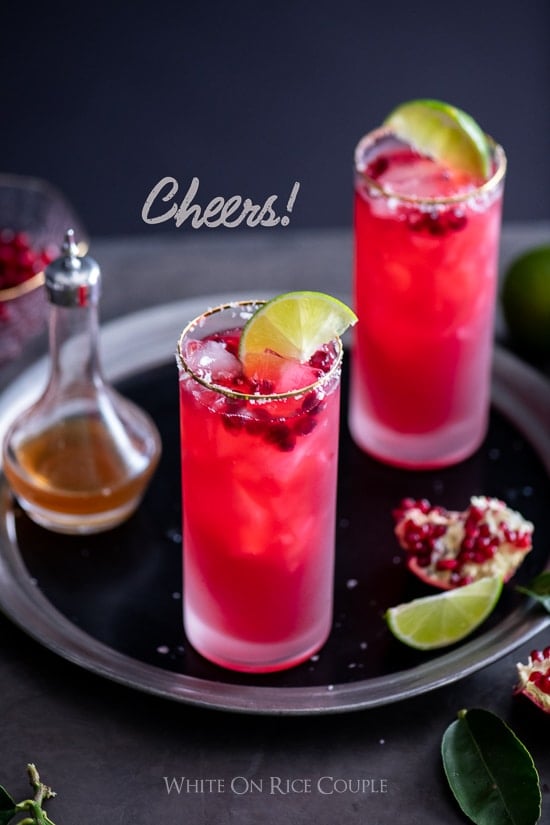 Check out our Cocktail Recipes Here and our Complete Whiskey Guide.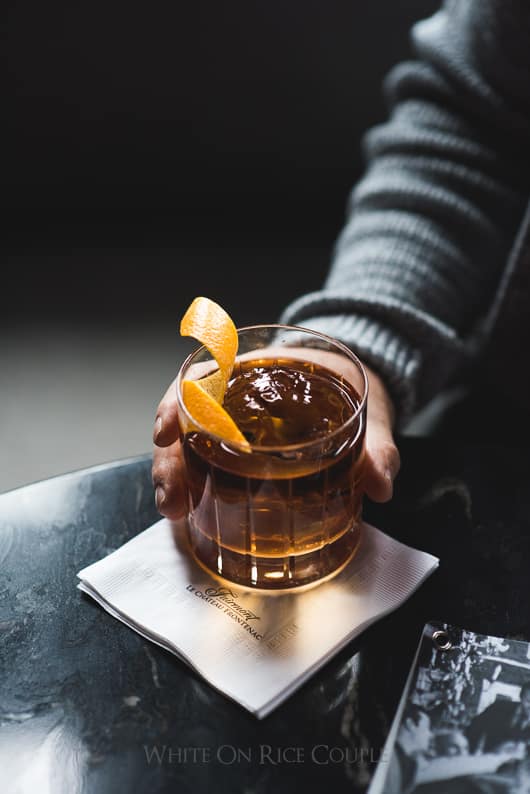 This recipe was originally published in 2018 and was updated in 2019.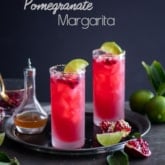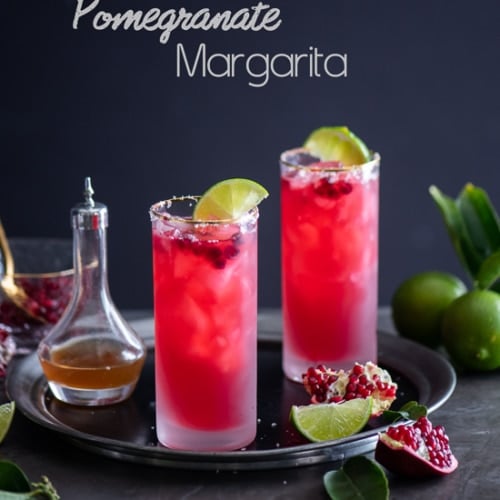 Pomegranate margarita
Some pomegranates will be more tart or more sweet than others, so adjust the amount of simple syrup to your preference and to balance the pomegranate flavor.
Ingredients
2 tablespoons pomegranate seeds
1 1/2 ounces tequila
1 ounce fresh lime juice
1 ounce simple syrup
Several dashes orange bitters
flaky salt or Kosher salt , for rimming the glass (optional)
Directions
If desired, rub the rim of your cocktail glass (our preferred glass for this cocktail is a tom collins/highball glass) with an edge of a lime slice and then salt the rim with kosher or other flaky salt. Add ice to the glass.

In a cocktail shaker, muddle the pomegranate seeds to release their juices. Add the tequila, lime juice, simple syrup, orange bitters and ice.

Shake vigorously, then strain into the prepped cocktail glass. Garnish with additional pomegranate seeds and lime slice if desired. Serve or drink immediately and with leisure.
Recipe Notes
Note 1: Simple syrup is a 1:1 ratio of sugar and water. One cup sugar dissolved in one cup of water. This can always be modified for preferred taste, but this is a good starting point.  
Did you make this recipe?
Let us know what you think!
Leave a Comment or share a photo on Instagram with the hashtag #whiteonricecouple.
Ever wonder how to seed a pomegranate without making it look like a murder seen? Our tutorial here.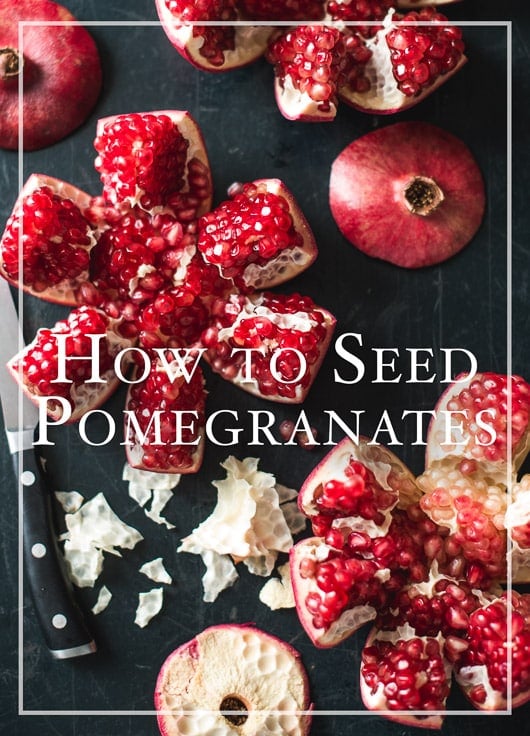 Watch How to Seed a Pomegranate without Looking Like a Murder Scene:
Check out our Cocktail Recipes Here and our Complete Whiskey Guide.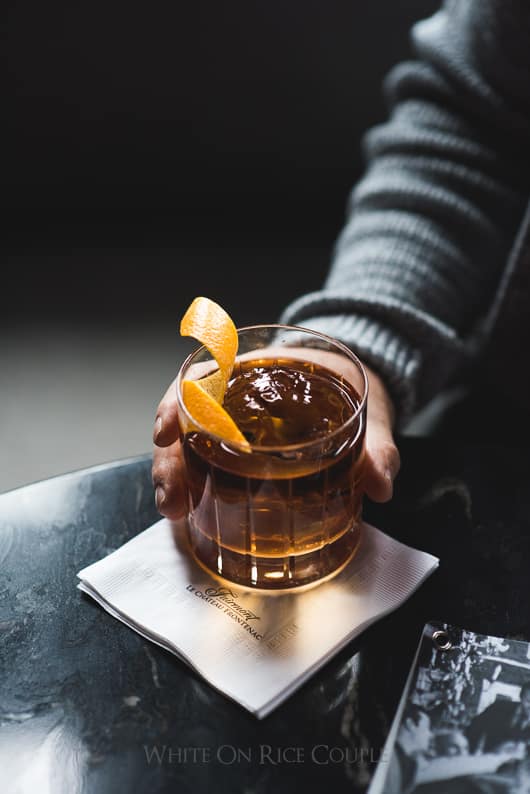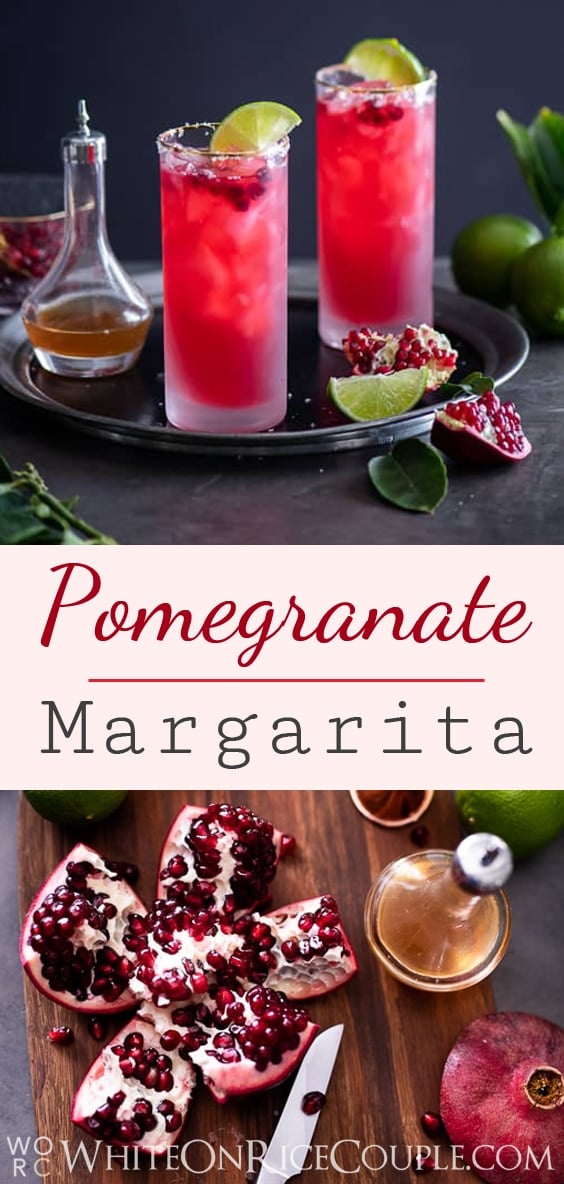 Here's more great pomegranate recipes 
We are a participant in the Amazon Services LLC Associates Program, an affiliate advertising program designed to provide a means for us to earn fees by linking to Amazon.com and affiliated sites.