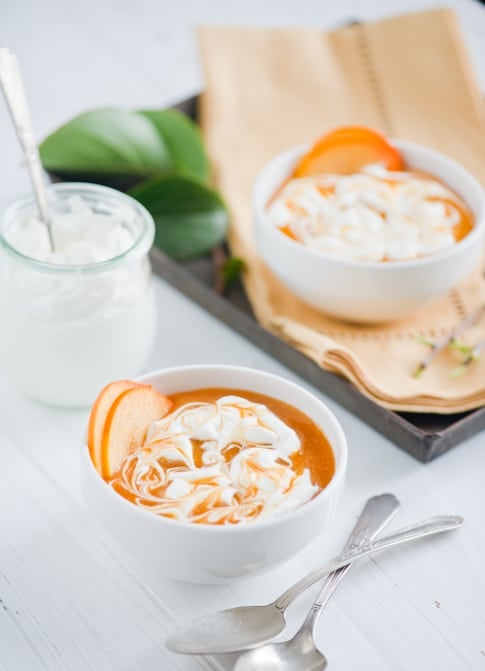 Fall Fest is a continuation of Summer Fest, a cross-blog recipe (and tip) swap. These events were started by Margaret Roach of Away to Gardenand Deb Puchalla of Food Network. Previous themes were Spinach,  Apples, Fall Salads and Pumpkin/Squash. For this week, it's all about the Mad Stash, from canning and preserving to the last minute harvests of the season.
Join and share yourblog write ups. Just post your link or recipe or idea in the comments below this post, and also share on the blogs of the other participants who are co-hosting as well.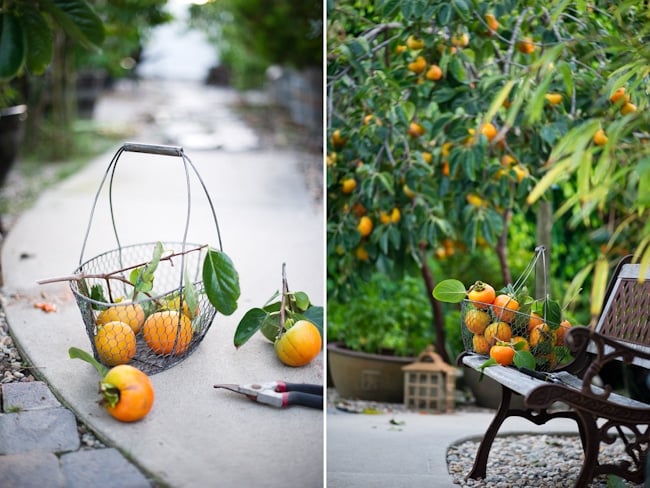 It's raining giant fuyu persimmons! and we need some serious help to consume all these clusters of sweet fruit (and not from the squirrels and crows, thank-you-very-much!)
Our garden mad stashes come at various times throughout the growing season and that means a combination of preserving, canning and giving away garden goodies to friends, neighbors and the mailman. When certain fruits like plums, tomatoes and persimmons start to ripen, it's like an all out assault of ripe fruit. There's just no way to eat it all ourselves.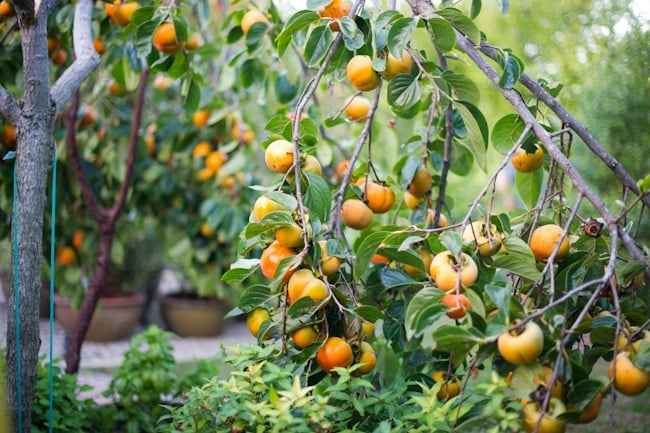 This is our best year ever for persimmons and finally, this tree has found it's sweet spot in the ground. For the last few years, all the flowers and fruit would fall before anything could mature and we were moaning at the fact that if we were lucky, we'd have 5 persimmons left to ripen and eat.
Last year we finally figured it out, stopped planting our summer herbs directly in the ground above the persimmon's roots, and we began planting them in pots with the persimmon's roots covered with landscape fabric and river rock. All the pots have drip lines watering them, giving everything slow, regular water. The persimmon was happy. Last year the fruit held well, giving us a nice little harvest.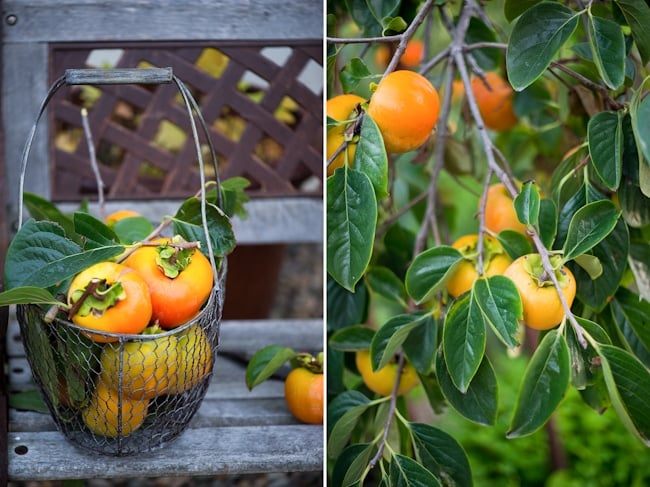 However, this year it appears as though the persimmon tree roots found a secret cache of crack because we're now overloaded with more fruit than we can ever imagine. Even with most of the branches supported with stakes to help hold all of the weight, we still had a son-of-a-bitch moment when one of our main branches snapped under the weight of the orange orbs. Now comes the planning of what to do with it all.
One of the easiest desserts for our persimmons is to make a Persimmon Fool.  What's a fool? That's one hell of  a loaded question, but in culinary terms  it is a fruit puree folded with whipped cream.  Simple and delicious.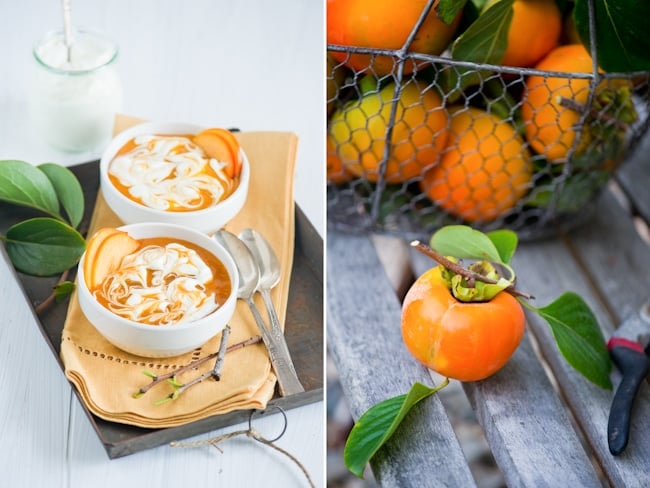 Although it easy to think the name "fool" comes from these dessert being so easy to make that even a fool could make them.  Mr. T has no need to feel pity, 'cause even the fool can make a fool.  But the name actually come from the french verb fouler meaning to press or crush (referring to the fruit being crushed or pureed).
As is our habit, we make this dessert with adults and deliquents in mind, adding a noticeable amount of alcohol to the persimmon puree. If that's not your thing or aren't ready to corrupt your kids, feel free to leave it out and add a touch of vanilla extract.
Happy fall feasting!
-Todd and Diane
Sierra protecting the persimmons from possums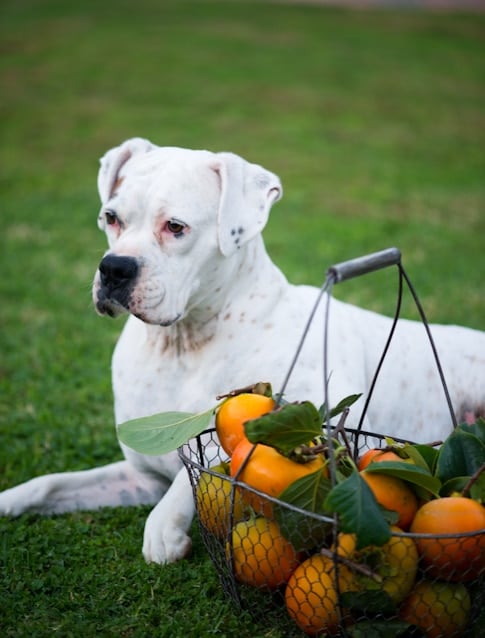 More Mad Stash posts from our friends:
Persimmon Fool w/ Dark Rum Recipe
Yield: 2 Servings
Total Time: 10 Minutes
(especially with so many persimmons to eat up), but many like an even 1:1 ratio.  Choose for yourself what you like the best. The persimmons should be super ripe and soft.  Adjust the sugar amount to sweeten appropriately, as different varieties and when the persimmons are picked will vary their sweetness level.
Adjust the persimmon puree to whipped cream ratio to fit your preference.  We personally prefer a 2:1 persimmon puree:whipped cream ratio
Ingredients:
1 c (235 ml) Persimmon Puree
3 T (45 g) Granular Sugar
3 T (45 ml) Dark Rum
pinch of Sea Salt
1 c (235 ml) Heavy Whipped Cream
1 T (8 g) Powdered Sugar
1 t (5 ml) Vanilla Extract
Directions:
Combine persimmon puree, granular sugar, dark rum and sea salt in a blender and puree until smooth.
Combine heavy cream, powdered sugar, and vanilla extract in a mixer bowl and whip until it reaches the soft peak stage.
Layer the persimmon puree and whipped cream in serving bowls and stir to mix. Put in fridge to chill until ready to serve.
Hello! All images & content are copyright protected. Please do not use our images without prior permission and do not re-publish this recipe. Simply link back to this post for the recipe. Thank you.
Recipe Note for Salt: All recipes containing salt are based on kosher or sea salt amounts, not table salt. If using table salt, reduce the amount used to taste.
[ad]