Creamy Rice Pudding with Butterscotch Sauce – The Marriage from Two Perfect Desserts
Smooth, creamy, with the delicate rice texture playing on the tongue. Scents of cinnamon, a hint of vanilla, and a slight crunch from the crushed toffee lacing the top. I didn't want to stop eating the perfect bowl of rice pudding. I couldn't if I wanted to.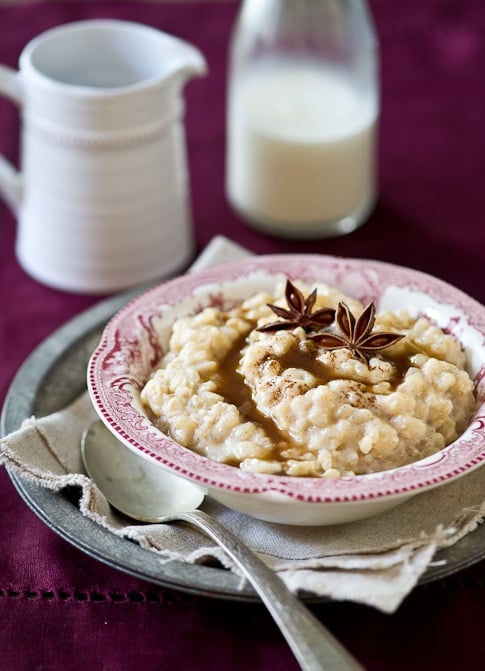 Rice Pudding Recipe
But what's that peeking in the distance? Butterscotch pudding?! The spoon now plunging in for a sample. And another. And another. So full but am not going to stop eating because everything is too good. And all of this was after an epic meal of gastropub delight.
A little over a week ago we dropped in to The Lazy Ox Canteen as a treat to celebrate Diane's birthday. We adore everything about The Lazy Ox. The relaxed, contemporary pub atmosphere, great beers and wine, and incredible food that is sophisticated without being pretentious.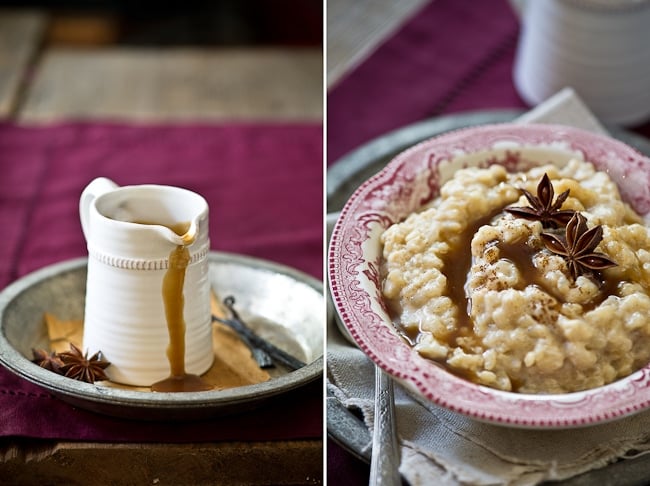 We had the pleasure of cooking for the chef/co-owner Josef over at the house a few times before The Lazy Ox opened. We adore him. Humble, curious, kind, and a really good eater. Like us, he just lights up when enjoying food. It goes beyond the cliche of passion, it is something which is so dear to all of our souls that we've wrapped our lives around food and cooking.
We tried sneaking into The Lazy Ox, not wanting to garner any special attention, but Josef sees everything going on in his place. Two dishes in, we were presented a plate from the waitress, "Compliments of the chef." Another couple plates in, and another surprise, "Compliments of the chef." His food already had us oohing and awing, but now we were reduced to prolific four-letter exclamations of pleasure.
After all of that feasting, we still had to order dessert. His rice pudding, a simple and ordinary sounding as it may be, is extraordinary. Even the fickle LA Times food critic S. Irene Virbila swoons over chef Josef's rice pudding. However our waitress was getting all giggly over their butterscotch pudding, so we did the only thing crazy food lovers could do, ordered both.
Soon we were getting giggly over both desserts, giving chef Josef hugs and love for his amazing cooking. Once home, the memories of the dinner clung to our hearts and we had to re-create The Lazy Ox's rice pudding for ourselves. In order to save a little belly room and not have to over-indulge on two desserts, we paired the rice pudding with a butterscotch sauce.
Word of warning: The butterscotch sauce is really good. It's finished off with a touch of sea salt and the proper adult touch of Scotch. It is ButterScotch, right?
-Todd
In case you can't get enough butterscotch or rice pudding, here's a few other recipes around the web to get your fix: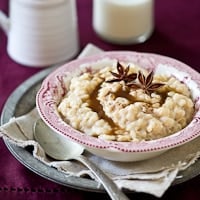 Rice Pudding with Butterscotch Sauce
Rice Pudding is adapted from the recipe by Chef Josef Centeno of The Lazy Ox Canteen in Los Angeles. The rice pudding is made in a style very similar to risotto, slowly cooking the liquids into the rice for the creamy texture, rather than creating an egg custard to make the rice pudding creamy. Can be served warm or cold.
The butterscotch sauce is adapted from chef Shuna Lydon's recipe posted on Simply Recipes. We've given it an adult kick with the addition of Scotch to complete the flavors. Having all of the ingredients ready when starting the butterscotch sauce before you begin is very important, as it is a fairly fast process, and the sauce won't wait for you to dig around for the ingredients.
Ingredients
Rice Pudding
1/2 cup Arborio rice , or other short grain rice
2 cups (480ml) Water
Sea Salt , to taste
1 (3-inch) Cinnamon Stick
2 whole Anise Stars
1 whole Vanilla Bean , split in half
1 qt (945ml) Half and Half , more if needed
1/2 to 1 cup (120-235ml) Heavy Cream
1/2 cup (100g) Brown Sugar
1/3 cup (80ml) sweetened Condensed Milk
Butterscotch Sauce
1/4 cup (60g) unsalted Butter
1 cup (200g) Brown Sugar , tightly packed
3/4 cup (120ml) Heavy Whipping Cream
1 teaspoon (5ml) Vanilla Extract
1 Tablespoon (15ml) Scotch
Sea Salt to taste (@ 1 t (5g))
crushed toffee or almond brittle for topping
Instructions
Make Rice Pudding
Rinse the rice several times in cold water until the water runs clear. This is very important, helping the rice cook evenly and helping prevent al dente grains.

In a saucepan, bring the water, pinch of salt, cinnamon stick, and anise stars to a simmer over high heat. Add the rice, reduce the heat to maintain a gently simmer and cook until it has absorbed the water, about 20-30 minutes.

Stir in the half & half and vanilla beans and increase the heat to bring the mixture to a gentle boil. Reduce the heat to a very gentle simmer and cook for 30 minutes, stirring occasionally (be sure to stir the bottom of the pan to prevent the rice from sticking; if it burns, you will need to start over). Depending on how quickly the rice absorbs the liquid, you may need to add a little more water or half and half.

Stir in the cream, brown sugar, and sweetened condensed milk. Continue to simmer gently, stirring frequently, until the rice is very thick and creamy (it should have no "bite" whatsoever), about 20 to 30 minutes. Remove from heat.

While the mixture is still very hot, adjust the consistency as needed with additional cream (it should be rather thin, as it will thicken a lot as it cools; it will be easier to finish the rice if it is not too thick). Taste the rice and adjust the flavor with more salt and/or sugar as desired.

If serving warm, allow to cool about 15 minutes, then plate in serving dishes. If serving cold, move the rice to a medium bowl and cover with plastic wrap pressed flat against the surface (this will prevent a skin from forming).
Make the Butterscotch Sauce
In a heavy saucepan, melt the butter over low-medium heat. Just before butter is completely melted, add the brown sugar, stirring to completely moisten the sugar.

Gently cook, stirring occasionally, until the mixture caramelizes and transforms from its initial graininess to a smooth "molten lava". Make sure to get the corners of the pot and watch closely because the texture will change quickly, 3-5 min.

Whisk in all of the cream at once, lower the heat a little, and continue whisking until the the liquid is homogenous. Turn heat back up to medium and cook for another 10 minutes, whisking every few minutes.

Turn off the heat and let cool for 15 minutes. Add half of vanilla extract, Scotch, and sea salt, then taste for flavor. Add more of each until the flavor is perfect to your palate. Pour into a sealable container and allow to cool fully. Store covered and refrigerated for up to a month.
Finishing.
Plate the rice pudding in your desired dishes, top with slightly warmed butterscotch sauce and crushed toffee or almond brittle.
Nutrition Information per Serving
Calories: 467kcal, Carbohydrates: 51g, Protein: 5g, Fat: 27g, Saturated Fat: 17g, Trans Fat: 1g, Cholesterol: 91mg, Sodium: 192mg, Potassium: 241mg, Fiber: 1g, Sugar: 38g, Vitamin A: 943IU, Vitamin C: 1mg, Calcium: 183mg, Iron: 1mg
We are a participant in the Amazon Services LLC Associates Program, an affiliate advertising program designed to provide a means for us to earn fees by linking to Amazon.com and affiliated sites.