One-Pot Honey Oat Cookies from Simply Sensational Cookies Cookbook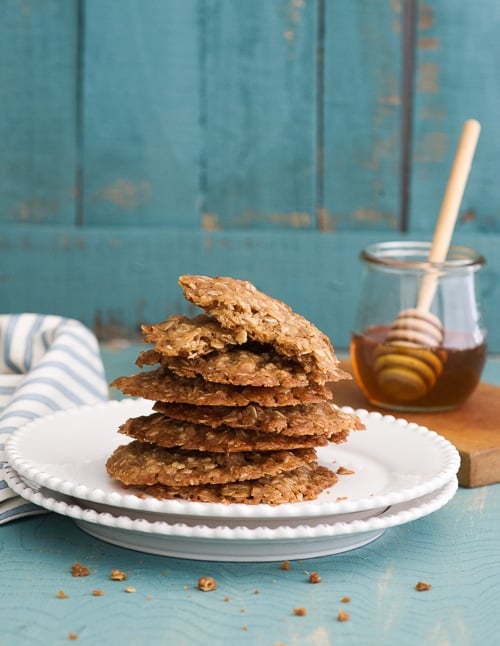 Hello everyone, we're happy to be sharing this cookie cookbook with you.  It's now available! Nancy Baggett's Simply Sensational Cookies cookbook is out and we photographed and styled all the recipes. Did we gain any weight during the shoot? Absolutely yes. How much did we gain? We're not supposed to share because we signed a super duper secret contract and it's all part of the job. 😉
How can we not gain a few pounds? Not only were we photographers and stylists, we were taste testers for all the ones that needed a photograph. Yes, each cookie needed to pass our quality control before it hit the set and trust us, it's so hard to name a favorite. It's a tough job, all this cookie eating, but someone has to do it and we're always ready for cookbook challenges that come our way.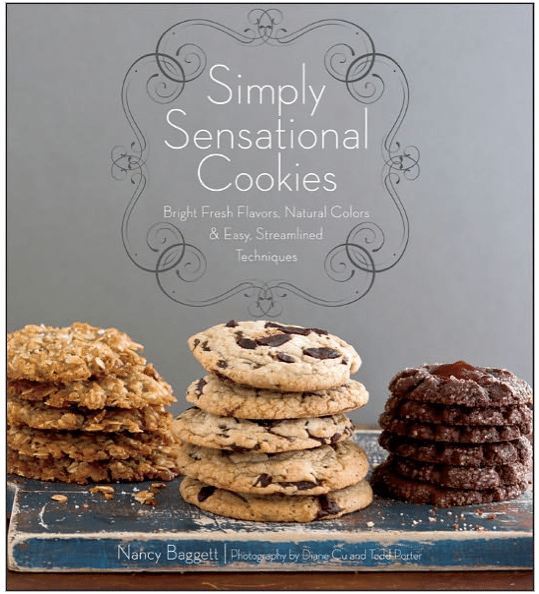 Nancy pours so much love and detail into every recipe that the flavors and textures really shine through. If you love cookies in any way-shape-or form, you'll love this book.
Nancy is a seasoned author with many best selling cookbooks to her name. Her cookie recipes in this book focus on bright and fresh flavors and she shares them in easy, streamlined techniques. Nancy loves using natural colors and making "au naturale" icing and sprinkles by using edible flower petals. You'll love making her fresh rose petal and fresh lavender buttercream if you're wanting to focus more on natural frostings.
We had a fabulous time working with Nancy and Justin Schwarz at Wiley Books. It was such an honor for us to be working on this project with them. Nancy flew out and shot in our studio for 4 days, all of which were long days where she was very hands on in making and baking cookies.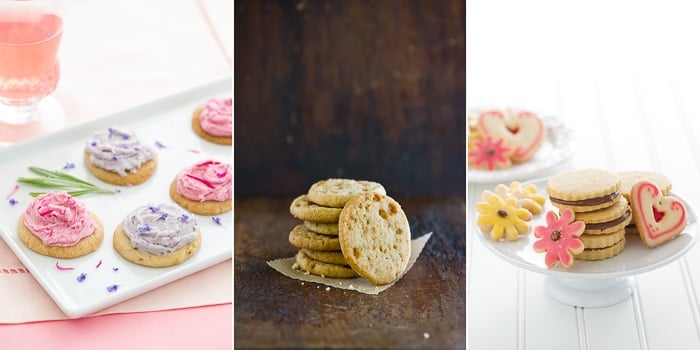 Seriously folks, we had mountains of cookies, so we did our best to make sure none of them went to waste. We shared them with our studio neighbors, our mailman, guys and girls at the dojo, and took them home to share with many more. Everyone loved the wonderful varieties of cookies and hopefully you'll have a blast making them at home with your family.
Simply Sensational Cookies is available on amazon and make sure you stop by Nancy Baggett's blog Kitchen Lane where she also shares more recipes and valuable baking tips!
Some iphone scenes from the cookbook shoot at our studio in August 2011
lovely Nancy Baggett, the author, getting ready to bake up a storm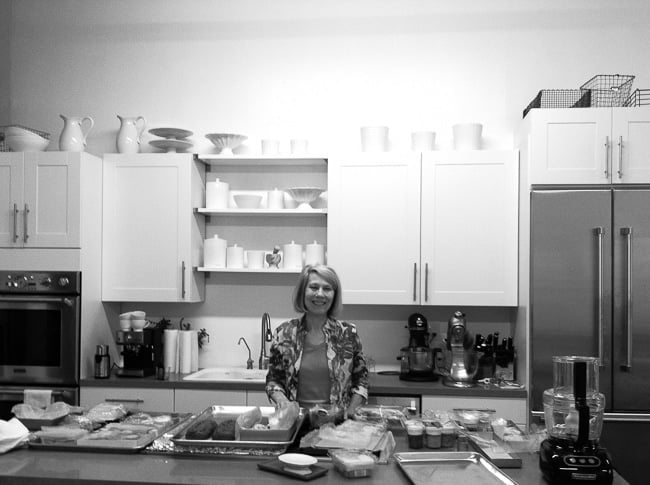 Nancy Baggett putting finishing styling touches on a cookie shot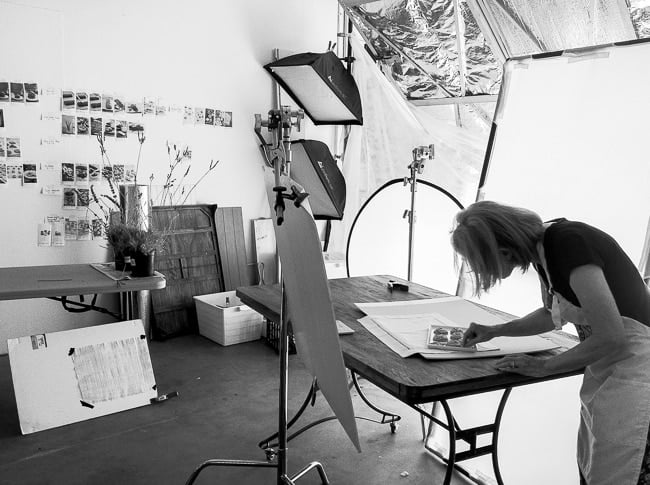 the growing hero wall, divided into chapters.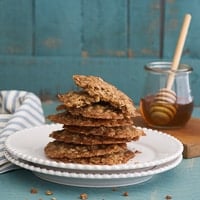 One Pot Honey Oatmeal Drop Cookies
We're sharing one of our favorite cookie recipe from the book, with permission from Nancy Baggett and Wiley Books, that we could eat every day. These are the one-drop honey oatmeal cookies. They're lacy and crispy thin, full of wonderful oat bite and honey flavor. These are so delicate and addicting, it's hard not to eat just one because they just melt in your mouth.
Ingredients
1 1/2 cups (3 sticks) unsalted Butter, cut into chunks
1 2/3 cups packed dark or light Brown Sugar
1/3 cup Clover Honey or other mild honey
1/4 teaspoon regular table Salt or 3/4 teaspoon coarse crystal salt , divided
4 cups Old-Fashioned Oats
1 1/2 teaspoons Baking Powder
1 3/4 cups unbleached all-purpose white Flour
Directions
Baking Preliminaries:
Position a rack in the middle of the oven; preheat to 325°F. Generously grease several large baking sheets or coat with nonstick spray.

In a very large saucepan or pot, melt the butter until fluid over medium heat, stirring. Remove from the heat. Stir the sugar, honey, and salt into the butter; if using regular table salt, add it all, if using coarse crystal salt, add 1/8 teaspoon and reserve the remainder for garnishing the cookies.

Continue stirring the mixture, mashing out any lumps of sugar until completely smooth. Thoroughly stir in the oats and baking powder. Let the dough stand until cooled slightly.

Stir the flour into the dough until evenly incorporated. Let it stand to firm up for 5 to 10 minutes. Using soupspoons or a 1 1/2-inch-diameter ice cream scoop, scoop up the dough and drop in even 1 1/2-inch mounds, spacing 2 inches apart. Pat down the mounds into 2-inch rounds. If garnishing with coarse salt, add a few crystals to the cookie tops.

Bake (middle rack) one sheet at a time for 10 to 13 minutes or until the cookies are brown at the edges and lightly tinged on top; watch carefully, as they may brown very rapidly at the end. Transfer the baking sheets to wire racks. Let the cookies firm up for about 2 minutes. Using a wide spatula, transfer the cookies to the wire racks. Let cool completely.
Did you make this recipe?
Let us know what you think!
Leave a Comment or share a photo on Instagram with the hashtag #whiteonricecouple.
We are a participant in the Amazon Services LLC Associates Program, an affiliate advertising program designed to provide a means for us to earn fees by linking to Amazon.com and affiliated sites.